Venison Tamales
February 13, 2017 | Updated June 17, 2020
As an Amazon Associate I earn from qualifying purchases.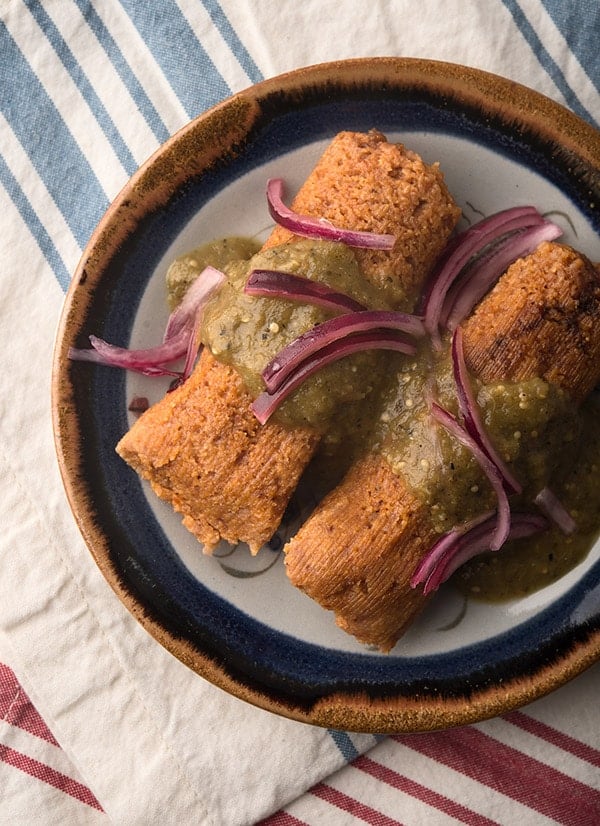 One of the amazing things about researching my latest book, Buck, Buck, Moose, was the discovery that basically every culture around the globe either eats venison, or at least has a history of doing so. Even the Aborigines of Australia hunt kangaroos, and if you've ever eaten one, 'roo tastes a lot like venison.
Mexico is loaded with deer, and there is a rich tradition of Mexican venison recipes dating back to the Maya and Aztecs. This recipe for venison tamales is newer, but it is still an authentic Mexican recipe.
I got this recipe from Patricio and Cinthia Wise, friends of mine from Monterrey, Mexico. These venison tamales are a tradition in their family whenever someone comes home with a deer. They would bring the meat to a lady who specializes in making these tamales, and would often get an entire deer made into them. They are that good.
Keep in mind that there are lots of different kinds of tamales in Mexico. These are from Nuevo Leon, so are tamales norteño, thin tamales wrapped in corn husks. You could of course make yours fatter or wrap them in banana leaves, too.
I use shoulder, shank or neck meat for these tamales, but any part will work. The core of this recipe is braised, shredded venison. You'll need to start with my recipe for venison barbacoa to get the meat for these tamales — don't forget to save the braising liquid.
For those of you who are averse to spicy foods, know that I use mostly guajillo chiles, which are not even as hot as a jalapeno. Any dried chile will work, and if you are really scared of picante foods, use only anchos, which are very mild.
The sauce on top of the tamales is my tomatillo salsa verde, but this easy Mexican tomato sauce works well, too.
Make quite a lot of these when you do, as they are something of a production. But venison tamales freeze very well, and you can pop them right from the freezer into a steamer for an easy weeknight meal.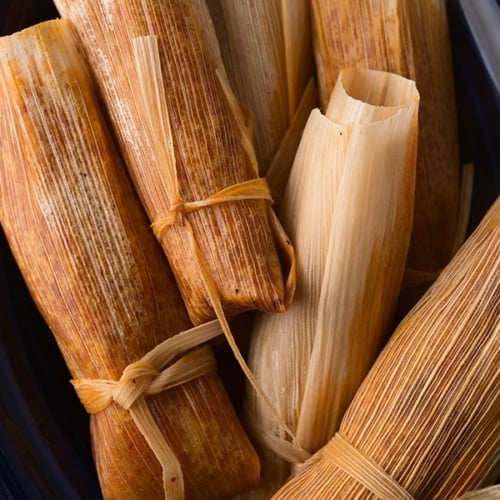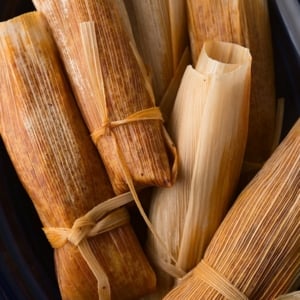 Venison Tamales Norteno
This is a recipe for venison tamales from my friends Patricio and Cinthia, who are from Monterrey, Mexico. They use venison, as do I, but beef, lamb, goat, goose, duck or really any meat will work.
Ingredients
MASA
1

tablespoon

baking powder

2 1/4

pounds

masa

10 1/2

ounces

fresh rendered lard

6

cloves

garlic,

chopped

4

guajillo or ancho chiles,

seeded and torn up

1/4

cup

braising liquid from venison

2

teaspoons

salt
FILLING
2

pounds

braised, shredded venison

6

ancho chiles,

seeded and torn up

6

guajillo chiles,

seeded and torn up

5

cloves

garlic,

chopped

2

cups

braising liquid from venison

1

teaspoon

dried oregano,

Mexican if possible

1

teaspoon

cumin

1

bunch

epazote, chopped

(optional)

30 to 40

corn husks,

soaked in hot water
Instructions
Make the masa. Cook the chiles and garlic in the braising liquid until limp, then puree into a paste in a blender. Add this to the fresh masa, lard, salt and baking powder and knead until cohesive. (See note below on fresh masa)

Make the filling. Saute the garlic with the torn up chiles in a little lard until fragrant. Cover with water or braising liquid from the venison and simmer until soft, about 10 minutes. Puree in a blender. Mix this with the spices and herbs and the shredded venison.

Spread the dough. Place the corn husk wide side away from you. Smear some masa dough in the center of the husk, about 1/4 inch thick or less. Leave 2 to 4 inches room on the top and bottom of the husk, and about an inch or so on the sides.

Fill the tamales. Add about a tablespoon of the venison filling to the center of the spread-out dough. Leave enough space around the dough so you'll be able to fold the tamal over.

Fold the tamales. Fold the tamal over sideways, touching the ends of the dough together. Usually the easiest way to do this is to fold the husk itself over. Tuck one end of the husk over the tamal, then roll the husk over to form a cylinder. Fold up the bottom to seal. If you want, tie the tamal with some string or strips of corn husk.

Steam the tamales. Set up your steamer. This should be a tall, large pot with a vegetable steamer set inside. it. Pour in enough water to just barely touch the base of the steamer. Line the steamer with a few spare corn husks. Set each finished tamal, open side up, into the steamer. When they're all in, cover the pot and steam for at least 1 hour, and up to 80 minutes.

Serve the tamales. When they're ready, unwrap the tamales and serve with a sauce and some onions that have been soaked in lime juice for an hour or so.
Notes
NOTES
If you can get fresh masa, do it. Any taqueria will sell it to you. If you don't have a taqueria nearby, use masa harina to make the masa. You'll want 6 cups of masa harina mixed with 5 cups of warm braising liquid from the venison, or warm water.
Ancho and Guajillo chiles are widely available in Latin markets, and even some regular supermarkets. If you can't find them, you can buy chiles online.
If you've never folded a tamal before, watch this video on how to do it. 
To reheat prefrozen tamales, set in the steamer and steam for about 30 minutes. 
Nutrition
Calories:
633
kcal
|
Carbohydrates:
97
g
|
Protein:
45
g
|
Fat:
9
g
|
Saturated Fat:
3
g
|
Cholesterol:
103
mg
|
Sodium:
542
mg
|
Potassium:
1149
mg
|
Fiber:
14
g
|
Sugar:
10
g
|
Vitamin A:
6708
IU
|
Vitamin C:
9
mg
|
Calcium:
217
mg
|
Iron:
14
mg
Nutrition information is automatically calculated, so should only be used as an approximation.