Golumpki, Polish Cabbage Rolls
As an Amazon Associate I earn from qualifying purchases.
Polish cabbage rolls, also known as golumpki, or more accurately, gołąbki, are, like many "thing wrapped in other things," comforting, easy, versatile and delicious.
Golumpki are one of the few Polish dishes I grew up with; a few of my childhood friends were of Polish descent and their mom's would make these. Italian stuffed shells, a pasta dish, was more common, but the two have a lot in common.
And while these are Polish cabbage rolls, stuffed cabbage is done really anywhere they grow cabbage — it's a natural to roll up the big leaves with something good to eat inside. I also have a recipe for chou farci, a French version of cabbage rolls, on this site.
Since it's been a long time since I lived in my childhood home, my recipe for golumpki is inspired by the many amazing ones in the equally amazing cookbook Polish Heritage Cookery by Robert and Maria Strybel.
They have a whole section on stuffed cabbage rolls, with all sorts of variations.
Golumpki?
It's actually pronounced kinda like it looks, "guh-WUMP-key," and the name is derived from an old aristocratic dish of stuffed doves or pigeons. Modern golumpki are far from aristocratic, however.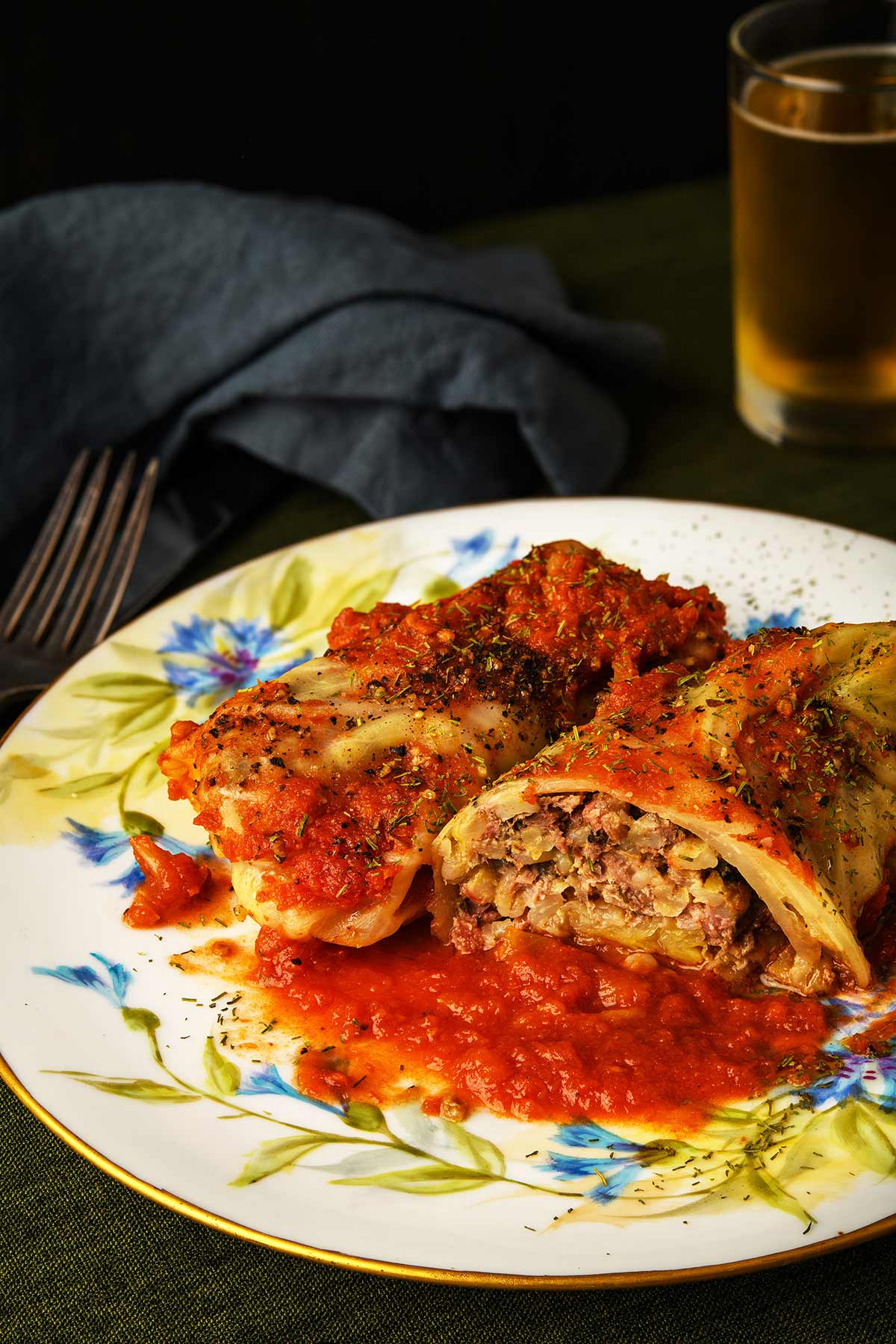 Getting Started
Making golumpki takes some time, as does any dumpling-like dish. You need to make the filling, get the wrappers ready, in this case cabbage leaves, and then cook the finished rolls.
Start with the cabbage leaves. Using a paring knife, cut the base (core) out of a head of cabbage. Most golumpki recipes use regular cabbage, but there are recipes for both red cabbage and savoy cabbage in the Strybel's book.
Bring a big pot of salty water to a boil, then put the coreless cabbage in. Cook it for about 10 minutes, only the final few of which will be in boiling water because adding the cabbage will drop the water temperature.
Set the cabbage to cool, core side up and move on to make the filling.
Golumpki Fillings
In short: Whatever you want. There are so many variations for the filling in cabbage rolls that it would make your head spin.
I've seen everything from fish and seafood to game, mushrooms — so many mushrooms! — rice with seasonings, and, most often, a combination of rice or some other grain and ground meat.
My recipe includes mushrooms, ground meat and barley, which is the second-most common grain you'll see in golumpki recipes.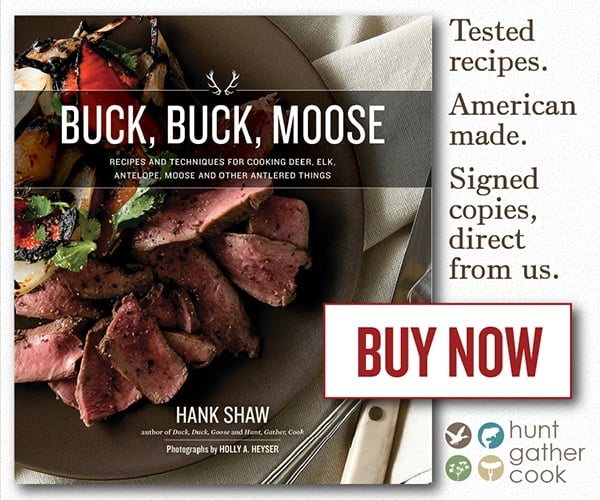 Folding Cabbage Rolls
Once you have your filling and cooked, cooled cabbage leaves, you're ready to roll.
Carefully separate the leaves from the head of cabbage. The first couple will be large and raggedy. Use them to line your pot. Know that you will have golumpki of varying sizes because cabbage leaves get smaller closer to the core.
Cut out the base of the leaf, where it was attached to the core.
Smash the main rib of the leaf with the palm of your hand. This will help the cabbage roll lay flat.
Lay down some filling, anything from a couple tablespoons to a half cup depending on the leaf, perpendicular to the main rib of the leaf.
Fold the bottom up over the filling, then the two sides, then roll the leaf over the filling. Exactly the way you do with a burrito or a grape leaf.
Set each one seam side down in the pot.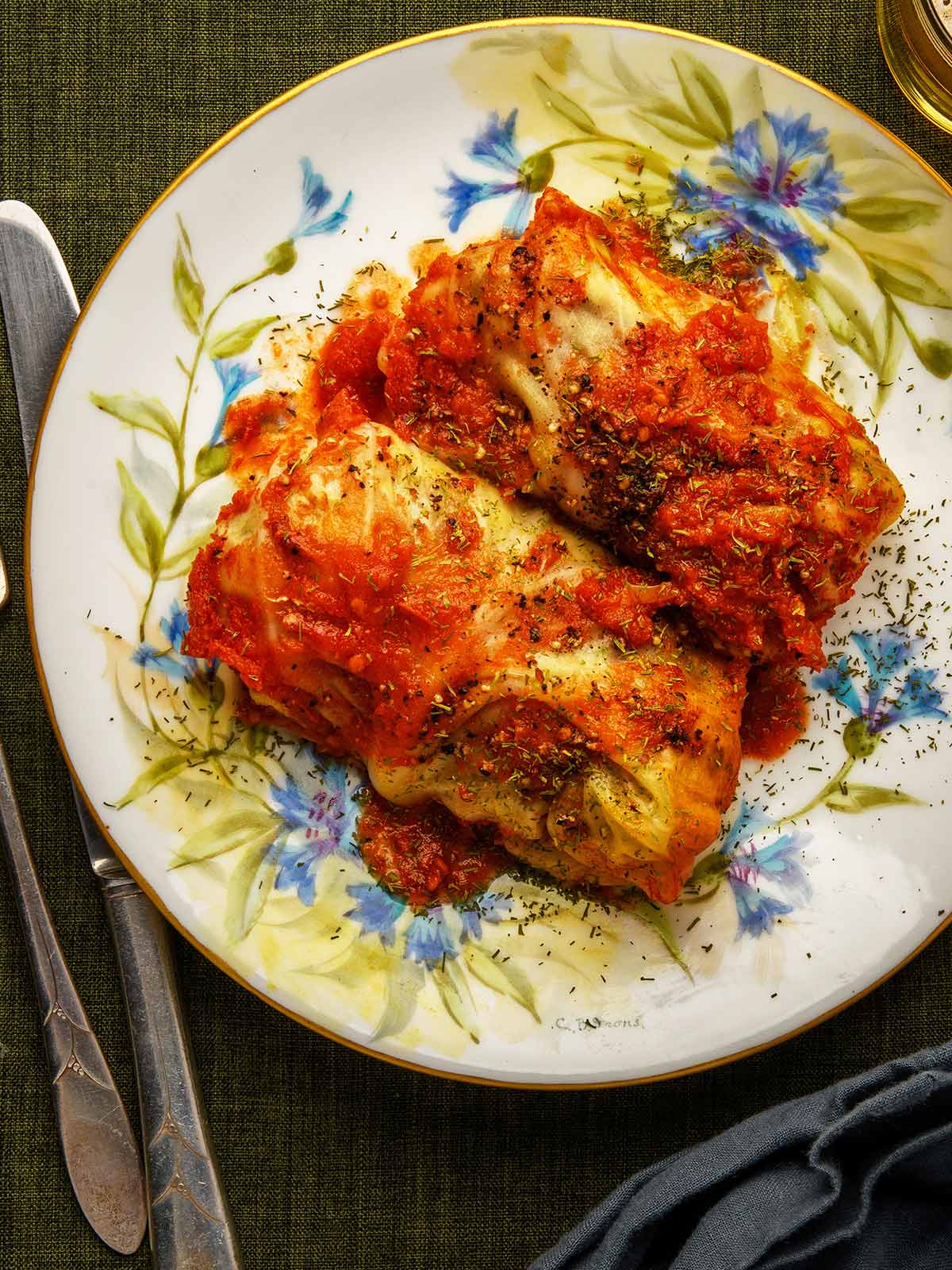 Cooking Golumpki
Not all Polish cabbage rolls are cooked in tomato sauce, but it seems that way. Many are cooked in cream sauces, mushroom sauces, even fish broth. But golumpki are best in a sauce, otherwise they can dry out a little.
I just do a very simple tomato sauce spiked with a little mushroom soaking water, vinegar, Maggi seasoning and salt. Don't overthink the sauce.
Generally speaking, golumpki aren't drowned in sauce. You want some on the bottom of the pot, some in between layers of cabbage rolls, then some on the top.
A word on those layers. Don't do more than two, or else the bottom layer gets all janky. And put the smallest cabbage leaves on the top, over the last bit of sauce — this prevents the golumpki from scorching.
Bake, let them set a bit, then serve. You could serve Polish cabbage rolls with mashed or boiled potatoes, but I find that they are their own meal.
Other Polish Favorites
Polish cuisine is rich and varied. Here are a few other Polish dishes I love.
If you liked this recipe, please leave a ⭐️⭐️⭐️⭐️⭐️ rating and a comment below; I'd love to hear how everything went. If you're on Instagram, share a picture and tag me at huntgathercook.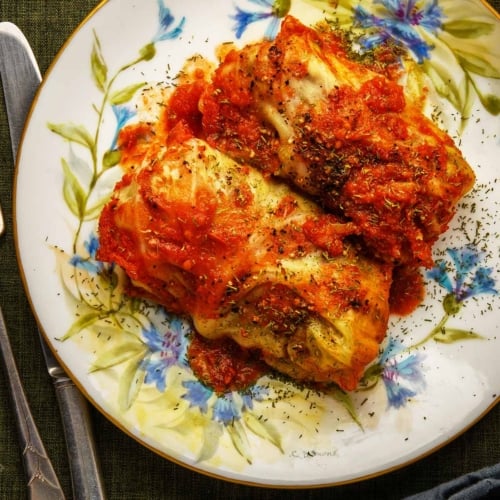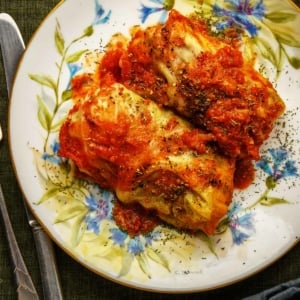 Golumpki, Polish Cabbage Rolls
Feel free to play with the filling and the sauce if you want. This is how I like my cabbage rolls, but it's not gospel. You can double this recipe if you want.
Ingredients
FILLING
1 1/2

ounces

dried mushrooms

(any kind)

2

cups

chopped onions

2

tablespoons

butter

2

cups

cooked barley

(see below)

1 1/2

pounds

ground meat

(any kind)

1

tablespoon

marjoram

2

teaspoons

caraway seeds

1

teaspoon

celery seed

2

teaspoons

salt

2

eggs,

lightly beaten
SAUCE
1

quart

crushed tomatoes

2 to 3

cups

mushroom soaking water

2

tablespoons

vinegar,

or to taste

1

tablespoon

Maggi seasoning,

or to taste

Salt
Instructions
Bring a large pot of water to a boil and add a few tablespoons of salt. Cut the core out of the cabbage and cook this in the boiling water for 10 minutes. remove and let it cool, cut side up.

In another pot, cook the barley in salted water until it's about half cooked, about 15 minutes. Drain and reserve.
FILLING
Meanwhile, make the filling. Put the dried mushrooms in a bowl and ladle a little of the hot water you're cooking the cabbage in over them.

Cook the chopped onions in the butter over medium-high heat until they just begin to brown. Turn off the heat and move them to a large bowl to cool quickly.

Remove the mushrooms from the soaking water and squeeze excess water out of them. Chop them fine. Strain the soaking water through a paper towel to remove any debris and reserve a couple cups for the sauce.

Add the mushrooms to the bowl with the onions, and add the remaining filling ingredients. Mix well.
SAUCE
Use the pot you cooked the barley in. Add all the sauce ingredients and bring it to a bare simmer.
GOLUMPKI
Preheat the oven to 350°F. Separate your cabbage leaves. Use the biggest outer leaves to line a heavy, lidded pot like a Dutch oven. Spread some sauce over that.

Set a leaf in front of you, main rib closest to you, curve of the leaf facing up. Cut the base of the rib out with a knife. Crush the rest of the rib with the palm of your hand.

Spoon some filling onto the leaf perpendicular to the rib. Compress it a bit. Fold the bottom of the leaf up, then the sides. Fold this over to seal, like a burrito or grape leaf. Set the cabbage roll in the pot. Repeat until you have a full layer in the pot.

Spread some sauce over this first layer, then finish with all the cabbage leaves large enough to make into a roll. Spread the rest of the sauce over this, then top with the littlest leaves. Cover the pot and bake in the oven for 90 minutes. Remove from the oven and let the pot sit for 30 minutes before serving.
Notes
I like to sprinkle some dried marjoram on top of the cabbage rolls. Black pepper is another good option. 
Nutrition
Calories:
407
kcal
|
Carbohydrates:
35
g
|
Protein:
21
g
|
Fat:
22
g
|
Saturated Fat:
9
g
|
Polyunsaturated Fat:
1
g
|
Monounsaturated Fat:
9
g
|
Trans Fat:
1
g
|
Cholesterol:
109
mg
|
Sodium:
857
mg
|
Potassium:
976
mg
|
Fiber:
8
g
|
Sugar:
11
g
|
Vitamin A:
538
IU
|
Vitamin C:
56
mg
|
Calcium:
135
mg
|
Iron:
5
mg
Nutrition information is automatically calculated, so should only be used as an approximation.