Chou Farci, French Stuffed Cabbage
January 02, 2017 | Updated August 29, 2022
As an Amazon Associate I earn from qualifying purchases.
There is something about good things stuffed into other good things that comforts me. Chou farci, French stuffed cabbage is high on that list.
Nearly all my favorite comfort foods, foods I crave when I am tired, emotionally, mentally or physically, involve some sort of culinary parcel of love. Tortellini, tamales, pierogis, pasties. And, yes, chou farci, these cabbage rolls.
Stuffed cabbage is normally thought of as an Eastern European/Slavic thing, and it is that. But the French also stuff cabbages, as I am sure so too do the Germans, Italians and probably everyone else who eats cabbages. It just seems like the thing to do with those big outer leaves.
Chou farci is a French stuffed cabbage recipe, very loosely based on one from Paula Wolfert's fantastic book The Cooking of Southwest France.
The cabbages are stuffed with ground duck, bread, herbs and good things, wrapped in the cabbage leaves, then simmered in a quirky tomato sauce.
The tomato sauce is rather odd. It starts normally, with some fat, onions, carrots and garlic, white wine and obviously tomatoes. But it has a peeled apple pureed into it at the end, which seems wrong but actually adds a light sweetness to the zippy tomatoes. Whoever came up with the idea was on to something.
Of course if you don't happen to have ground duck lying around, chou farci works with any ground meat. If you are a vegetarian, use chopped mushrooms instead, and skip the bacon. The rolls are full of flavor, tender, and, most importantly, comforting in cold winter or tough times.
Once made, these will keep in the fridge for a few days quite well.
If you liked this recipe, please leave a ⭐️⭐️⭐️⭐️⭐️ rating and a comment below; I'd love to hear how everything went. If you're on Instagram, share a picture and tag me at huntgathercook.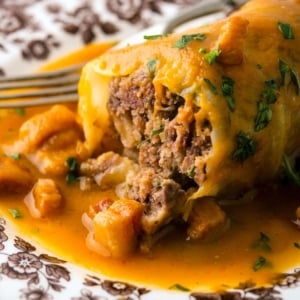 French Stuffed Cabbage
You don't need duck to make this recipe, as stuffed cabbage is good with any meat. Other than that, this is a pretty easy recipe to make, with standard ingredients.
Ingredients
1

large or 2 regular heads of cabbage
SAUCE
1/3

pound

bacon,

salt pork or ham, cut into dice

1

large onion,

chopped

2

carrots,

chopped

3

garlic cloves,

chopped

1 1/2

cups

white wine or vermouth

8

plum tomatoes

fresh or canned, coarsely chopped

6

tablespoons

chopped parsley,

divided

1

heaping teaspoon dried thyme

1

green apple

like a Granny Smith, peeled, cored and chopped

Salt and black pepper
FILLING
3

cups

stale bread cubes for stuffing

1/2

cup

milk

1 1/2

pounds

ground meat

2

garlic cloves,

minced

1

shallot or 1/2 onion,

minced

1

tablespoon

chopped fresh sage,

or 2 teaspoons dried

1/2

teaspoon

nutmeg

2

eggs,

lightly beaten
Instructions
Bring a large pot of salty water to a boil. Boil the cabbages -- probably one at a time -- for 5 minutes. Run them under cool water until you can handle them, then gently remove as many large leaves as you can; these are what you will use as wrappers. Set the leaves on a towel while you make the sauce and filling.

Cook the bacon dice until they are crispy, then set aside. Add the chopped onion and carrot to the pan and cook on medium heat until the onion turns clear, about 6 minutes. Add the garlic and cook another 90 seconds. Add the white wine, tomatoes, chopped apple and 2 tablespoons of parsley, along with the thyme and salt to taste. Simmer gently while you make the filling and stuff the cabbages.

While the sauce is simmering, soak the dried bread in the milk for 15 minutes, then squeeze out the bread to remove excess milk. Mix everything else together, along with 2 more tablespoons of parsley, until it holds together like meatloaf.

Lay out a cabbage leaf with the stalk facing you and place some filling inside; amounts will differ, as the leaves are different sizes. Fold the stalk end over the filling and then fold in the sides, then give the leaf one more roll to secure; this is like folding a burrito or a package. Repeat until you have used all the filling.

Pour the sauce into a blender and puree. Add salt and black pepper to taste. Arrange the stuffed cabbages seam side down into a wide, shallow pan with a lid, then pour over the sauce. Jiggle the pan to coat everything. Sprinkle the reserved bacon over it all, cover and simmer for 45 minutes to 1 hour. Serve with the remaining parsley sprinkled over the top.
Notes
Note that you will not be using all the cabbage you need for this recipe. Plan on using the center cores of the cabbage for slaw or some other dish, like Mexican salpicon.
Nutrition
Calories:
646
kcal
|
Carbohydrates:
39
g
|
Protein:
32
g
|
Fat:
36
g
|
Saturated Fat:
13
g
|
Cholesterol:
154
mg
|
Sodium:
470
mg
|
Potassium:
1116
mg
|
Fiber:
8
g
|
Sugar:
16
g
|
Vitamin A:
4709
IU
|
Vitamin C:
77
mg
|
Calcium:
197
mg
|
Iron:
5
mg
Nutrition information is automatically calculated, so should only be used as an approximation.