Sweet and Sour Fish
July 03, 2014 | Updated January 17, 2022
As an Amazon Associate I earn from qualifying purchases.
The idea to make Chinese sweet and sour fish came to me as I was driving home from fishing.
A great many variations exist on Asian sweet and sour fish, as opposed to the sweet and sour that is escabeche in Europe: some from China, some from Southeast Asia, some using whole fish and some, like this one, with fish fillets.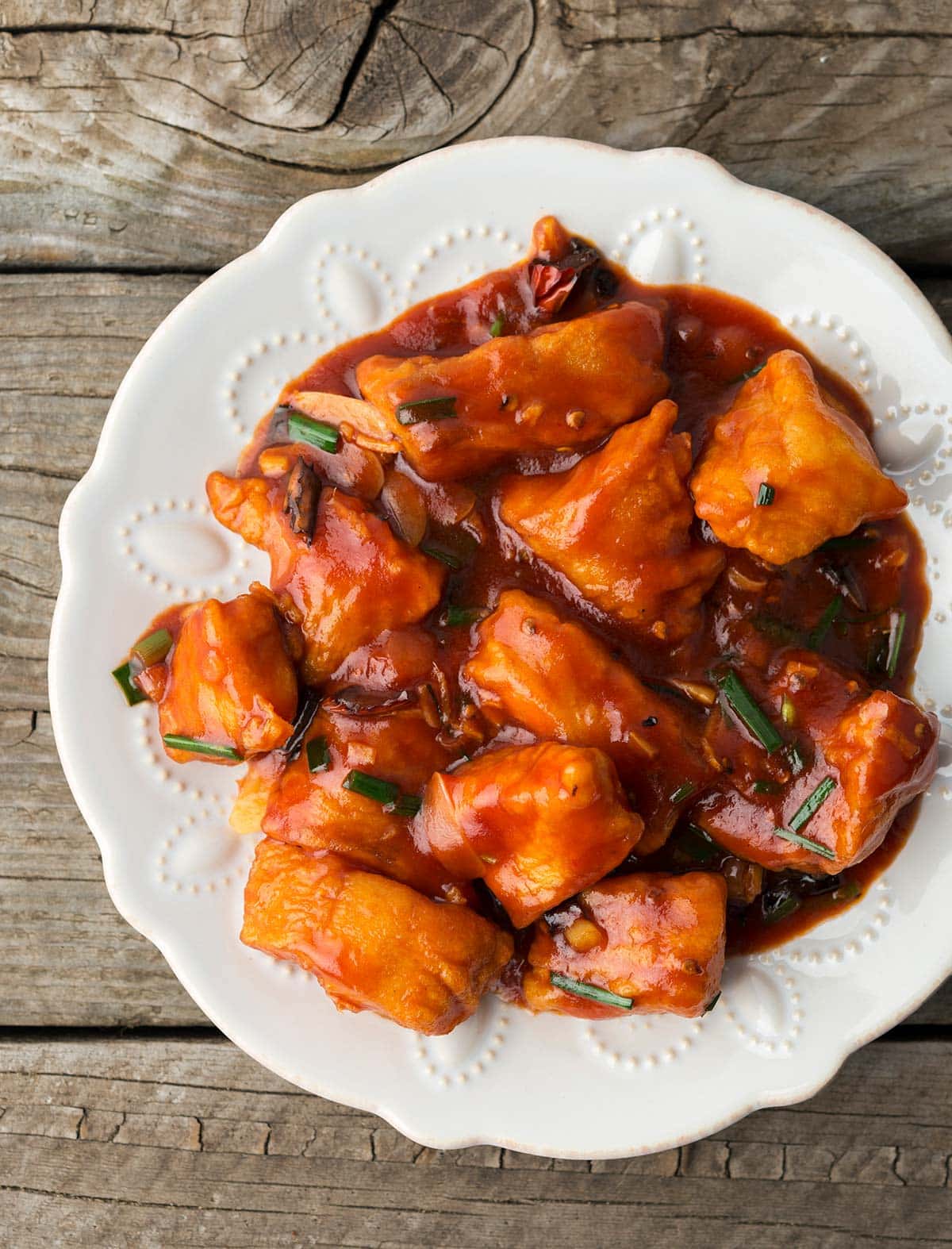 The reason this structure is so popular is because, as anyone who has ever eaten Panda's orange chicken knows, the combination of crispy, sweet, tangy and a little spicy is a sure-fire winner. Incidentally, I developed a recipe for what I call an adult version of Panda's orange chicken here.
I live in NorCal, where Pacific rockfish is king. Common, easy to catch, lean, white fish. Rockfish basically fills the niche of walleye or perch when I lived in the Midwest, black seabass and porgies when I lived in the Northeast, and bass, snapper and grouper when I lived in the South. All are good choices here.
Inevitably when I return from a Bay Area fishing trip, I get stuck in traffic, giving me some time to think. It was hot, and I wanted something that would come together quickly so I wouldn't heat up the kitchen.
Chinese stir fries sprung to mind. What about sweet and sour fish, like what I do with whole rockfish or carp? While I love that dish, you do normally do it with whole fish, and I wanted something with fillets; I'd caught some big black rockfish, large enough to fillet easily. Why not just do the same dish with chunks of boneless meat? Yessss…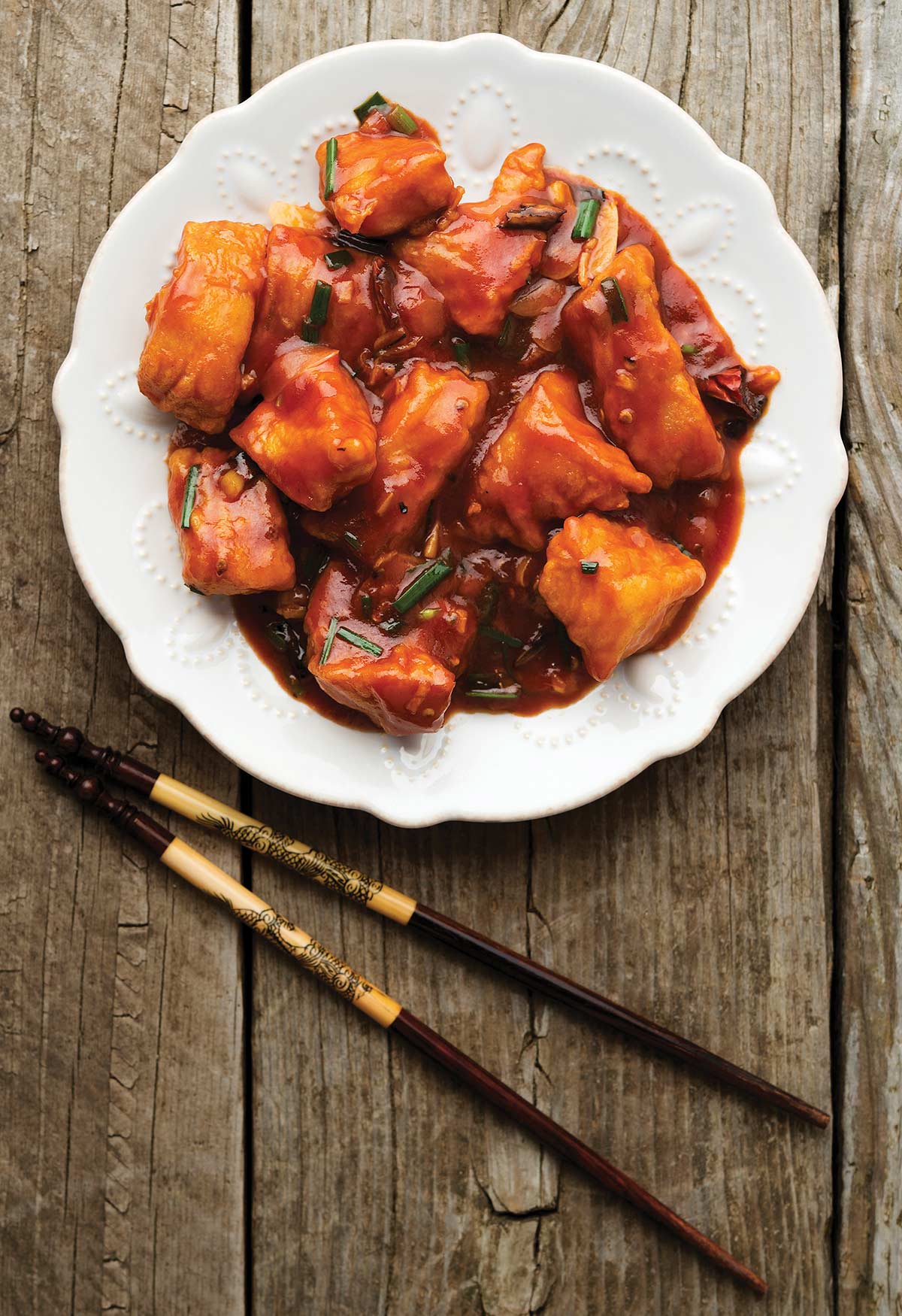 So this recipe, using fillets, is a mashup of that whole fish recipe linked above and my recipe for General Tso's pheasant, which is, more or less, crack. It hinges on velveting, a Chinese pre-frying trick that sets a thin batter onto meat, which keeps it tender; it's why the meat in a Chinese restaurant tastes different from when you do a stir-fry at home.
Normally velveting is a "cool" pre-fry at about 275°F — here we're actually frying at a full 350°F. The effect is exactly like the meat in orange chicken or General Tso's.
Sweet and sour fish comes together quickly, so make sure you have everything all set before you begin. I pre-fry the fish, then make the rice first and let it sit while I am finishing the stir-fry. If you want to make a Chinese seafood feast, make my recipe for salt and pepper fish or squid stir fry for another entrée. None of these takes more than 30 minutes to make.
And it's good. Really good. Smack yo mama in the face good. Shut-up-I'm-eating good. Make yourself some sweet and sour fish, I tell you. Make it tonight. Then go fishing and make it again.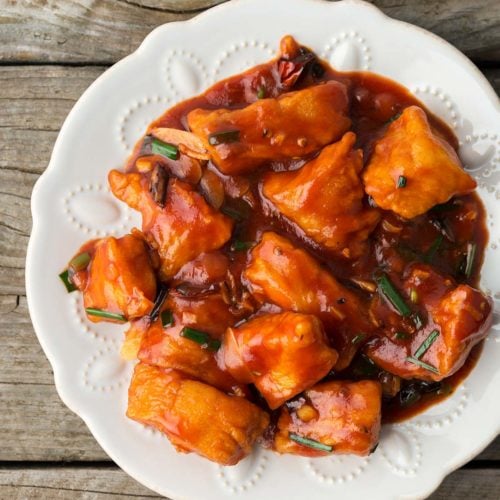 Chinese Sweet and Sour Fish
I used Pacific rockfish here, but you could use any relatively firm, white fish. I'd suggest anything from walleye to striped bass to redfish to grouper, snapper, black seabass, catfish, smallmouth bass, halibut -- hell, even carp would be good with this if you chunk it and remove any bones. This doesn't keep, so you pretty much need to eat it when it's ready.
Ingredients
MARINADE
4

tablespoons

potato starch or corn starch

2

or 3 egg yolks

1

tablespoon

soy sauce

3

cups

peanut or vegetable oil for frying
SAUCE
1/2

cup

chicken or fish stock,

or clam juice

1

tablespoon

soy sauce

1

tablespoon

sugar,

or more if you want it sweet

1

tablespoon

Chinese black vinegar or malt vinegar

2

tablespoons

tomato paste mixed with 2 tablespoons water

1

teaspoon

potato or corn starch
STIR-FRY
1 1/2

pounds

skinless fish,

cut into into bite-sized pieces

3

tablespoons

peanut oil,

lard or vegetable oil

8

dried hot chiles,

use less if you don't want it spicy, broken in half and seeds shaken out

A 2-inch piece of ginger,

peeled and minced

3

garlic cloves,

sliced thin

3

tablespoons

chopped chives

2

teaspoons

sesame oil
Instructions
Mix the ingredients for the marinade together (except for the oil) and then mix in the chunks of fish. Make sure they are all well coated, and set it aside while you chop everything else. Mix together all the ingredients for the sauce and set it aside.

Heat the 3 cups of oil in a wok or deep frying pan until it's about 350°F. If you don't have a thermometer, you'll know the oil is hot enough when a bit of flour flicked into it sizzles instantly. Get a baking sheet or tray handy and line it with paper towels. Fry the fish in two or three batches, separating the pieces of fish the moment they hit the hot oil. Cook until they turn golden brown, about 3 minutes. Remove and let them drain on the paper towels.

When the fish is done, carefully pour off all but about 3 tablespoons of the oil. Add the chiles, ginger and garlic and stir-fry over high heat for 30 seconds. Add the fish and stir fry for a few seconds, then pour over the sauce ingredients -- be sure to stir the sauce before you pour it in because the starch will tend to settle to the bottom. Let this boil furiously for 1 minute, then turn off the heat.

Stir in the chives and sesame oil and serve at once with steamed rice.
Video
Notes
NOTE: This is one of those few Chinese wok dishes that you can double; most stir-fries need to be done in batches or they won't cook right. So that makes this recipe great for a crowd.
Nutrition
Calories:
370
kcal
|
Carbohydrates:
14
g
|
Protein:
38
g
|
Fat:
18
g
|
Saturated Fat:
4
g
|
Cholesterol:
183
mg
|
Sodium:
673
mg
|
Potassium:
757
mg
|
Fiber:
1
g
|
Sugar:
5
g
|
Vitamin A:
615
IU
|
Vitamin C:
4
mg
|
Calcium:
41
mg
|
Iron:
2
mg
Nutrition information is automatically calculated, so should only be used as an approximation.