Boneless Tempura Shad
May 28, 2009 | Updated October 28, 2020
As an Amazon Associate I earn from qualifying purchases.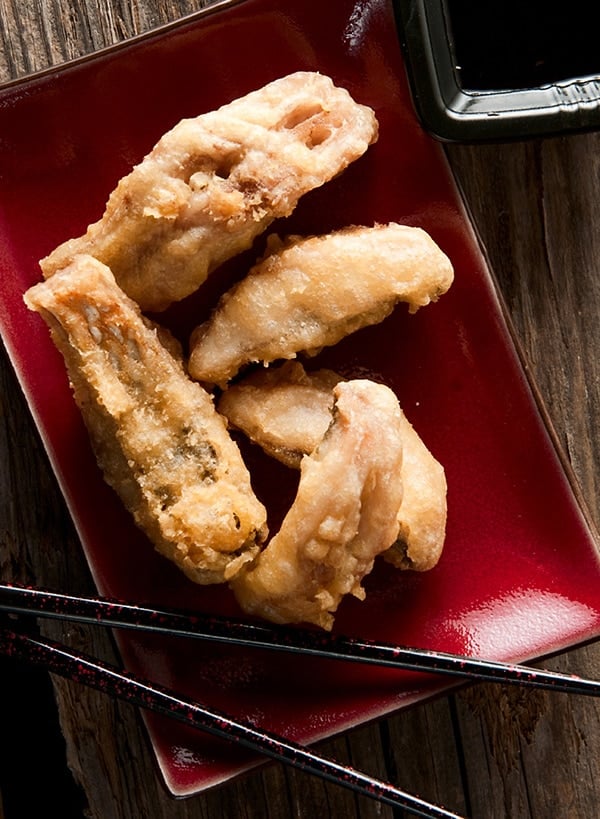 Unless you are an eater of American shad, that giant river-running herring anglers greet eagerly every spring, you might not fully appreciate just how elated I am right now. You see, I have solved the most vexing problem facing any shad angler: How to deal with the bones of a fish the Indians referred to as an inside-out porcupine?
The answer: Honegiri tempura.
Walk with me a minute here. Shad are among the tastiest fish in North America, but also happen to be the boniest. So unless you are possessed of that supernatural skill in boning a shad (which apparently isn't hard once an expert shows you a few dozen times — only there are fewer than a score of those experts left), you must deal with the bones in other ways.
I've smoked shad, with good effect, and I have steamed them in broth, also with good results. I have even developed a quasi-boning technique that creates boneless "shad fingers."
Then I remembered an old episode of the original Iron Chef, in which they featured Kyoto chefs and the odd-looking pike eel. A daggertooth pike eel apparently is as bony as a shad, so to deal with the eel's bones, Kyoto chefs practice something called honegiri, or pike-eel bone-cutting technique.
It goes something like this. Start with a side of the fish that has been cleaned and trimmed, with the rib bones removed. Lay it horizontally in front of you and get the sharpest knife you own; I happen to own a very sharp sushi knife, although Kyoto chefs use a special honegiri knife. Start with the head end of the fillet and work towards the tail end.
The process is deceptively easy: You firmly-yet-gently slice across the fillet, through all the bones but NOT through the skin.
If you see the cuts I am doing in the picture, I am actually making them wider than they should be in a true honegiri cut: The Kyoto chefs slice every millimeter or so. I am slicing every 5 millimeters. Why? Partially because I am not a Kyoto chef, but also because shad is a helluva lot softer than eel, which is among the world's firmest fishes. The soft meat separates easily from itself, and in the back third of the fillet some pieces will come out entirely.
What this technique does is slice the zillions of bones into many smaller pieces. And no, it does not mean you will just get more bones in your throat. By cutting the bones so thin, it opens up far more surface area to the hot oil — and deep-frying is one of my long-time tricks to deal with bones in other fish, such as pickerel or northern pike. Oil at 360-375ºF with soften those bones to the point where you hardly notice them.
Normally, with chunks of pike, you need to fry the fish pretty hard. But using honegiri means you can gently fry the shad in a tempura batter. I happen to be pretty fond of my recipe for tempura batter, which is a little more involved than some, but works great every time.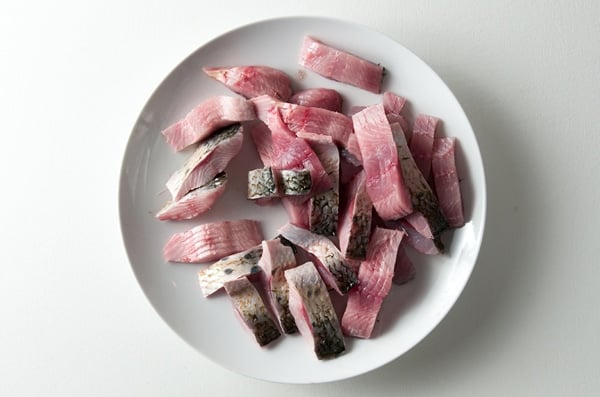 You portion the shad into pieces, then salt them. Get the oil heating and, once it's hot, only then do you prep your tempura batter. One key to good tempura is to not mix the wet with the dry ingredients until the moment you are ready to fry them — the wet ingredients also need to be very cold.
As for a sauce, I would suggest a traditional ponzu sauce, or just soy sauce.
Dip the shad pieces in the batter and fry for 2 to 3 minutes in batches. Two tips: Move the pieces around in the oil with a chopstick so they don't stick to the bottom of the basket, and have an oven set on "warm" with a paper towel-lined pan to keep your shad warm while you do the subsequent batches.
Holy crap was this good! Holly, who is a total persnickety whiner when it comes to fish bones, barely noticed them; except for one stray that I missed cutting.
Shad is rich in omega-3 fatty acids, and possesses more than its share of mouth-filling umami. Combine that with some salt, a light crisp tempura batter and a sharp dipping sauce and we had gone where no shad eater has gone before. Kanpai!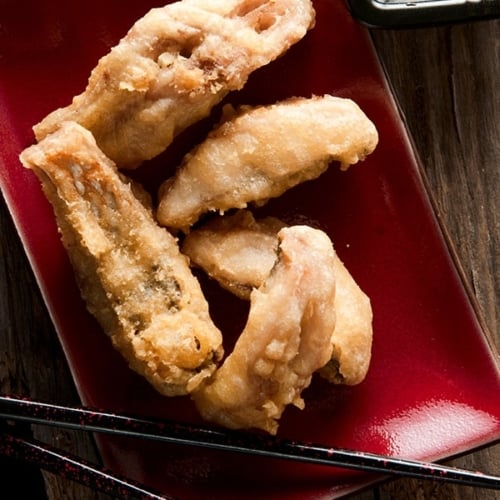 Boneless Fried Shad Tempura
Shad is a very bony fish, which is why you need to use the honegiri bone-cutting technique on it before you fry the fish. You can also use this technique on any bony fish, such as pickerel or pike. You will need a very sharp knife and some practice to get this right. Just take your time at first.
Ingredients
4-6

shad fillets,

cut in the honegiri technique

Salt

Vegetable oil for cooking

3/4

cup

rice flour or all-purpose flour

1/4

corn starch

1/4

teaspoon

baking soda

1/2

teaspoon

salt

1

cup

ice cold sparkling water

1

egg yolk

Sauce for dipping
Instructions
Get your cooking oil up to 360-370 degrees. While the oil is heating, cut the shad fillets into serving pieces and salt lightly. Mix all the dry ingredients for the tempura batter. Turn your oven to the "warm" setting, and place a cookie sheet inside. Place a wire rack on top of the cookie sheet.

When the oil it hot, mix the egg yolk and the sparkling water into the dry tempura batter ingredients and stir only until just combined; it's OK to have a few lumps. Dip some of the shad into the batter, making sure the batter gets into the slits you cut into the fish using the honegiri technique. Fry the fish until golden brown, about 3-4 minutes. Make sure the fish does not stick to the bottom of the pot, and use a chopstick to dislodge any pieces that do stick.

When each batch is done, transfer it to the wire rack in the oven. When all the fish is done, serve at once with ponzu sauce, soy sauce or any other dipping sauce.
Nutrition
Calories:
836
kcal
|
Carbohydrates:
24
g
|
Protein:
93
g
|
Fat:
37
g
|
Saturated Fat:
11
g
|
Cholesterol:
260
mg
|
Sodium:
748
mg
|
Potassium:
1850
mg
|
Fiber:
1
g
|
Sugar:
1
g
|
Vitamin A:
344
IU
|
Vitamin C:
9
mg
|
Calcium:
112
mg
|
Iron:
5
mg
Nutrition information is automatically calculated, so should only be used as an approximation.