Fried Speckled Trout with Black-eyed Peas
December 18, 2014 | Updated May 20, 2020
As an Amazon Associate I earn from qualifying purchases.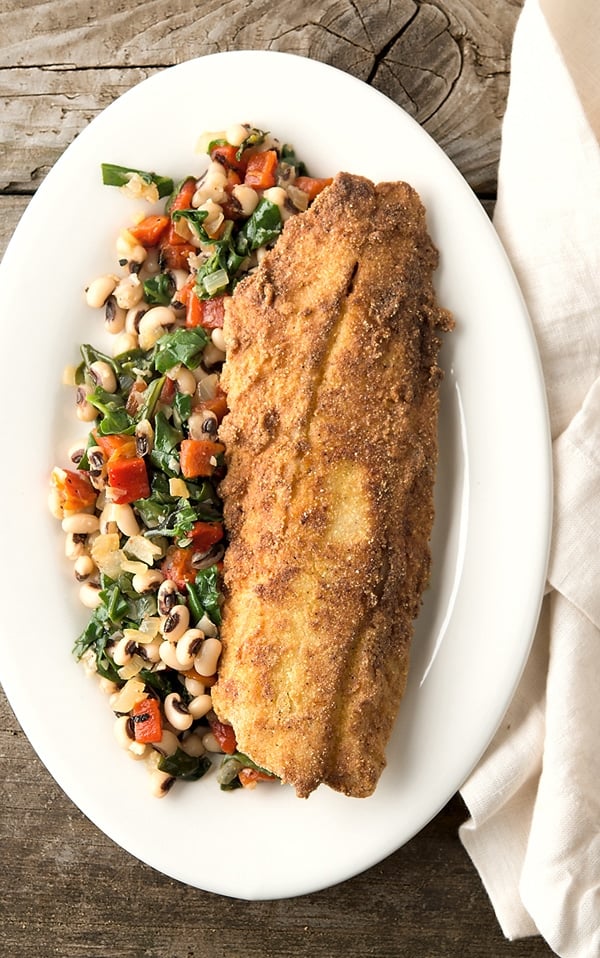 "Change of plans. We're heading up river for specks." Our guide, a lifelong Bay City, Texan named Jerry, turned the boat away from Matagorda Bay, where we'd planned to fish for redfish, and up into the Colorado River. Word was, the run was on.
I'd been duck and goose hunting for days on end with my friends Dick Williams and Larry Robinson, so it took me a second to register that "specks" meant speckled sea trout, not specklebelly geese.
As we buzzed our way upriver, I realized it had been ages since I'd caught speckled sea trout; I could barely remember what they looked like. I think the last time I'd caught one was in the Chesapeake with a member of the Virginia House of Delegates named Albert Pollard, some 14 years ago.
Cynoscion nebulosus is not in fact a trout. He's a member of the drum family, along with the famous redfish of the area; our California white seabass is a drum, too, as is a croaker or a spot or a freshwater sheepshead. I grew up catching his Northern cousin, the weakfish or squeteague, off the coasts of New Jersey and New York. All drum are good to eat, and I especially love these little spotted sea trout.
Needless to say I was stoked to get on the water. Like practically vibrating stoked. Keep in mind I've been an angler for nearly 30 years longer than I've been a hunter, so the urge to chase fish is strong in me.
We got to a spot near a highway bridge. Jerry grabbed a rod and reel and handed it to me. "Can you use a baitcaster?" He gave me sidelong glance.
Low-profile baitcasters are the reel of choice for inshore anglers throughout the South, but they can be relatively rare elsewhere. Plus, baitcasters can be tricky to throw, so it was a legit question. But I'd just used my own Citra baitcaster to annihilate pike, burbot, lake trout and brook trout in Manitoba a couple months ago, so I just calmly told Jerry "yes."
We baited up with 1/4-ounce swimbaits in chartreuse. The idea was to cast to the bank of the river and jig the bait back towards the boat. Simple enough. Dick hooked the first fish, a shorty. Then Larry hooked a nice 21-incher.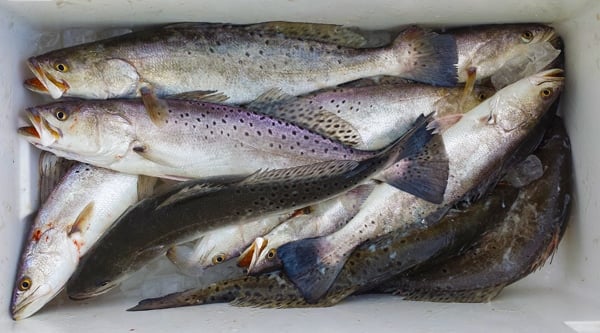 And then the floodgates opened. Whap! A nice strike on the fall. Vicious headshake for the little bugger, but I'd been fishing barbless hooks all summer long, so there was no way this fish was shaking off with a barbed hook. I guided the trout into the net and the rout was on.
I managed to catch my limit of five fish in less than 20 minutes, and kept catching and catching and catching (and releasing) until we all had our limits, which wasn't that much longer.
It felt so good. I get an electric thrill from catching fish that's totally unlike that when I am hunting. It's probably because fishing is the form of hunting and gathering I've been doing the longest. At any rate, we had a cooler of fish soon enough.
Time to cook them.
I wanted to make something accessible and easy; I'd been cooking fancy for the guests at the cooking school we were doing for the better part of two weeks. And I know that all drums are excellent fried. So I looked in the fridge and there, to my surprise, were some fresh black-eyed peas! We had some turnip and mustard greens kicking around, bacon, a jar of roasted red peppers… done and done.
This ain't fancy food, just a great way to cook sea trout with a nice, Texas-inspired salad to go with it. Give it a try.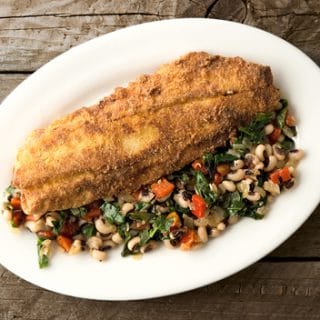 Fried Speckled Trout with Black-Eyed Pea Salad
Obviously this recipe can be done with any white fish. Other good candidates would be bass, walleye, pike fillets, croaker, black seabass, small codfish or haddock, Pacific rockfish, freshwater sheepshead... you get the point. I wanted the salad to be very Southern, thus the choice of black-eyed peas, turnip and mustard greens and bacon. You can change it up if you feel like it. Want a Nordic flair? Go with Great Northern beans, kale and, well, bacon is a universal...
Ingredients
TROUT
4

to 6 skinless speckled trout fillets

1

cup

milk

1

cup

fine cornmeal,

a/k/a "fish fry"

1

tablespoon

Cajun seasoning

2

teaspoons

ground black pepper

Peanut oil for frying
SALAD
1

cup

black-eyed peas

2

cups

chicken broth

2

cups

water

1/4

pound

bacon

1

chopped onion

3

chopped garlic cloves

1

or 2 roasted red peppers,

canned or freshly roasted, chopped

3

cups

chopped turnip or mustard greens

Salt,

black pepper and cider vinegar to taste
Instructions
Start by cooking the black-eyed peas. Bring the water and chicken broth to a boil and add the peas. Lower the heat to a very gentle simmer and cook until they are tender, but not falling apart. While this is happening, cook the bacon in a large saute pan. When the bacon is crispy, remove it and chop. Set it aside for now.

Saute the onion in the bacon fat over medium-high heat until the edges brown. Add the garlic and the greens and toss to coat in the bacon fat. Cook until the greens wilt. Turn off the heat, add back the bacon, then mix in the red peppers. Cover the pan and set aside for now.

Pour the milk into a shallow bowl. Mix all the breading ingredients. Pour enough peanut oil into a frying pan to come up about 1/4 to 1/2 inch. Heat the oil to 325°F to 350°F. If you don't have a thermometer, the oil will be ready when a bit of the breading sizzles instantly when flicked into it. When the oil is hot, dredge the fish in the milk, then coat with the breading. Fry until golden brown, about 3 to 5 minutes per side. Drain on paper towels.

To finish, warm the black-eyed pea salad and put some on everyone's plate and top with the fried fish. Serve with beer or an uncomplicated white wine.
Nutrition
Calories:
413
kcal
|
Carbohydrates:
50
g
|
Protein:
17
g
|
Fat:
17
g
|
Saturated Fat:
6
g
|
Cholesterol:
25
mg
|
Sodium:
397
mg
|
Potassium:
763
mg
|
Fiber:
9
g
|
Sugar:
7
g
|
Vitamin A:
2279
IU
|
Vitamin C:
36
mg
|
Calcium:
158
mg
|
Iron:
4
mg
Nutrition information is automatically calculated, so should only be used as an approximation.