Ethiopian Venison Stew
January 27, 2020 | Updated January 22, 2021
As an Amazon Associate I earn from qualifying purchases.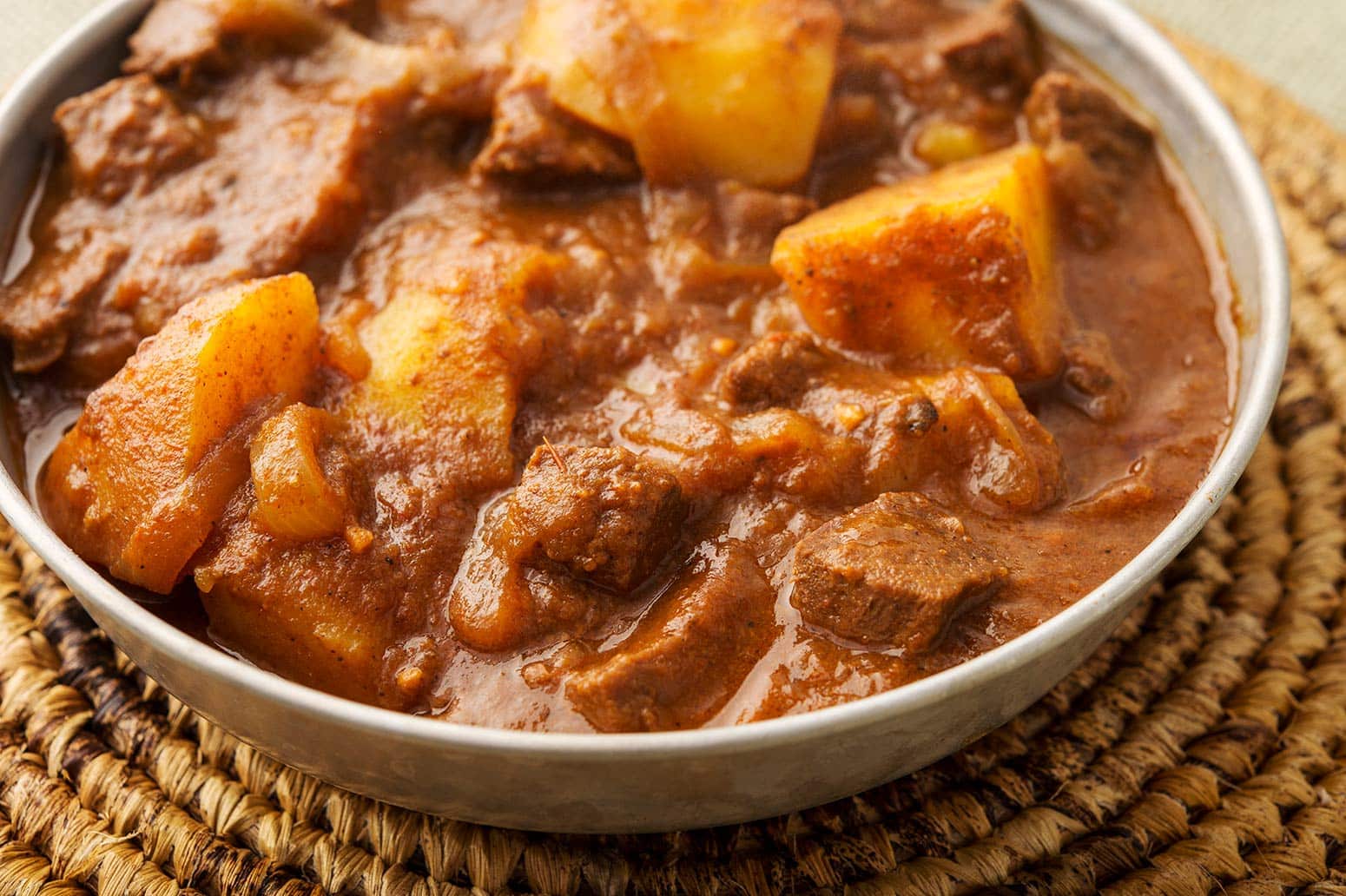 Meet abish wot, a classic, spicy Ethiopian beef stew that I make with venison. It is one of the dishes I used to make many years ago, when I worked at the Horn of Africa restaurant in Madison, Wisconsin.
There are many different beef stews in Ethiopia, as well as many others that feature lamb or goat. This one, abish wot, hinges on ground fenugreek. This spice is used heavily in East African and Indian cooking, as well as in Persia, too. It can be tricky to find unless you are in a large supermarket, but you can buy fenugreek online.
Fenugreek's flavor is hard to describe, but there are elements of maple syrup and floral aromas going on. It is not only vital to this recipe, but, as it turns out, to all the cooking we did at Horn of Africa. (Here is an article on how to make a decent substitute for fenugreek.)
I've tried dozens of Ethiopian recipes over the years, and most lacked a certain something. They just weren't "right," at least as I remembered them at the restaurant. Fenugreek is the answer. My boss, the owner of the restaurant, was from Eritrea, which is now a separate country.
Ethiopia is a large country, with very different cooking styles from region to region. According to the excellent cookbook Ethiopia: Recipes and Traditions from the Horn of Africa, the cooking of Harrar focuses on fenugreek. It doesn't mention Eritrea.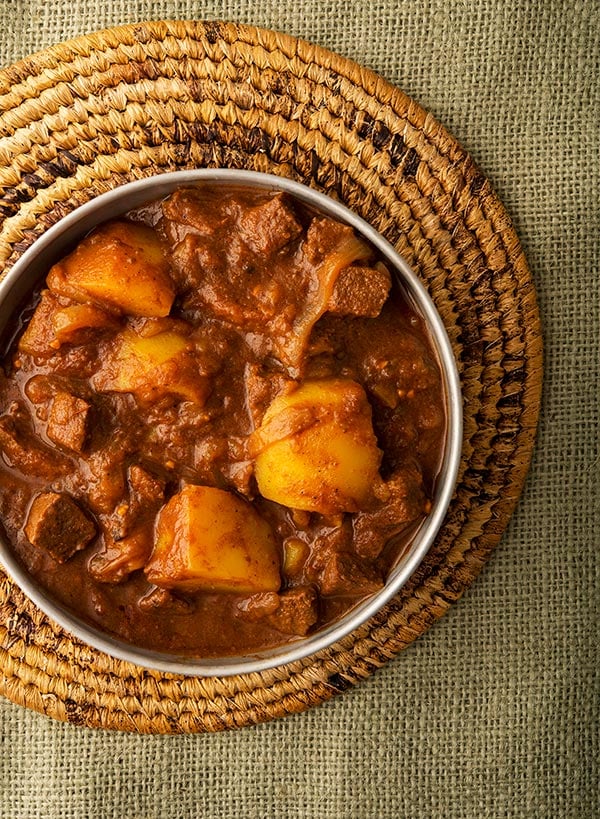 Regardless, this stew is a knockout. Heavily spiced — both "hot" spicy and exotic, Silk Road spicy — the venison and potatoes tender, the stew itself something you want to linger over. Normally this is served on Ethiopian injera, a sort of crepe-flatbread, but rice or any good bread will work well, too. You need something to mitigate the intensity of this stew.
Author Yohanis Gebreyesus has a recipe for abish wot in his book, but I cook this one the way we did at Horn of Africa. It uses the Ethiopian spiced butter niter kebbeh, as well as berbere. You can sub in clarified butter or ghee, but you need the berbere powder.
I have a recipe for the spiced butter here, and for berbere powder here. You can also buy berbere online. Cost Plus and Trader Joe's tends to carry it, too.
So, yeah. To make this recipe taste the way it should, you do need to get your hands on these building blocks. The good news is that the berbere powder keeps for more than a year, and, once made, the spiced, clarified butter will also last a year if you tuck it away in the corner of the fridge. So it's a long-term investment, one you will want to make.
If you are making this as an Ethiopian beef stew, use sirloin or chuck, and if you are using venison, goat or lamb, use the hind leg. In any case, dice the meat.
Abish wot keeps for a week or so in the fridge, and freezes well.
If you love Ethiopian food, consider two other favorites from the Horn of Africa: doro wat, a spicy stewed chicken dish, and alicha wot, a fenugreek-heavy stew made with beef, lamb, goat or venison.
Ethiopian Venison Stew
As I mention above, this recipe requires a few special ingredients. In order of importance, you need ground fenugreek, berbere spice, and then Ethiopian spiced butter. I have recipes for the latter here on Hunter Angler Gardener Cook.
Ingredients
2

large onions, peeled and sliced thin root to tip

2 to 3

tablespoons

niter kebbeh (spiced butter),

or clarified butter

3

cloves

garlic, sliced thin

1/2

teaspoon

ground cumin

1 to 2

tablespoons

berbere spice mix

1 to 2

tablespoons

ground fenugreek

1

cup

tomato puree

1

quart

beef or venison broth

1 1/2

pounds

diced venison, beef, lamb or goat

6

Yukon Gold potatoes,

peeled and cut in chunks

Salt
OPTIONAL MEKELESHA SPICE MIX
1

teaspoon

ground cinnamon

1/4

teaspoon

ground clove

1/2

teaspoon

ground cardamom

1/2

teaspoon

black or long pepper
Instructions
If you are making the Mekelesha spice mix, mix them all together in a little bowl and set aside.

Arrange the sliced onions in a large, lidded pot like a Dutch oven and turn the heat to medium. Sweat the onions, dry, until they are starting to brown and soft, about 10 minutes. You will need to stir them from time to time.

When the onions are soft, add the spiced butter and the garlic and stir well. Let this cook another 4 to 6 minutes.

Mix in the cumin, berbere, fenugreek and tomato and cook 3 minutes, stirring often. Add the diced venison.

Pour in the broth, little by little, stirring to incorporate everything well. Bring to a simmer, add salt to taste, and cover. Let this cook gently for 1 hour.

Add the potatoes, cover and cook another hour. When the venison and potatoes are tender, add the mekelesha spice, if using, adjust for salt and pepper and serve with bread or rice.
Nutrition
Calories:
501
kcal
|
Carbohydrates:
47
g
|
Protein:
52
g
|
Fat:
12
g
|
Saturated Fat:
6
g
|
Cholesterol:
164
mg
|
Sodium:
685
mg
|
Potassium:
2465
mg
|
Fiber:
10
g
|
Sugar:
6
g
|
Vitamin A:
334
IU
|
Vitamin C:
42
mg
|
Calcium:
123
mg
|
Iron:
17
mg
Nutrition information is automatically calculated, so should only be used as an approximation.