Ethiopian Alicha Wot
February 27, 2017 | Updated December 23, 2020
As an Amazon Associate I earn from qualifying purchases.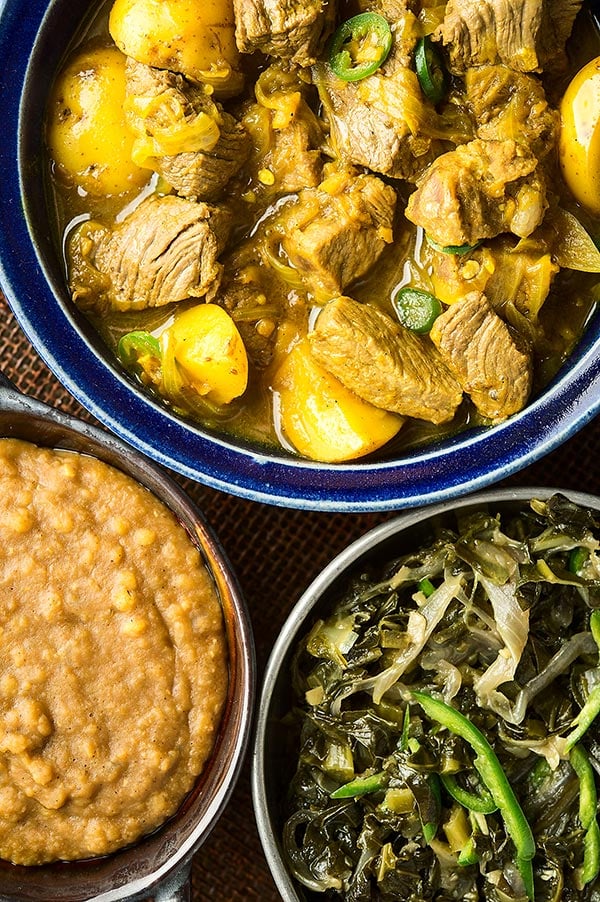 Alicha wot is one of those recipes from deep in the memory banks, back to 1993 when I worked at a restaurant called Horn of Africa in Madison, Wisconsin.
It was run by an Eritrean woman named Meselesh Ayele, and I came to be a cook there in the usual way: Hired as a dishwasher, our line cook skipped out one day and I was instantly promoted.
There are two main sorts of Ethiopian curries — and while they don't call them curries, that's what they are — red, intensely spicy ones, and yellow, not-quite-as-incendiary ones. This is the latter.
It's called alicha wot, pronounced something like al-EETCH-a. Meselesh used to say this was the sort of food given to invalids, it was so mild. Given that chiles are not native to Ethiopia, and could have only arrived there sometime after 1500, and likely a century after that, I am amazed at how thoroughly the culture has adopted them. I can assure you this curry is not tame, if properly made.
Of course, you could make it so, by omitting all the chiles, but then the ghost of Meselesh (she died some years ago) would cackle down upon you, cigarette-hoarse and cutting.
It is a simple recipe. Lots of onions, garlic, ginger, meat. Our version always had potatoes in it, another New World adoption. I wonder what, if any, local tuber they would have used in Ethiopia?
The only odd ingredient, actually, is the butter you need to cook this stew in. Called niter kebbah, Ethiopian spiced butter is what makes their cuisine taste of itself. There is no substitute, but here is my recipe for niter kebbah, and, once made, it will keep for months in the fridge, or forever in the freezer.
I am using well-trimmed venison stew meat here, but we used either lamb or beef at the restaurant.
On a weeknight, you can serve your curry with rice. But if you want to really put on an Ethiopian spread, the side dishes really add a lot. I have some suggestions for sides in the recipe notes below.
If you love Ethiopian food, consider two other favorites from the Horn of Africa: doro wat, a spicy stewed chicken dish, and abish wot, a fenugreek-heavy stew made with beef, lamb, goat or venison.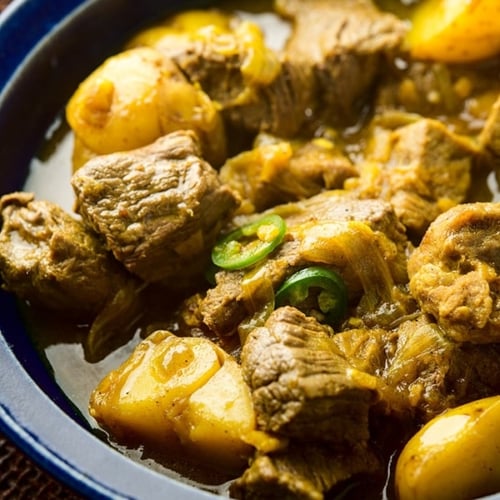 Ethiopian Alicha Wot
It's been years since I worked at an Ethiopian restaurant, but this recipe for alicha wot is pretty close to what I remember making back in the day. I use venison stew meat here, but beef or lamb will work, too. This basic curry is also used with chicken, and even fish.
Ingredients
1

large onion, sliced,

about 3 cups

2

pounds

venison stew meat,

trimmed of silverskin

1/2

cup

Ethiopian spiced butter

(see notes)

2

tablespoons

ginger,

minced

5

cloves

garlic,

chopped

1

teaspoon

turmeric,

ground

Salt

1

pound

small potatoes,

cut into chunks

4

serrano chiles,

sliced thin
Instructions
Add the onion to a large Dutch oven or other heavy pot and turn the heat to medium. Cook the onions dry, without fat, stirring often, until they soften, about 5 minutes.

Mix in the venison stew meat. Add the spiced butter and brown the meat lightly, just about 5 to 8 minutes. Add the ginger, garlic and turmeric and mix well.

Pour in about 5 cups water, enough to cover the meat by an inch or so, and simmer uncovered very gently for about 80 minutes. Add salt to taste during this time.

Add the potatoes and simmer until they are tender, about 30 minutes or so. By now the stew should have thickened a bit. Stir in as many sliced chiles as you want and serve.
Nutrition
Calories:
492
kcal
|
Carbohydrates:
5
g
|
Protein:
53
g
|
Fat:
28
g
|
Saturated Fat:
16
g
|
Cholesterol:
250
mg
|
Sodium:
119
mg
|
Potassium:
822
mg
|
Fiber:
1
g
|
Sugar:
2
g
|
Vitamin A:
56
IU
|
Vitamin C:
6
mg
|
Calcium:
24
mg
|
Iron:
8
mg
Nutrition information is automatically calculated, so should only be used as an approximation.