As an Amazon Associate I earn from qualifying purchases.
Ethiopian doro wat is a spicy stewed chicken dish that is a classic of East African cuisine. This recipe is how I used to make doro wat when I worked as a cook at the Ethiopian restaurant Horn of Africa many years ago.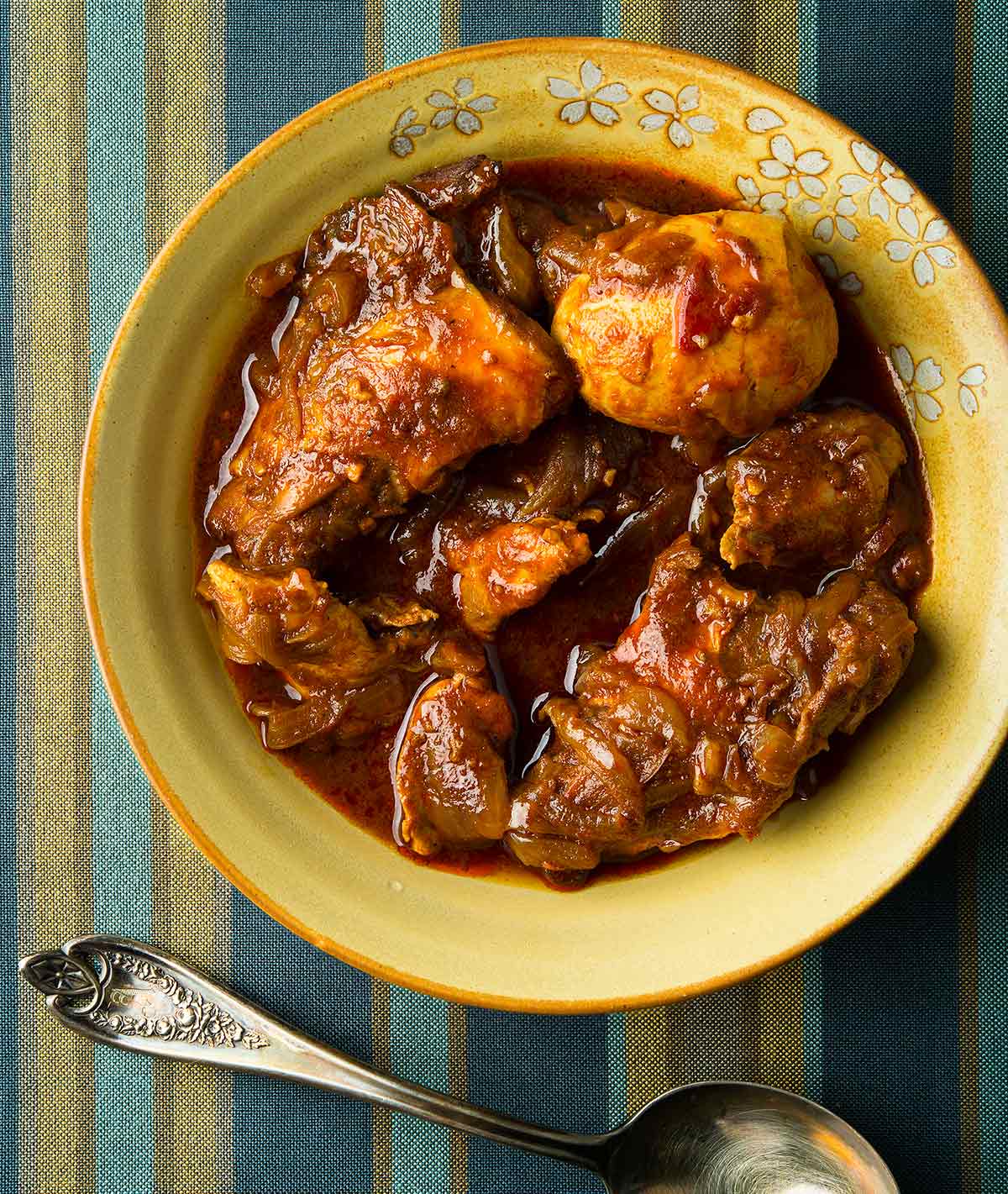 Doro wat was always the most popular recipe on the menu at the Horn of Africa in Madison, Wisconsin, where I worked in the early 1990s. It's a rich chicken stew, usually served with a hard-boiled egg and lots of injera, a sort of crepe made with teff, a grain native to Ethiopia.
I used to make injera at the restaurant in much the same way as in this injera recipe, so if you want the real deal, follow that one; it takes a few days because injera is a sourdough flatbread.
These days I serve doro wat with rice or bread. Less of a runway when you want to make a nice meal.
The Chicken in Doro Wat
So I've traveled in Africa, and invariably the chicken you eat there is old and tough; their yard birds work for a living. It is perfect for a long stewed dish like doro wat. Our American supermarket chickens? Meh.
Your best bet is to use pheasant, which is what I used. You can buy them in some supermarkets; I hunt them. Second best is to go to an Asian or Latin market and buy a stewing hen. They're old birds that had laid eggs for years before being retired to, ahem, "freezer camp."
If neither of these options are feasible, buy bone-in, skin-on chicken thighs and drumsticks.
Hunters. Your other options besides pheasant include rabbit, partridges, grouse, whole quails or wild turkey.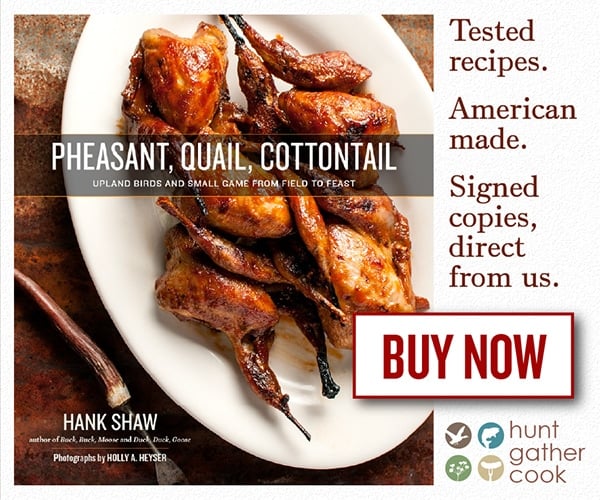 Hard-to-Get Ingredients
There's no getting around it: Real doro wat requires a couple hard-to-get ingredients, one more vital than the other.
The most important ingredient in doro wat other than the meat is berbere, a complex spice mix that, like curry, is different wherever you go. Here is my recipe for berbere, which is close, but not exactly the same, as the berbere we used at the Horn of Africa.
You can also find berbere in large supermarkets, and berbere is sold all over the place online.
Bottom line. You can't make doro wat without berbere.
The other crucial ingredient in doro wat is niter kibbeh, a lovely spiced, clarified butter. Here is my recipe for niter kibbeh if you want to make it — once made, it keeps for months in the fridge.
You might be able to buy it, but my suggestion is to use ghee or regular butter instead.
Once you get yourself set up, making this recipe is much easier. Traditional doro wat is made with t'ej, an Ethiopian mead. If you have some mead lying around, use it. Red wine is another traditional alternative.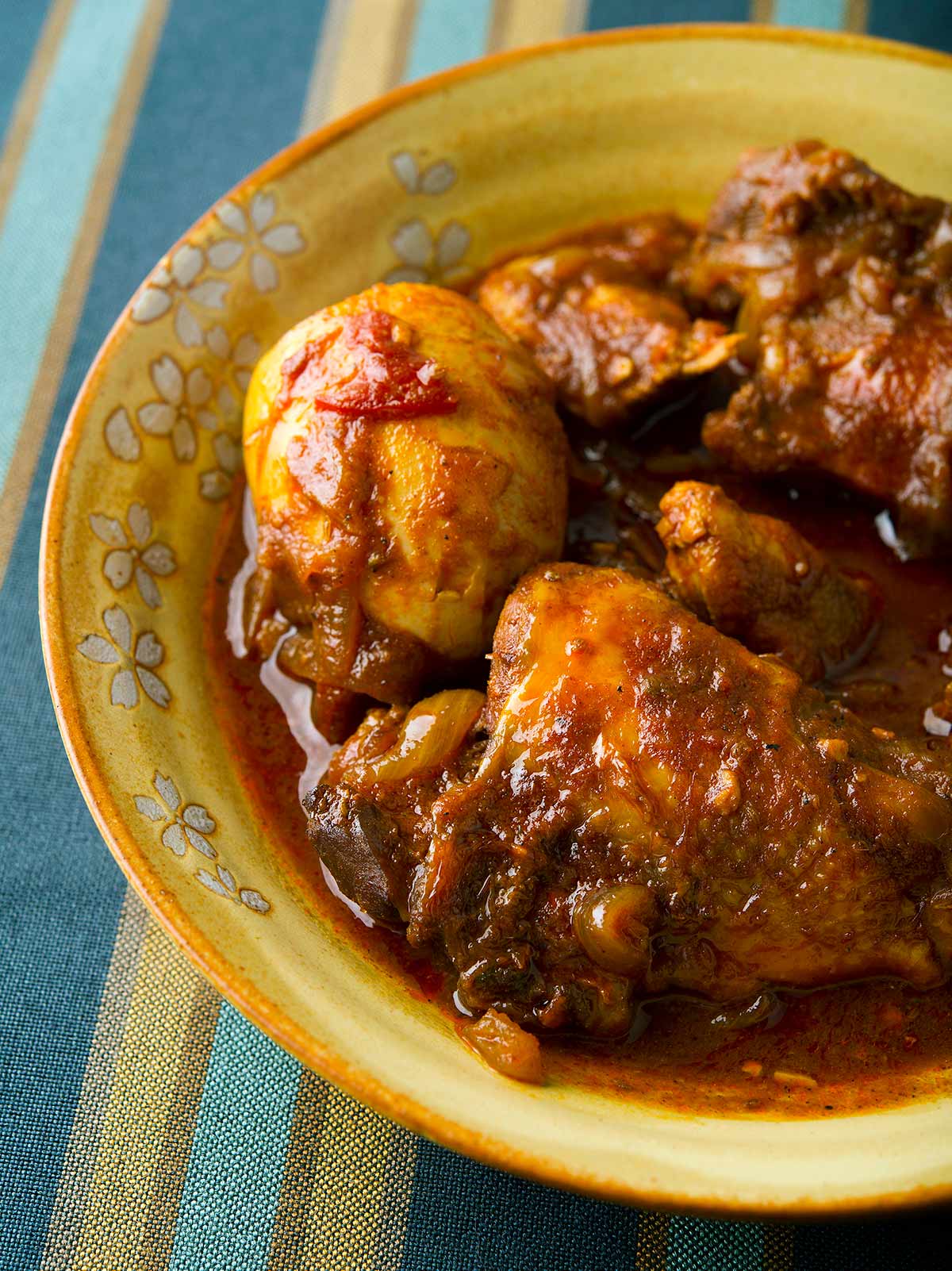 Making Doro Wat
Once you have the ingredients, making doro wat is easy. It's a very simple stewed chicken dish. With one exception.
In Ethiopia, there is a tradition of dry cooking onions before adding any fat. I was skeptical at the restaurant, but my boss, Meselesh Ayele, convinced me right away. Dry cooking onions concentrates flavor and reduces water in a dish. It matters.
Other than that, you simply stew your chicken or whatever a long time, until it's tender. You sometimes need to add a little water, but look at the pictures: Doro wat is stewed chicken, not chicken stew. There's a difference.
Towards the end, stab a few hard-boiled eggs with a fork, then add them in for a few minutes to absorb flavor.
Serving and Storing
I serve doro wat alongside rice, bread, or if I am feeling ambitious, that injera I mentioned above.
It's great alongside stewed lentils and greens, or an Ethiopian curried butternut squash.
Once made, doro wat keeps a week in the fridge and, if you pull the meat off the bones, it freezes well so long as you leave out the eggs, which don't freeze well.
Other Ethiopian Recipes
As I'd mentioned, I worked at an Ethiopian restaurant, and these are some other favorites from that menu.
And finally, here are the links to make berbere as well as your own niter kibbeh spiced butter.
If you liked this recipe, please leave a ⭐️⭐️⭐️⭐️⭐️ rating and a comment below; I'd love to hear how everything went. If you're on Instagram, share a picture and tag me at huntgathercook.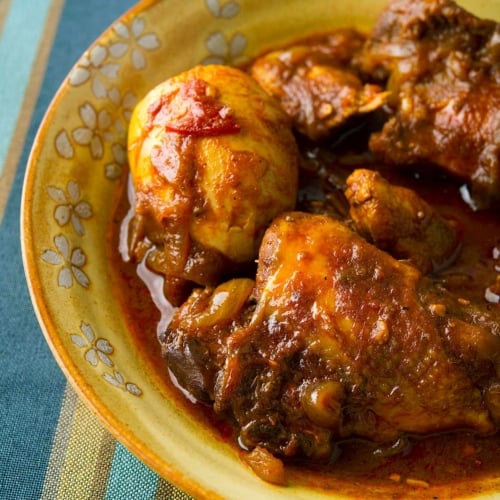 Ethiopian Doro Wat
Note that most recipes for doro wat will add even more berbere than I do, but be warned: It's hot stuff! Ideally you want an old chicken or a pheasant for this recipe. If that's not possible, use just thighs and drumsticks.
Ingredients
1

whole chicken,

cut into serving pieces

¼

cup

lemon juice

6

cups

red onions

about 4 medium onions, sliced root to tip

½

cup

spiced butter,

ghee or regular butter

4

garlic cloves,

minced

1

tablespoon

minced fresh ginger

3

tablespoons

tomato paste

¼

cup

berbere

(see notes above)

½

teaspoon

black pepper

½

teaspoon

ground cardamom

½

teaspoon

ground fenugreek

(optional)

1

cup

mead or red wine

2

cups

game or chicken stock

Salt to taste

6

hard-boiled eggs,

peeled
Instructions
Rub the chicken or pheasant all over with the lemon juice.

In a large, heavy pot, add the sliced onions and turn the heat to medium. Cook the onions dry, stirring frequently. They will give up their water, wilt, and eventually brown.

When the onions are close to browning, add the spiced butter, the garlic and ginger. Cook another minute or three. Add the tomato paste, berbere, black pepper, cardamom, and fenugreek. Mix well.

Add the chicken pieces and turn to coat. Cook another few minutes, until the meat turns opaque. Add some salt.

Pour in the stock and mead or wine. You want all the meat to be covered by about an inch; add water if you need to. Bring to a simmer, taste for salt, cover the pot and cook gently until the meat is tender, typically about 2 hours. The sauce should have cooked down a lot by now; add a little water if it gets thicker than gravy.

When you are about 15 minutes out from serving, stab the hard-boiled eggs all over with a fork, then add to the pot. You can either strip all the meat from the bones or leave it as-is. Add salt if needed, then serve with rice, bread or the Ethiopian crepes called injera.
Notes
You can also use 3 pounds of chicken drumsticks and thighs. Or for hunters, use one of the following:
2 whole pheasants
8 quail
4 to 5 partridges
3 grouse
2 cottontail rabbits or 3 squirrels
Nutrition
Calories:
479
kcal
|
Carbohydrates:
18
g
|
Protein:
25
g
|
Fat:
30
g
|
Saturated Fat:
12
g
|
Polyunsaturated Fat:
4
g
|
Monounsaturated Fat:
11
g
|
Trans Fat:
0.1
g
|
Cholesterol:
240
mg
|
Sodium:
751
mg
|
Potassium:
536
mg
|
Fiber:
5
g
|
Sugar:
7
g
|
Vitamin A:
473
IU
|
Vitamin C:
20
mg
|
Calcium:
66
mg
|
Iron:
7
mg
Nutrition information is automatically calculated, so should only be used as an approximation.