As an Amazon Associate I earn from qualifying purchases.
When I decided to develop a recipe for duck stew, I went straight to Southwest France, one of the great duck-eating regions of the world. And what better stew to make than a traditional garbure, which hinges on duck or goose legs?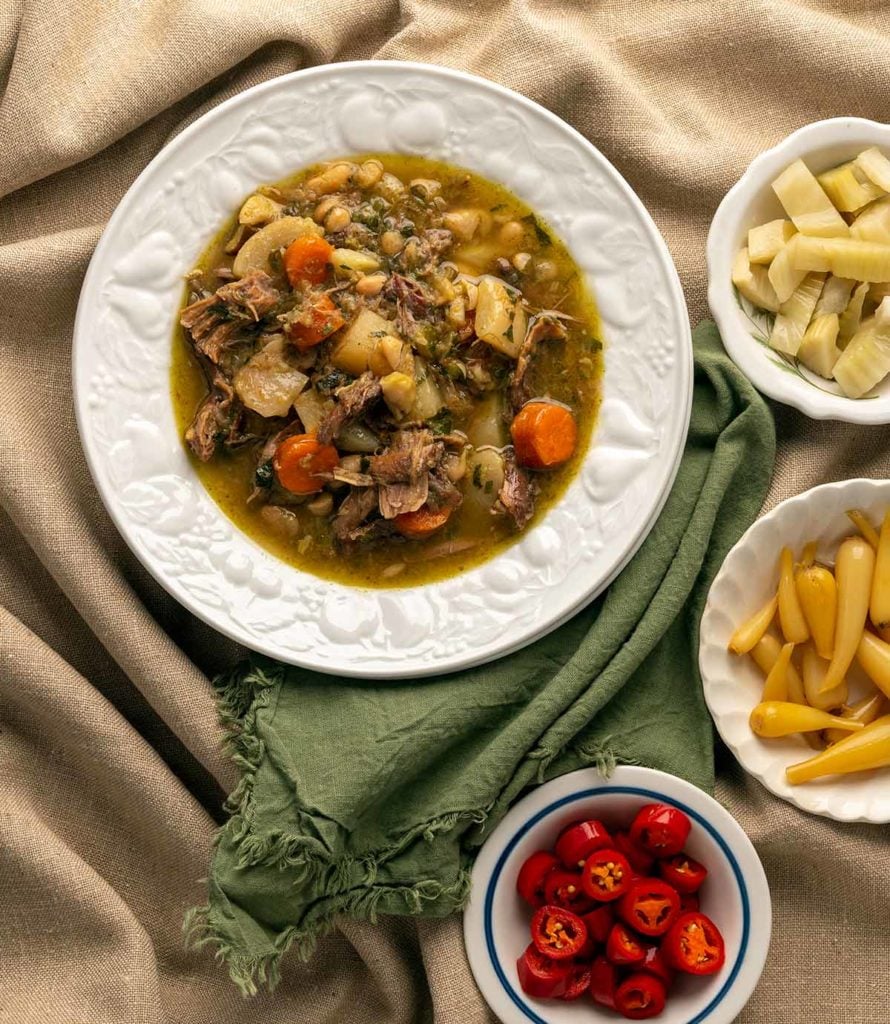 Full disclosure: I am inept at pronouncing French, so I say "gar-burr," which I know is not right. If you want to pronounce garbure correctly, listen to this link. So I'm calling it duck stew from here on in.
This particular variety of stew is pure country comfort food. Thick enough to stand a spoon in, loaded with vegetables, all you need alongside is some good crusty bread. And pickles. More on that in a bit.
Garbure is Sunday supper food. It takes a few hours to make, but most is passive simmering time. The result is rich, hearty and uncomplicated. If you have a duck camp, this is the ticket for post-hunt dinners.
You make it by simmering duck legs and/or wings — goose works very well here, too — with some slab bacon or salt pork and lots of garlic to make your the base for your duck stew.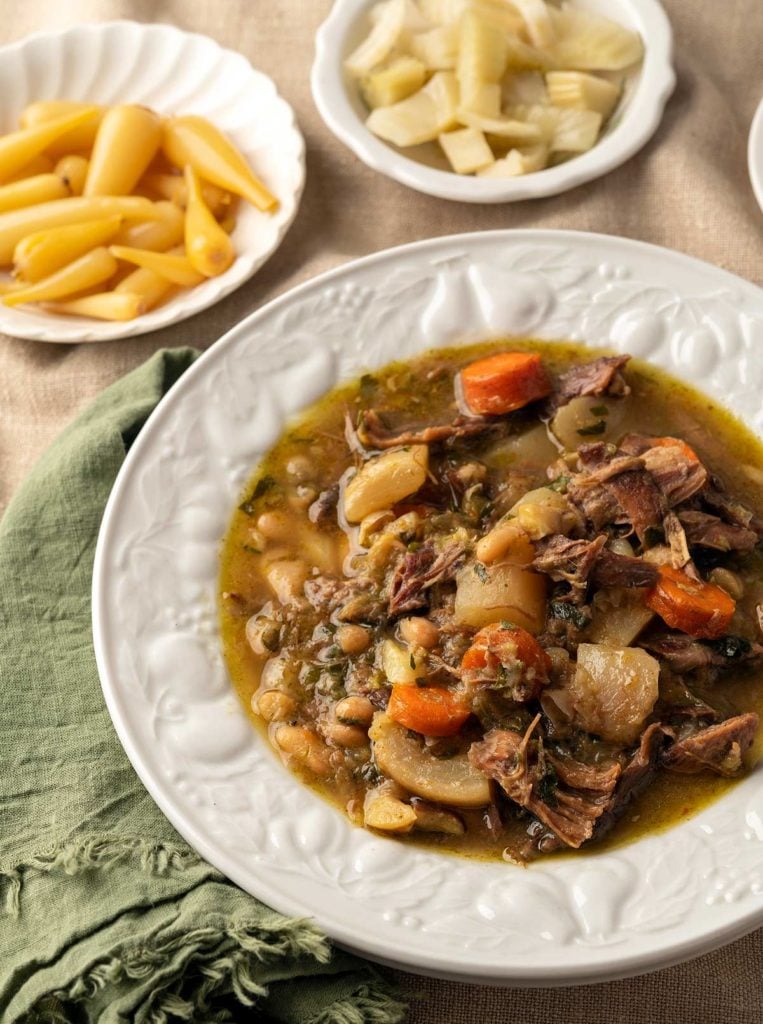 If you don't have duck or goose, try this with turkey legs and wings, pheasant legs, or venison shoulder, neck or shanks. Oh, and if you happen to have some duck confit on hand, this is a perfect use for it.
Basically, the duck stew gets simmered twice, with the vegetables coming in at the second simmer, and when it all comes together, you eat it with bread and various pickled things to brighten it all up.
Don't skip the pickles. You need them for balance. In the picture, I have pickled ramps, pickled cardoons and some fermented jalapenos. Ideally, you'd provide a mix for color and flavor. Yes, pickled cucumbers will do, but they should be only one pickle of several.
Like make stews, this is better the second day, or even the third. Once made, garbure keeps a week in the fridge and freezes well.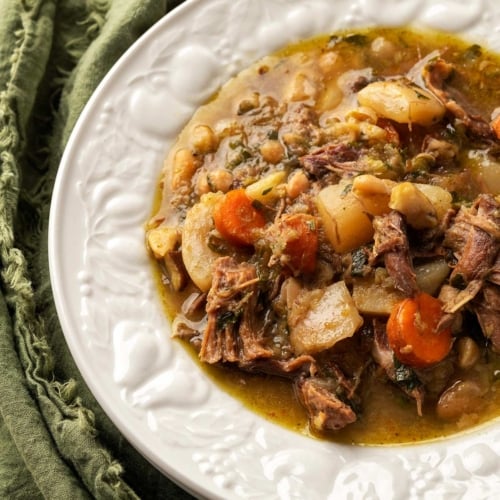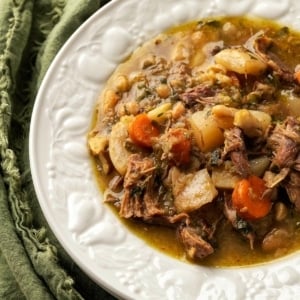 French Duck Stew
This is a French garbure, a thick, country stew great for duck or goose legs. Venison shoulder, shanks or neck work well, too, as do turkey legs or pork shoulder.
Ingredients
1 1/2

cups

dried white beans,

1 one 16-ounce can

3

quarts

water

2 to 3

pounds

duck or goose legs

1/4

pound

bacon or salt pork

1

head

garlic,

cloves whole and peeled

3

tablespoons

duck fat, butter or olive oil

2

yellow onions,

sliced thin

3

stalks

celery,

sliced

1

leek,

split and sliced thin

2

turnips,

cut into chunks

3

carrots,

peeled and cut into chunks

1

pound

Yukon gold potatoes

peeled and cut into chunks

1

small cabbage, chopped

(Ideally a Savoy cabbage)

1/4

teaspoon

cayenne

1/4

cup

chopped parsley

Salt and black pepper
Instructions
If you are using dried beans, pour boiling water over them and let them sit. If you are using canned beans, rinse them and set them aside.

In a large soup pot, add the water, duck legs, bacon and garlic and bring to a boil. Drop to a simmer and cook until everything is soft, about 2 to 3 hours. The garlic will be done after 1 hour. Fish it out and set it aside.

When the duck legs are tender, fish them out and strip the meat from the bones. Discard the bones. Reserve the bacon and strain the stock. Set it aside. Clean out the pot with a paper towel; no need to scrub it.

Heat the duck fat in the pot over medium-high heat. Cook the onions, leek and celery until soft, but don't brown them. Add the beans, picked duck meat, the turnips, potatoes, carrots and cabbage and pour all the strained stock over it. Bring to a simmer and season with salt. Let this cook until the vegetables are tender, about 40 minutes.

Meanwhile, put the cooked garlic and bacon, along with the cayenne and parsley in a blender. Add a few ladles of the soup stock, or water, to the blender and puree. Pour this into the soup pot. Season with black pepper and serve.
Notes
Keep in mind that this should be a thick stew, and it is impossible to cook it too long, so err on cooking it longer, not shorter. 
Keys to Success
This is a great use for skinned goose legs, turkey legs or duck legs. If you have skin-on legs, it will make the broth richer, but you will want to chop the skin small before it goes back in the soup pot. 
You can add other vegetables, if you'd like, such as parsnips, rutabagas, root parsley, salsify, big radishes, and even chestnuts. 
That last puree of parsley, garlic and the cooked bacon or salt pork really adds a lot of flavor, so don't skip it. 
If you are using salt pork, you might not need any additional salt in the rest of the stew, so be careful before adding any extra. 
Drink a big white wine, like a white Cotes du Rhone or Bordeaux, or a lighter red such as a pinot noir or merlot here. For beer, choose an amber or something malty, but not too heavy. 
Nutrition
Calories:
368
kcal
|
Carbohydrates:
40
g
|
Protein:
28
g
|
Fat:
12
g
|
Saturated Fat:
3
g
|
Polyunsaturated Fat:
2
g
|
Monounsaturated Fat:
7
g
|
Cholesterol:
71
mg
|
Sodium:
158
mg
|
Potassium:
1147
mg
|
Fiber:
10
g
|
Sugar:
6
g
|
Vitamin A:
4308
IU
|
Vitamin C:
50
mg
|
Calcium:
160
mg
|
Iron:
6
mg
Nutrition information is automatically calculated, so should only be used as an approximation.