Crab Fried Rice Thai Style
As an Amazon Associate I earn from qualifying purchases.
I love any sort of fried rice, but crab fried rice is especially good. Why? Because the flaky crabmeat melds seamlessly with the fried rice, far better than most other meats. This recipe is a quick, easy supper that comes together in less than 30 minutes.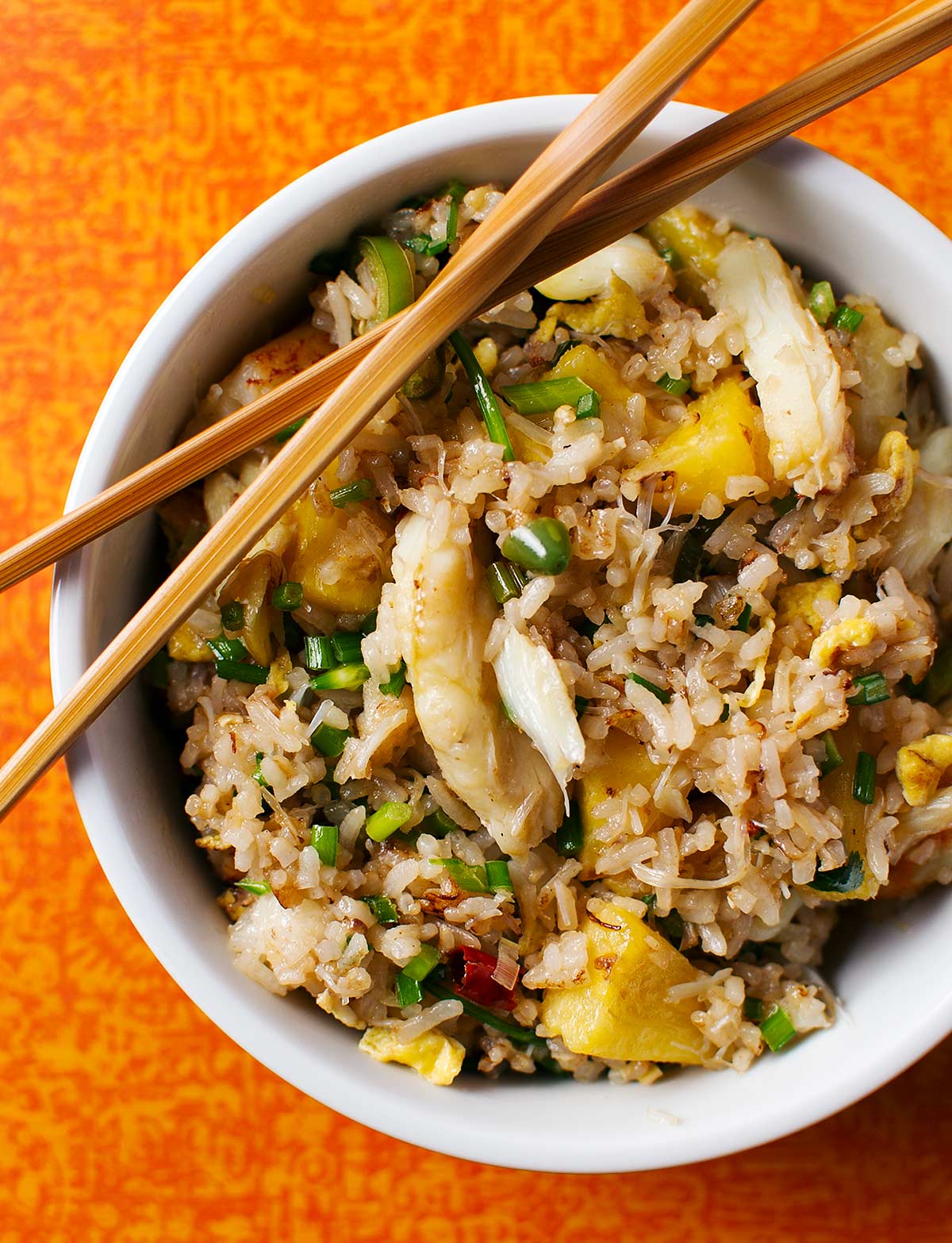 Speed and freedom are the beauties of fried rice. The concept of the dish is essentially a "garbage plate" made with cold, leftover rice and whatever is lying around. Toss it all together with an egg, random meat, shellfish and vegetables, and bam, there's dinner.
I got the idea for my crab fried rice from an excellent primer on preparing Asian food called Healthy Asian Favorites, which is perfect for home cooks living outside the big Asian centers of this country. Full disclosure: It's written by my friend Jaden Hair of Steamy Kitchen.
Jaden's is not an in-depth book on Asian cuisine, nor is it intended as such. It's a book for novices, busy family cooks or hunters and anglers looking for a simple, honest guide to help them break into Asian cooking: Almost all her recipes can be made with wild game or fish.
In this case crabmeat. Any variety will do. Use leftover crab if you have it, but crawfish tails, bay scallops, very small shrimp or chopped lobster meat would all be great here.
My rendition of crab fried rice looks to Thailand for inspiration: The pineapple, lemongrass and the fish sauce are your tip-offs. Fish sauce, if you've never heard of it, is sorta like soy sauce only it's made from the juices of heavily salted anchovies and such.
It virtually identical to the Ancient Roman garum, which Julius Caesar splashed on everything. Tastewise, the kind you can get in most American stores is crystal clear, slightly funky and pretty salty. Always look for clear fish sauce: If you shop in Asian markets, you'll find some ferocious varieties with lots of… debris in it. Not my favorite.
Fortunately, fish sauce is getting really easy to find. I've seen it in markets in places like Gloucester, MA, Billings, MT, and even in Booneville, MO. Can't find it or hate the stuff? Use soy sauce.
(Looking for a Chinese style fried rice? Try my recipe for duck fried rice.)
Lemongrass is also getting easier to find in supermarkets, and I've seen tubes of pre-minced lemongrass on sale, too. Definitely look for it because the lemony flavor adds a lot to the crab fried rice, but you can skip it and still make a good dish. If you can't find lemongrass, squeeze the juice of a lime over the pan when you're done cooking.
This crab fried rice will go really well with Vietnamese crispy fish if you want to make a Southeast Asian fish feast.
OTHER FRIED RICE RECIPES
Other than crab fried rice, you will find a host of other fried rice recipes here on Hunter Angler Gardener Cook: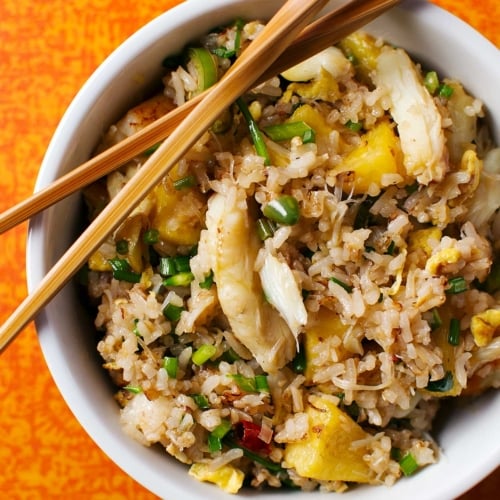 Crab Fried Rice with Pineapple
This can be made with any sort of crab. You can get those refrigerated jars of pasteurized crab meat that are good. I used fresh pineapple, but you don't need a whole pineapple for the recipe. So canned will work if you don't feel like eating the rest for a snack. If you are a novice to fried rice, the one vital thing you need to remember is to start with cool cooked rice. I usually use day-old rice or at least rice I've made in the morning. Once made, this is best eaten immediately, although I've reheated it for lunches later and it was OK.
Ingredients
3

tablespoons

peanut oil,

lard or other vegetable oil, divided

2

to 3 eggs,

lightly beaten

3

to 4 green onions,

chopped

1

tablespoon

minced fresh ginger

1

tablespoon

minced lemongrass

(optional)

3

to 5 dried hot chiles,

broken up and partially seeded

1/2

pound

crabmeat

1/2

pound

pineapple,

cut into chunks

3

cups

cooked,

cooled rice

2

to 3 tablespoons fish sauce

(or soy sauce)

1/3

cup

chopped cilantro
Instructions
Heat 1 tablespoon of the peanut oil in a wok or large, non-stick sauté pan over high heat. Use your hottest burner, too. The second the oil begins to smoke, pour in the beaten eggs and swirl them around in the pan to coat it in a thin layer. Let this cook for a couple seconds, then use a spatula or wooden spoon to break it up into pieces. Tip it out of the pan and into a bowl. Set aside.

Wipe the inside of the wok with a paper towel and add the remaining peanut oil. Let this heat up for a minute or so, but don't let it smoke. Add the chopped green onions, ginger, lemongrass and chiles and stir-fry for 30 seconds to 1 minute over high heat.

Add the rice, crabmeat, pineapple, cooked eggs and fish sauce and stir-fry for 2 minutes. Now let the mixture cook undisturbed for 1 minute; this gives it a little color. Toss well and repeat the process for 1 more minute. Turn off the heat and mix in the cilantro.
Notes
Keep in mind you can use crawfish tails, bay scallops, very small shrimp or chopped lobster meat as substitutes.
Keys to Success
You really do want old rice here. Even week-old rice, kept in the fridge, will work well. If you don't have leftover rice lying around, you can cook regular steamed rice, then spread it out on a baking sheet to cool. Do not use the rice until it has completely cooled to room temperature. 
If you have an Asian market near you, you could try adding a tablespoon of minced galangal to the mix, as well as fresh, red Thai chiles. 
Lime juice is a great addition here, too, although the acidity of the pineapple should be enough. 
The pineapple can be fresh or canned. 
Nutrition
Calories:
362
kcal
|
Carbohydrates:
43
g
|
Protein:
17
g
|
Fat:
13
g
|
Saturated Fat:
3
g
|
Cholesterol:
106
mg
|
Sodium:
549
mg
|
Potassium:
283
mg
|
Fiber:
2
g
|
Sugar:
6
g
|
Vitamin A:
444
IU
|
Vitamin C:
33
mg
|
Calcium:
64
mg
|
Iron:
1
mg
Nutrition information is automatically calculated, so should only be used as an approximation.