As an Amazon Associate I earn from qualifying purchases.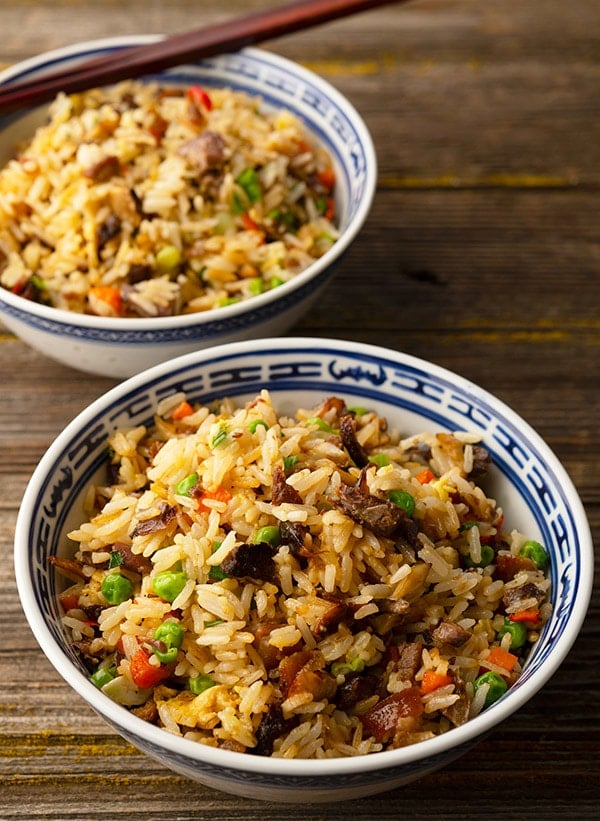 Duck fried rice is a fantastic way to use leftover duck meat, or to make good use of otherwise "off" ducks that you have to skin, like divers, sea ducks and spoonies.
Traditional Chinese fried rice is largely a thrown-together affair; it's meant to be made with leftover rice, leftover meat, and whatever vegetables you have lying around. Here in the United States, it's more of a planned thing, and there are many, many versions.
My favorite way to make duck fried rice is with leftover leg and wing meat, shredded. You start with something like my easy roast duck legs, or duck confit, and use that for this recipe. I find this superior to using breast meat.
But, many times you will find yourself with skinless duck breast, especially from "off" ducks like sea or diver ducks, or spoonies. In this case, you dice the meat and stir fry it at the same time you are making the rice. The effect is mostly cooked breast meat that is a little pink inside, but not overcooked and livery.
I like the sort of fried rice you get here in America, with the carrots and peas and bits of scrambled egg; I lived off the stuff in high school and college, when it was my primary lunch. As a young track and field athlete, a pint — sometimes even a quart — of fried rice was a sure fire way to fuel up before or after practice.
When you are making fried rice, there is only one iron law: You must use cooked, cooled rice. It won't fry up right if you use freshly made rice. You can make it a few hours ahead of time and cool the rice on a baking sheet, but day old rice is best. And use long-grain rice, like jasmine, for best results.
Feel free to play with my recipe for duck fried rice: Use goose, or any other leftover meat. Shredded venison, chicken, pheasant, you name it. You can also adjust the amounts in the ingedients, too, to suit your taste. Making fried rice should be fun, stress free and above all, easy.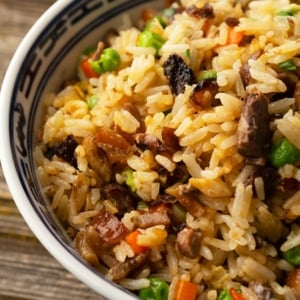 Duck Fried Rice
Use this recipe as a template, not dogma. Feel free to mix and match ingredients. Note that this recipe assumes leftover meat. If you are using fresh duck breasts, add them right after the scallions, garlic and chiles go in.
Ingredients
3

tablespoons

duck fat or peanut oil

3

scallions, chopped,

white and green parts separate

3

cloves

garlic, chopped

1 to 3

small, hot chiles, chopped

1/2

pound

leftover shredded duck meat

(see above for duck breast option)

3

cups

cooked, cooled rice,

jasmine if possible

2

carrots, peeled and diced small

1

cup

peas, fresh or thawed

2

eggs, lightly beaten

2

tablespoons

soy sauce

1

tablespoon

sesame oil
Instructions
Get a wok or large frying pan very hot over a strong burner. Add the duck fat or peanut oil, and the moment it begins to smoke, add the garlic, chiles and the white part of the scallions. Stir fry about 30 seconds.

Add the duck meat, rice, carrots and peas and stir fry 2 minutes. Push everything to one side of the wok and pour in the beaten egg. Swirl it with a chopstick or somesuch until it sets, then stir fry it into the rest of the rice. This helps keep it in largish, recognizable pieces.

Let the stir fry sit for 1 minute without touching it. You want to develop some browning and crispiness on the bottom. After the minute has elapsed, pour the soy sauce in around the edges of the rice, then mix well. Turn off the heat and drizzle the sesame oil over it.
Nutrition
Calories:
440
kcal
|
Carbohydrates:
44
g
|
Protein:
20
g
|
Fat:
20
g
|
Saturated Fat:
6
g
|
Cholesterol:
136
mg
|
Sodium:
603
mg
|
Potassium:
311
mg
|
Fiber:
3
g
|
Sugar:
4
g
|
Vitamin A:
5581
IU
|
Vitamin C:
21
mg
|
Calcium:
58
mg
|
Iron:
2
mg
Nutrition information is automatically calculated, so should only be used as an approximation.