Vietnamese Fish with Cilantro
November 12, 2013 | Updated August 10, 2022
As an Amazon Associate I earn from qualifying purchases.
This Vietnamese fish recipe is one of the easier dishes on this website, a dish to make on a busy weeknight that comes together in about the same time it takes to make the steamed rice that goes along with it. It's total Asian comfort food: Crispy pieces of fish bathed in a simple sauce, served with onions, chiles and lots of cilantro.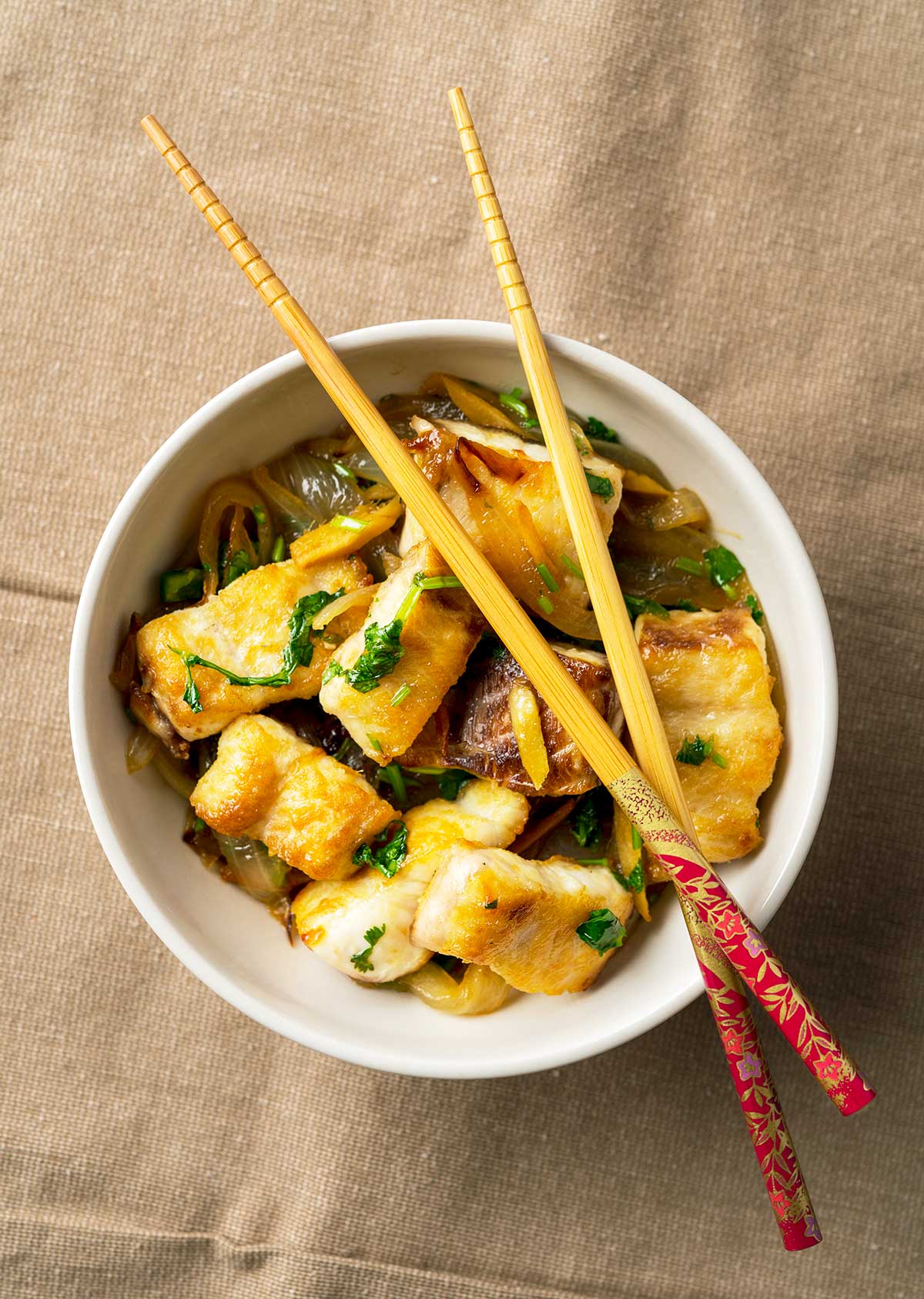 I first found this recipe in my friend Andrea Nguyen's great book Into the Vietnamese Kitchen: Treasured Foodways, Modern Flavors. She uses catfish for her version, but I prefer a firmer fish such as snapper, walleye, seabass or lingcod. Virtually any firm fish will work here, however.
This is an unusual Vietnamese fish recipe in that the fish is cut into chunks, not served whole. To that end, there is no reason you couldn't follow this exact same recipe using a small, whole fish that has been scaled, gilled and gutted. If you do that, just make a few slashes in the sides so the fish cooks faster.
The key to success with this dish is to not overcook the fish. The easiest way to achieve this is to crisp just one side of the fish, letting the simmering sauce cook the rest of the fish gently. You can of course sear both sides if you want, but if you do, make sure you are really searing it quickly, over high heat.
Fresh ginger is important here; don't use dried. So is the fish sauce. Fish sauce is a little like soy sauce in that it is a source of salty savoriness, but flavorwise they are very different. Most supermarkets carry fish sauce now. If you have a choice, my favorites are Three Crabs and Red Boat. Use soy sauce if you absolutely cannot find fish sauce.
Don't like cilantro? Use mint or watercress, or even parsley, although parsley's not used much in Vietnamese cooking. If you want to really be authentic, use rau ram, an herb native to Southeast Asia that tastes like cilantro. You can buy seeds or starter plants online.
Error, group does not exist! Check your syntax! (ID: 16)
Everything comes together quickly, so do all your prep before you start cooking. I generally start the rice, then the prep, then cook the Vietnamese fish — that way it all comes together at once.
And yes, I know this is not a very challenging recipe. No fish skin chicharrons or crispy fried duck tongues here. Just wanted to let you know that I can do easy, too. Cheers!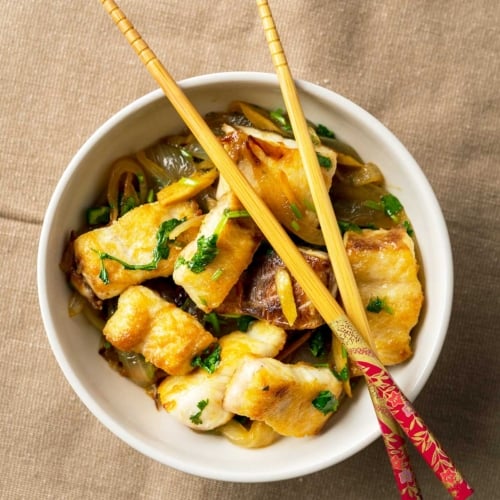 Vietnamese Crispy Fish with Cilantro
I normally use a wok to make this recipe, but a deep-sided sauté pan or frying pan is just as good. You can use any fish here, but I prefer a lean, white fish. Good choices would be lingcod, Pacific rockfish, tilefish, walleye, yellow perch, catfish, red drum, cobia, sturgeon, striped bass, haddock... you get the point. Serve this with simple steamed rice and you have a great weekday dinner.
Ingredients
2

pounds

lean white fish,

cut into 2-inch chunks

Salt

3

tablespoons

peanut oil

1

large onion,

about 3 cups, sliced thin from root to stem

A piece of ginger about the size of your thumb,

peeled and sliced thin

1

tablespoon

sugar

3

to 5 jalapenos or other hot chiles,

seeded and sliced thin

4

tablespoons

fish sauce

4

tablespoons

water

1/2

cup

chopped cilantro

Juice of 2 limes
Instructions
Sprinkle salt over the fish. Heat the peanut oil in a large sauté pan or wok and add the fish. Sear the fish in the oil so one side of it gets a nice, golden brown crust. Don't flip the fish, as you will finish cooking it later. Remove each piece of fish as it browns.

When all the fish is done, add the onions and ginger and a little more oil if needed. Stir-fry over very high heat until the edges of the onions begin to brown, about 3 minutes. Add the sugar, jalapeno chiles, fish sauce and water and bring to a boil.

Add the fish and gently toss everything to combine. Cover the pan and simmer for 5 minutes. Gently mix in the cilantro and turn off the heat. Add the lime juice and serve with steamed rice.
Nutrition
Calories:
343
kcal
|
Carbohydrates:
7
g
|
Protein:
47
g
|
Fat:
14
g
|
Saturated Fat:
3
g
|
Cholesterol:
113
mg
|
Sodium:
1534
mg
|
Potassium:
813
mg
|
Fiber:
1
g
|
Sugar:
5
g
|
Vitamin A:
248
IU
|
Vitamin C:
15
mg
|
Calcium:
37
mg
|
Iron:
1
mg
Nutrition information is automatically calculated, so should only be used as an approximation.