Braised Pork with Purslane
As an Amazon Associate I earn from qualifying purchases.
If you are looking for purslane recipes, you will certainly find lots with raw purslane, like my purslane salad. But it is great cooked, too, and this recipe for carne de puerco con verdolagas, pork with purslane, is a great way to eat this edible weed.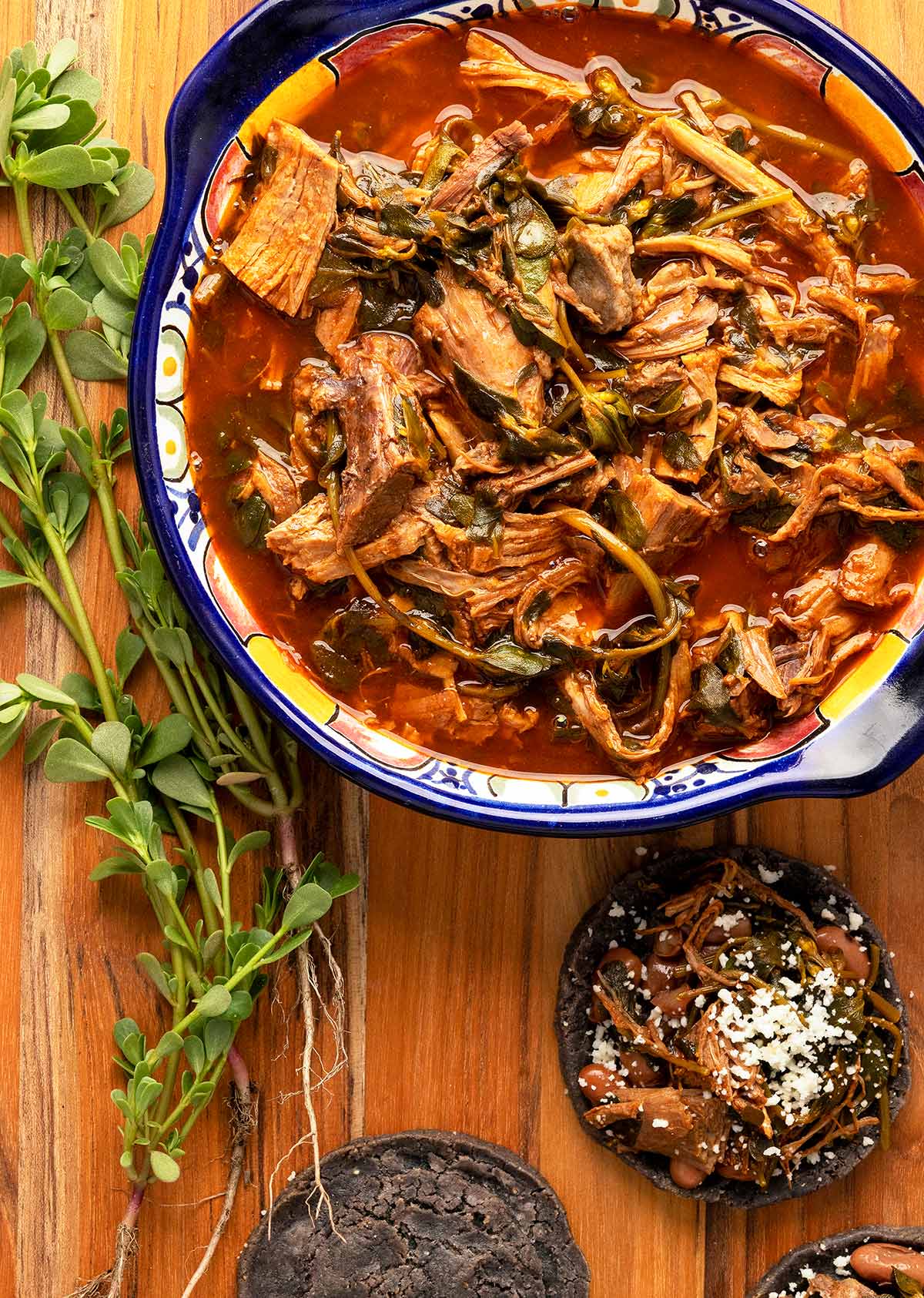 Purslane, called verdolagas in Spanish, is a common, warm weather weed that is not only edible, but it's delicious: A little tart, crunchy, succulent, and it looks cool.
You will see variations on puerco con verdolagas all over Mexico. I have a set of 32 cookbooks in Spanish, one from each of the Mexican states, and there are at least a dozen different recipes for this combination in there. Most are from the north.
Like a lot of Mexican dishes, the variations are normally red or green, depending on the chiles you use. There's one recipe that's rather pink, because they mix in crema, a thin Mexican sour cream, at the end. Tastes great but looks weird.
This one is red, and is a mash-up of a Sonoran and a Chihuahuan recipe, and is a bit like my recipe for Sonoran carne con chile.
Basically you braise pork shoulder, ribs or some other tough cut in a flavorful broth (I use a similar broth to the one I use for my venison barbacoa recipe), then you remove the bones and chop roughly, strain the broth and add the salsa, which gives you that red color.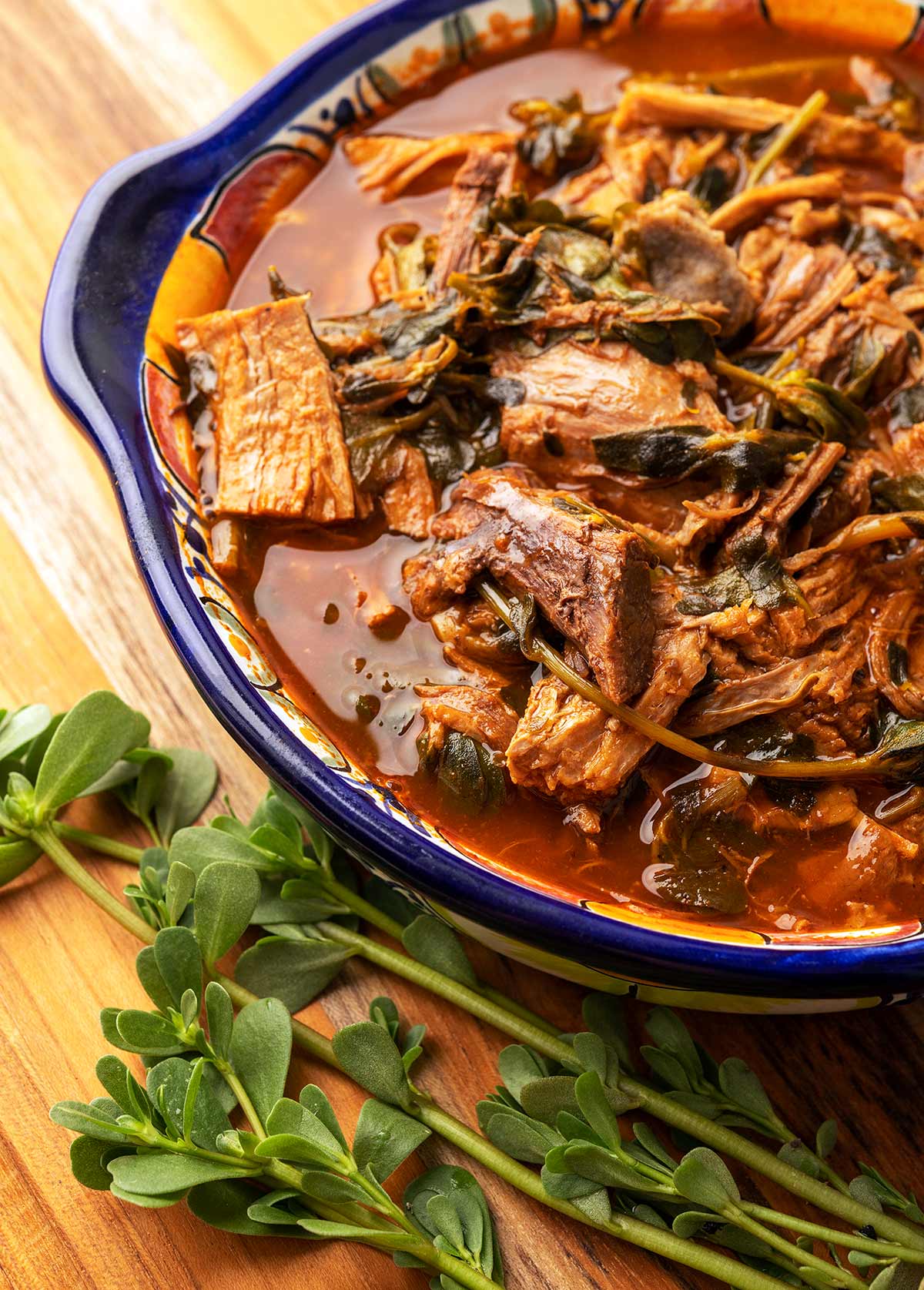 I used wild pork here, but farmed is of course fine, too.
The purslane goes in during the last 10 minutes or so. Carne de puerco con verdolagas is typically eaten as a plate of food, alongside rice and beans. But you can use it to fill burritos, or even better, sopes — the sturdier sope shell holds the stew better.
When you are picking purslane, you'll want to pull it out by the center root and trim off all the toughest stems; the young stems are delicious and almost meaty, so leave some.
Pretty much everything here is easy to find, including the purslane… it's likely growing as a weed in your yard or garden. If not, it'll be near you somewhere. I have occasionally seen it for sale in farmer's markets, but pretty much everyone just eats purslane after weeding the garden.
Once made, your puerco con verdolagas will keep a week in the fridge. It doesn't freeze well once you put the purslane in it, but the base of meat, broth and salsa does freeze well, and it can pre pressure canned just like any other stew. This is a good trick, because then you can open a jar, heat it up and toss in fresh purslane. Easy peasy.
Mexican Pork with Purslane
I typically use shoulder meat from a wild hog for this recipe, but regular pork shoulder or ribs are all common in Mexico. Most of the ingredients here are easy to find, but I'll offer some substitutions below.
Ingredients
BRAISED PORK
3

pounds

pork shoulder,

cut into large hunks

Salt

3

bay leaves

1

tablespoon

Mexican oregano

1/2

onion,

chopped roughly

4

cloves

garlic,

smashed

1

sprig epazote

(optional)

2

hoja santa leaves

(optional)
SALSA
4

plum tomatoes,

halved

1

white onion,

quartered

4

cloves

garlic,

unpeeled

2 to 5

guajillo chiles,

seeded, stemmed and rehydrated

2 to 5

ancho chiles

seeded, stemmed and rehydrated

2 to 5

chiles morita,

or chipotles in adobo

1/4

pound

tomatillos,

husked

Salt

3

tablespoons

lard or vegetable oil
TO FINISH
2

pounds

purslane

Crema or sour cream to taste
Instructions
Cover the pork shoulder with water in a large, lidded pot like a Dutch oven. Bring to a boil, then drop to a simmer. Skim off any scum or froth that develops. Add the remaining braise ingredients, cover the pot, turn the heat to low and simmer gently until the pork is tender -- anywhere from 90 minutes for some store bought pork to 3 hours for an old wild hog.

Meanwhile, get a comal, griddle or cast iron pan hot and sear the onion, cut side of the tomatoes and garlic until well blackened. While this is happening, rehydrate the chiles with hot water after you have seeded and stemmed them.

When the vegetables are well charred, discard the garlic peels and put everything in the blender, along with the chiles -- discard the chile water. Add the tomatillos and a pinch of salt and puree. If you want to, push the salsa through a fine mesh sieve into a bowl to remove any bits of skin and seed, which are undigestible.

Heat the lard in a sauté pan and pour the salsa in. It will spit and sputter. Stir this constantly until the lard is incorporated, then turn the heat to low and cover the pot.

When the pork is tender, strain the broth and reserve. Slice the pork across the grain here and there so you don't have long, stringy pieces. Wipe out the pot, then return the pork, strained broth to it, adding the salsa and the purslane. Simmer this for about 10 to 20 minutes, adding salt to taste.

Serve with the crema alongside, with some hot sauce, and tortillas.
Notes
If you can't find the exact chiles, any combination will do. Other good ones are pasillas, chiles negro, chiles California, and dried red Hatch chiles. For the spicier moritas, you can usually find the chipotles in adobo. If not, any hot chile will do. 
If you want to make this and can't find purslane, use any quelite, or wild edible green. Lambsquarters is a great option. 
While this is mostly done with pork, venison or any other red meat will work well, and there is a version done with jackrabbit in Sonora. Wild turkey legs would be good, too. 
If you cook this down so it's not quite as stewy, you can use this as a taco filling. 
Nutrition
Calories:
306
kcal
|
Carbohydrates:
21
g
|
Protein:
27
g
|
Fat:
14
g
|
Saturated Fat:
7
g
|
Polyunsaturated Fat:
2
g
|
Monounsaturated Fat:
4
g
|
Cholesterol:
70
mg
|
Sodium:
187
mg
|
Potassium:
1209
mg
|
Fiber:
9
g
|
Sugar:
7
g
|
Vitamin A:
16185
IU
|
Vitamin C:
103
mg
|
Calcium:
394
mg
|
Iron:
4
mg
Nutrition information is automatically calculated, so should only be used as an approximation.