Homemade British Bangers Sausage
October 09, 2014 | Updated June 06, 2022
As an Amazon Associate I earn from qualifying purchases.
English bangers sausage is an easy to make, mild sausage that is most famously served with mashed potatoes — the famous "bangers and mash." Here's how to make bangers sausage at home.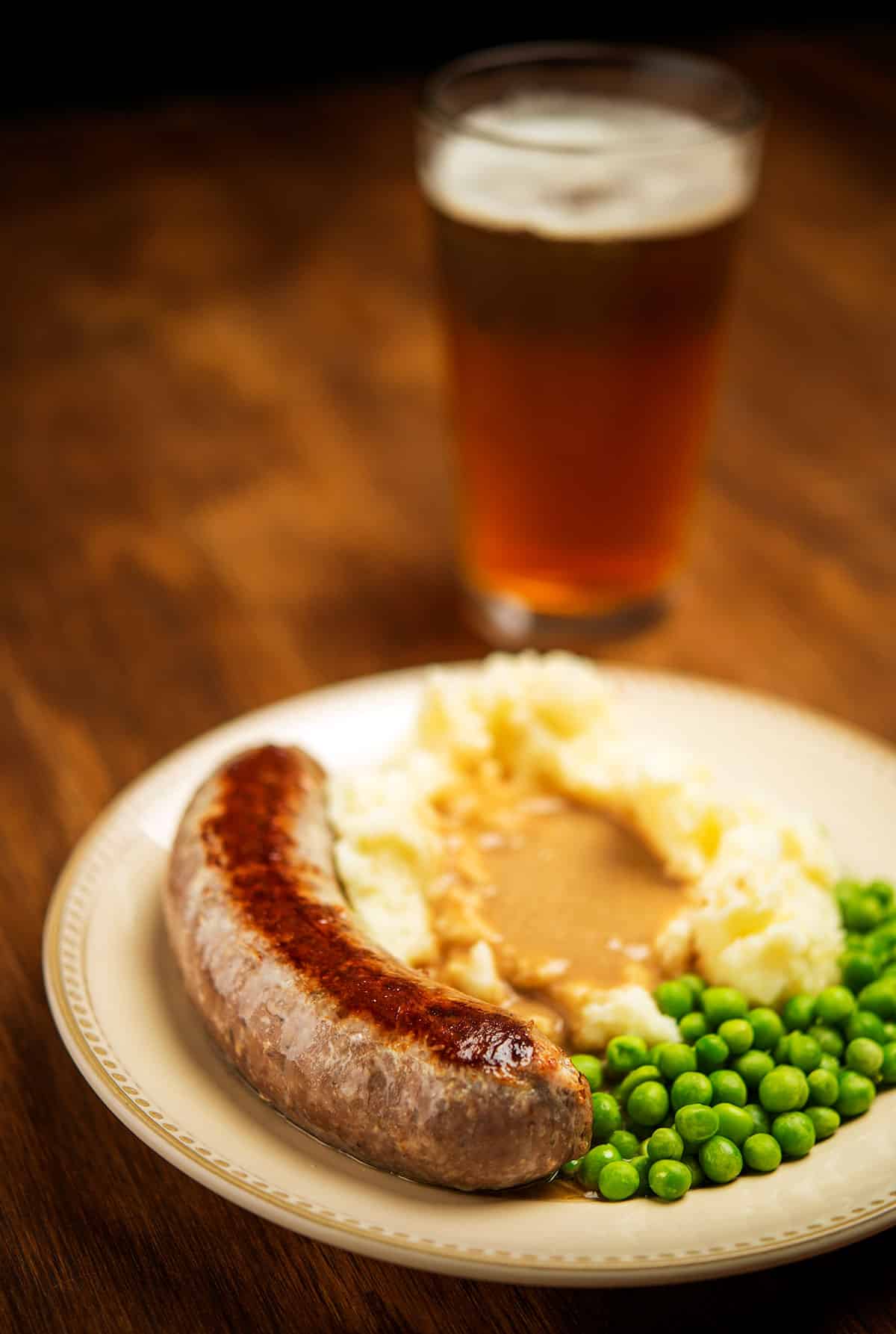 I can't remember the first time I had bangers and mash, but if I had to guess it would be at Lily Flanagan's, an Irish pub in Islip on Long Island, back in the early 1990s. I just remember it as generic "sausage," with nice mashed potatoes and peas.
Later, in 1995 on a 36-hour layover in London, I had real deal bangers sausage. Still pretty generic, but definitely better: It was a softish link, with warm spices and an interesting bind that made it comforting to eat.
I later learned that the unusual mouthfeel of bangers sausage is caused by the inclusion of some sort of grain product in the link, whether crushed rusks, oats, barley or breadcrumbs. I've heard various theories on why British charcuterie does this — virtually no other sausage-making nation does, with the exception of the famous Scandinavian potato sausage — ranging from scarcity during the World Wars to, well, it just tastes good. I used to think it was some sort of scandalous cheapening of a good sausage, but I've come around recently.
The addition of a grain in the mix can and does add something positive. Texture, sure, but also flavor. I am partial to barley or oats coarsely ground in a coffee grinder.
Now before you Brits cross the Atlantic on some fool's errand again (lest we forget 1776 and 1812) know that I am well aware that there is no One True Banger, just as there is no one recipe for Italian sausage or Polish kielbasa. (Although if I had to give the title of One True Banger it'd probably go to Mick Jagger…)
My version of bangers sausage is derived from recipe for a Gloucester-style sausage I found in the books Manual of a Traditional Bacon Curer and British Charcuterie. Both are worth your time, with Manual as the more comprehensive.
Some bangers recipes are all pork, some are pork and beef. I used blacktail deer and pork. This particular deer had grown fat from eating black oak acorns, so I added some to the sausage mix. Deer fat, by the way, can be awfully good in moderation. (More on that here.)
For the grain element, I used oats ground into a meal. Traditionally, you'd use "rusk," which are dry biscuits or bread baked hard. Regular breadcrumbs work fine. I also use a little porcini powder, which is not traditional, but it tastes really good.
I used beer instead of ice water to help the sausage bind. I went with an English mild beer, which is very malty and low in alcohol. Any malty beer will work, or use ice water.
Everything went well. The bind of the bangers sausage was perfect — tight, almost emulsified — and had that snap when you bite into them. The filling was moist, meaty, venison-y and laced with all those warm spices. A damn good banger, if I do say so.
New to making sausage? You can find my detailed tutorial on how to make sausages at home here.
Looking for something to serve bangers with? I like colcannon, maybe a side of pickled walnuts, and a parsley sauce on the side.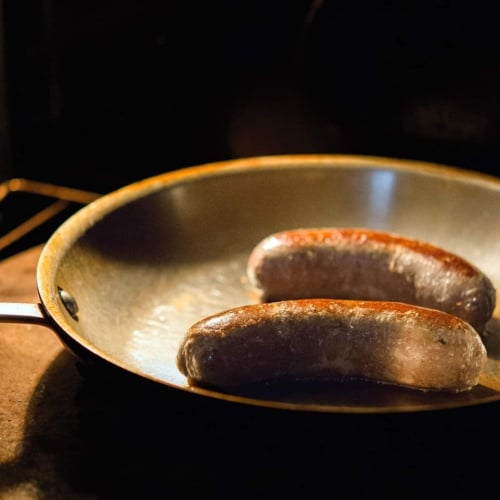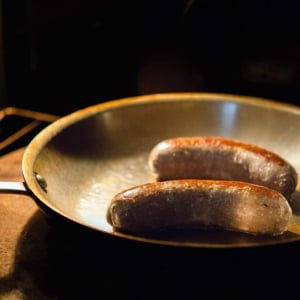 British Bangers Sausages
Once you make these, the obvious thing to do with them is to make bangers and mash, with peas. Of course! Just pull a page from your Thanksgiving playbook and make mashed potatoes, gravy and peas in butter. That's it. You can also put these in a bun and serve with mustard and kraut, or with pickled onions.
Ingredients
4

pounds

venison,

pork or other meat cut into chunks

Either 1 pound pork fat

(or 1/2 pound pork fat and 1/2 pound venison fat), cut into chunks

36

grams

kosher salt,

about 2 tablespoons plus a teaspoon

2

teaspoons

dried thyme

2

teaspoons

white pepper

1

teaspoon

minced sage

1

teaspoon

porcini powder

(optional)

1

teaspoon

onion powder

1/2

teaspoon

mace

1/2

teaspoon

nutmeg

1

cup

coarsely ground oats,

barley, or, alternately breadcrumbs

3/4

cup

malty beer

Hog casings
Instructions
Get out about 15 to 20 feet of hog casings and soak them in warm water. If you don't trust your source, run water through them to check for punctures or weak spots.

Make sure all your equipment is cold, as in freeze the grinding plate and blades, and the bowl you will put the meat into for 30 minutes to an hour. Do the same for the meat and fat. When everything's nice and cold, mix the meat and fat with all the spices (leave out the oats and beer for the moment).

Grind it all through a coarse plate; I use a 10 mm plate. Test the temperature of the mixture, and if it's 35°F or colder, go ahead and grind it all again through a fine die, like a 4.5 mm or somesuch. If it's warmer than 35°F, put the mix back in the freezer to chill. This might take an hour or so if you've let the meat warm up too much.

Once the sausage has been ground twice, test the temperature again to make sure it's 35°F or colder. I prefer to chill the mix down to 28°F to 32°F for this next stage. Chill the mix and when it's cold enough, take it out and add the oats and beer. Now, mix and knead this all up in a big bin or bowl with your (very clean) hands for a solid 2 minutes -- your hands will ache with cold, which is good. You want everything to almost emulsify.

Stuff the sausage into hog casings rather loosely. I like bangers to be about 6 to 8 inches long, but it's your choice. To twist them into links, tie off one end of the coil you just made. Pinch off links with your two hands and roll the link between them forward a couple times. Move down the coil and repeat, only this time roll backwards a few times. Repeat until you do the whole coil. (This video shows how I do it.) Now look at the links, which will probably have air pockets in them. Use a sterile needle or sausage pricker (set it aglow in your stovetop flame) to puncture the casing over all the air pockets. Gently compress the links together to squeeze out the air pockets and rotate the links a bit more to tighten; this takes practice.

Hang your links for at least 1 hour if your room is warm, and up to overnight if you can hang them in a place that's 40°F or cooler. Don't let them freeze yet. If you are not hanging overnight, let the sausages continue to dry uncovered in the fridge overnight before you seal them up and freeze. Bangers will keep a week in the fridge and a year in the freezer, if you've vacuum sealed them.
Nutrition
Calories:
585
kcal
|
Carbohydrates:
25
g
|
Protein:
89
g
|
Fat:
11
g
|
Saturated Fat:
4
g
|
Cholesterol:
308
mg
|
Sodium:
2978
mg
|
Potassium:
1179
mg
|
Fiber:
4
g
|
Sugar:
1
g
|
Vitamin A:
15
IU
|
Vitamin C:
1
mg
|
Calcium:
46
mg
|
Iron:
14
mg
Nutrition information is automatically calculated, so should only be used as an approximation.