Irish Colcannon with Wild Greens
March 13, 2012 | Updated June 06, 2022
As an Amazon Associate I earn from qualifying purchases.
It isn't often that I mark holidays on this site. For years, I've let Christmas, Independence Day, Valentine's Day, Purim, etc. pass without note. So why should I celebrate St. Patrick's Day with a recipe? Because this one is so good, and so perfect for the season. Now I enjoy a hunk of corned venison as much as anyone, it really needs an accompaniment. My choice? Irish colcannon.
Ever had colcannon, the Irish mixture of potatoes, green things and onions? It is to regular mashed potatoes what truffles are to button mushrooms. What's more, the idea of colcannon is infinitely malleable. Traditionally the green thing is cabbage or kale, and, for the most part, green onions or scallions are added to make it colcannon.
There is a similar dish called champ that omits the kale or cabbage. But after reading several dozen recipes, there appears to be no hard or fast rule even in Ireland.
Take this concept into wild food and you're in business. Any spring green onion — ramps in the East, three-cornered leek in the West, lawn onions everywhere — to any spring green and you have a wild colcannon. Which greens? Your possibilities are wide: nettles, mustard greens, miner's lettuce, young dandelion leaves, curly dock leaves, wood sorrel… or cow parsnip.
Yes, cow parsnip. Don't know the plant? It is the giant, smelly oaf of the carrot family, the one who fills up a room and not always in a good way. Know Heracleum maximum by its huge leaves and giant white flower umbels.
This size makes it tough to confuse with anything but the invasive, non-native giant hogweed. But cow parsnip's aroma will always give it away. Think celery, with lovage, a touch of spiciness, and, um, a little bit o'skunk. The smell of cow parsnip is unmistakable, and strong. It filled the cab of my truck on my drive home yesterday. And like cilantro, it is polarizing: You either like it, or not.
I like it, but mixed with something milder. Cow parsnip by itself is too funky, too skunky for me. But the addition of lots of mashed potatoes and butter cuts the harsh edge off so well I would choose no other green for my spring colcannon. And cow parsnip is at its young-and-healthy stage all over the Pacific Coast right now.
Cow parsnip grows from sea level to 9000 feet or more pretty much everywhere in the United States except the Deep South. They seem to be especially common in the Rockies, and my friend Erica has lots of recipes for them. I have some other plans for cow parsnip I will write about soon.
As for the colcannon itself, if you can boil water and make mashed potatoes, you can make colcannon. It's one of the easiest recipes you will ever find on this site. It also settles your stomach for a long night of drinking Guinness…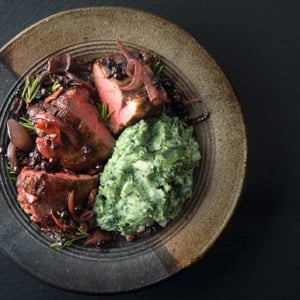 Irish Colcannon with Wild Greens
While I give you amounts for a normal-sized recipe, you can scale this up or down as much as you want. Basically colcannon is 3 parts potato (or other root veggie, like parsnip or turnip) to 1 part green thing and 1/2 part green onion. Butter and cream or milk you add to taste. If you want a store-bought, traditional version of colcannon, use potatoes and kale and scallions. If you are a forager, use any green thing -- cow parsnip, nettles, dandelions, etc -- and any wild onion. I used cow parsnip and three-cornered leeks, which grow wild all over Northern California.
Ingredients
2

pounds

waxy potatoes

such as Yukon Gold, peeled and cut into chunks

Salt

3

cups

of chopped greens,

loosely packed

1

cup

chopped green onions,

scallions, ramps, etc.

1

cup

half-and-half or milk

5

tablespoons

unsalted butter,

divided
Instructions
Put the potatoes in salty water and bring to a boil. Reduce the heat and simmer until tender, about 20 minutes. When the potatoes are done, pour them into a colander and return the pot to the heat.

Add 2 tablespoons butter and the greens and onions. Saute, stirring constantly, until the greens wilt. Sprinkle some salt over the greens as they cook. Add the half-and-half and another tablespoon of butter and bring this to a simmer. Return the potatoes to the pot, turn off the heat and mash well. Add salt to taste.

To serve, put some colcannon on everyone's plate and make a little well in the center. Add a dot of butter to the well. When it melts, serve immediately.
Nutrition
Calories:
389
kcal
|
Carbohydrates:
44
g
|
Protein:
8
g
|
Fat:
22
g
|
Saturated Fat:
13
g
|
Cholesterol:
60
mg
|
Sodium:
103
mg
|
Potassium:
1343
mg
|
Fiber:
6
g
|
Sugar:
4
g
|
Vitamin A:
5108
IU
|
Vitamin C:
39
mg
|
Calcium:
186
mg
|
Iron:
3
mg
Nutrition information is automatically calculated, so should only be used as an approximation.