Anticuchos, Peruvian Grilled Deer Heart
September 07, 2020 | Updated February 23, 2021
As an Amazon Associate I earn from qualifying purchases.
Anticuchos peruanos is a common street snack in Peru, and you will most often see it as anticuchos de corazon, grilled heart skewers.
Normally you will see this done with beef heart, but I primarily use deer heart, although lamb, elk, moose, pork, etc. are all fine, and, oddly, all similar tasting. Oh, and it doesn't need to be hearts. Any tender meat will do.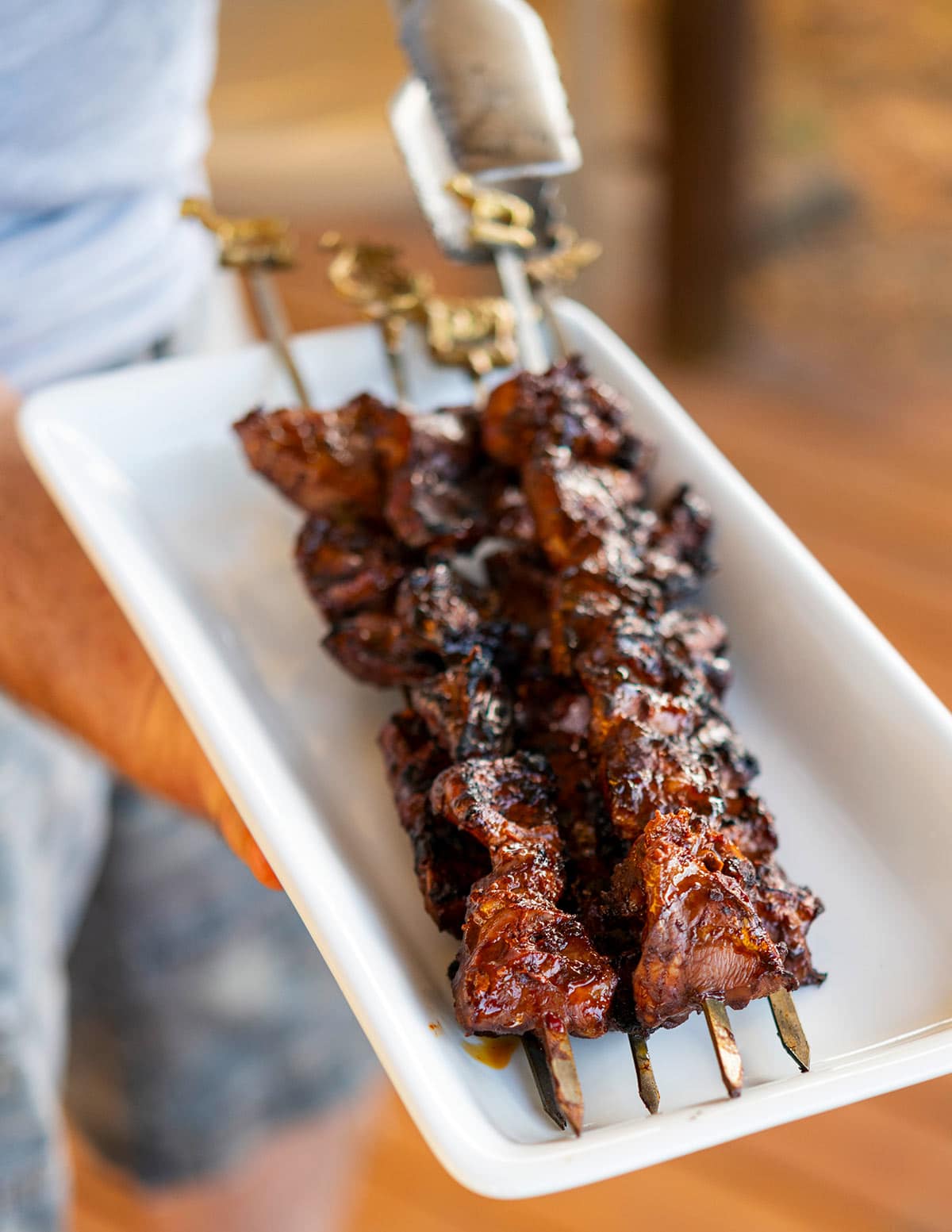 Anticuchos, pronounced something like "ahn-tea-KOO-choss," is an ancient dish, dating back before European contact with the Inca in the early 1500s. Originally done with llama or whitetail deer (yes, there are whitetails in the Andes), anticuchos de corazon are basically marinated kebabs done with heart.
(Looking for another deer heart recipe? Try my grilled deer heart with sweet peppers.)
The main ingredient of the marinade is a Peruvian chile paste called ají panca. You can find it in good Latin markets or online, and I really like the premade Aji Panca Paste.
That said, Mexican chipotles in adobo are way easier to find and are similar, if a little hotter. Bottom line is you want a thick puree of mildly hot chiles—don't blow your head off with heat here. You can get close with some chipotles in adobo buzzed in a blender with a few preserved red bell peppers. Another option is to use Mexican pasilla chiles or anchos.
Normally, anticuchos peruanos are just a snack or appetizer, not a main meal. But if you have lots of deer hearts, go for it. And yes, you can make these with other parts of the deer or beef or whatever. The same marinade works with all varieties of meat, and even fish or shellfish like shrimp or lobster.
I'm a big fan of letting these sit in the fridge overnight to marinate, but you can get away with as little as an hour if you have to.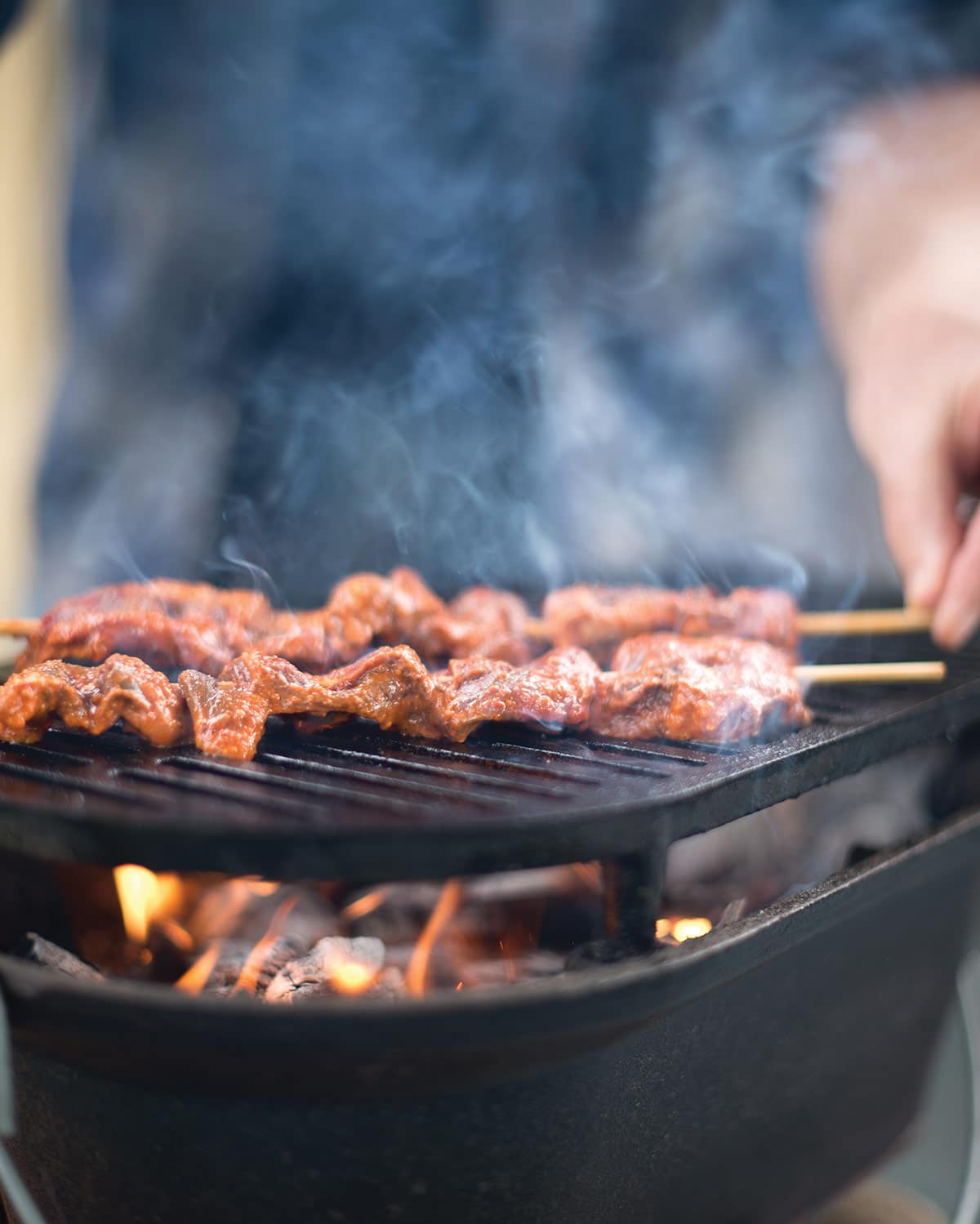 You should always cook these skewers over charcoal or other open flame, and they are traditionally served with potatoes (also native to the Andes), corn, and hot sauce.
Preparing the heart is easy – you can see details here.
Unless you are using hearts from young animals like lamb, you will want to tenderize the meat before putting it on skewers. Mostly I do this with a jaccard, which is a nifty handheld device with a handle and lots of sharp, pointy blades. You put the meat on the cutting board and bounce the jaccard all over the meat, making hundreds of little cuts in it. Works very well with any tough piece of meat, hearts especially. A jaccard is cheap, too, costing about $20 in any good supermarket or online.
Your other option is to score the heart meat with many thinly spaced, crosshatched cuts from a knife. I don't love this method for anticuchos, but it will work in a pinch. You can also pound the heart into flat cutlets and thread them on the skewers.
(For another great Peruvian recipe, try my recipe for ceviche de pato, citrusy braised duck or goose legs.)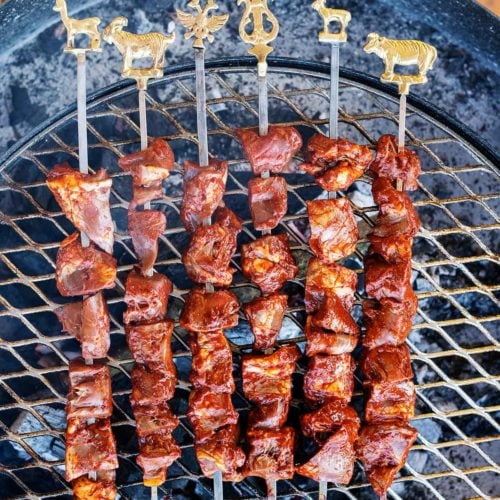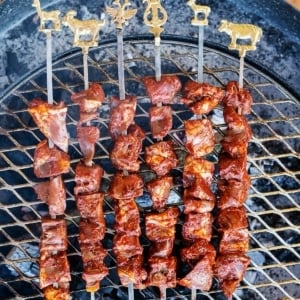 Anticuchos de Corazon, Grilled Heart Skewers
This is a versatile recipe that works with more than just hearts. Any meat you want to eat on a skewer will do, including shrimp and lobster.
Ingredients
6

dried aji panca chiles

(See above for substitutes)

4

cloves

garlic, chopped

1/2

cup

red wine vinegar

1

teaspoon

freshly ground black pepper

1

teaspoon

ground cumin

1

tablespoon

achiote paste

(optional)

3

tablespoons

vegetable oil

Salt

1

pound

hearts (or other meat),

trimmed and cut into 2-inch pieces
Instructions
Pour boiling water over the dried chiles and cover. Let this sit for 20 minutes to soften.

Mix all the marinade ingredients together and buzz them into a puree in a food processor or blender. Submerge the heart pieces in the marinade for at least 1 hour, and up to a day.

Thread the heart pieces on the skewers—this helps you flip them more easily and helps them cook more evenly. Grill over very high heat with the grill cover open until you get a nice char on the outside, about 3 minutes per side. Baste with the marinade as the skewers cook.
Notes
NOTE: You can use Mexican pasilla or ancho chiles instead of aji panca, or if you have premade aji paste, use the whole jar, which is about a cup. 
Nutrition
Calories:
248
kcal
|
Carbohydrates:
5
g
|
Protein:
21
g
|
Fat:
15
g
|
Saturated Fat:
10
g
|
Cholesterol:
141
mg
|
Sodium:
120
mg
|
Potassium:
456
mg
|
Fiber:
2
g
|
Sugar:
2
g
|
Vitamin A:
1391
IU
|
Vitamin C:
5
mg
|
Calcium:
18
mg
|
Iron:
6
mg
Nutrition information is automatically calculated, so should only be used as an approximation.