Grilled Deer Heart with Peppers
June 13, 2012 | Updated June 22, 2020
As an Amazon Associate I earn from qualifying purchases.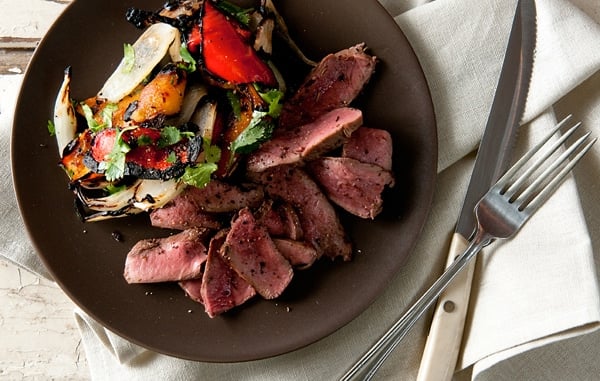 I get asked a lot about deer heart. Yeah, I know. Welcome to my world. But hearts are one of the more accessible wobbly bits — after all, they're muscle, just like a tenderloin — and, I am very happy to say, an increasing number of deer hunters are keeping them for the table. So how to cook them?
There are lots of ways, from tossing them into a stew or casserole to pounding them thin and making a classic German jaegerschnitzel. The best way to cook a deer heart? Grilled. Hands down. Marinated and then grilled over very high heat just long enough for the center to warm, then sliced thin with some grilled peppers and onions — man, oh man you got to try it.
Just look at that picture. If you can honestly say that plate of food doesn't look good to you, you are clearly a vegetarian. Which is fine, by the way, but then why are you looking at a picture of a grilled venison heart? Tempting, isn't it…
Getting a typical venison heart to look like this one takes a little doing. For starters, you need to trim the heart. Begin by using a very sharp knife to slice off any visible fat from the heart. Most venison hearts are pretty lean, and you will find fat only at the top. Discard it.
Now look at the top of the heart. See all the gaps and holes? Use them as a guide to slice the heart into several thick cutlets. Many cooks will tell you to "open the heart like a book," but it doesn't work quite like that. You get one really nice cutlet, then two slightly thicker ones. This can be a pain when you are trying to make a pounded cutlet for schnitzel, but no biggie for this recipe.
Carefully cut away any and all vein-y bits from the inside of the heat; they look like cobwebs sticking to its inner walls. You should now have 2 to 4 nice, clean hunks of meat.
With a typical deer heart from a white-tailed deer, a blacktail or a muley, one heart will feed two people. Maybe. A big deer will definitely feed two, an antelope only one. An elk heart or a moose heart will feed up to six. If you are a non-hunter still reading this, a pork heart is like a regular deer's, veal heart is like an elk or moose heart, and a beef heart will definitely serve six, maybe more.
Note that I marinate the hearts. Careful readers of this site may notice that I almost never marinate meats.
Why? Because a marinade penetrates meat at no more than 1/4 inch per day. This means you'd need 2-3 days for a really good steak or a thick piece of venison backstrap. And by then the outer layer of meat will be mushy. But a day's marinade will penetrate almost down to the center of a deer heart, so in this case it works.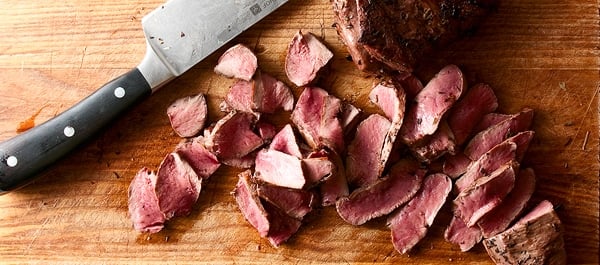 Get your grill raging hot. You want a char on the outside of the heart, but the center still very much pink. A hot grill and cool meat will help you do this. So unlike most meats, which you should bring to room temperature first, in this case take the marinated hearts right from the fridge to the grill.
My final piece of advice: Undercook the hearts just a little. For whatever reason, hearts tend to go from pretty pink to icky gray faster than other cuts. And an overcooked heart is a sad thing. Dog food. Best to undercook a bit, then let the meat rest for a good 10 minutes.
If all goes well, you will be rewarded. Grilled hearts have a smoky, charred flavor on the outside, a tang from your marinade and a dense, firm texture somewhere between ribeye and flank steak. Slice thin and enjoy. Oh, and if you are serving people who might get all squinchy about eating deer heart, don't tell them until after they've demolished their plate.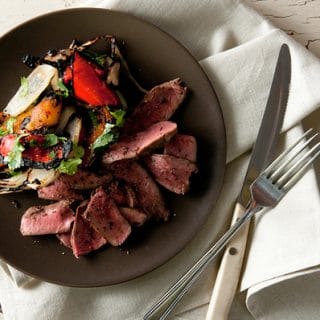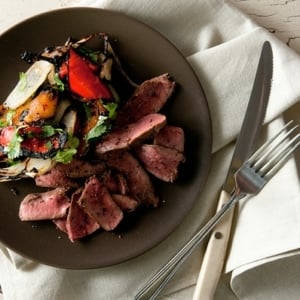 Grilled Venison Heart with Peppers and Onions
This recipe can be done with any large heart. I designed it for deer and elk, but it will work with antelope, moose, wild boar or whatever. For non-hunters, try beef heart, veal heart or lamb hearts. You don't have to marinate the meat, but it adds a lot of flavor, and helps keep it moist on the grill.
Ingredients
1

or 2 deer hearts

or 1 elk, moose or beef heart

4

tablespoons

olive oil,

divided

1

tablespoon

sherry or red wine vinegar

1

tablespoon

Worcestershire sauce

1

teaspoon

salt

1

teaspoon

dried oregano

1

teaspoon

dried thyme

1

teaspoon

ground black pepper

3

or 4 colored bell peppers,

cut into 2 to 3 pieces each

1

large onion,

cut into large wedges
Instructions
Trim the hearts as discussed above. In a large bowl, mix 2 tablespoons of olive oil with the vinegar, Worcestershire sauce, salt, oregano, thyme and black pepper. Massage the marinade into the meat, put everything into a container that can just about hold everything and marinate for as little as 30 minutes, or as much as 2 days.

When you are ready to cook, get your grill hot. Coat the peppers and onion in the rest of the olive oil and salt well.

Grill everything on high heat. Put the hearts and veggies on the grill -- skin side down for the peppers -- and leave them alone with the grill cover open for 8 minutes. Flip everything and grill, uncovered, for 5 more minutes.

Check the peppers and onions, and when they are nicely cooked with a little char, remove and put in foil to steam. Remove any blackened skin from the peppers.

If the hearts are not cooked through yet, cover the grill and cook for 2 to 5 more minutes. If you are using a thermometer, you want to get the meat off the grill when it is 130°F in the center. You can also use the finger test for doneness. Tent the hearts loosely with foil and let rest for 5 to 10 minutes. Sprinkle with black pepper and good sea salt at the table.
Notes
A tip on the peppers and onions: Cut them in large pieces so they don't fall through your grill grates. For the onions, make sure you keep the stem end attached. And cook the skin side of the peppers first -- if you get any parts that blacken, the skin peels right off. You actually want significant blackening here, so keep your grill ragingly hot.
Nutrition
Calories:
678
kcal
|
Carbohydrates:
10
g
|
Protein:
82
g
|
Fat:
32
g
|
Saturated Fat:
8
g
|
Cholesterol:
562
mg
|
Sodium:
1073
mg
|
Potassium:
1564
mg
|
Fiber:
3
g
|
Sugar:
5
g
|
Vitamin A:
2794
IU
|
Vitamin C:
126
mg
|
Calcium:
62
mg
|
Iron:
21
mg
Nutrition information is automatically calculated, so should only be used as an approximation.