As an Amazon Associate I earn from qualifying purchases.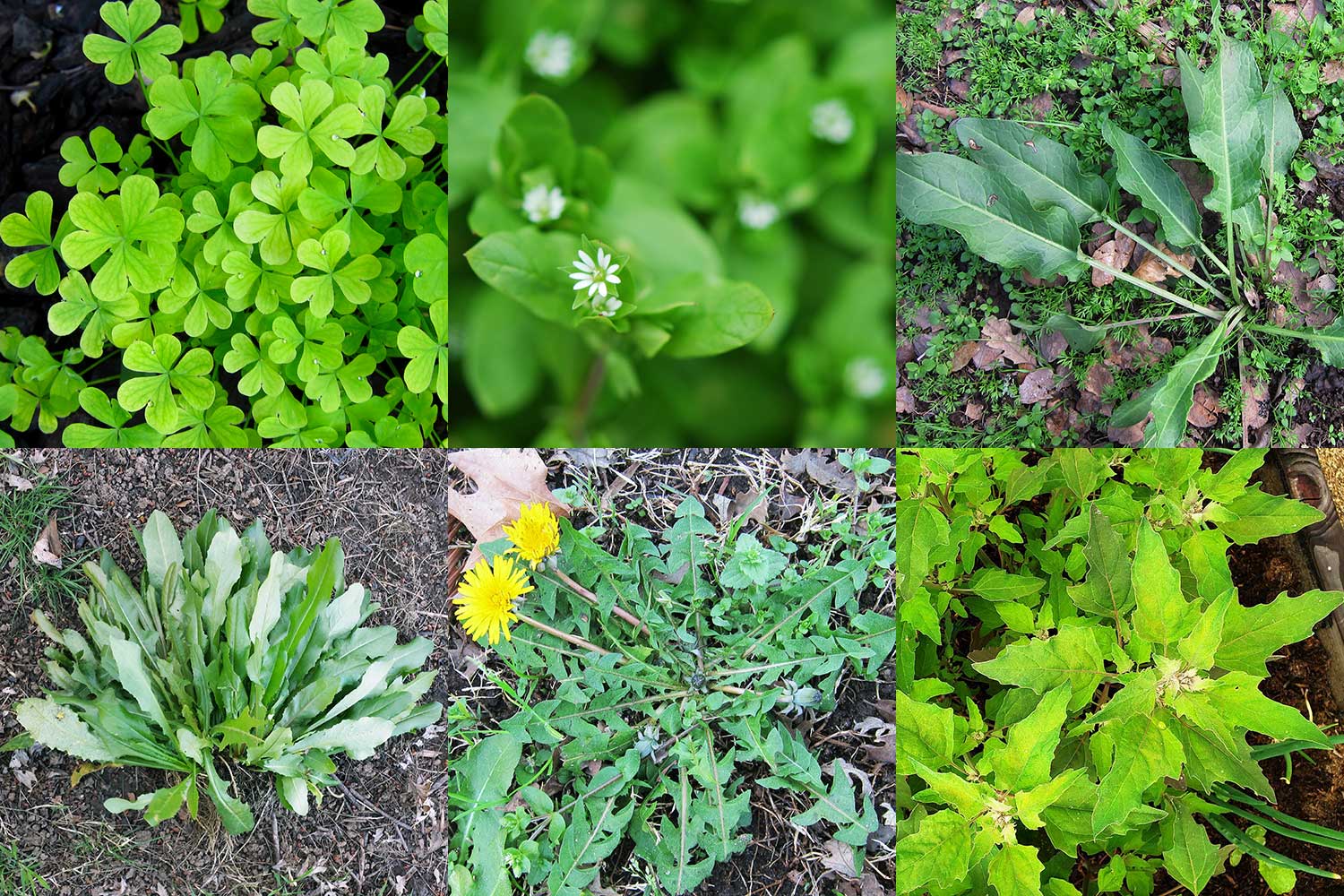 I admit it. I am a lawn-eater. Or to be more specific, I am an eater of those plants that live among the grasses which most people call "weeds." Hurumph. Edible weeds are simply plants growing where you don't want them to — any gardener will tell you volunteer tomatoes are weeds.
Spring, especially this strange spring, is the time to venture out on that most intimate of foraging trips — your yard — in search of edible weeds. The weather is still cool, but the sun is shining long enough that many wild plants are thinking of spring. And spring brings flowers. Time is ticking, because most lawn edibles are not very tasty once they flower.
I know, I know. Many of you live in colder climates and the very image of lovely spring greens in March is setting you on edge; it's because you've been eating too many rutabagas and turnips. Hang in there, though, because your time will come soon enough.
Fun fact of the day: Most typical yard weeds are European migrants that arrived with settlers, and most are eaten back in the Old Country — or at least someone's Old Country.
Pretty much everyone knows about dandelions, right? I mean you can even buy them in a store. I see them at the produce section of Raley's and smile. $1.99 a bunch? How about free, suckers? I have several dozen dandelions growing in my yard at any given time. Not enough to make a proper dandelion wine — you need a field full for that — but more than enough for some bracing salads.
Living alongside these wild chicories are the wild lettuces. Californians can see them flowering already — these are the ones with the little white flowers. Longer leaves with fewer serrations, and a little less bitter than the dandy leaves.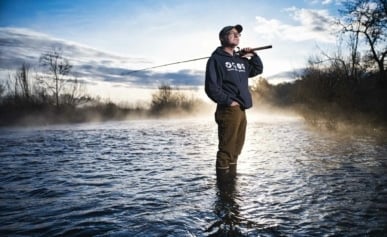 Foraging for Wild Greens: Dandelions, Wild Lettuces, Chicories
Everything you need to know about the dandelion and dandelion-like edible weeds you have in your yard.
Read More
The ideal time to collect yard greens is after a series of cool rains followed by some sunshine. Nights should still be cold, and days not beyond 70°F.
Basically, when picking wild salad greens, if it looks more or less like a dandelion or escarole leaf and it is growing in a rosette in your yard, it's probably edible. Pick a leaf and take a bite. It should be a little bitter, but not overpoweringly so. Pull the whole plant if you can — that way you get your weeding done at the same time you are preserving the leaves.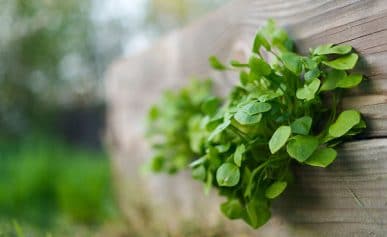 Foraging Miner's Lettuce, America's Gift to Salad
Live in the West? Chances are you have miner's lettuce growing near you. Here's how to identify this amazing wild salad green.
Read More
Another common lawn denizen is chickweed. Mouse ear chickweed is the lettuce of your lawn. Mild, pretty and slightly crunchy, it can grow in great masses. Clip these off and cut the stringy chickweed to about the length of your thumb; they'll be easier to eat.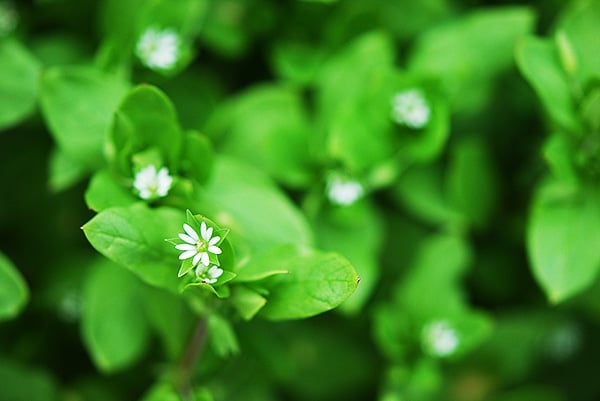 Depending on where you live, there are other lawn weeds to add to your foraged salad. Back East, wild onions and garlic grow everywhere: They look like little clumps of chives. By all means use them, and by so doing make me jealous — we don't have any here. Wah.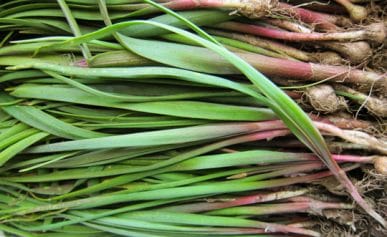 How to Harvest Wild Onions
From lawn onions to three-cornered leeks, many wild onions live in or near lawns and overlooked places.
Read More
Cresses are another good idea. I have a tiny little cress growing wild in my yard that I can't get enough of its mustardy taste; I think it is Pennsylvania bittercress, but, eaten in winter, it is not so bitter. Most people have some sort of cress living near them, so keep an eye out.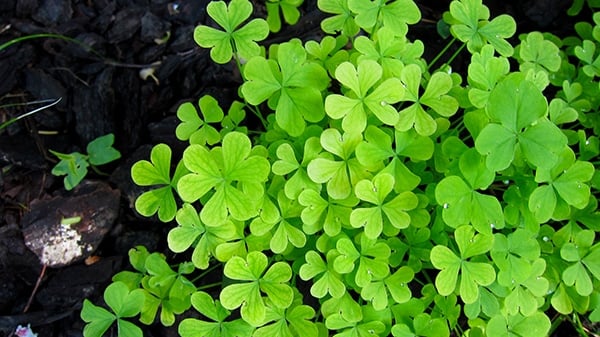 Sorrel is another common migrant. I have European sorrel growing in my yard, because I planted it and the seeds have since naturalized. But there are also the smaller sheep sorrel and wood sorrel, which grows all over the place — all varieties taste like lemonade in a leaf: sour and crunchy.
Gathering Curly Dock
Another very common edible weed, curly dock and it's cousins add a little tang to your salad or saute. Here's how to find and use it.
Read More
Some areas also have wild violets or Johnny Jump-Ups, which are completely edible. A few violet flowers on your salad spruces up things nicely.
I've seen all kinds of other things in yards, too. Wild mustards (look for the four-petaled yellow flowers), wild mints and other herbs, and here in California, you can sometimes see wild fennel — with its anise aroma and frilly fronds, it is unmistakable. I use it a lot in spring.
(If you are wondering how to properly identify all these plants, I've linked to some of my favorite foraging books below. They should have all the information you need.)
All About Lambsquarters, or Huauzontles
Once the weather gets warm, look for lambsquarters, which is a spinach cousin. In Mexico they call it huauzontles.
Read More
Vetch, a kind of bean, can take over certain places — it is a good indicator that your soil needs nitrogen — and can become a nuisance. You can make vetch work for you my clipping the last few inches of the growing tip and eating them like pea shoots. You can put the most delicate vetch tips in a salad, or briefly saute them in olive oil.
The brief saute is my the second go-to preparation for lawn-foraged greens. Older dandelion, curly dock leaves, wild mustard leaves and even filaree, also known as stork's bill, can all go into the pot for a quick dance with hot olive oil, salt, garlic, a little chile and a squeeze of lemon.
Once cooked this way, you can also wrap your edible weeds up in phyllo dough for a kind of Greek spanakopita. For an Italian take, gather your greens and make a green minestrone with them — use lots and lots of green things, cooked for varying lengths of time, using my minestrone recipe as a base.
I've made a cool pesto with nettles or dandelion leaves, too. Just sub in dandelions for basil in your favorite pesto recipe. It results in a zingy, slightly bitter pesto that really backs up mild meats like chicken or pheasant.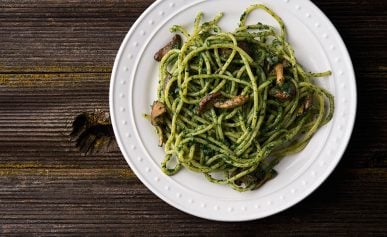 Nettle Pesto
Nettles lurk around the edges of many yards, and along many streamsides. Here's how make a great pesto from them.
Read More
My final ritual in this early "spring cleaning" is to scour my garden for strays, holdovers and volunteers. Chervil, Italian chicories, overwintering lettuces, the ends of fava beans, the tops of green garlic or onions, etc., etc., etc. These add yet another dimension to your salad or saute and clean up your garden beds, too. Remember that even a wanted plant growing in the wrong spot is a weed, so be cruel when you have to in the garden beds.
Foraging edible weeds need not be some big production. So long as you don't regularly douse your yard with chemicals, you can make quite a few meals from the vagrants and migrants that have set up shop among your prized bluegrass. And the best part? They're free.
FAVORITE FORAGING BOOKS
You will want to go over to this page, which has a comprehensive breakdown of my favorite foraging books. But for this post especially you will want to pick up Ellen Zachos' Backyard Foraging: 65 Familiar Plants You Didn't Know You Could Eat
, which covers lots of common landscaping and backyard edible plants.
The Quarantine Chronicles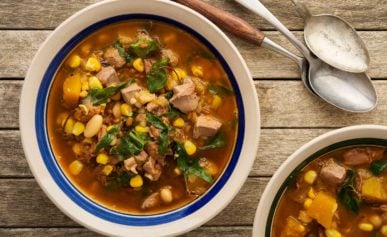 Making Stew with What You Have
Sometimes you have to make substitutions these days, and there is no better place to freestyle than in the stewpot. Here's how to build a better stew.
Read More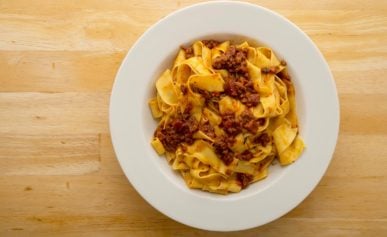 Black Mood, Red Sauce
It hasn't all been sunshine and light these days. Our little family suffered a death recently, and its inevitability turned me inward, to that dish that gives me solace when all around me is black.
Read More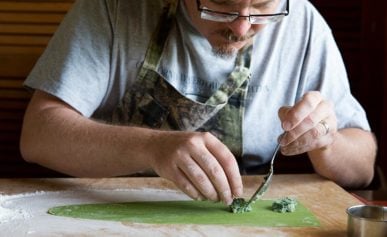 Stretching in Place
Quarantine has been a great opportunity to stretch yourself mentally, physically, and culinarily. Here are some ideas for you.
Read More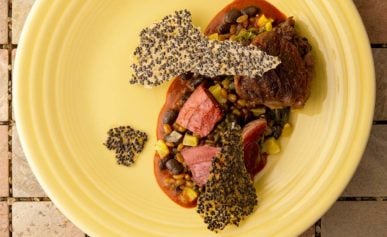 Time and Place on a Plate
When you can get out into the world again, do so with new eyes. Seeing what is around you when you hunt, fish or gather can inspire beauty on the plate.
Read More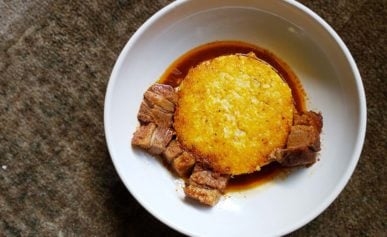 Wasting Less, Living Better
Being thrifty in these times is a necessity. Here's how I stretch and innovate in the kitchen using what I have handy.
Read More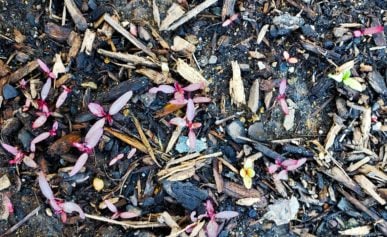 Support the Volunteers
In the garden, which for many of us is a place of solace these days, you will often find useful plants just growing, here and there. Consider supporting them.
Read More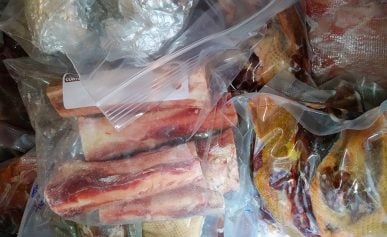 How to Salvage Freezer Burned Meat
When you can't go to the store that often, you look into the depths of your freezer. Sometimes you don't like what you see. Here's how to deal with ancient frozen bits.
Read More