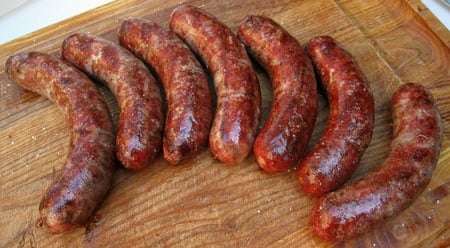 Toulouse sausages are the classic ingredient in cassoulet, that hearty bean, confit and pork extravaganza that is a hallmark of any self-respecting French cook's repertoire. Traditional Toulouse sausages are all pork, and are minced by hand rather than ground — a fine option I do myself from time to time.
But the sausage is also wonderful made with duck and pork fat and run through your coarsest die on your food grinder. (Incidentally, this is a great recipe for snow or Canada geese.)
What makes a Toulouse sausage unique? First the coarseness of it, but also its simplicity: It requires black pepper and garlic, that's all. Many versions, such as the one Paula Wolfert describes in her masterful The Cooking of Southwest France, include nutmeg.
Mine does, too, and if you can manage to grind your own nutmeg on the spot, you will notice a difference compared to pre-ground.
These links are excellent grilled slowly over hardwoods, roasted gently in a 350-degree oven, and, of course, as an element in cassoulet or other winter stews.
NOTE: If you are unfamiliar with making sausages at home, I wrote a good step-by-step on the technique over at my friend Elise's site Simply Recipes. You can read it here.
Makes about 5 pounds, or 25 sausages
4 pounds duck or goose meat (a little skin and fat is OK)
1 pound pork fat
1/2 cup white wine, chilled
35 grams (about 2 tablespoons plus a teaspoon) Kosher salt
5 grams (a scant teaspoon) Instacure No. 1 (optional)
25 grams (about 2 tablespoons) chopped fresh garlic
10 grams (about 2 tablespoons) ground black pepper
1/2 nutmeg, freshly grated (about 1 teaspoon)
hog casings
Chop the meat and fat into chunks of about 1-inch across, mince any skin you are using, then mix the garlic and all the spices together and toss with the meat and fat.
Chill the meat and fat until it is almost frozen by putting it in the freezer for an hour or so.
Take out some hog casings and set in a bowl of very warm water.
Grind through your meat grinder (you can use a food processor in a pinch, but you will not get a fine texture) using the coarse die. If your room is warmer than 69 degrees, set the bowl for the ground meat into another bowl of ice to keep it cold.
Add the wine and mix thoroughly either using a Kitchenaid on low for 60-90 seconds or with your (very clean) hands. This is important to get the sausage to bind properly. Once it is mixed well, put it back in the fridge for 30 minutes or so.
Stuff the sausage into the casings all at once. Twist off links by pinching the sausage down and twisting it, first in one direction, and then with the next link, the other direction. Or you could tie them off with butcher's string.
Hang the sausages in a cool place for 4-8 hours (the colder it is, the longer you can hang them). If it is warm out, hang for one hour. Once they have dried a bit, put in the fridge until needed. They will keep for at least a week in the fridge.
If you are freezing the sausages, wait a day before doing so. This will tighten up the sausages and help them keep their shape in the deep-freeze.
More Duck and Goose Recipes
More Sausage and Cured Meat Recipes