Pan Seared Venison Tenderloin
As an Amazon Associate I earn from qualifying purchases.
When you are blessed with a deer tenderloin, you will want to cook it simply — it is the filet mignon of venison. Here's how to cook a venison tenderloin perfectly, finished with a simple pan sauce you can use with all sorts of meats.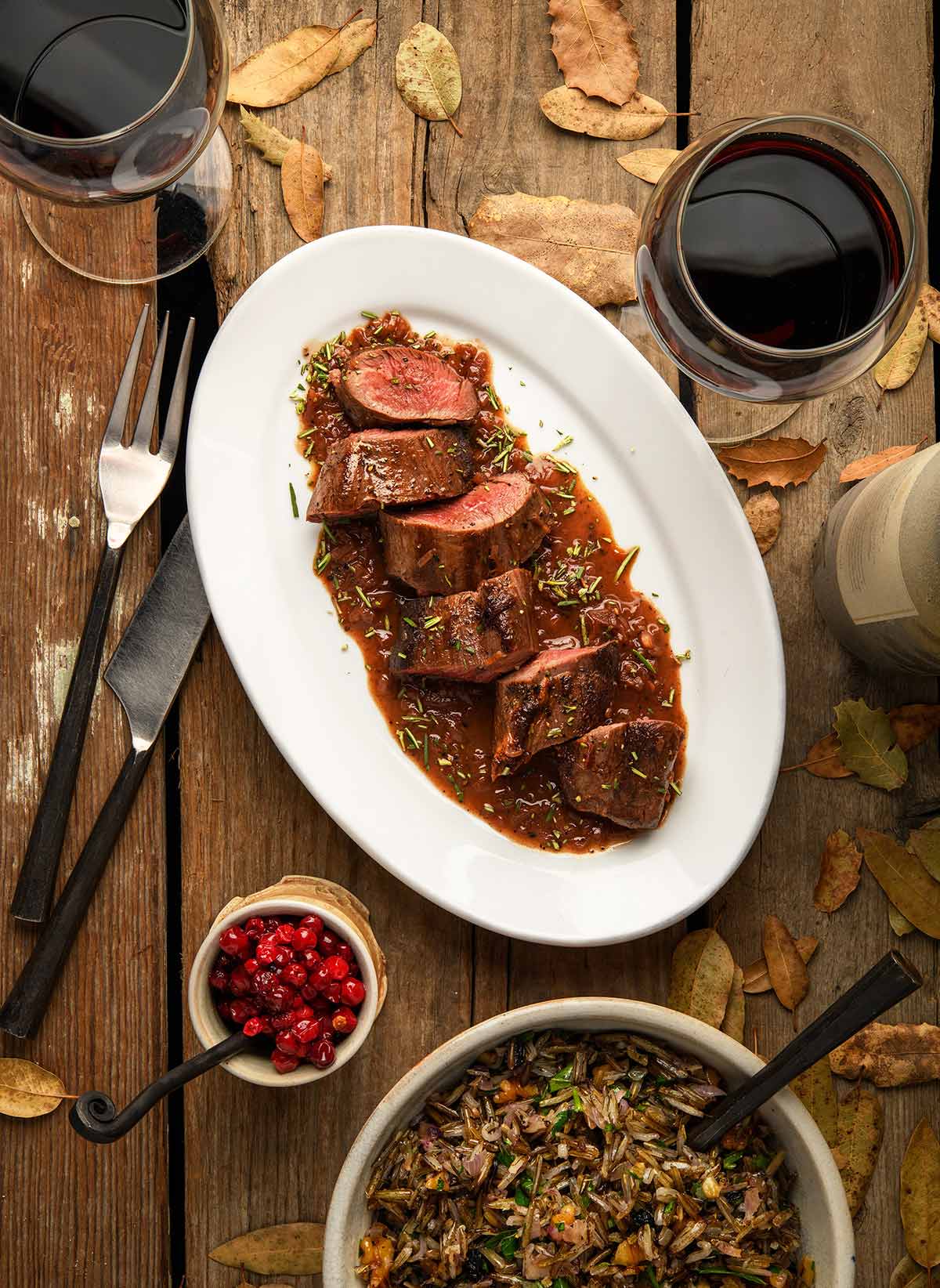 I need to start with the obvious: Venison tenderloin is not venison loin. Loins, a/k/a backstraps, are the deer (or moose, elk, pronghorn, etc.) equivalent of the ribeye in beef. They are great, but are not quite as tender, thus the name "tender" loin.
A deer tenderloin, or really any tenderloin, comes from the inside of the animal. Each animal has two, attached to the backbone underneath the backstrap, over the gut cavity. They often can be pulled off with minimal knifework.
I've seen venison tenderloins called the "fish," breakfast loins, even "weenie" loins. Whatever you call them, they will always be soft, even when overcooked. This can confuse some cooks using the finger test for doneness, because a well done deer tenderloin will feel like it's only medium.
This is why it's better to pay attention to time and temperature.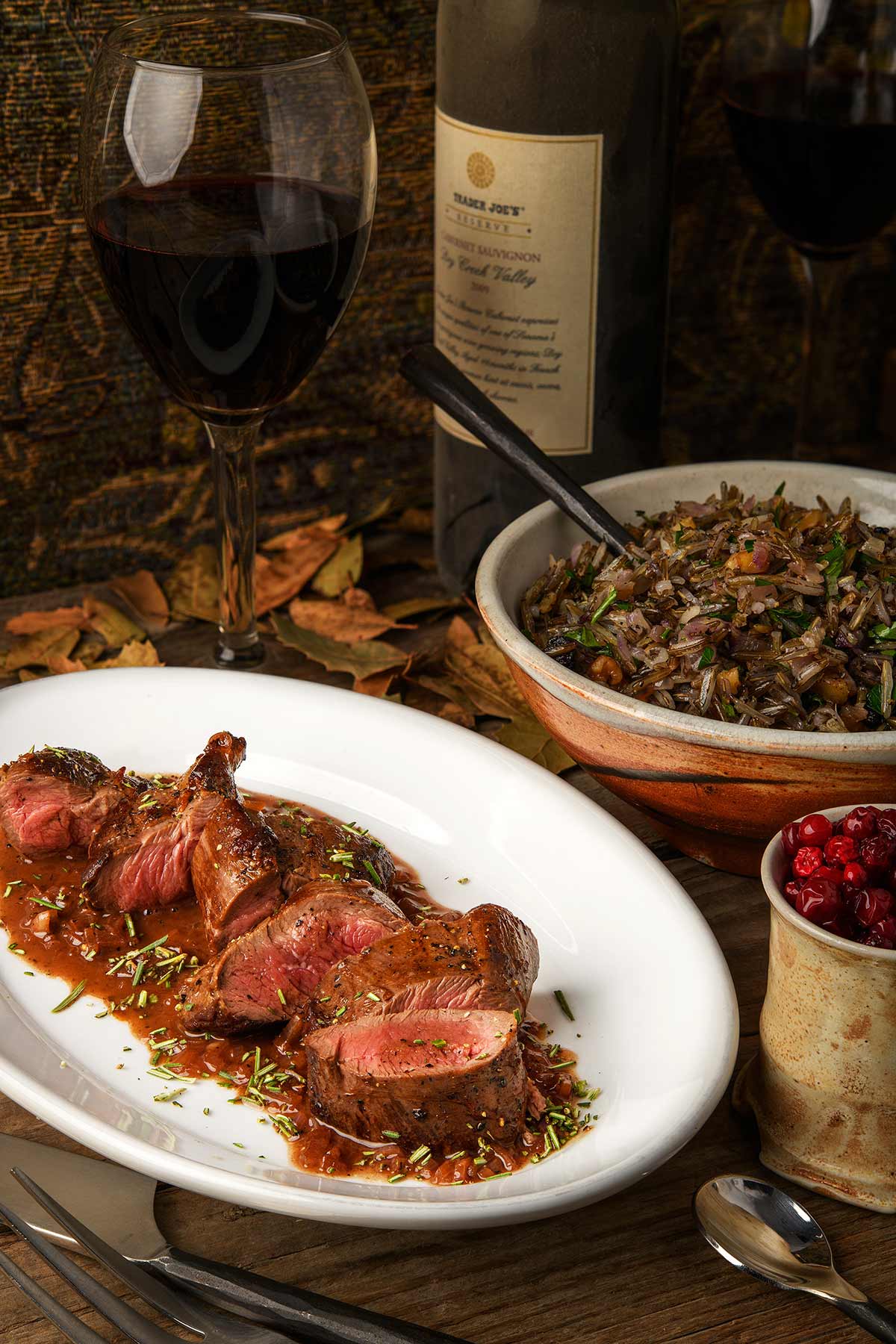 Keeping it Simple
A meal of venison tenderloin is ultra special, because the tenderloins even on a large deer will still only feed two. The ones in these pictures were from a 240-pound, mature buck. So you want to keep things simple. Deer tenderloin is a perfect date night meal.
First, salt thine loins. Salting beforehand is always good practice, but even moreso with steaks of any kind. I always take the meat out of the fridge, salt it well, and let it come to room temperature for at least 20 minutes, and an hour is not out of the question.
This seasons the meat — the salt will penetrate — remove a little moisture, concentrating flavor, and is an extra food safety step for meat sitting around at room temperature.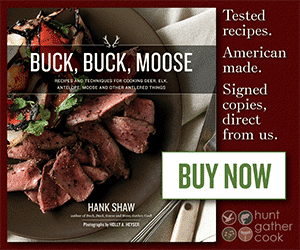 You will want only a little bit of a high smoke point oil to pan sear your venison tenderloin: Too much oil or fat limits the sear. I use about 2 tablespoons of grapeseed, avocado, safflower or canola oil for this.
Timing matters, because, remember, a deer tenderloin is soft. Once the meat is at room temperature and your oil is ripping hot, it should only require about 6 minutes to sear a venison tenderloin — they tend to be kinda-sorta triangular in cross section, so I end up searing 2 minutes on each major side.
Move the meat to a cutting board, grind a whole lot of black pepper over it, and let it rest 5 to 8 minutes. This is when you make your pan sauce.
Venison Tenderloin Sauces
I'll give you a very simple pan sauce below, but there are many pan sauces on this site that go very well with venison tenderloin… or backstrap, for that matter.
They all need to be quick, because you don't rest a deer tenderloin very long. My favorites include:
You can also do "pan sauce jazz" by mixing and matching. You need the remaining fat in the pan, or add enough to get to 2 tablespoons. Sauté some shallots or minced onions. Add red wine, brandy, beer or vermouth. Let this boil. Add venison stock or beef stock. Maybe a pinch of dried herbs. Let this boil down until bubbles are all over the pan.
Turn off the heat, and swirl in 2 tablespoons of butter, which will emulsify into a cohesive sauce. Doneski.
If you liked this recipe, please leave a ⭐️⭐️⭐️⭐️⭐️ rating and a comment below; I'd love to hear how everything went. If you're on Instagram, share a picture and tag me at huntgathercook.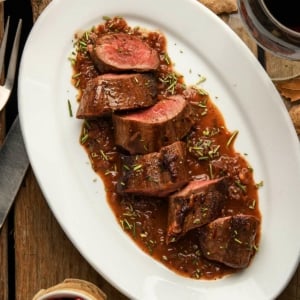 Pan Seared Venison Tenderloin
This is a master recipe for cooking a deer tenderloin in a pan, along with a basic pan sauce to serve it with.
Ingredients
12

ounces

venison tenderloin

(both tenderloins from a deer)

Salt

2

tablespons

safflower oil

(see above for alternate oils)

Freshly ground black pepper
PAN SAUCE
1

tablespoon

safflower oil

1

shallot,

minced

Salt

1/2

cup

red wine

1

cup

venison or beef stock

2

tablespoon

butter,

divided
Instructions
Salt the meat well and set aside while you mince the shallot for the pan sauce, or make whatever side dishes you have planned.

When you are ready to cook the tenderloins, heat the safflower oil in a pan that will hold the meat — remember they contract when they hit the heat — over high heat. Turn your stove fan on and pat the meat dry with paper towels.

Set the tenderloins down in the pan. They will contract immediately. Let them sear hard for 2 minutes, then turn to another side of the meat. Do this once or twice more, depending on how done you like your tenderloin. It's OK to sear a side more than once if you need to. Move the meat to a cutting board and grind black pepper over it.

Add the extra safflower oil to the pan, then the shallots, and sauté until the shallots brown a little. Use a wooden spoon to move the shallots over any browned bits in the pan to lift them off the metal.

Add the red wine and let this boil for a few seconds, then add the stock. Sprinkle a little salt over boiling sauce. Let this boil down for a few minutes, until the whole surface of the pan is covered in bubbles, and the wooden spoon leaves a trail when dragged through the center of the pan. Turn off the heat.

Swirl in 1 tablespoon of the butter until it incorporates, then the other. Slice the venison into medallions and pour over the sauce. Serve at once.
Notes
Keep in mind this method also works for the tenderloins of pronghorn and caribou. For elk and moose, you will want to increase the cook time about 1 minute per side, so about 3 to 4 minutes total extra time. 
Nutrition
Calories:
502
kcal
|
Carbohydrates:
5
g
|
Protein:
54
g
|
Fat:
24
g
|
Saturated Fat:
9
g
|
Polyunsaturated Fat:
2
g
|
Monounsaturated Fat:
10
g
|
Trans Fat:
0.5
g
|
Cholesterol:
164
mg
|
Sodium:
428
mg
|
Potassium:
1020
mg
|
Fiber:
0.4
g
|
Sugar:
2
g
|
Vitamin A:
352
IU
|
Vitamin C:
1
mg
|
Calcium:
33
mg
|
Iron:
8
mg
Nutrition information is automatically calculated, so should only be used as an approximation.