Classic Sauce au Poivre
April 03, 2014 | Updated September 06, 2022
As an Amazon Associate I earn from qualifying purchases.
Sauce au poivre is an old school French sauce mostly served with beef, although I have used it for many meats and even fish. Here's how to make this quick and easy pan sauce.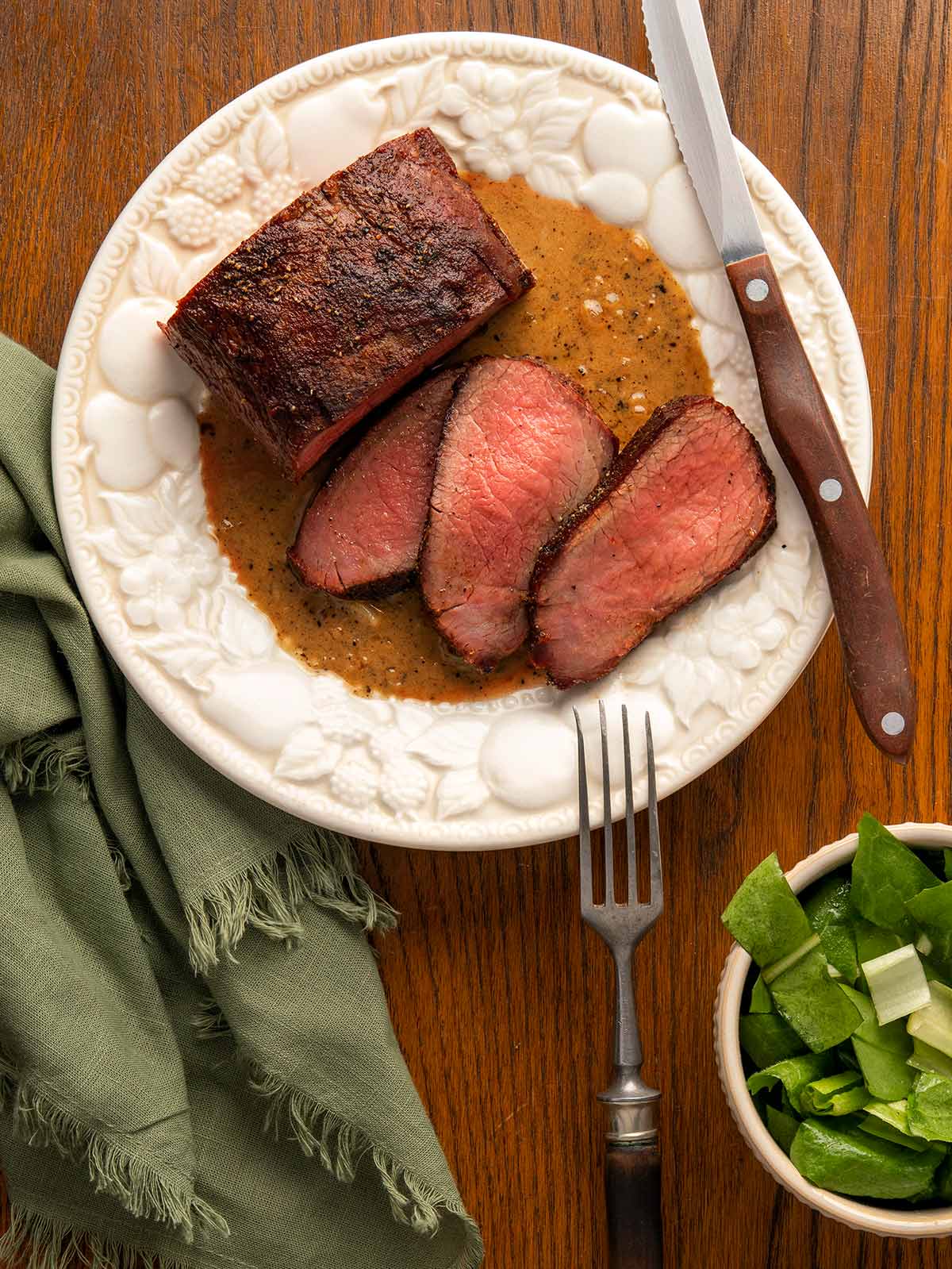 Steak au poivre is the most common way to serve the sauce, which relies on peppercorns. It's also known as pepper steak, although the English moniker lends itself to confusion because there's a Chinese takeout dish also called pepper steak. This is not that dish. This is the French classic, a recipe memorized by countless culinary students and immortalized by Saint Julia.
Sauce au poivre should be part of your repertoire, too. Why? Because it's fast, easy and good — and because it works with pretty much any meat. I've even made dove au poivre.
Meat for Sauce au Poivre
I've eaten steak au poivre with beef, lamb, bison, elk, antelope, dove, deer, duck, goose — it's even good with pheasant, tuna and swordfish, too. And for a vegetarian option, I've made sauce au poivre to serve with morel mushrooms, and shiitakes would be just as good.
The reason this sauce is so versatile is the alchemy of butter, peppercorns, a rich stock, brandy and cream. These are many of the greatest things in life, so it's easy to see why this is such a good sauce.
For the pictures, I decided to use dry-aged nilgai backstrap. Yeah, it was crazy good. Nilgai are an Indian antelope imported to Texas a century ago, and they now run wild throughout south Texas. But remember that virtually anything works with sauce au poivre – pan-seared venison tenderloin would be another excellent choice.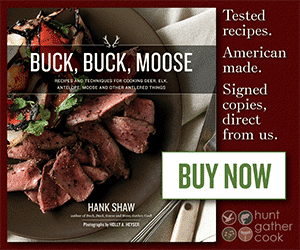 How to Make the Sauce
Sauce au poivre is a pan sauce, meaning its made in the pan you used to cook the meat in, in the time it takes to rest your meat. Done right, it comes together in 10 to 15 minutes, sometimes less.
Meat comes off the pan, add shallots. Cook these until wilted and slightly browned. Deglaze the pan with alcohol.
Cognac is traditional, but any brandy will do. No brandy? Sauce au poivre is great with sherry, Madeira or Marsala, too. Bourbon works in a pinch. Can't use alcohol? Use more glace de viande.
Wha? Glace de viande is concentrated, jellied stock. It's like adding 2 cups of stock and letting it boil down, only this won't get too salty. The link above is how to make it. You can also buy it, or its cousin demi-glace (it's sold shelf stable). You can also use low sodium beef stock, but be careful to not let your sauce au poivre get overly salty.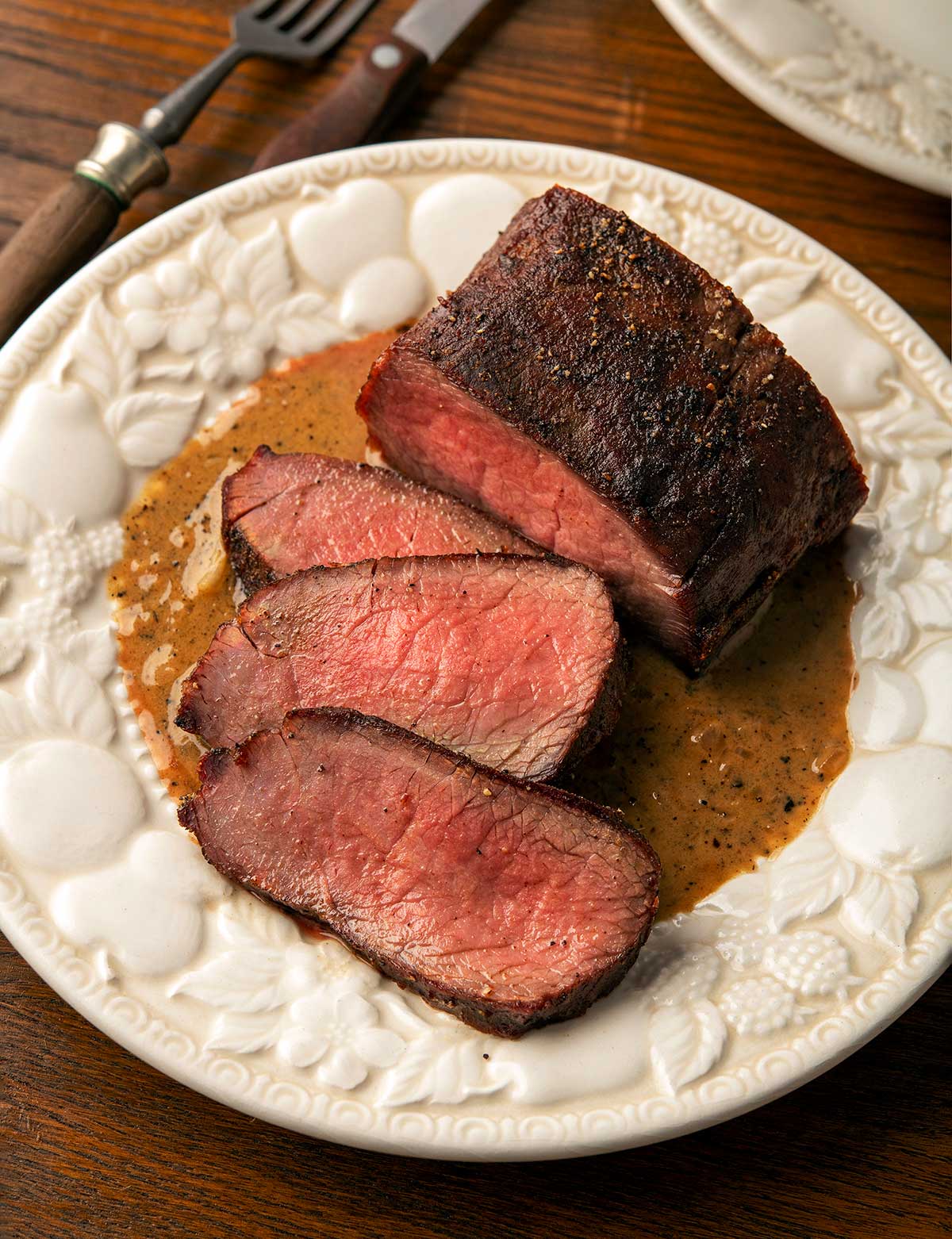 Peppercorns for Sauce au Poivre
Just like in other super simple dishes that rely on pepper, like cacio e pepe, your pepper matters in sauce au poivre. A lot. Do not make this sauce if all you have is pre-ground black pepper. It will be, well, underwhelming. At the very least grind your own, coarsely.
I use special tellicherry black pepper for this sauce because I really want to taste it. I will also use pickled green peppercorns, which are sold in little jars in most supermarkets, next to the capers. You can eat these, and they are delicious in moderation: Peppery pop rocks!
I've seen some renditions of sauce au poivre using pink peppercorns, and that's cool if it floats your boat, but it is not traditional.
You finish the sauce with heavy cream and a knob or two of butter to tie it all together.
Other Classic Sauces
Sauce au poivre, along with steak Diane, are the two Date Night dishes every young person should have up his or her sleeve. Why? They're French classics, elegant, yet easy and fast.
Other classics any good cook, and especially one who hunts, should know include:
What to Serve Alongside
Serve it with something green — I love the winter salad that goes with this partridge recipe — and a starch of some sort. Bread or potatoes would be my choice. If you are avoiding starch, you can roast some mushrooms.
Red wine is a must. I'd suggest a Cotes du Rhone blend, or, if you are feeling fancy, a Bordeaux.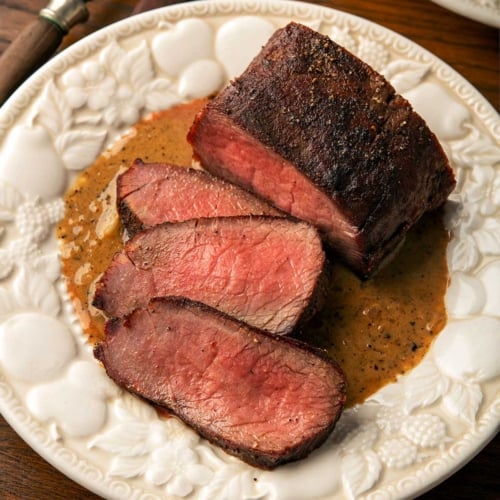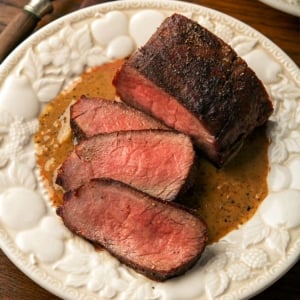 Sauce au Poivre
As I mentioned, you can use really any meat with this. I prefer it with venison or waterfowl.
Ingredients
4

steaks

(duck breasts, small goose breasts, venison, elk, bison, beef, etc)

Salt

4

tablespoons

unsalted butter,

divided

1

minced shallot

1/3

cup

brandy

(or sherry)

1/2

cup

demi glace or glace de viande,

or 1 cup duck or beef stock

1

tablespoon

roughly cracked black peppercorns

1 to 2

tablespoons

green peppercorns

1/4

cup

heavy cream
Instructions
Take the steaks out and salt them well. If you are cooking goose breasts, let them sit out a solid 30 to 45 minutes. Generally, the thinner the steak the shorter the time it needs to come to temperature. And if you make this with streaks 1/4 inch or thinner, take them right out of the fridge and into the hot pan.

Heat 3 tablespoons of butter in a large sauté pan set over medium-high heat. When the butter is hot, pat the steaks dry with paper towels and lay them in the pan so they don't touch each other. Sear them, turning only once, until they are done to your liking, using the finger test for doneness. If you are using duck or goose breasts, follow my instructions for cooking a duck breast here. Put the steaks on a cutting board to rest while you make the sauce.

Make sure you have only about 2 to 3 tablespoons of fat in the pan; if you've cooked duck or goose breasts you will need to remove some. Add the shallot and sauté until it begins to brown, about 2 minutes. Add the brandy and boil this down by half.

Add the pepper, peppercorns and glace de viande or stock, bring it to a boil and let this boil furiously until you can drag a wooden spoon through the center of the pan and watch it leave a trail. This typically takes about 2 to 4 minutes.

Turn the heat to low and mix in the cream. When the sauce stops bubbling, add the remaining tablespoon of butter, swirling it in to incorporate it. Doing this should prevent the butter from separating. Serve either over or under your steaks.
Notes
I really prefer to use a good glace de viande or demi-glace for this recipe, as it moves things along faster and adds a lot of body to the sauce. But don't let this stop you from making the recipe: I've also used low-sodium beef stock and boiled it down and it works, too.
Nutrition
Calories:
716
kcal
|
Carbohydrates:
6
g
|
Protein:
50
g
|
Fat:
50
g
|
Saturated Fat:
25
g
|
Cholesterol:
188
mg
|
Sodium:
497
mg
|
Potassium:
650
mg
|
Fiber:
1
g
|
Sugar:
1
g
|
Vitamin A:
616
IU
|
Calcium:
40
mg
|
Iron:
5
mg
Nutrition information is automatically calculated, so should only be used as an approximation.