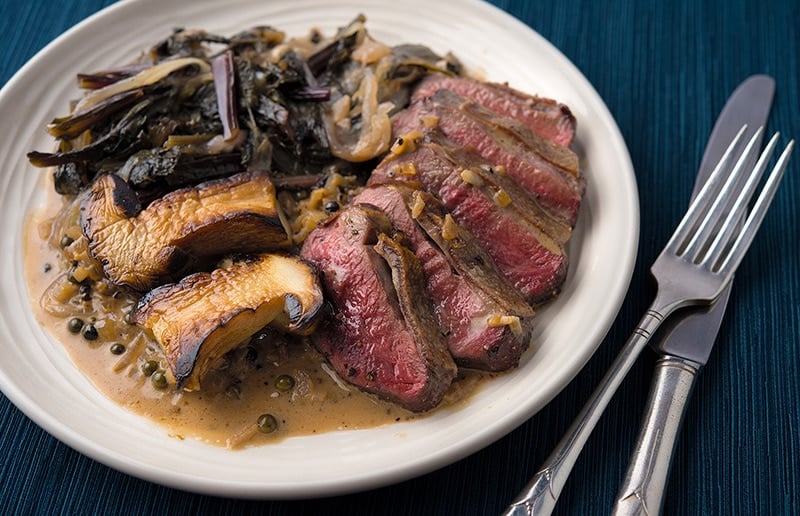 Steak au poivre is also known as pepper steak, although the English moniker lends itself to confusion because there's a Chinese takeout dish also called pepper steak. This is not that dish. This is the French classic, a recipe memorized by countless culinary students and immortalized by Saint Julia. Steak au poivre is a dish you need to know.
Why? Because it's damn good, and because it works with pretty much any red meat.
I've eaten steak au poivre with beef, lamb, bison, elk, antelope, deer, duck, goose — it's even good with pheasant, and I bet it'd be great with tuna or swordfish, too. The reason is the alchemy of butter, peppercorns, a rich stock, brandy and cream. These are many of the greatest things in life, so it's easy to see why this is such a good sauce.
For the pictures, we decided to use a wild goose steak, the breast from a specklebelly goose, which, with the possible exception of elk backstrap, is my favorite meat to use with an au poivre sauce. A store-bought Muscovy duck breast is a very close approximation, if you happen to be light on speck breasts at the moment.
Au poivre is a pan sauce, meaning its made in the pan you used to cook the meat in, in the time it takes to rest your meat.
Do this a few times and you will get it memorized, and you will find yourself carrying into hunting camp black and green peppercorns and a little jar of demi-glace (it's sold shelf stable). You already need cream for your coffee, and no hunting camp is complete without a bottle of brandy, so there you go.
Not a hunter? Well, this, along with steak Diane, are the two Date Night dishes every young person should have up his or her sleeve. Why? They're French classics, elegant, yet easy and fast.
Serve it with something green (I have some wild mustard greens and wild green onions on the side in this picture) and a starch of some sort. Potatoes would be my choice. If you are avoiding starch, you can roast some mushrooms, as I did.  No porcini on hand? Roast some cremini mushrooms instead. Almost as good.
Red wine is a must. I'd suggest a Cotes du Rhone blend, or, if you are feeling fancy, a Bordeaux.
Steak au Poivre
As I mentioned, you can use really any steak with this. I prefer it with venison or waterfowl. But regular beef steak is great, too, especially filet mignon, ribeye, New York strip, etc. This is also excellent with lamb chops. I really prefer to use a good glace de viande or demi-glace for this recipe, as it moves things along faster and adds a lot of body to the sauce. I've linked to my recipe for duck glace, and you can buy demi-glace in fine supermarkets or online. But don't let this stop you from making the recipe: I've also used low-sodium beef stock and boiled it down and it works, too.
Ingredients
4

steaks

(duck breasts, small goose breasts, venison, elk, bison, beef, etc)

Salt

4

tablespoons

unsalted butter,

divided

1/4

cup

minced shallot

1/4

cup

demi glace or glace de viande,

or 1/2 cup duck or beef stock

1

tablespoon

roughly cracked black peppercorns

1

tablespoon

green peppercorns

1/3

cup

brandy

1/4

cup

heavy cream
Instructions
Take the steaks out and salt them well. If you are cooking goose breasts, let them sit out a solid 30 to 45 minutes. Generally, the thinner the steak the shorter the time it needs to come to temperature. And if you make this with streaks 1/4 inch or thinner, take them right out of the fridge and into the hot pan.

Heat 2 tablespoons of butter in a large saute pan set over medium-high heat. When the butter is hot, pat the steaks dry with paper towels and lay them in the pan so they don't touch each other. Sear them, turning only once, until they are done to your liking, using the finger test for doneness. If you are using duck or goose breasts, follow my instructions for cooking a duck breast here. Put the steaks on a cutting board to rest while you make the sauce.

Make sure you have only about 2 to 3 tablespoons of fat in the pan; if you've cooked duck or goose breasts you will need to remove some. Add the shallot and saute until it begins to brown, about 2 minutes. Add the glace de viande or stock and the peppercorns and bring to a boil. Boil this down by half if you are using stock -- you need not do this with the glace, as it is already reduced.

Add the brandy, bring it to a boil and let this boil furiously until you can drag a wooden spoon through the center of the pan and watch it leave a trail. This typically takes about 2 to 4 minutes. Turn off the heat and mix in the cream. When the sauce stops bubbling, add the remaining 2 tablespoons of butter one tablespoon at a time, swirling each tablespoon in to incorporate it. Doing this should prevent the butter from separating. Serve either over or under your steaks.
Nutrition
Calories:
716
kcal
|
Carbohydrates:
6
g
|
Protein:
50
g
|
Fat:
50
g
|
Saturated Fat:
25
g
|
Cholesterol:
188
mg
|
Sodium:
497
mg
|
Potassium:
650
mg
|
Fiber:
1
g
|
Sugar:
1
g
|
Vitamin A:
616
IU
|
Calcium:
40
mg
|
Iron:
5
mg