Venison Greek Souvlaki
August 18, 2014 | Updated December 23, 2020
As an Amazon Associate I earn from qualifying purchases.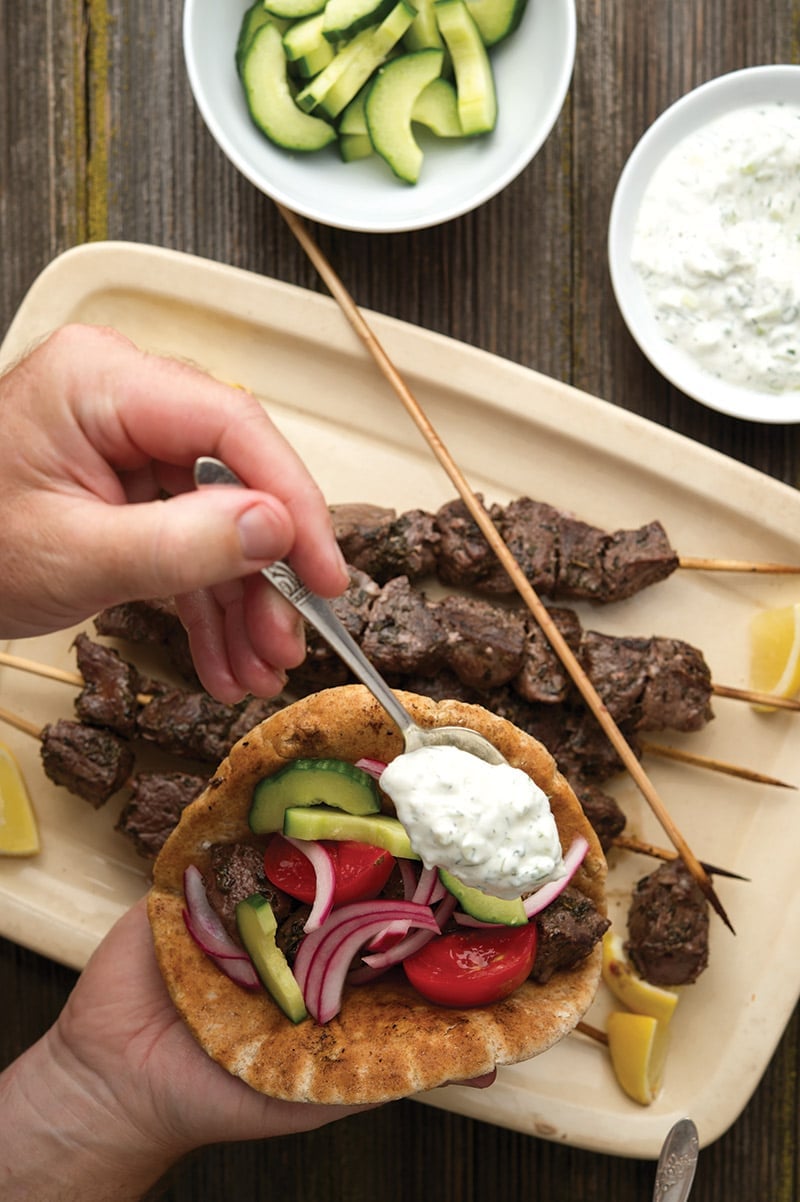 Greek souvlaki was one of my go-to lunches when I lived back East. A staple of any decent Greek diner, which is redundant if you're in Jersey, you'd also see good souvlaki at the "roach coaches" all over town, and especially on street corners in Manhattan. (A roach coach, if you've never heard the term, is what everyone used to call a "food truck." It was a rougher time… )
What is it? Grilled pieces of meat on a pita with cucumbers, onions, tomatoes and "special sauce," which was either some sort of tomato-based red sauce that I've yet to decipher, or the more typical tzatziki (tzat-seekie), which is a yogurt-cucumber-dill-garlic sauce. Basically Greek mayo. You could commonly get pork, chicken or lamb. I'd alternate depending on my mood.
Well, lamb is really close to venison, so here you go. Venison souvlaki. While it sounds all exotic, it's basically Greek tacos. Really good, super fun to eat. The diners and roach coaches made the sandwiches for you, but I like to lay everything on the table and let people make their own.
Depending on my mood, I will either make pitas myself using this recipe, or just buy them. Don't want any bread in your life? Eat these with potatoes, fried with lemon and thyme. Also traditional, and what you got if you ordered the "souvlaki platter."
Making this souvlaki recipe is pretty straightforward,  but you do need to remember one thing: Your grill or flattop or frying pan or whatever needs to be really hot. The reason is because the meat is in small pieces so it needs to cook fast in order to not dry out. Blasting it with the grill cover open will get you there pretty well.
But keep an eye on your venison, as it can go from rare to medium to "aw crap I wrecked it" in about 2 minutes.
Remember it is better to have nice, tender meat than pretty grill marks on the outside — this is a sandwich, after all. You can't see the grill marks, but you sure as hell can tell of the meat's overcooked.
Any Greeks out there? How is your souvlaki recipe differently from me? I'd love to hear about regional differences.
Greek Souvlaki
I of course do this with venison, but the base recipe in Greece would be with lamb; pork and chicken are also traditional in Greece. Basically this is like an American "taco night," where you lay everything out on the table and let everyone have at it. Fried potatoes are a common alternative to the pita breads, and I see lettuce as a garnish pretty often, as well as chunks of feta cheese. Once in a while I see those awesome pickled Greek pepperoncini peppers, too. They add a nice kick. There are a bunch of make-ahead steps here, so if you are pressed for time you can make the tzatiki sauce up to a few days ahead, and marinate the meat a full day a head of time, too.
Ingredients
MARINADE
1 1/2

pounds

venison backstrap or leg meat,

cut into 1-inch chunks

1/2

cup

olive oil

1/4

cup

lemon juice

Zest of a lemon

2

tablespoons

dried oregano

2

teaspoons

dried thyme

2

teaspoons

black pepper
TZATZIKI SAUCE
2

tablespoons

olive oil

2

tablespoons

lemon juice

7

ounces

of Greek yogurt

1/2

cup

diced cucumber,

peeled and seeded

1

tablespoon

dill

2

garlic cloves,

minced

Salt and black pepper to taste
OTHER STUFF
Tomatoes

Cucumbers

Red onions

Lemon wedges

Pita breads

Skewers
Instructions
When you are cutting your venison (or lamb, or beef, for that matter), make sure it is free of all silverskin and sinew. This will make the meat easier to eat in the pita. Cut them into smallish chunks -- remember, you are going to eat this as a sandwich of sorts, not as a big kebab. Add the meat to all the marinade ingredients in a sealable plastic bag, mix well and put in the fridge for at least 2 hours, and up to a full day ahead.

Meanwhile, make the tzatziki sauce by mixing all of those ingredients together. Keep that in the fridge until you are ready to serve.

Chop all your accompaniments: Tomatoes, cucumbers, lemons, red onion, etc. If eating raw red onion isn't your cup of tea, soak the sliced onion in lemon juice or white wine vinegar while the meat is marinating. This quick pickle will pull the harshness right out of the onions.

When you are ready to rock, get your grill very hot. Make sure the grill grates are clean. Salt the venison liberally, and skewer the venison pieces together -- this is not how I normally do meat skewers, but jamming them all together helps keep these small pieces of meat from overcooking. Lay the skewers on the hot grill and cook them with the grill cover open until they are medium, about 4 minutes per side depending on how hot your grill is. I use

the finger test for doneness

to determine when to pull the meat off. Keep it on the skewers while you take it to the table.

To serve, lay everything out and let people make their own little pita wraps. Serve with a nice light Greek red wine, a dry rose or a crisp beer or three.
Nutrition
Calories:
369
kcal
|
Carbohydrates:
5
g
|
Protein:
30
g
|
Fat:
26
g
|
Saturated Fat:
4
g
|
Cholesterol:
98
mg
|
Sodium:
71
mg
|
Potassium:
460
mg
|
Fiber:
1
g
|
Sugar:
2
g
|
Vitamin A:
50
IU
|
Vitamin C:
7
mg
|
Calcium:
80
mg
|
Iron:
5
mg
Nutrition information is automatically calculated, so should only be used as an approximation.