Garlic Sausage with Basil
March 04, 2022 | Updated May 24, 2022
As an Amazon Associate I earn from qualifying purchases.
There is nothing exotic or unusual about this garlic sausage, except maybe that I am using venison along with the pork. You could use all pork or any combination of similar meats.
I like to call this my "A Zone" sausage. It's a California inside joke, as the state, in its infinite wisdom, makes us hunt blacktail deer in the Coastal Range mountains in August, when temperatures can soar beyond 100°F.
The bright side? Once you get the meat cooled down and ready to cook with, you happen to be blessed with summer's ingredients.
No juniper, rosemary or winter flavors here. No sir. This sausage is all about our Mediterranean summers: Fresh garlic, lemon zest, white wine — and lots of fresh basil. Or you can jack up the garlic even more if you'd like.
Fresh garlic is the way to go here, although if you used garlic powder it'll do, but it's just not as nice in a fresh sausage as freshly chopped. If you do use the powder, use a tablespoon to start.
I do like these as a garlic sausage, where that is the main flavor other than the meat, but you can play with things and make the lemon or the basil the stars. Similarly, you can vary the grind more than I do — I do a mix of medium and fine grind, solely because I like it.
I prefer garlic sausage on the grill, more or less like bratwurst or Italian sausage, but you could pan-fry them or bake them or use them in place of Italian sausage or a Spanish butifarra sausage in those recipes.
These are also excellent smoked. If you smoke your garlic sausage, do so at about 200°F until the internal temperature hits about 150°F, then either eat or plunge in ice water to cool for storage. I prefer fruit woods here, but you can use whatever wood you'd like.
You can also skip the casings and use this as a loose garlic sausage for spaghetti sauce or sausage, peppers and onions, or meatballs.
New to making sausage? You can find my detailed tutorial on how to make sausages at home here.
Looking for other venison sausages? You'll find lots of sausage recipes here.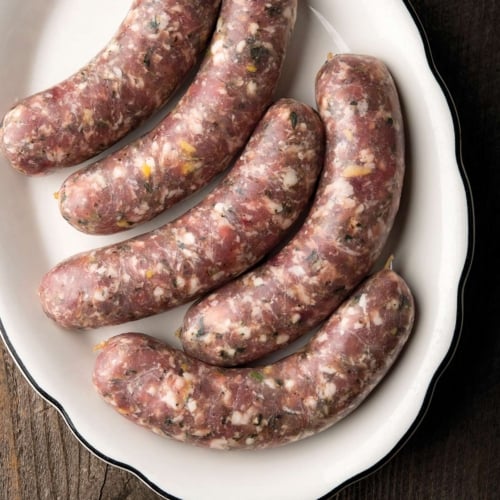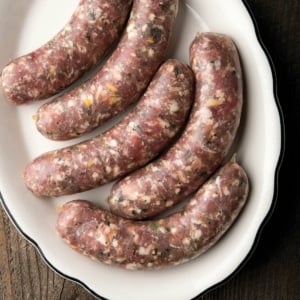 Venison Garlic Sausage
Once made, these sausages will keep for a week in the fridge, and freeze well.
Ingredients
3 1/2

pounds

venison,

or antelope, elk, moose, or beef

1 1/2

pounds

pork shoulder

34

grams

kosher salt,

about 2 tablespoons

15

grams

cracked black pepper,

about a tablespoon

25

grams

fresh chopped garlic,

about 2 tablespoons

Zest of a lemon

3

grams

celery seed,

about 1/2 teaspoon

1/2

cup

white wine

6

tablespoons

of fresh chopped basil

Hog casings
Instructions
Take out some hog casings and set in a bowl of warm water.

Chop meat (and pork fat, if using) into chunks. (Optional expert step: Mix the salt with just the meat and grind it very coarsely, like with a 10 mm or 12 mm plate, and refrigerate it overnight. If you don't have such a large plate, chop the meat into 1/2 or 3/4 inch pieces and do the same thing. This will create a tighter bind in the finished sausage.)

When you are ready to grind everything, Mix the meat, fat, lemon zest, celery seed — half the black pepper, garlic and basil. Why only half? You'll want to add the rest right before you do the final mix on the sausage. This keeps the spices larger, altering the sausage's texture, making eating it more interesting. Chill the meat until it is 37°F or colder by putting it in the freezer for an hour or so.

Grind through a medium-coarse plate (6 mm or 7 mm). If the mixture is still below 37°F, immediately grind 1/2 the mixture through the fine plate (4.5 mm). If it's too warm, freeze it all until it's cold enough. You are doing this extra grind to make the texture of the sausage more interesting — you can skip it if you want.

After you are done grinding, freeze the sausage until its between 28°F and 32°F. When it's ready, add the rest of the black pepper, basil and garlic, plus the wine, then mix thoroughly either using a Kitchenaid on low for 60 to 90 seconds or with your (very clean) hands for 2 minutes. This is important to get the sausage to bind properly. Once it is mixed well, put it back in the fridge while you clean up.

Stuff the sausage into the casings. Twist off links by pinching the sausage down and twisting it, first in one direction, and then with the next link, the other direction. Or you could tie them off with butcher's string. Make sure you pierce the casing wherever there are air pockets, gently squeezing the links to remove any air.

Hang the sausages in a cool place for up to 4 hours (the colder it is, the longer you can hang them). If it is warm out, as in hotter than about 70°F, hang for one hour. Once they have dried a bit, put in the fridge until needed. They will keep for at least a week in the fridge. If you are freezing the sausages, wait a day before doing so. This will tighten up the sausages and help them keep their shape in the deep-freeze.
Notes
This recipe makes about 5 pounds. 
Keys to Success
You want everything cold, cold, cold! When meat and fat warm it causes smear, where the fat smears over the ground meat. It will destroy the texture of your sausage.
You want fatty pork shoulder here, not lean. You could use belly, or bacon ends, too. If you do use bacon ends, cut the salt to 20 grams.
You can vary the spices and herbs, but not the salt. I've used many other herbs, like fresh oregano, parsley, summer savory, even epazote. 
These are so much better made a day or three before you eat them. Keep them in the fridge until you grill your links. 
Nutrition
Calories:
135
kcal
|
Carbohydrates:
1
g
|
Protein:
22
g
|
Fat:
3
g
|
Saturated Fat:
1
g
|
Cholesterol:
81
mg
|
Sodium:
716
mg
|
Potassium:
346
mg
|
Fiber:
1
g
|
Sugar:
1
g
|
Vitamin A:
37
IU
|
Vitamin C:
1
mg
|
Calcium:
17
mg
|
Iron:
3
mg
Nutrition information is automatically calculated, so should only be used as an approximation.