Venison Sausage with Sage
April 13, 2022 | Updated May 24, 2022
As an Amazon Associate I earn from qualifying purchases.
Venison sausage with sage is a recipe I designed a long time ago, after returning from a deer hunting trip to Catalina Island, where there are lots of native sages. Here's how to make a sage sausage with any meat.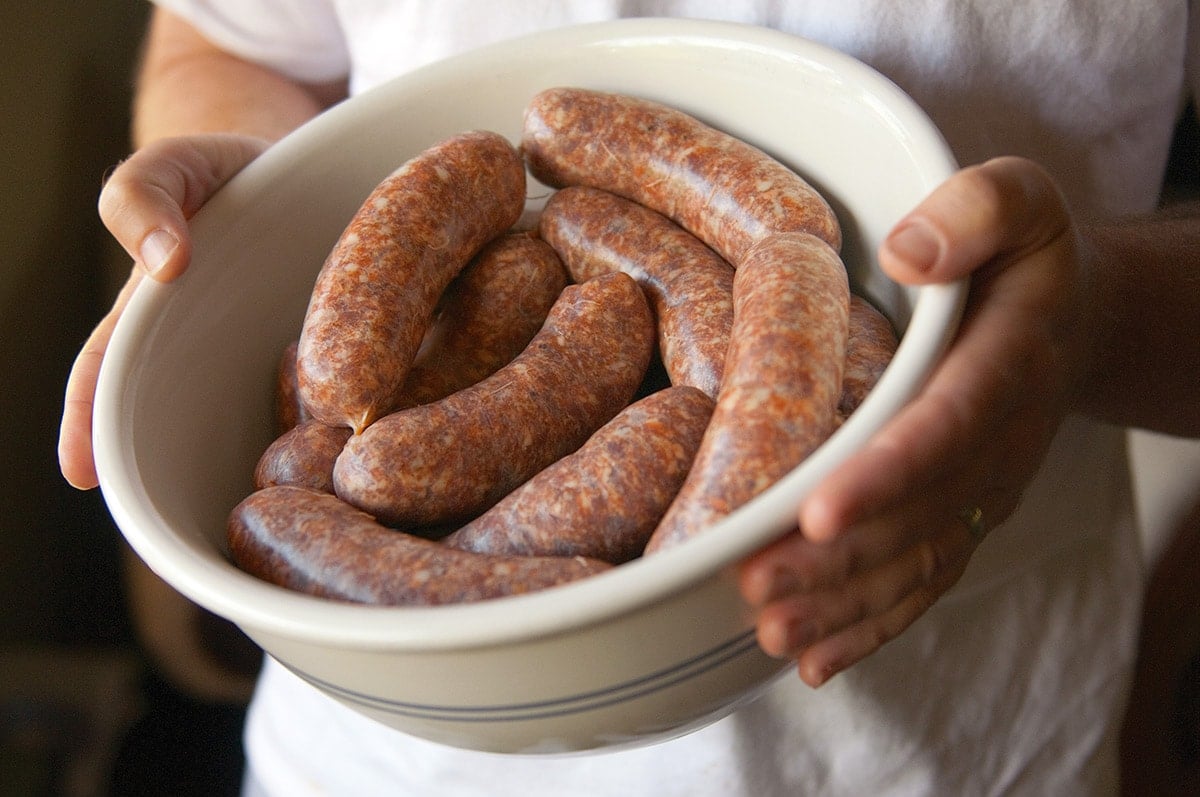 I am a firm believer in the cooking adage, "what lives together in life can live together on the plate." California black sage lives all over the place on that island, and I now grow it in my yard.
If you can find California white sage or black sage, by all means use it. It's what I used in this recipe. But regular sage works just fine. Note that sagebrush is a whole different family of plants, and those are so bitter you don't want to put them in sausage.
As you might guess, the two main players here are sage and juniper, boosted by the juniper-herbiness of gin. It makes this sausage taste like the hillsides of California smell on a warm summer's day. I add a touch of celery seed, too, which seems to punch up the taste of the venison.
If you live near wild places, you can gather your own juniper berries; you want the blue ones. Western red cedar is actually a juniper, and that's common in the East. Note that there are a couple species of juniper imported from Europe that are mildly toxic — they are almost exclusively used in landscaping, so don't pick landscaping juniper.
Or just buy juniper berries online.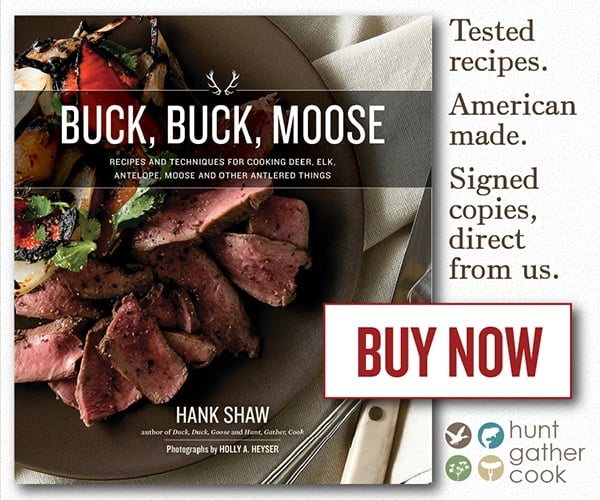 If you can't find venison, although you can buy ground venison online, use beef or lamb. Elk, moose, antelope or wild sheep also work fine, and honestly, wild boar or even good quality pork is fine, too. You'll need some pork for the fat here.
The ideal fat is pork back fat, which is harder than belly fat. But belly will do. So will the trim off a fatty pork shoulder. If you can't get pure fat, drop the meat down to 3 pounds and get 2 pounds of fatty pork shoulder.
How to cook your sausage with sage? Grill slowly, or brown in a pan, then pan roast at 325°F for 20 minutes. You can also use these links in a stew, or in a helluva sausage, peppers and onions sandwich.
Note that you will only need the Instacure if you are smoking these sausages.
If you are looking for other ideas for homemade sausages, with venison or whatever, I have an entire page of homemade sausage recipes here. I have detailed instructions for how to make sausage here, and here's a more a general tutorial on how to cook venison.
Venison Sausage with Sage
I use venison and pork here, but beef and pork or all pork work well, too. Juniper berries are important to the flavor of this sausage, and you can either gather them (see above) or buy them. Some big supermarkets carry them, and you can always buy juniper berries online.
Ingredients
4

pounds

venison

(or beef or pork)

1

pound

pork fat

(or beef fat)

33

grams

kosher or sea salt,

about 2 heaping tablespoons

3

grams

Instacure No. 1

(optional)

15

grams

freshly ground juniper berries ,

about 1 tablespoon

25

grams

minced fresh sage,

about 2 tablespoons

1

tablespoon

ground black pepper

3

grams

celery seed,

about 1/2 teaspoon

1/3

cup

gin

1/3

cup

cold water

hog casings
Instructions
Chop venison and pork fat into chunks that will fit into your grinder. (Expert step: Mix the salt and curing salt with just the meat and refrigerate overnight. This helps develop myosin, which helps bind the sausage better later.)

Take out about 10 feet of hog casings and set in a bowl of warm water to rehydrate. If you haven't already done so, combine the salt, curing salt, herbs and spices with the meat, mix well. Chill the meat and fat until it is almost frozen by putting it in the freezer for an hour or two.

Grind through your meat grinder using the coarse die; I use an 8 mm or a 10 mm die for this. If your room is warmer than 69°F, set the bowl for the ground meat into another bowl of ice to keep it cold. Put the mixture into the freezer while you clean the grinder, then submerge the auger, die and blade into ice water to chill it down. Now grind a second time through the fine die; I use a 4.5 mm for this.

Return the mixture to the freezer until it is very cold, about 32°F. When it has chilled sufficiently, add the gin and cold water and mix thoroughly either using a Kitchenaid on low for 60 to 90 seconds or with your (very clean) hands; I use my hands, which should ache with cold as you do this.

Stuff the sausage into the casings. Twist off links by pinching a link and twisting it, first in one direction, and then, with the next link, the other direction. Or you could tie them off with kitchen string. (This video shows how I do it.) When they are all made, gently compress the meat in the links with your hands, then spin them in the direction you used to make the link in the first place to tighten. This will reveal air pockets. Use a clean needle to pierce the casing to remove them.

Hang the sausages in a cool place. In a normal room, hang for 2 hours. But if you have a place where the temperatures are between 33°F and 40°F, hang up to overnight. Once the links have dried a bit, put them in the fridge until needed. They will keep for at least a week.
Notes
This recipe makes about 5 pounds of sausage. 
Options and Keys to Success
You only need the Instacure if you plan on smoking your sausages. S

moke to an internal temperature of 150°F over the course of a few hours. Wood choice is up to you. When they are done, plunge the links into a basin of ice water to stop the cooking process. Chill, dry and freeze. 

You can skip the juniper if you really want to. Ditto for the gin. Just leave the juniper out, or replace it with rosemary or young spruce tips. Replace the gin with ice water. 
You don't have to case this sausage. You can make patties, too. It is not strictly speaking an American breakfast sausage, but it can serve that role. 
Nutrition
Calories:
266
kcal
|
Carbohydrates:
1
g
|
Protein:
17
g
|
Fat:
21
g
|
Saturated Fat:
8
g
|
Polyunsaturated Fat:
2
g
|
Monounsaturated Fat:
9
g
|
Cholesterol:
82
mg
|
Sodium:
572
mg
|
Potassium:
253
mg
|
Fiber:
1
g
|
Sugar:
1
g
|
Vitamin A:
1
IU
|
Vitamin C:
1
mg
|
Calcium:
10
mg
|
Iron:
3
mg
Nutrition information is automatically calculated, so should only be used as an approximation.