As an Amazon Associate I earn from qualifying purchases.
Literally, pastel azteca means "Aztec cake," but it's really more of a Mexican lasagna, and like lasagna, every cook has his or her own rendition, and you can mix and match ingredients to fit what you happen to have lying around.
Before I get too far into my recipe for pastel azteca, you should know that this is one of those dishes, like chili or goulash, where everyone's family recipe is the original and best. Well, sorry, but no one knows who made the first pastel azteca, or where, or even if it is a derivative of Italian lasagna, which is in itself a derivative of Greek moussaka.
Depending on where in Mexico you are from, this dish can be called budin azteca, pastel de tortillas, torta azteca, pastel indio, or torta Moctezuma. In Baja California and Chihuahua, whose recipes are my inspiration for this version, it's called pastel azteca.
This is a family-style recipe, not something you'd see in restaurants. A homey, easy-to-make casserole you can either feed a crowd with, or eat off of the whole week.
At its core, pastel azteca consists of layers of a tomato, or tomato-chile sauce, corn tortillas, vegetables of some sort — always roasted, peeled, seeded and sliced green chiles — usually meat, which is usually ground meat or shredded chicken (sometimes ham), and lots and lots of cheese.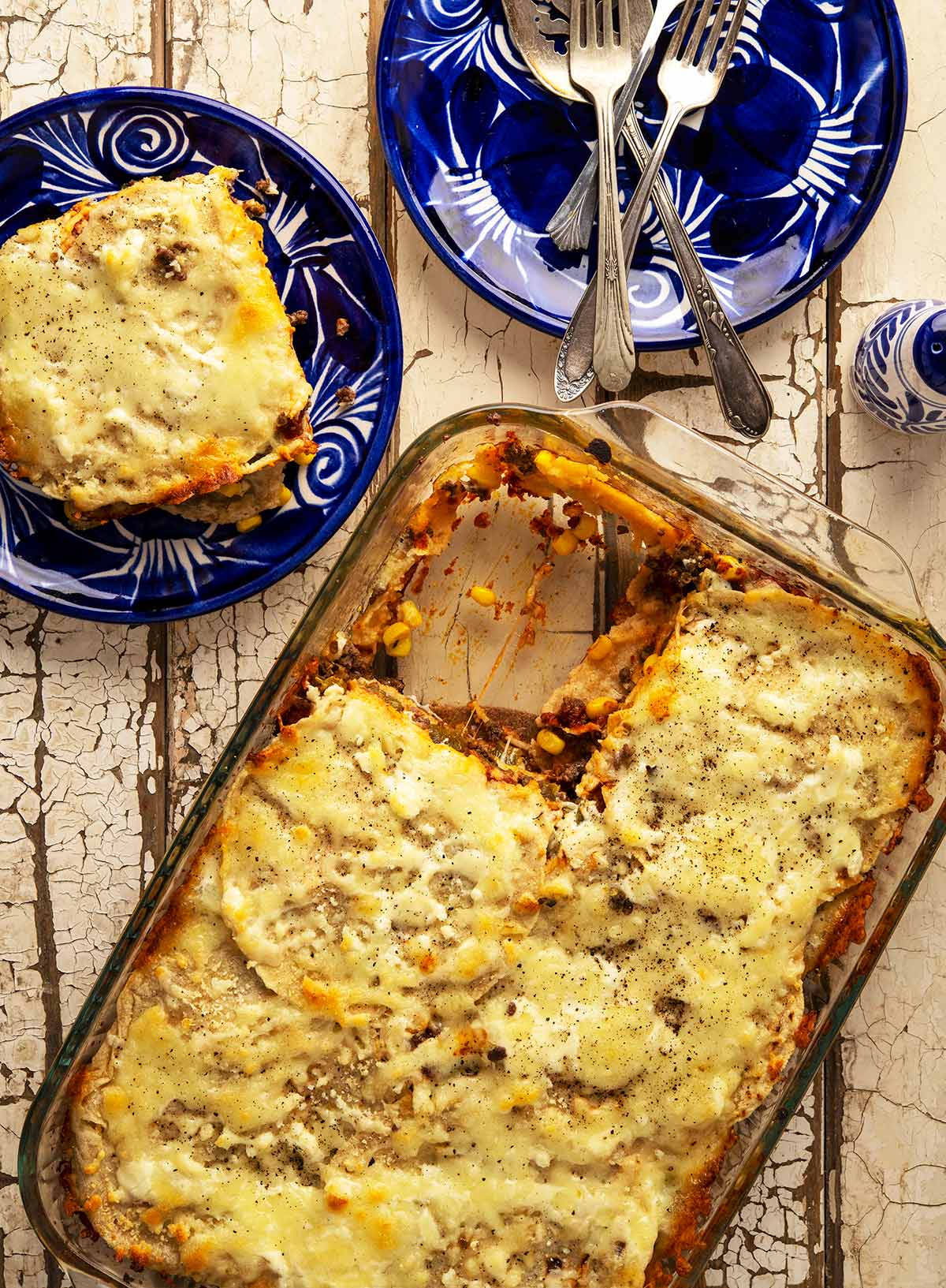 To fry or not to fry is the question.
The texture of the tortillas will be better if you fry them kinda-sorta half crispy. Not tostadas, but not super limp either. But this adds a step, as well as fat. You can of course simply layer in the tortillas cold, and it works, but they will be very soft and lack the bite that pasta would in lasagna. Your call.
I make homemade corn tortillas for this, but I am a masochist; I just like how much better they are than store-bought. Store-bought are fine, but they need to be 100 percent corn.
The general rule with pastel azteca is to grease a casserole with butter, lay down a little tomato sauce, then tortillas, then whatever meat you are using, then vegetables, then cheese. Then do it again, making sure you have lots of melty cheese for the top.
Bake, let it set 10 minutes, then eat. Easy peasy.
I'll give you a simple sauce recipe below, but using the sauce from my red enchiladas recipe works well, as does my fire-roasted salsa if you then puree it in a blender. An excellent twist is to use tomatillo salsa verde.
Once made, pastel azteca (or budin azteca or whatever you want to call it) will keep in the fridge for a week. Reheat portions in the toaster oven covered in foil at 350F for about 20 minutes. You can also freeze it baked or unbaked.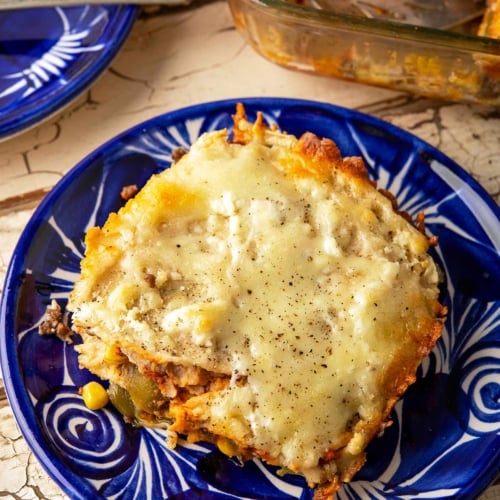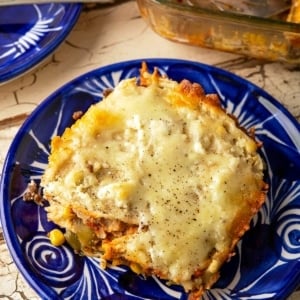 Pastel Azteca
Think of this as Mexican lasagna, where the sauce is a smooth salsa, corn tortillas instead of pasta, meat (or not), roasted green peppers, and both crumbly and melty cheese.
Ingredients
SAUCE
4

dried guajillo, colorado or ancho chiles,

stemmed and seeded

1

white onion,

quartered

3

cloves

garlic,

unpeeled

1

cup

tomato puree

1

teaspoon

Mexican oregano

1

sprig

fresh epazote

(optional)

Salt

3

tablespoons

lard or oil
CASSEROLE
18

corn tortillas

Oil for frying

(optional)

Butter or oil for greasing the pan

1

pound

shredded chicken or cooked ground meat

6

poblanos, Hatch or Anaheim peppers,

roasted, peeled, seeded and cut into strips

1

cup

corn kernels

4

ounces

cotija, anejo or feta cheese,

crumbled

1

pound

Chihuahua, Oaxaca or mozzarella cheese,

grated

1/2

cup

Mexican crema,

or sour cream
Instructions
SAUCE
Put the dried chiles in a bowl and pour boiling water over them. Cover the bowl to let them rehydrate.

Get a comal, griddle, flat top or cast iron pan very hot, and char the quartered onion and the garlic cloves. You want them nicely blackened. When they are, chop roughly and put them in a blender.

Add the rehydrated chiles to the blender, along with all the rest of the sauce ingredients, except for the lard. Puree well. If your blender is only so-so, you might want to push this through a sieve to remove any stray seeds or bits of skin. That's optional.

Get the lard hot in a saucepan and then fry the sauce, stirring constantly to incorporate the fat. Drop the heat to a bare simmer and let this cook 10 minutes or so, then turn off the heat.
OPTIONAL TORTILLA STEP
Heat about 1/4 inch of oil in a pan until it hits about 350°F. Fry the tortillas for about 30 seconds or so — enough to stiffen them up a bit, but not enough so they are actually stiff like tostadas. I start checking them at about 15 seconds. You want semi limp. Set the tortillas on a cooling rack.
BUILD THE PASTEL AZTECA
Preheat the oven to 400°F.

Butter or oil a standard casserole pan, about 9×13 inches or thereabouts. lay down a thin layer of the sauce. Line the casserole with 6 tortillas. Spread some meat evenly over the top. Then add the corn and strips of roasted green pepper.

Sprinkle a layer of cotija cheese, then crema, then shredded Chihuahua or Oaxaca cheese. Top with another layer of tortillas, then sauce, then repeat with the meat, vegetables and cheese. Finish with the remaining tortillas.

Spread the remaining cotija cheese, drizzle some more crema, and sprinkle the last of the grated Chihuahua cheese over the top. You can add some black pepper here if you'd like. Bake for 20 minutes, until the cheese starts to brown. Let the pastel azteca sit for 10 minutes before serving.
Notes
Keep in mind this is the full-on, Sunday supper version of pastel azteca. See below for time-saving hacks. 
Time Saving Hacks
You can use canned green chiles. Or frozen. 
If you don't know how to roast green chiles, here's a great tutorial. 
You can use canned enchilada sauce, or even canned tomato sauce. 
Literally any cooked meat will work. I used ground venison. Just make sure to chop or shred it small. 
I use frozen corn when fresh is not in season. 
Thin regular sour cream with a little buttermilk, milk or cream to get you closer to the real thing. 
Nutrition
Calories:
637
kcal
|
Carbohydrates:
52
g
|
Protein:
35
g
|
Fat:
34
g
|
Saturated Fat:
16
g
|
Polyunsaturated Fat:
4
g
|
Monounsaturated Fat:
6
g
|
Trans Fat:
1
g
|
Cholesterol:
83
mg
|
Sodium:
1006
mg
|
Potassium:
774
mg
|
Fiber:
11
g
|
Sugar:
13
g
|
Vitamin A:
4979
IU
|
Vitamin C:
16
mg
|
Calcium:
202
mg
|
Iron:
3
mg
Nutrition information is automatically calculated, so should only be used as an approximation.