Cajun Turtle Sauce Piquante
May 18, 2015 | Updated June 06, 2022
As an Amazon Associate I earn from qualifying purchases.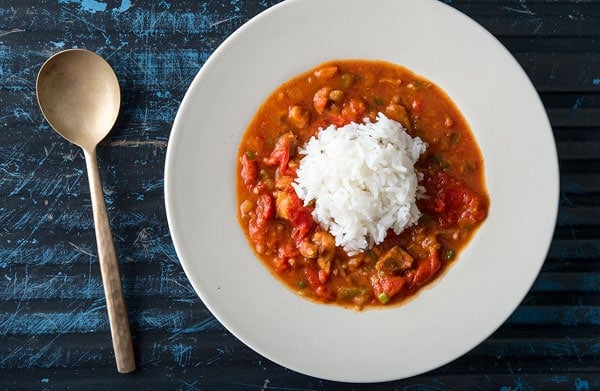 This post is a long time in coming. More than a year ago, my friend Doctor Norm from Ohio randomly mailed me a dead, butchered snapping turtle — to this day, the weirdest, yet coolest thing I've ever received through the post. The first thing I made was Creole Turtle Soup, which is my favorite turtle recipe.
But it was a very big turtle. So I had enough for a second recipe. I thought about doing a Philadelphia terrapin soup, or a Maryland version of the same, but I was in the mood for "red food," which, when you think about it, is what most of us crave when we need a little comfort; think spaghetti or chili or salsa or goulash.
That took me back to Cajun Country, where I'd eaten an outstanding alligator sauce piquante in 2013… or maybe it was 2012.
At any rate, I'd talked this recipe up ever since, and a number of Louisianans said it's also great with snapping turtle. So here we go: snapping turtle sauce piquante.
A sauce piquante, pronounced pee-khant, is one of the few Cajun dishes I know of that commonly has tomato in it. Normally the presence or absence of tomato is one of the many things that defines the difference between Cajun and Creole. It hinges on a tomatoey, spicy sauce and meat that has been diced small.
This, incidentally, is a genius move with many tough creatures we who hunt and fish normally eat, as it makes them a) innocuous, and b) tender. (I have a great recipe for venison sauce piquante, too.)
Biggest difference between that recipe and this one is that turtle, being kinda-sorta "seafood," gets a butter-based roux (my venison one uses peanut oil or lard) that is only cooked to the point it looks like peanut butter; my venison one uses a very dark roux. I also use white wine here instead of red.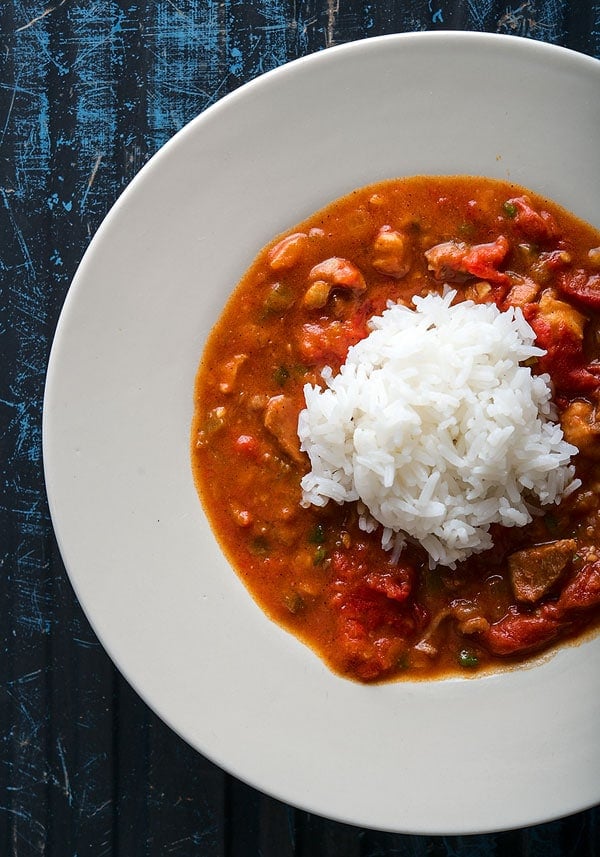 Now I am perfectly aware that most of you aren't going to dash out and trap yourself some snapping turtles to make this recipe — all though I salute those of you who are! — so know that you can make this recipe perfectly fine with chicken thighs.
But if you do get some turtle, it's so much better. Why? Turtles have very varied meat. Some parts are light like chicken breast, some darker like pork, some almost beefy. The flavor is a meld of chicken thigh, pork, with a watery hint, too, a little like clam.
Trust me when I tell you it's not at all off-putting or strong in the way that, say, eider or muskrat is… and yes, I've eaten them, too.
So give this turtle sauce piquante a go for your next party, even if you have to use the chicken thighs we normally use to bait snapping turtles.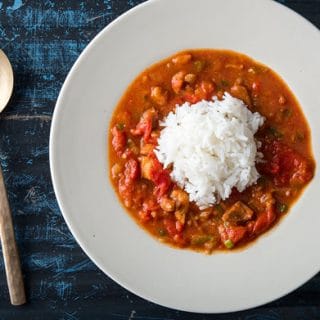 Cajun Snapping Turtle Sauce Piquante
Any sort of turtle will do here, but snapping turtle is traditional. If you are collecting your own turtles, make sure the species you take is legal -- a lot of species are protected, so follow your local laws. If you want to try to buy turtle, look in Asian markets; sometimes you can find them live or frozen. Good alternatives to turtle are alligator, frog's legs, squirrel, and, more distant in flavor but easier to obtain, chicken thighs.
Ingredients
1/2

cup

butter

A heaping 1/2 cup all-purpose flour

2

cups

chopped onion

1

cup

chopped green pepper

1

cup

chopped celery

5

garlic cloves

One 6-ounce can of tomato paste

1

tablespoon

Cajun seasoning,

or more to taste

3

to 4 pounds turtle,

alligator or frog meat, diced small

1

cup

white wine

One 28-ounce can tomato puree or crushed tomatoes

4

bay leaves

Salt,

black pepper and hot sauce to taste

Chopped green onions or parsley for garnish
Instructions
In a large, heavy pot like a Dutch oven, heat the butter over medium-high heat for a minute or two. Stir in the flour, then turn the heat down to medium. Cook this roux, stirring often, until it turns the color of peanut butter, about 10 to 15 minutes.

While the roux is cooking, Heat 6 cups of water in another pot to the boiling point. Hold it at a simmer for now.

When the roux is ready, add the onions, celery and green pepper and stir to combine. Turn the heat to medium-high and cook this, stirring often, until everything is soft, about 6 to 8 minutes. Sprinkle some salt over everything while you do this. Add the garlic, Cajun seasoning and tomato paste and stir to combine. Cook this, stirring occasionally, for 3 to 4 minutes.

Mix in the turtle meat, then add the cup of white wine, the can of crushed tomatoes and the hot water, stirring as you add. Add the bay leaves and bring this to a gentle simmer. Add salt to taste. Let this simmer very gently until the meat is tender, at least 2 hours, maybe three.

When the sauce piquante is ready, add any more salt, black pepper, hot sauce and/or Cajun seasoning you want, then serve it with white rice and lots of green onions or parsley. Make sure you have hot sauce at the table; I use Tabasco, but use whatever variety you prefer.
Notes
Serve this with white rice and lots of beer, and remember, like all stews, this one's better the day after you make it. It keeps in the fridge a week and can be frozen.
Nutrition
Calories:
206
kcal
|
Carbohydrates:
9
g
|
Protein:
2
g
|
Fat:
16
g
|
Saturated Fat:
10
g
|
Cholesterol:
41
mg
|
Sodium:
155
mg
|
Potassium:
230
mg
|
Fiber:
2
g
|
Sugar:
4
g
|
Vitamin A:
1215
IU
|
Vitamin C:
25
mg
|
Calcium:
37
mg
|
Iron:
1
mg
Nutrition information is automatically calculated, so should only be used as an approximation.