Turkey Leg Stew
April 09, 2018 | Updated June 16, 2020
As an Amazon Associate I earn from qualifying purchases.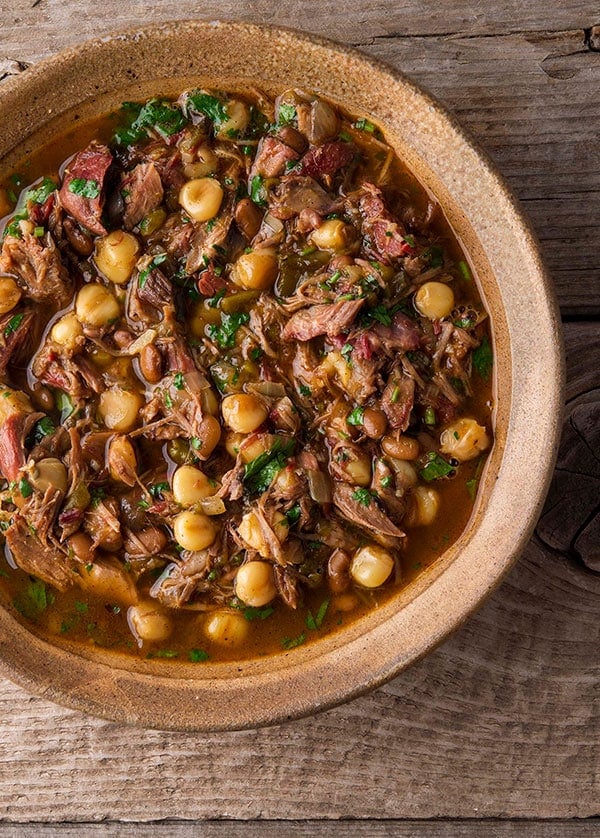 Of all the parts of a turkey, and especially a wild turkey, the drumsticks are the most challenging to cook.
A lot of people toss them, or give their wild turkey legs to the dog. So a turkey leg recipe needs to be good to keep your pooch from his treat. This is that recipe.
You need to know that turkey drumsticks are loaded with bone-like sinews that will not break down no matter how long you cook the leg. It just won't. So to eat a turkey leg nicely, you need to strip the meat off the bones. You also need to know that the drumstick is very much the darkest part of the turkey, darker even than the thigh.
My first real success with turkey legs was turkey carnitas. This is a great dish for turkey legs — thighs and drumsticks — but so is this one.
Turkey leg stew is really just what I am calling a pretty classic New Mexican stew that revolves around dried corn, chiles and, usually, pork.
Dried corn? Yep, it's called chicos in the Southwest, and it's pretty cool. It's either sweet corn or dent corn, dried on or off the cob and then separated and stored for later. If you've never eaten dried corn, it's amazing. Sturdy, full of corn flavor, either starchy or a touch sweet, a bit chewy. I have no idea why we don't eat more of it.
How to find it? You can buy chicos online
, as I did, or you can sometimes find regular dried corn in the bulk section of hippie food stores, but your best bet for a substitute – albeit not an exact one – is the dried corn for masa they sell in Mexican markets. That is very common, and although it's not the same stuff, it'll get you close. You can use canned hominy in a pinch.
Once you get past the dried corn, this is easy-peasy. You just build the stew like a house: foundation, walls, roof, decorations.
It starts with the turkey legs and the dried corn. Both need a ton of time to cook, even if you do soak the chicos overnight. If you're using dried beans you'll want to soak them, too. I used tepary beans which are very Southwestern, but any good dry bean will do.
I like to use a little broth to get the flavor going, but not overly so because the turkey legs will make their own broth. You can roast the legs before simmering or not. I did in a 400°F oven for about an hour, turning the legs a few times. Adds another bit of flavor.
Then the turkey legs cook with the dried corn for a few hours before you put in the dried beans, some roasted green chiles (freshly made or canned), sauteed onions, one or more chipotles in adobo, and finally lots of cilantro or parsley.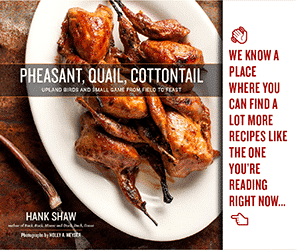 The result is thoroughly stick-to-your-ribs, meat-and-potatoes type food. It's not overly spicy, there's lots of meat, corn and beans, and the cilantro and maybe some sour cream brighten things up. Give this turkey leg recipe a go with the next drumsticks you get your hands on!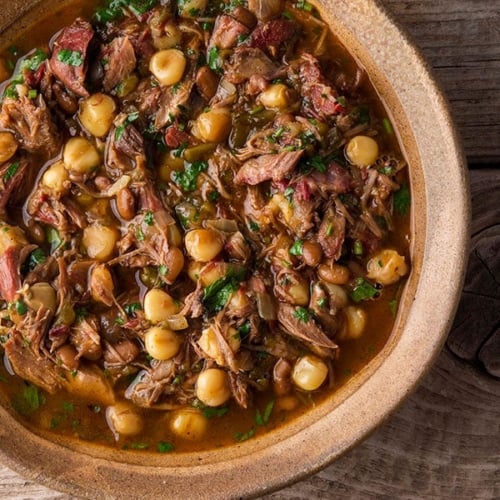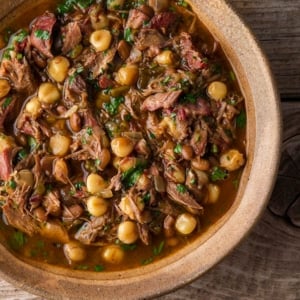 Southwestern Turkey Leg Stew
While I make this stew with turkey drumsticks, you could use pork, which is traditional, or pheasant legs, or even cuts like venison neck or shanks. I definitely recommend you buying the chicos online, unless you live in New Mexico, but as I mention above, any dried corn will do. 
Ingredients
4

turkey drumsticks, or legs and thighs from 1 turkey

5 to 10

ounces

dried corn,

about 3 cups

1

quart

turkey or chicken stock

1

teaspoon

dried oregano,

Mexican if possible

2

tablespoons

ancho chile powder

(optional)

1 to 4

chipotles in adobo, minced

1

cup

dried beans

(pinto, tepary, etc.)

2

tablespoons

lard or vegetable oil

1

large yellow or white onion,

chopped

4 to 6

poblano or Anaheim chiles, roasted, skinned and seeded

(or used canned green chiles)

1/2

cup

chopped cilantro or parsley
Instructions
Put the dry beans in a bowl of very hot water and set aside. Turn the oven to 400F. Salt the turkey drumsticks well on all sides and put them in a roasting pan; you can coat them with a little oil if you'd like. Roast, turning once or twice, until browned, about an hour.

Meanwhile, in a large soup pot, add the turkey broth and 4 more quarts of water. Bring to a simmer and add salt to taste. Drop in the dried corn and simmer this while the turkey legs roast.

When the turkey legs are ready, nestle them into the pot and add a bit more water if they're sticking out of the water. Bring to a simmer and stir in the oregano, chipotles and ancho powder. Simmer gently, partially covered, for 2 hours.

Drain the beans and add them to the pot; they'll usually need an hour to cook.

While everything is simmering, heat the lard in a frying pan and saute the onion over medium-high heat until the edges brown. Chop the roasted chiles into pieces you'd want to eat in a stew and add them to the frying pan. Saute for 2 minutes, stirring often. Add the contents of the frying pan to the pot.

When everything is getting tender, fish out the turkey legs and lay them on a baking sheet to cool. When they are cool enough to handle, strip all the meat off the legs and add it back to the pot. Discard the bones.

Finish with the chopped cilantro and serve with sour cream on the side.
Nutrition
Calories:
653
kcal
|
Carbohydrates:
24
g
|
Protein:
75
g
|
Fat:
28
g
|
Saturated Fat:
10
g
|
Cholesterol:
240
mg
|
Sodium:
381
mg
|
Potassium:
1532
mg
|
Fiber:
6
g
|
Sugar:
3
g
|
Vitamin A:
993
IU
|
Vitamin C:
50
mg
|
Calcium:
101
mg
|
Iron:
8
mg
Nutrition information is automatically calculated, so should only be used as an approximation.