Teal in a Jar
January 11, 2016 | Updated June 17, 2020
As an Amazon Associate I earn from qualifying purchases.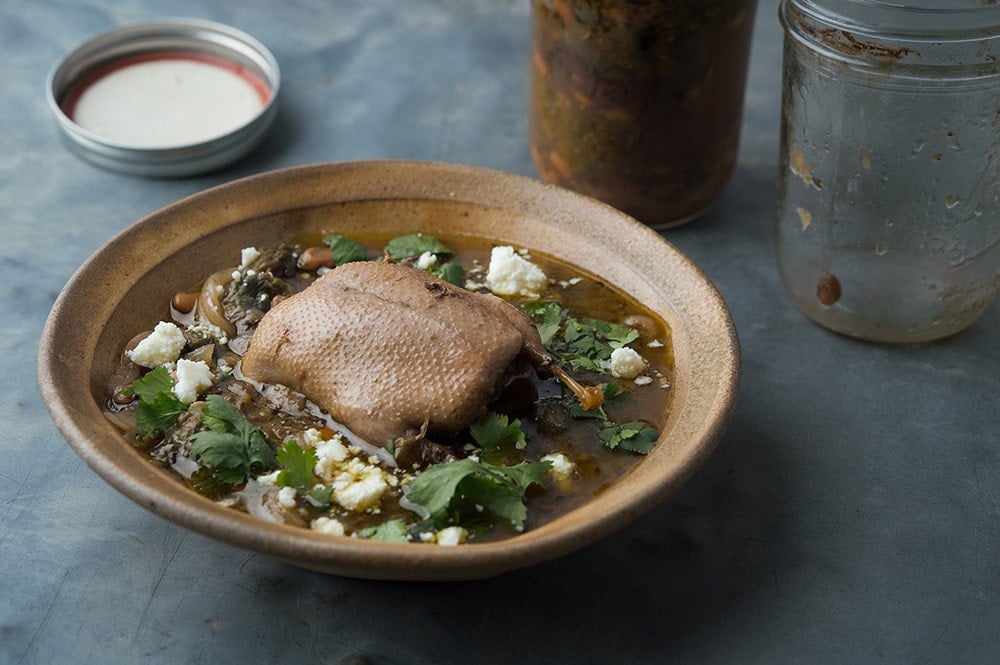 Some time ago my friend Jesse Griffiths wrote what I consider one of the great wild game and fish cookbooks of this generation. The book is called Afield: A Chef's Guide to Preparing and Cooking Wild Game and Fish, and it was nominated for a James Beard Award in 2013; if you don't own it, you might want to. Jesse is a Texan, and his ingredients and recipes reflect that, but the book is valuable no matter where you live.
While reading it, one recipe in particular struck me: Teal in a jar.
It's a funny little recipe. Texas, like many states, has an excellent early blue-winged teal season, and hunters can stack up a bunch of these little ducks in a hurry. Jesse takes the birds, plucks them, and stuffs them in a Mason jar with beans and such, then cooks them ever-so-slowly in a water bath until everything is meltingly tender. At first I thought it was a gimmick: Why bother with the jar? Why not just braise everything all together?
Well, you could, but the jars wind up doing two good things: They are nice single-serving portions, and the ratio of stuff-to-surface area is just right for long, gentle cooking. If you had everything in one big pot, the meat and beans and such in the middle would not cook at quite the same rate as the ingredients on the edges. What's more, it's kinda cool to give everyone a jar at the table to open and pour into their bowls.
I didn't want to just copy Jesse's recipe, so I thought about what should go into my jars for a long while. Then I remembered a great hunting trip I did in New Mexico a few years ago with my friends Lane, a chef in Santa Fe, and Garrett, who runs the New Mexico Wildlife Federation.
We'd hunted a reservoir in southern New Mexico where what seemed like millions of green-winged teal were spending the winter. (If you are a member of Delta Waterfowl, I wrote about this hunt for their magazine last year.) Flocks of dozens would randomly land in our decoys, peeping and doing that lunatic quack the hens do, then fly off somewhere else. It was an epic day, all I could do to not shoot my six birds in one volley. I only halfway resisted, shooting four teal, plus a wigeon and a pintail.
As it happens, one of Lane's favorite dishes is green chile teal. In New Mexico, the world is separated into red and green, for whichever Hatch chile you prefer. I've never made Lane's dish, although I think I have the recipe lurking around in some dark corner of my email inbox somewhere, but I kept it in mind. Southwest teal it would be. Well, as readers of this space know, I am a big fan of the ingredients of the Desert Southwest: Chiles, nopales (prickly pear cactus), native tepary beans, cholla buds, that sort of thing.
Easy enough to adapt Jesse's recipe for this. I used some tepary beans I had lying around, plus some cholla buds I dried myself. These are the unopened flower buds of the cholla (choy-ah) cactus, and when dried, then reconstituted and eaten, they taste an awful lot like artichoke hearts. You can buy them online if you don't live in Arizona or New Mexico.
Not sure what might be a good replacement, as they are sturdy and stand up to being cooked for 3+ hours. Dried mushrooms, maybe? I also had some of my homemade salsa verde to add some zing to the jars.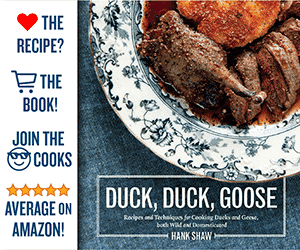 The result surprised me. I was worried that I wouldn't like the breast meat of the teal cooked for so long; I normally prefer it medium-rare. But I found I didn't mind at all. Similarly, I was prepared to be put off by the skin, which, after being cooked for 3 hours, was very soft.
What I found was that it really went well with the beans, which, miraculously, were still solid, although fully cooked. (I suspect it is the acid in the salsa verde that kept the beans whole.) Soft and fatty skin with hearty, starchy beans = a very nice bite.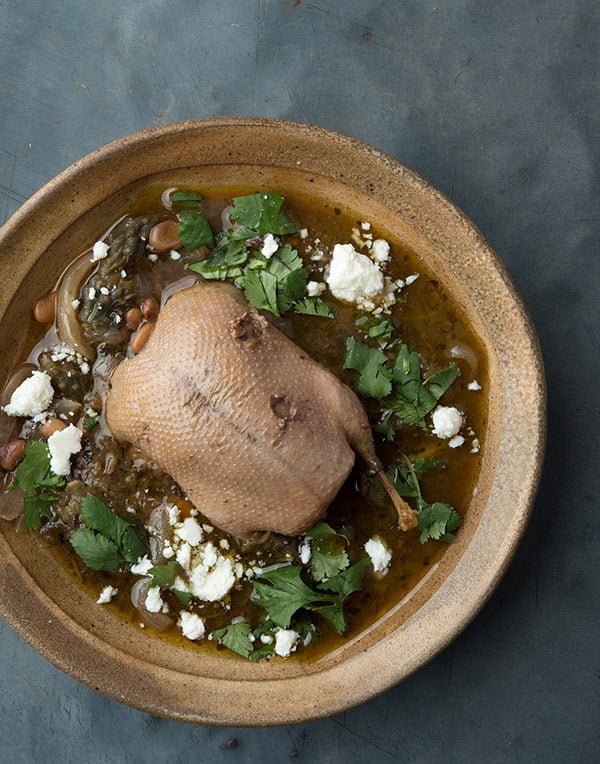 The whole garlic cloves were fun to eat, and everything brightened up with a squeeze of lime juice, some fresh cilantro and a dusting of dry Mexican cheese. All in all, a success worth sharing.
Don't get hung up on the Southwestern ingredients, though. You could take this recipe in any number of directions. You could put everything in a curry and go Indian. Or go with paprika, more onions and a bit of caraway for a Hungarian touch. Or have lots of hard root vegetables like celery root and rutabaga and go Nordic. Maybe a Chinese red-cooked teal might work, who knows?
The point is the method. A small bird, or something similar (see below), stuffed into a jar with other good things to eat that will stand up to long cooking, topped off with a little water or stock, and slow cooked in a water bath until everything is nicely cooked. It's a great technique. Thanks, Jesse!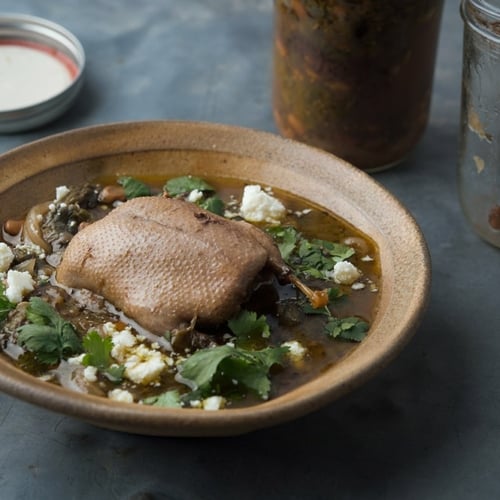 Southwest Teal in a Jar
This teal recipe is designed for small ducks, but quail or small partridges would work, too -- you just need to get the bird stuffed into the jar. Another option would be to stick chunks of something large into the jar. Springing to mind would be tuna or some other large, firm fish, a turkey thigh, deboned shank or neck meat from a deer, pork shoulder, a few pheasant legs, a goose leg or several goose thighs -- play with it and let me know what you come up with. You'll need to extend the cooking time for really tough cuts of meat, though.
Ingredients
4

ounces

of tepary beans,

or some other bean

4

teal,

plucked and gutted

Salt and black pepper

1

tablespoon

duck fat,

lard or cooking oil

1

large onion,

sliced root to tip

1

head of garlic,

peeled

1/2

cup

dried cholla buds or dried nopales or dried mushrooms

1 1/2

cups

salsa verde,

homemade or store-bought

Pint

Mason jars

Chopped cilantro,

lime wedges and dry Mexican cheese for garnish
Instructions
Pour boiling water over the tepary beans and let them soak for 4 hours. Meanwhile, use shears to cut out the backbones of the teal and then use a paring knife to remove the ribs and saber bones (the "shoulder blade") of the ducks. You don't need to do this, but it makes the teal easier to eat when you are ready. Once you have the bones trimmed, set the teal back in the fridge while the beans soak.

When the beans are hydrated, put them in a pot and cover with water by about 2 inches. Add the dried cholla buds if using. Bring to a simmer and cook gently for 20 minutes. While this is happening, preheat the oven to 300°F. Get a roasting pan ready. Put the duck fat in a pan set over medium-high heat and when it's hot, add the sliced onions and saute until they are slightly blackened on their edges. Add the garlic and cook another minute or three. Turn off the heat.

Drain the beans. Put a few in each Mason jar. Add some onions, then set the teal in the jar. Add garlic cloves, more beans and cholla and salsa verde until they just about cover the teal. Add water (about 1/2 cup) to come up to 1/4 to 1/2 inch from the lip of the jar. Put the lids on the jar loosely and set in the roasting pan. When you have all the jars ready, fill the roasting pan with very hot water about halfway up the sides of the jars. Set in the oven and cook for 2 1/2 to 3 hours.

Serve solo, or over rice. You'll want some chopped cilantro, lime wedges and dry Mexican cheese like cotija to garnish.
Notes
I like this served over rice, but you could also do it over smashed roasted potatoes, or solo with lots of good bread.
Nutrition information is automatically calculated, so should only be used as an approximation.