Taiwanese Beef Noodle Soup
As an Amazon Associate I earn from qualifying purchases.
Taiwanese beef noodle soup is serious Asian comfort food. It's made with shanks, beef in most cases, but I'm using venison here. Pork, lamb or bear would be OK as well. Why shanks? In a word, silk.
Using shanks for this soup makes the broth extra silky, thicker than water, with body and a certain slickness you can only get from collagen. And shanks are loaded with collagen.
Over the years, I've been building a library of excellent venison shank recipes, and I wanted one from Asia. So I started looking around, and found Taiwanese beef noodle soup.
It makes sense to use shanks in this soup because of that collagen, but you could also use shoulder or neck meat. If you are using beef, shanks are easily found in Asian markets, and I see them a lot in regular supermarkets, too. Veal shanks are even better if you can find them.
At its core, Taiwanese beef noodle soup is that broth, plus chunks of shank meat, lots of Chinese wheat noodles, some baby bok choy or something similar, and lots of chopped herbs like cilantro and green onions.
One esoteric item that is almost always added is fermented greens, sort of like sauerkraut. I have a great recipe for Chinese pickled mustard greens here, but you can skip this and the soup will still be great.
It is street food, something to order on a cool, rainy day to slurp down to keep warm. That said, it's just as good as a Sunday supper, and, once you make the broth, it will keep for a week in the fridge.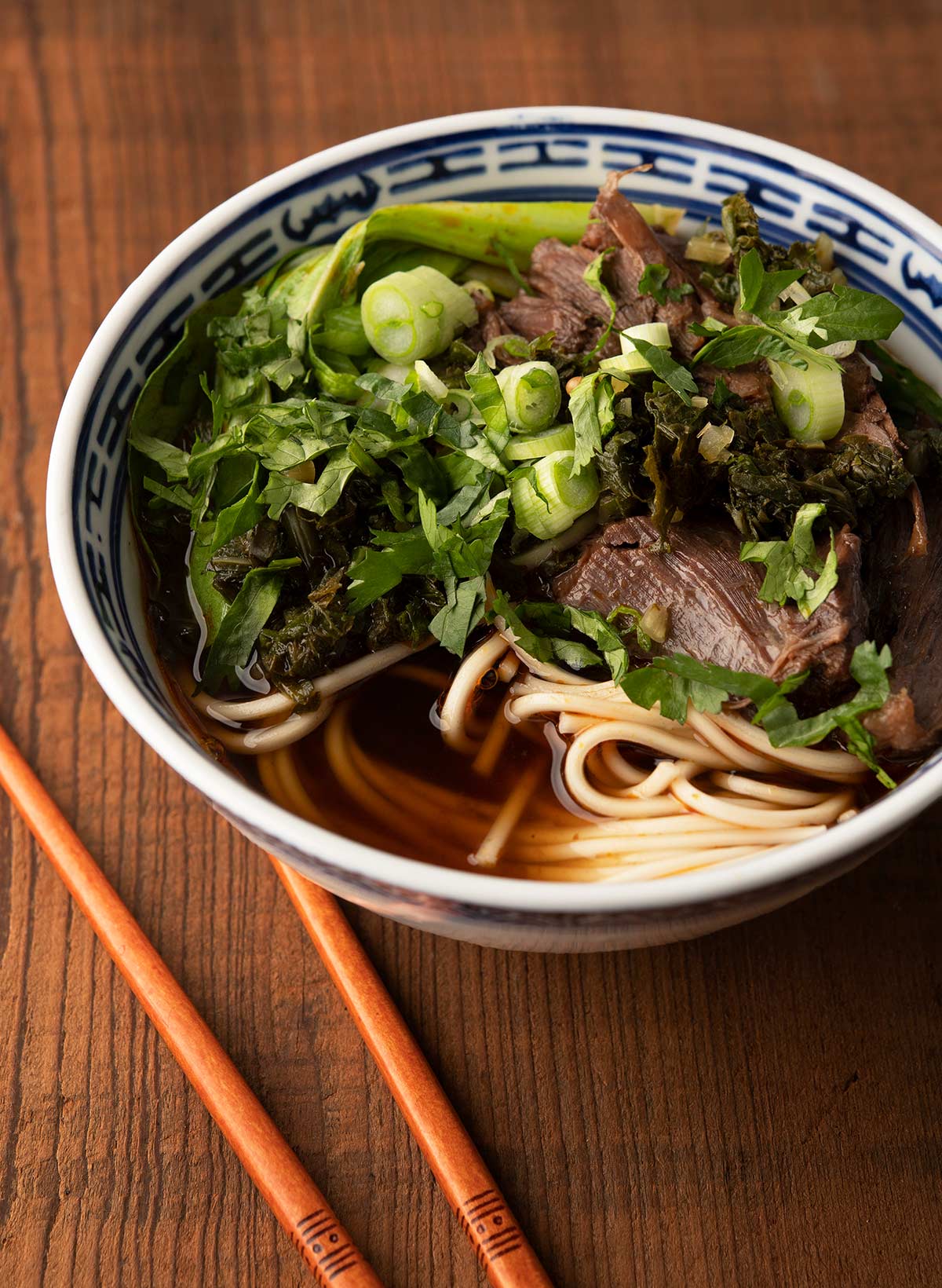 A word on the noodles. Actual Chinese noodles make a difference. They are paler and chewier than spaghetti, which would be a reasonable substitute. You can obviously find them at Asian markets, but in many cases you will see these noodles in the Asian section of regular markets. Ramen noodles are similar and will work, too. Or, you can make your own.
If you are familiar with "red cooked" dishes, like red cooked pork, it is a braise made with spices, cooking wine and soy sauce. This is basically that, but thin enough to be a broth. Taiwanese beef noodle soup is much darker and richer than Vietnamese pho, but they eat similarly: Chopsticks in one hand, spoon in the other. Slurp some noodles, ideally wrapped around a piece of tender shank and some herbs, then a spoonful of broth.
The way to eat this all week is to have lots of broth and shanks cooked, on, say, a Sunday. Then, when you want to eat some soup, all you need to do is heat the broth and meat, boil some noodles and top with the vegetables and herbs. And, like most braises, Taiwanese beef noodle soup is indeed better a day or three after it's made.
There are lots of versions of this soup, and to make this recipe I read several dozen, both online and in my collection of Chinese cookbooks. That said, I am indebted to Hsiao Ching-Chao's Chinese Soul Food. Her recipe is excellent, and I can highly recommend her book.
Taiwanese Beef Noodle Soup
Normally you would use beef shank (shin) meat for this, but I use venison shanks. Any shank will work, however. Lamb, veal, bear or wild pig would be good choices.
Ingredients
2

deer shanks,

or 3 to 4 pounds of similar shank meat

3

tablespoons

lard or peanut oil

6 to 8

green onions,

divided

6

cloves

garlic,

peeled and smashed

A 4-inch long piece of ginger,

peeled and sliced thinly

4

star anise pods

(optional)

1

heaping teaspoon Sichuan peppercorns

(optional)

2 to 6

dried hot chiles,

broken and seeded

1

cup

Shaoxing wine,

or dry sherry

1

cup

soy sauce

1/4

cup

Chinese black bean sauce

1

tablespoon

sorghum syrup or dark honey

(optional)

2

pounds

Chinese wheat noodles

(see Headnotes)

4

baby bok choy heads,

leaves separated

1/2

cup

chopped cilantro

1

cup

chopped pickled mustard greens

(optional)
Instructions
Submerge the shanks in water in a large soup pot. Bring this to a boil and let it roll for a couple minutes. Remove the shanks and toss the water. This process removes some of the scum that floats to the surface, and will make a cleaner tasting, clearer broth.

While you are waiting for this to happen, chop all your vegetables. Separate the white parts from the green parts of the green onions. Leave the white parts in large pieces, but finely chop the green parts.

Wipe the pot out and heat up the lard or oil over medium high heat. Sauté the white parts of the green onions, the garlic and ginger for about 1 minute. Add the star anise, Sichuan peppercorns and chiles and stir to combine. Return the shanks to the pot.

Pour in the Shaoxing wine, soy sauce, sorghum syrup (or honey) and bean sauce, then enough water to cover everything by about 1 inch. Bring this to a simmer, cover the pot and cook gently until the shanks are tender -- about 2 hours for beef, up to 4 hours for a very old deer or moose or elk or whatever.

When the shanks are tender, fish them out. While they are cooling, strain the broth. Pull the meat off the bones and cut it into largish chunks. Discard the bones and any weird, vein-y looking things. Wipe the pot again, then pour in the strained broth and add the shank meat to keep warm. Taste it for salt and add some if needed.

Bring a large pot of water to a boil, salt it, then add the bok choy. Boil the bok choy for about 2 minutes, then remove. Add the noodles.

To serve, when the noodles are done, put some in everyone's bowls. Top with broth and meat, then add some bok choy, the green parts of the chopped green onions, cilantro, and pickled mustard greens. Some people like a bit more heat, so if you have Chinese chile sauce handy, have that at the table.
Nutrition
Calories:
368
kcal
|
Carbohydrates:
47
g
|
Protein:
16
g
|
Fat:
9
g
|
Saturated Fat:
2
g
|
Cholesterol:
10
mg
|
Sodium:
2193
mg
|
Potassium:
374
mg
|
Fiber:
4
g
|
Sugar:
6
g
|
Vitamin A:
2740
IU
|
Vitamin C:
28
mg
|
Calcium:
97
mg
|
Iron:
5
mg
Nutrition information is automatically calculated, so should only be used as an approximation.