Vietnamese Duck Pho
December 14, 2008 | Updated July 20, 2020
As an Amazon Associate I earn from qualifying purchases.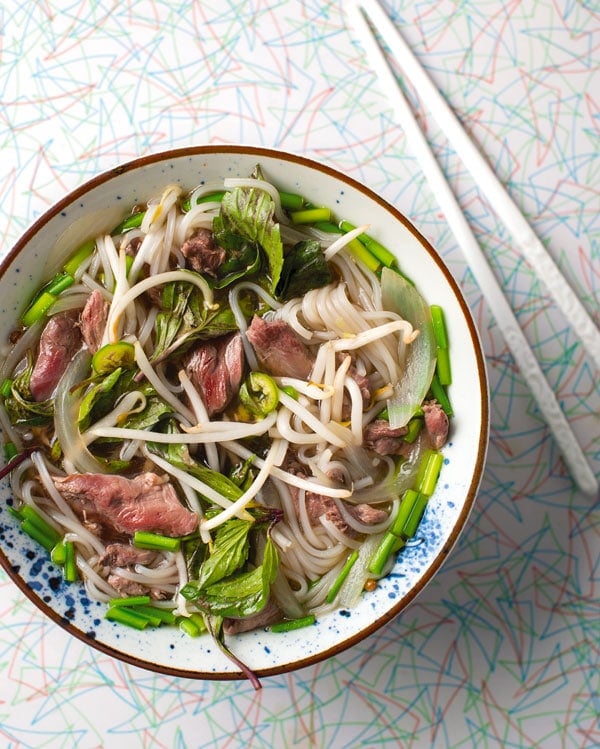 When I told Holly I wanted to make a wild duck pho, she smirked: "I think you should call it 'phuk.'" Perfect! So here ya go: My wild game version of that Vietnamese classic soup. And lemme tell ya, it is phuk-ing good!
I got the inspiration to make this dish after reading Heather's post on her leftover turkey pho, which is pronounced "fuh," just do you know. Pho is typically made with beef broth, and duck's meaty, dark meat is an excellent substitute.
America's favorite pho is pho tai, which is the soup served with thinly sliced strips of beef, which are tossed into the soup raw and are cooked by its heat. Again, duck breast is the perfect stand-in.
What's more, pho is one or our favorite meals after a morning of duck hunting. It is warm, flavorful and very, very filling — if you order the gi-normous bowl, as I always do. The key is in the broth, which is sweet-smelling from ginger, star anise and other spices. You can't make good pho without good broth.
So I spent three hours making a lovely pho broth with my various bits. Two key things about pho broth: First, you do not roast the bones. Pho broth should be light. Second, it need body, which is why it is traditionally made with knuckle bones. My solution was to add duck feet, which have collagen in them to add body. Be sure to hack at them a few times with a cleaver or heavy knife to open them up to the broth.
For you duck hunters out there, this is a perfect use for all the carcasses and giblets and feet you will collect. It should make you feel better about breasting out birds, too, because you can breast out a bird, skin it and then keep the remainder for this recipe.
For non-hunters, you can easily do this with domestic duck or goose — but be sure to remove as much fat as you can, because pho broth is not supposed to be greasy; a little fat is good, but not great globs of it.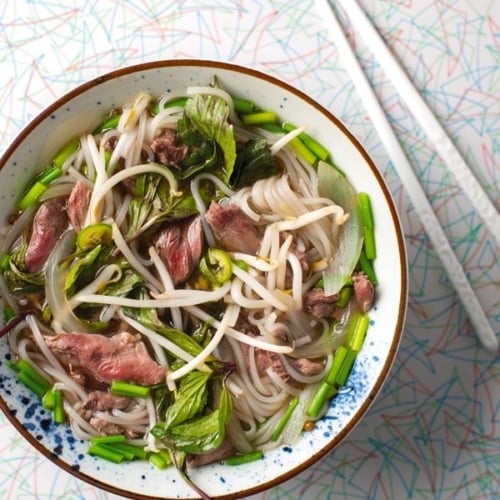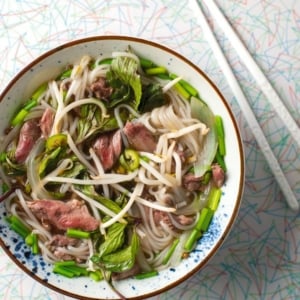 Duck Pho, Vietnamese Duck Soup
Making pho is pretty time-consuming on the front end, but once you make the broth this comes together quickly. Don't try to skip the broth-making here — the broth makes or breaks a good pho, and besides, this is a perfect use for leftover duck carcasses. Once made, the broth can be frozen for months or refrigerated for a few days. When you serve, have everything set out beforehand and bring it all together quickly.
Ingredients
BROTH
3

pounds

duck carcasses,

necks, feet and giblets

2

sliced onions

A 6-inch piece of ginger,

peeled and sliced

10

cardamom pods

5

star anise pods

1

tablespoon

coriander seed

6

cloves

1

tablespoon

fennel seed

3

tablespoons

sugar

2

tablespoons

salt

1/2

cup

fish sauce
TO ASSEMBLE
4

duck breasts

2

tablespoons

sesame oil

2

pounds

pho bo noodles or Japanese soba

2

thinly sliced onions

4

inch

piece of ginger,

peeled and sliced

1/2

pound

bean sprouts

A large bunch of cilantro or Asian basil

4

hot chiles,

thinly sliced
Instructions
To make the broth, put all the duck bits into a large stock pot, cover with water and bring to a boil. Skim the scum that rises to the top, then turn the heat down to a simmer. Do not let it boil from here on in.

While the water is coming to a boil, toast in a dry frying pan the coriander, cloves, fennel seed, cardamom and star anise until fragrant. Stir often to keep from burning.

Once the water in the stockpot is pretty much scum-free, add the onion, ginger, spices, fish sauce, sugar and salt and stir well. Move the pot off the center of the burner a little and simmer for at least 2 hours — I do three hours. Moving the pot off to the side a little allows you to periodically skim the top. You want to get most of the fat off the top.

Once the broth begins to taste yummy, turn off the heat and discard all the duck bits, onion, etc. Then strain the broth through a piece of cheesecloth set in a fine-meshed sieve. Pour slowly and discard the last dregs of the broth, which will have sediment in it.

If you want to be fancy, cool the broth now and once it has been refrigerated for a while, pick off the fat cap that may form.

To serve, heat the broth — do not let it boil — with the 4-inch piece of ginger and the sliced onions. Let this heat through until the onions are wilty, about 10 minutes.

Set out an array of condiments: Herbs, bean sprouts, sliced chiles, fish sauce, hot sauce and hoisin sauce. This is traditional, although you can improvise if needed. The one thing you must have is fresh herbs, however.

Boil water, salt it, and cook the noodles. Traditional pho noodles (available at Asian stores) are best, but I also like Japanese buckwheat noodles, which, while untraditional, taste perfect with the gaminess of wild duck.

Put 2 tablespoons sesame oil in a pan and get it hot. Sear the duck breasts on all sides under a very hot fire — you want a nice sear on the edges but for the duck to still be raw inside. You need not do this, but the seared edges add something to the dish.

When the noodles are done, gather up portions and put them in serving bowls.

Slice the duck breast as thin as you can and lay them on the noodles.

Pick out the ginger from the broth, then pour some broth over the noodles and duck. Be sure to give everyone some onions. Serve at once. Let everyone add whatever condiments they want.
Nutrition
Calories:
653
kcal
|
Carbohydrates:
110
g
|
Protein:
29
g
|
Fat:
10
g
|
Saturated Fat:
2
g
|
Cholesterol:
87
mg
|
Sodium:
3160
mg
|
Potassium:
573
mg
|
Fiber:
5
g
|
Sugar:
9
g
|
Vitamin A:
60
IU
|
Vitamin C:
17
mg
|
Calcium:
73
mg
|
Iron:
7
mg
Nutrition information is automatically calculated, so should only be used as an approximation.