Chinese Red Pork
February 04, 2021 | Updated December 23, 2021
As an Amazon Associate I earn from qualifying purchases.
Chinese red pork, also called red cooked or red braised pork, is so easy to make and so satisfying that I am shocked that it hasn't made to the canon of Chinese American restaurant menus.
After all, it's long braised pork belly or shoulder, with soy sauce, spices and a little sugar. So you get meaty-salty-fatty-sweet, and sometimes spicy all in the same dish. What's not to love?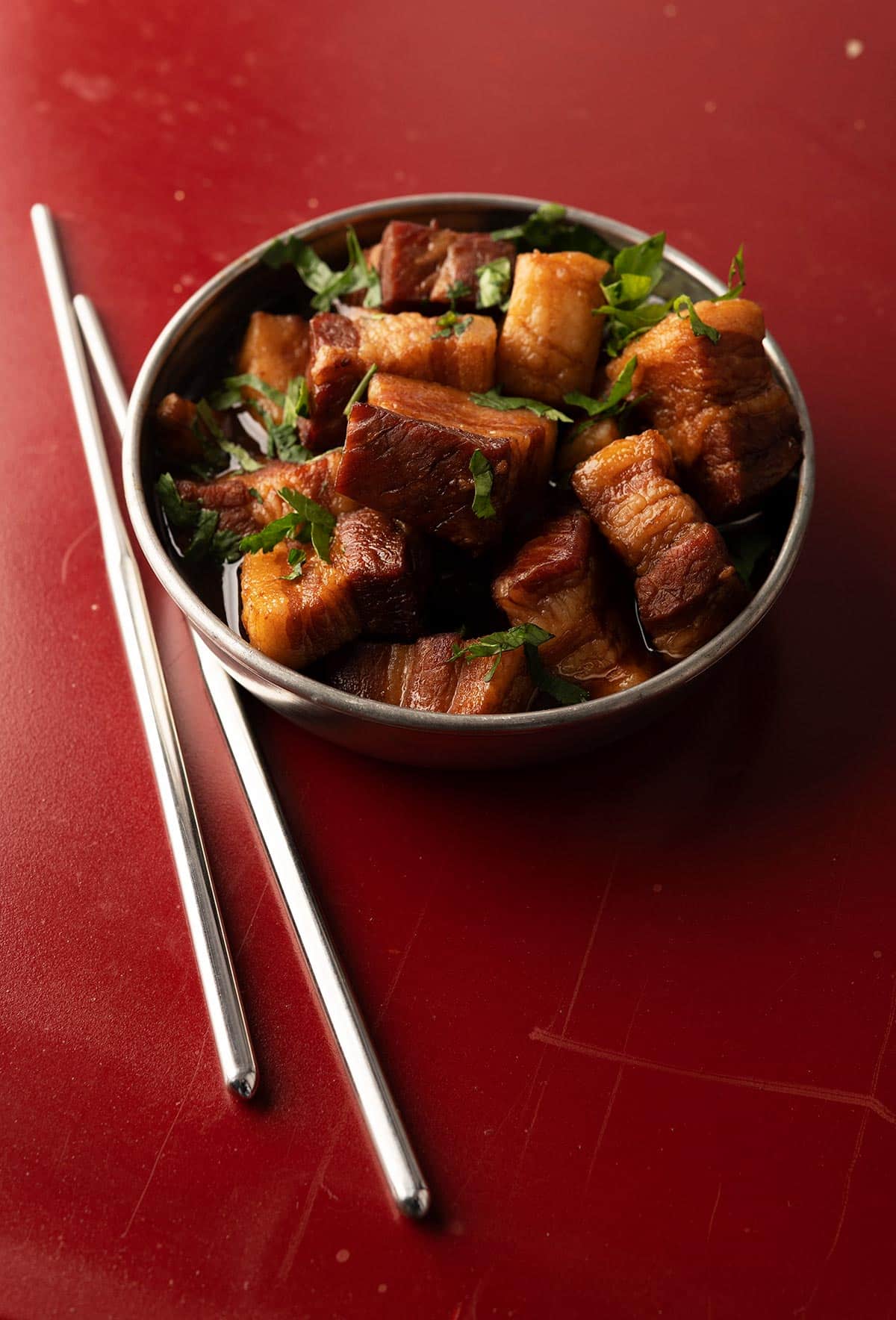 I grew up eating Hunan food at a local Chinese place in Garwood, New Jersey. Spicier, deeper in flavor and more exotic than the traditional Cantonese food most places served. Hands down, Hunan and the even spicier Sichuan food are my favorite styles of Chinese.
But never did I see Chinese red pork in any form — or any other red cooked dishes, for that matter.
In recent years, however, I've made countless Hunan and Sichuan dishes at home, and I've studied the cuisine a fair bit, from books and from my friend Kho Kian Lam's excellent blog Red Cook, Adventures from a Chinese Home Kitchen. Kian knows his stuff when it comes to red cooking — he named his whole site after the style. I'll let Kian explain it:
Red cooking is the basis of many Chinese home cooking. It is a term used for braising different kinds of food with garlic, dark soy sauce, rice wine and sugar. This technique can be used for pork, chicken, fish, tofu and many other ingredients. The phrase "red cook" comes from the fact that these dishes result in a shiny bright brown sauce appearing almost red. It is one of the most versatile techniques in Chinese cooking. And I've decided to name my blog for this technique to emphasize its flexibility and adaptability.
Red cooking need not even be with meat or fish. You will see red cooked tofu, and I happen to love red braised mushrooms.
In America, you will most often see red braised pork belly. This recipe is based on that one, and can be done with store-bought pork or wild ingredients, specifically wild pigs and bear. Yes, bear. Black bears can be so fat you can sometimes make bacon out of the belly, or you can make this.
Like many of the recipes on this site, this is the sort of family favorite where there are as many recipes as families. Some put chiles in, some not. Ditto for star anise. I've seen malt syrup used and rock sugar, simple granulated and no sugar at all.
Usually, however, any rendition of Chinese red pork is simple: The meat and maybe one or two other things going on, plus some greenery for garnish. It's served over simple steamed rice; jasmine is my favorite here.
No matter if you use pork belly from the store, from a wild hog or bear you've brought home or whatever, you'll want to make this recipe. Why? This bowl of food has it all: Fatty goodness, meltingly tender meat, a sweet-savory-salty-spicy sauce reduced from the braising liquid — all with a whiff of exotic anise — bright, crunchy green onions (or better yet, Chinese garlic chives), herbal cilantro and, for my touch, garlic.
I'm not gonna lie to ya, Holly and I ate nearly full two pounds of red braised pork between us. At one sitting. Make this. You won't be sad.
Chinese Red Braised Pork
Mostly you make this with pork belly, but any fatty cut will work; shoulder is my other favorite here. And while there are many renditions of red cooked foods, this particular one requires something fatty and luscious.
Ingredients
2

pounds

pork,

or bear belly

2

tablespoons

sugar

3

tablespoons

soy sauce

1/4

cup

Chinese Shaoxing cooking wine

(or sherry)

2

cups

Chinese stock,

chicken stock or water

A 1-inch piece of ginger,

sliced thin

3

star anise pods

(optional)

4

dried hot chiles

5

scallions,

sliced into 1-inch pieces

1/2

cup

chopped cilantro
OPTIONAL GARLIC ADDITION
1 to 2

heads

garlic, peeled but whole

2

tablespoons

lard or peanut oil
Instructions
Bring a large pot of water to a boil. Boil the whole slab of belly for 5 minutes. Remove from the water and set on a cutting board to cool. Save the cooking water if you are not using stock later for this recipe. Cut the meat into largish cubes of about 2 inches across.

Mix the sugar with 3 tablespoons water until the sugar has dissolved. In a wok, heat the syrup over medium heat until begins to turn yellow, about 5 minutes or so. Add the par-cooked pork belly and turn to coat with the syrup mixture. Stir-fry until nicely browned.

Pour in the Shaoxing wine, soy and enough stock or cooking water to cover the meat, and add the star anise, ginger, and chiles. Cover and simmer gently over medium-to-low heat. How long? Until the meat is tender. Typically about 90 minutes, but for a wild hog or bear this could take up to 3 hours. Check after 90 minutes. Taste the stock and if it is getting too strong, remove some of the spices.

If you are adding the garlic to this dish, fry the garlic cloves in lard or peanut oil until they are nicely golden, then remove and set aside.

Once the meat is getting tender – but not quite ready – add a little sugar if you want. The stock should be a bit sweet. Re-cover and cook until the pork is practically falling apart. Remove the meat and set aside. Turn the heat up on the sauce to reduce it. When the stock has reduced to a sauce consistency, return the meat to the pot and add the garlic, if using.

Add the scallions and cilantro and serve at once. I prefer to eat this with simple steamed jasmine rice.
Video
Nutrition
Calories:
735
kcal
|
Carbohydrates:
13
g
|
Protein:
41
g
|
Fat:
55
g
|
Saturated Fat:
19
g
|
Cholesterol:
163
mg
|
Sodium:
1357
mg
|
Potassium:
783
mg
|
Fiber:
1
g
|
Sugar:
8
g
|
Vitamin A:
686
IU
|
Vitamin C:
7
mg
|
Calcium:
65
mg
|
Iron:
3
mg
Nutrition information is automatically calculated, so should only be used as an approximation.