Squirrel Stew with Paprika and Greens
March 31, 2014 | Updated October 29, 2020
As an Amazon Associate I earn from qualifying purchases.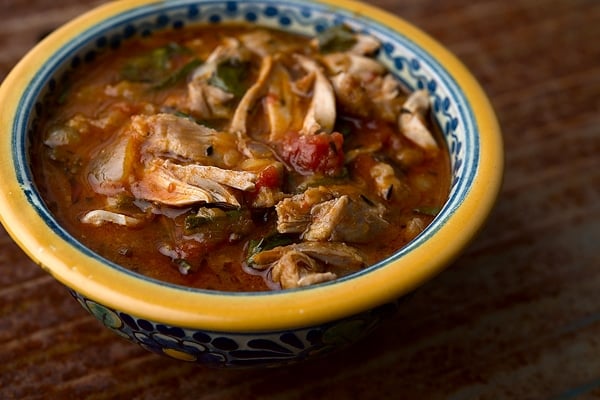 It's becoming something of a tradition for me to journey to northeast Ohio in the fall to hunt squirrels with my friend Joe Keough. I've written about hunting squirrels with Joe before, and last season's jaunt was, while not quite the rodential bonanza of 2012, still pretty damn fun.
Once again we crept into the sugar woods (maple syrup forest) of one of Joe's friends in search of the wily tree ninja, which is the awesome name given to the various sciuridae by another squirrel hunting friend, Chef Jonathan Wilkins of Arkansas.
Almost immediately I spotted a foolish young Algonquin black squirrel — just a dark color phase of ye olde Eastern gray squirrel — and blasted it with the old side-by-side I'd borrowed from Joe. One down.
Then things got slow. We wandered for a while, hearing the tree ninjas yell at us (or maybe at each other, or maybe at nothing at all) without seeing them. Joe and I worked the woods slowly together, walking about 30 yards apart. Military style.
Joe tensed up: He saw one. He stepped quietly to the right of a large shagbark hickory. I could hear but not see the squirrel perform that special trick they do: Squirrels can deftly move around on a tree trunk to keep it between you and them, no matter how carefully you try to get around the trunk. Tree ninjas.
But as smart as squirrels can be, we did not get to the top of the food chain for no reason.
I carefully picked my way to the left to get myself over to the side of the hickory where the squirrel was toying with Joe. (If you've ever seen "Jurassic Park" where the velociraptors fake out the Great White Hunter guy, this is the same move.) I got in position, and there he was: A giant red fox squirrel plastered to the side of the trunk, avoiding Joe.
I slowly took aim, and at that moment realized I had no idea what sort of choke was in this borrowed shotgun of mine. Just in case I aimed the pattern at the top of the squirrel — away from those delicious little squirrel hams.
BOOM! The squirrel flew off the tree as if launched. Joe said in all the years of squirrel hunting, he'd never seen a squirrel get blown off a tree like that. Which is when I learned that the left barrel of the shotgun was fully choked. Not ideal to have all those pellets concentrated at a target less than 20 yards away.
Joe picked up the squirrel. "Uh… you got him." That squirrel never knew what hit him. But I didn't get one pellet in those hams!
Joe ended up getting one more squirrel, giving us three for the day. Not a ton of meat for the three of us (Joe's wife Dorrie was waiting at home), so I thought I'd make a stew.
It was one of those great random stews that any home cook has made dozens of times: the classic "mulligan stew," made with whatever was at hand. Dorrie had some of the last tomatoes of the season and some beautiful chard. They had some really good Hungarian paprika kicking around, as well as some smoked Spanish paprika.
I mixed them in the squirrel stew. Finally, we'd just gone to Cleveland's West Side Market, where I'd bought a bunch of smoked sausages. In they went, too.
We sat down to eat our impromptu stew, which seemed somehow Portuguese to us, and very quickly realized that this dish was a keeper. "You better write this one down," Dorrie said. So I did.
And the other day I remade it for Holly and me. It was every bit as lovely. Lots of big flavors, including the squirrel. If you've never eaten squirrel, it really is one of America's finest meats. The best way I can describe it is like a denser version of a chicken thigh with a certain, well, nutty character. It's very mild otherwise, and if I served this stew to anyone who likes chicken, they'd be perfectly OK with it.
Or at least I'd like to think so.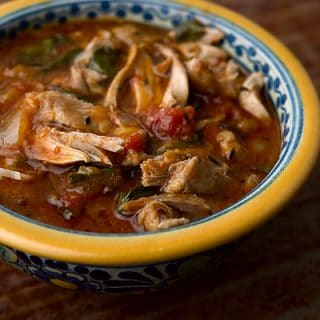 Squirrel Stew with Paprika and Greens
There are a lot of ways you can play with this dish. You can use rabbit or chicken instead of squirrel, you can red wine instead of white wine, red vinegar instead of cider, kielbasa instead of smoked Portuguese sausages, collards instead of wild greens etc, etc. Have fun with it. The only trick to this stew is to build the flavors bit by bit. Not everything needs as long to cook as, say, squirrel legs. Follow my instructions on when you put in each ingredient and you'll be fine.
Ingredients
3

squirrels,

cut into serving pieces

Salt

Flour for dusting

1/3

cup

olive oil

2

cups

sliced onion

3

garlic cloves,

minced

1

heaping tablespoon tomato paste

1

cup

white wine

1/4

cup

cider vinegar

1

heaping teaspoon dried savory or oregano

1/2

teaspoon

red pepper flakes

1

heaping tablespoon paprika

2

to 3 cups of whole

peeled tomatoes, torn into large pieces

1

pound

smoked sausage,

such as kielbasa or linguica, sliced into bite-sized pieces

1

pound

greens,

kale, chard, collards, wild greens, etc

black pepper to taste
Instructions
Salt the squirrel pieces well and then dust in flour. Heat the olive oil in a large Dutch oven or other heavy, lidded pot over medium-high heat. Brown the squirrels in batches, being sure to not overcrowd the pot. Move the browned pieces to a plate or cutting board while you cook the rest.

When the squirrels have been nicely browned, remove them all from the pot and add the onion. Saute the onion until it just begins to brown on the edges, about 6 to 8 minutes. Add the garlic and cook another minute. Add the tomato paste, mix well and cook this for 2 to 3 minutes, stirring often.

Pour in the white wine, vinegar and about 1 quart of water. Add the savory, red pepper flakes and paprika, then the torn-up tomatoes, then the squirrel. Mix well and bring to a simmer. Add salt to taste and cook gently until the squirrel wants to fall off the bone, about 90 minutes. Fish out all the squirrel pieces and pull them off the bone -- this makes the stew a lot easier to eat. Return them to the pot.

Add the smoked sausage and the greens and cook until the greens are done, about 10 minutes (If you are using collards, they need more than 10 minutes to cook so adjust accordingly). Add salt, black pepper, chile and vinegar to taste and serve with crusty bread.
Nutrition
Calories:
736
kcal
|
Carbohydrates:
9
g
|
Protein:
90
g
|
Fat:
33
g
|
Saturated Fat:
9
g
|
Cholesterol:
344
mg
|
Sodium:
797
mg
|
Potassium:
1866
mg
|
Fiber:
2
g
|
Sugar:
3
g
|
Vitamin A:
3695
IU
|
Vitamin C:
22
mg
|
Calcium:
95
mg
|
Iron:
14
mg
Nutrition information is automatically calculated, so should only be used as an approximation.