As an Amazon Associate I earn from qualifying purchases.
Okra stew exists pretty much wherever people eat okra, often with tomatoes as a co-star. For good reason: Okra and tomatoes are a natural combination, and this stew adds a West African touch with chiles, ginger, garlic and good, homemade stock.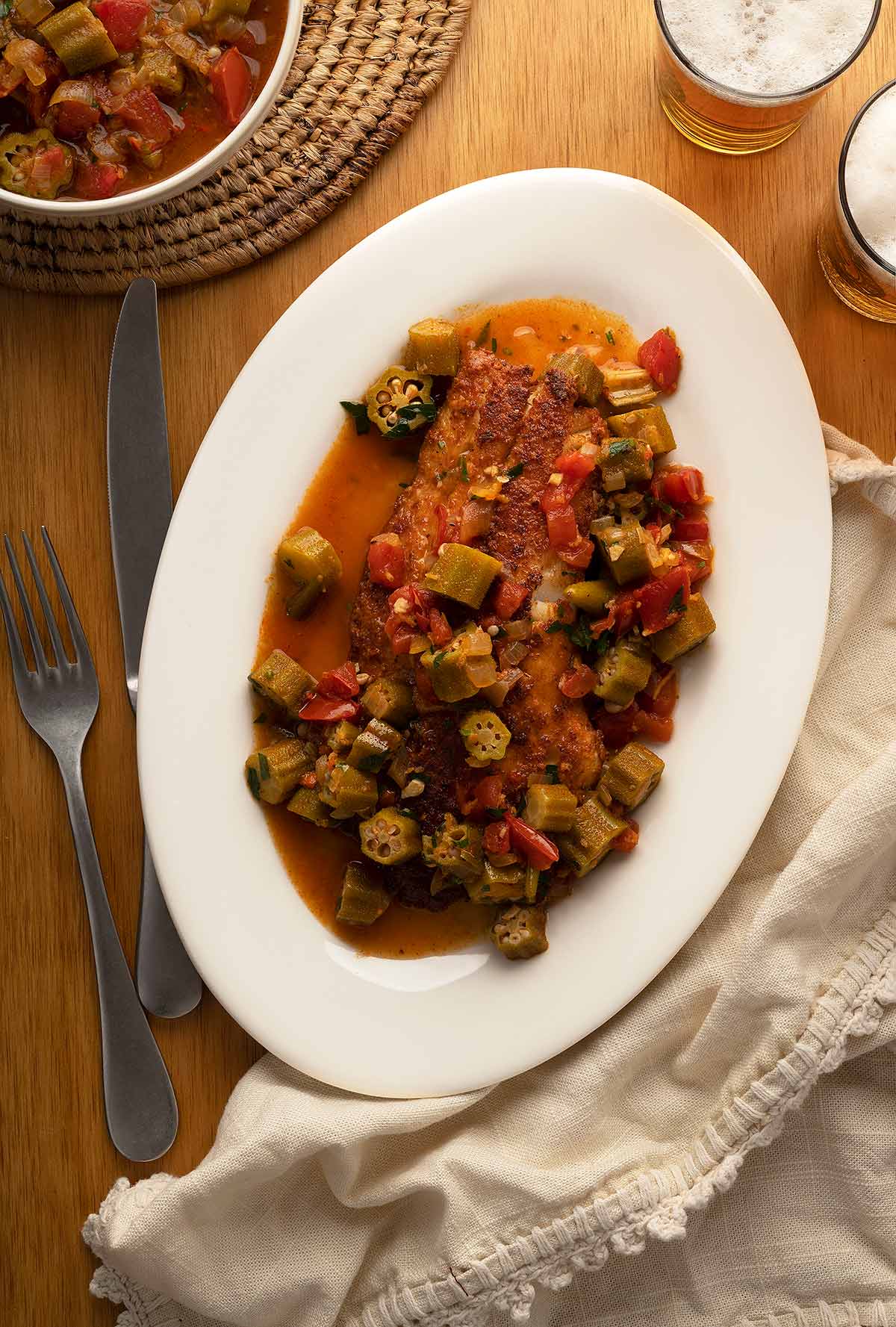 What's more, this rendition of okra stew works both on its own, and as a sort of chunky sauce to be poured over fish or game, or grilled vegetables.
I grow okra every year, and am always looking for new ways to eat it besides friend and pickled. Both methods are great, but I really do love me a seared okra salad, and I freeze or dehydrate a bunch of okra for Creole okra gumbo in cooler months.
I am indebted to cookbook author Zoe Adjonyoh and her wonderful book Zoe's Ghana Kitchen for this recipe, which is inspired by hers, as well as other recipes for okra stew I've found in other West African cookbooks. But Zoe's is the main inspiration.
You can make this stew using fresh okra or by using frozen okra. Either way. The general structure of this recipe is easy and repeatable with standard supermarket ingredients, but I add a host of cool West African ingredients, well, because I like them. Feel free to skip if you want.
And while you can use water here, I do prefer a nice stock appropriate to the occasion. In the above picture, the okra stew is served over fried fish — a similar presentation to my recipe for Louisiana catfish courtbuillion — so I used homemade fish stock. If I were to pair the stew with, say, grilled venison, I'd use a beef or venison stock. You get the picture.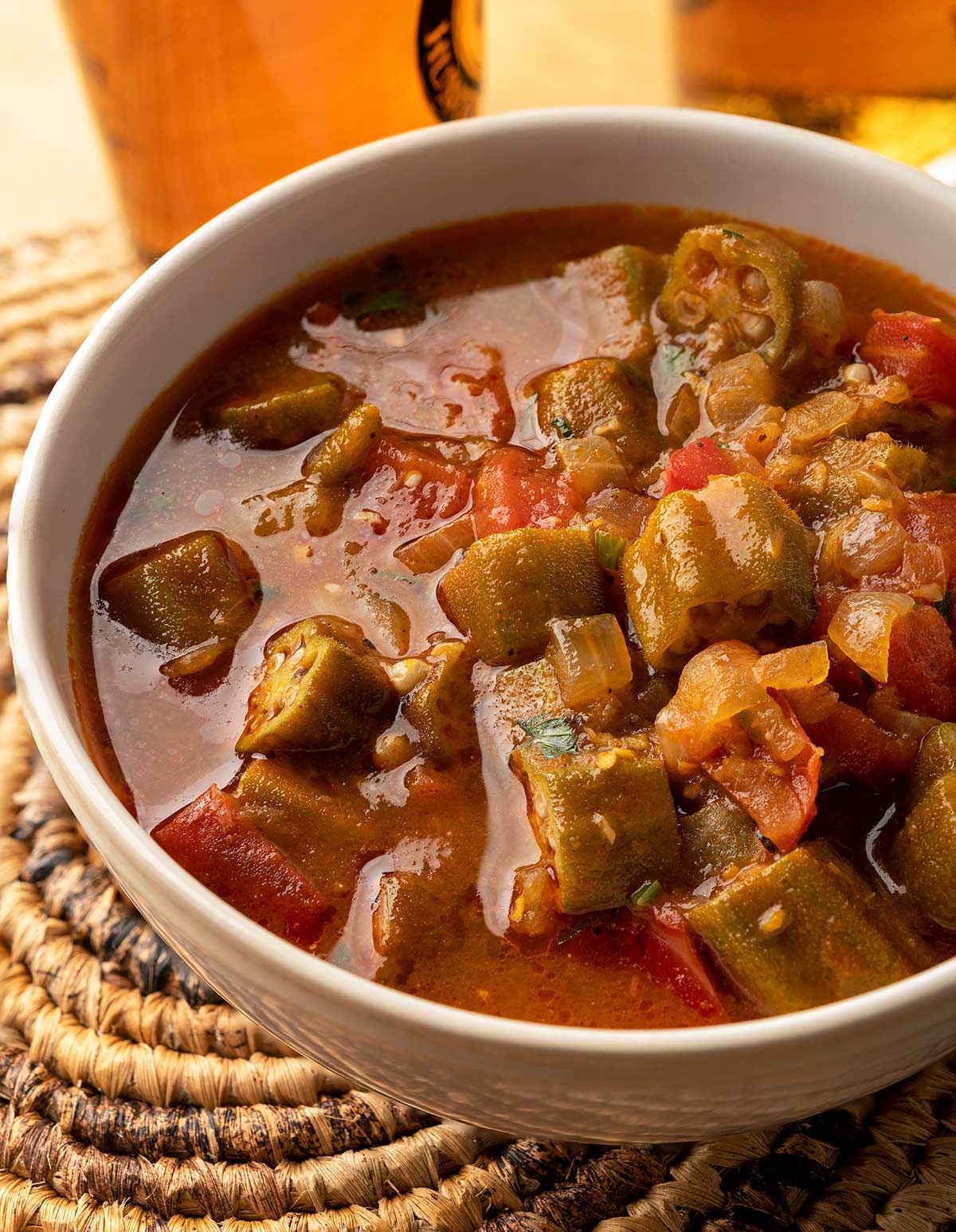 Now, for the West African ingredients. All are available online, and I will link to them here. All add flavor that most Americans won't recognize, but which I think add spiciness in the sense of the word as spices, not hot as in picante.
That comes from the habaneros or Scotch bonnet peppers, which you can use at will ranging from none to, well, however many your brave guests will eat.
The first unusual ingredient I use are hwentia, also called grains of Selim. These are gnarly little seedpods that you add to a stew to give it a boost of peppery-smoky-sweetness. I also use ground cubeb pepper, which adds a sort of piney-black pepper hit.
Both last ages in the pantry, but if you don't feel ordering them online, you can just grind a whole lot of regular black pepper over everything right at the end.
If you don't like serving okra stew over meat or fish, serve it alongside some rice, or with crusty bread.
Once made, your stew will keep a week in the fridge. I don't personally like freezing okra in stews because things get get mega slimy when you thaw, but if that doesn't bother you, go for it.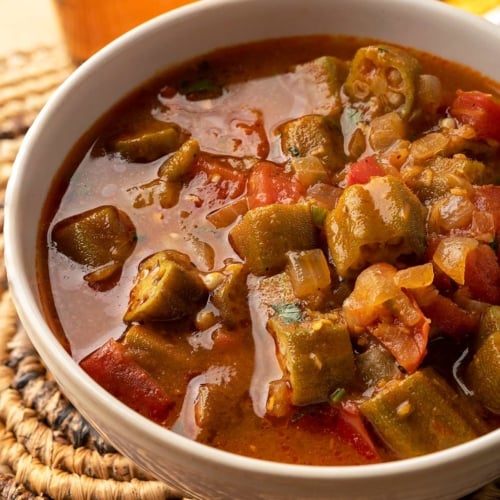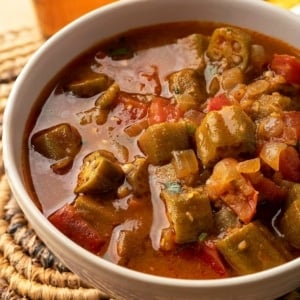 Okra Stew
This is a West African inspired rendition of an okra and tomato stew, great on its own or served as a sauce over meat or fish. There are some unusual spices here, and I use palm oil. You can get red palm oil, which is not overly refined, in some supermarkets, or you can get sustainably produced oil online. Or just use vegetable oil.
Ingredients
1/4

cup

red palm oil or vegetable oil

2

onions,

minced

4

cloves

garlic,

minced

2

tablespoons

grated fresh ginger

1 to 3

Scotch bonnet or habanero chiles,

minced

Salt

2

tablespoons

tomato paste

A 14.5

ounce

can of fire-roasted, diced tomatoes

5

grains of selim pods

(optional)

1

quart

chicken stock,

or other appropriate stock (see above)

1 1/2

pounds

okra,

cut into discs

1

tablespoon

ground cubeb pepper,

or regular black pepper
Instructions
Heat the palm oil in a soup pot over medium heat. It has a low smoke point, so when it smokes, add the onions and stir well. Cook them, stirring often, until soft. Add the garlic, ginger and minced chiles and cook another minute. Salt everything well.

Stir in the tomato paste and cook that for a minute or two, stirring often. Add the diced tomatoes, the grains of Selim, and the stock and stir well. Bring to a simmer and cook uncovered for 15 minutes.

Add the okra and cook another 15 minutes, or until the okra is tender. You want a fairly substantial stew, so only add additional water or stock if everything is getting sticky. Season with salt to taste and add the pepper in at the end. Serve over meat, fish or with rice.
Notes
If you are using frozen okra it will only need about 5 minutes to be ready, not 15. 
Keys to Success
Remember to match the stock to the dish, so fish stock with fish, vegetable stock if there's no meat, etc. 
I like it hot, so I use plenty of Scotch bonnets, which I grow. Store-bought orange habaneros are not as hot, so start with one cut in half. You can fish it out later if you don't want to eat it. Or use a milder chile. 
You don't eat the grains of Selim. They are there for seasoning, so either fish them out or tell people not to eat them. They're not poisonous or anything, just, well... chewy. 
Once made, this will keep for a week in the fridge. 
Nutrition
Calories:
171
kcal
|
Carbohydrates:
20
g
|
Protein:
6
g
|
Fat:
9
g
|
Saturated Fat:
4
g
|
Polyunsaturated Fat:
1
g
|
Monounsaturated Fat:
3
g
|
Cholesterol:
4
mg
|
Sodium:
337
mg
|
Potassium:
682
mg
|
Fiber:
4
g
|
Sugar:
9
g
|
Vitamin A:
696
IU
|
Vitamin C:
28
mg
|
Calcium:
95
mg
|
Iron:
2
mg
Nutrition information is automatically calculated, so should only be used as an approximation.