Lowcountry Okra Salad
August 28, 2020 | Updated June 06, 2022
As an Amazon Associate I earn from qualifying purchases.
I get it: When you hear okra salad your first thought goes something like, "Ew… slimy!" But not in this case.
I love okra, but unless it's in gumbo (I make a mean okra gumbo, by the way), I don't like its… well, mucilaginous qualities. So when I read Chef Whitney Otawka's recipe for okra salad in her lovely book Saltwater Table: Recipes from the Coastal South, I was all ears.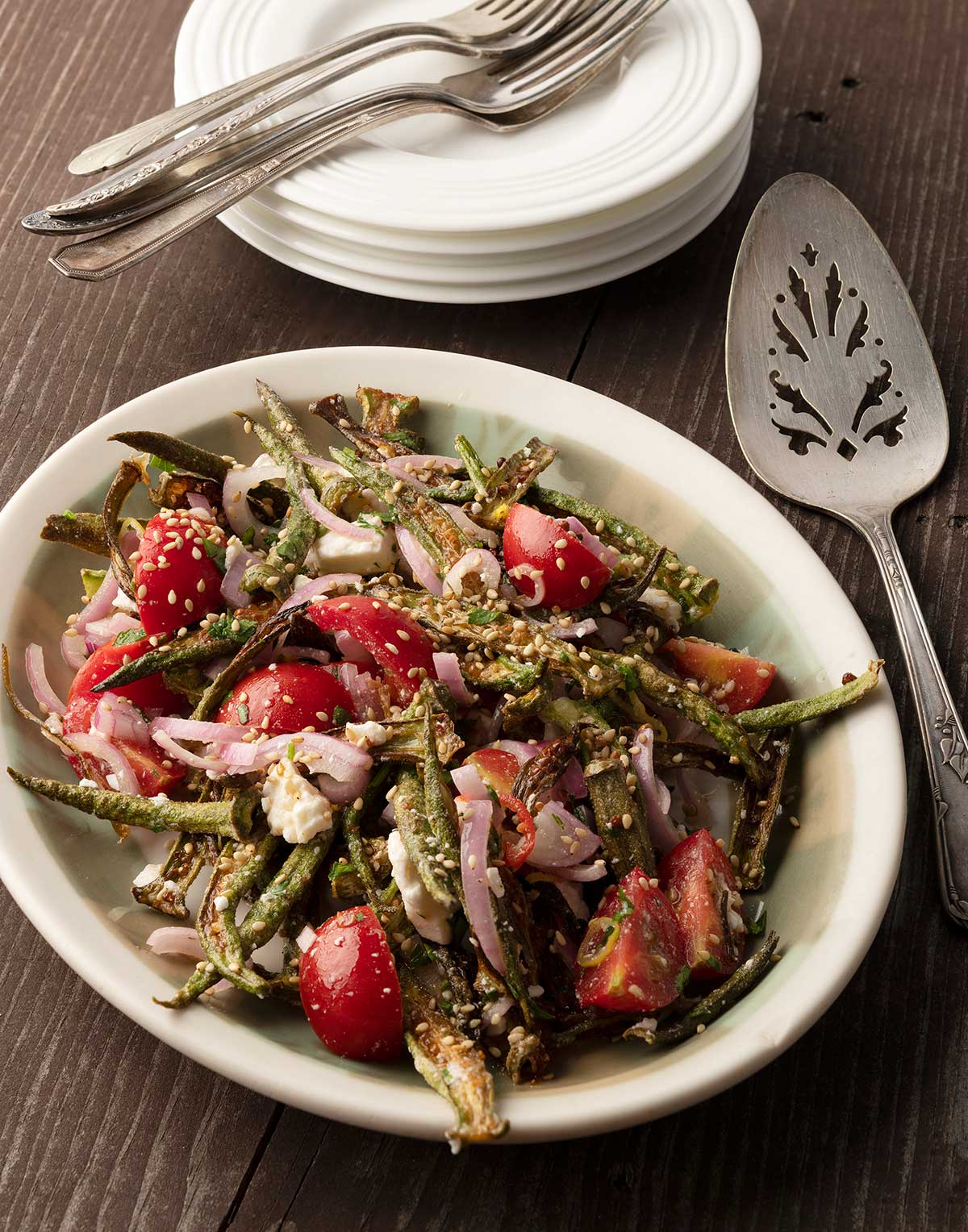 It is from her that I get the special technique for an okra salad with no slime. She slices the okra thin on a mandoline and then flash fries it to remove all the slime. I knew I had to try this. But alas, my okra in the garden took its sweet time to start producing, so I had to wait several months before I could.
Finally I had enough; you need about a pound or so. I started with the mandoline as Otawka recommends, but soon realized it isn't needed. Simply slice the pods as thin as you can lengthwise. Mandolines scare even me a little. Pretty much everyone who has used one long enough has shaved off a knuckle. Not a fan of that, so if I can find an easier way, I will.
You can fry the okra up to a day or so in advance, too, which makes putting together this finished okra salad easy.
Chef Otawka adds two kinds of tomatoes, feta and sesame seeds to her salad. I like those flavors a lot. But she also uses a yogurt dressing in her version, and I am not a fan of those. So I went with a cider vinegar and a mix of olive oil and sesame oil for my dressing.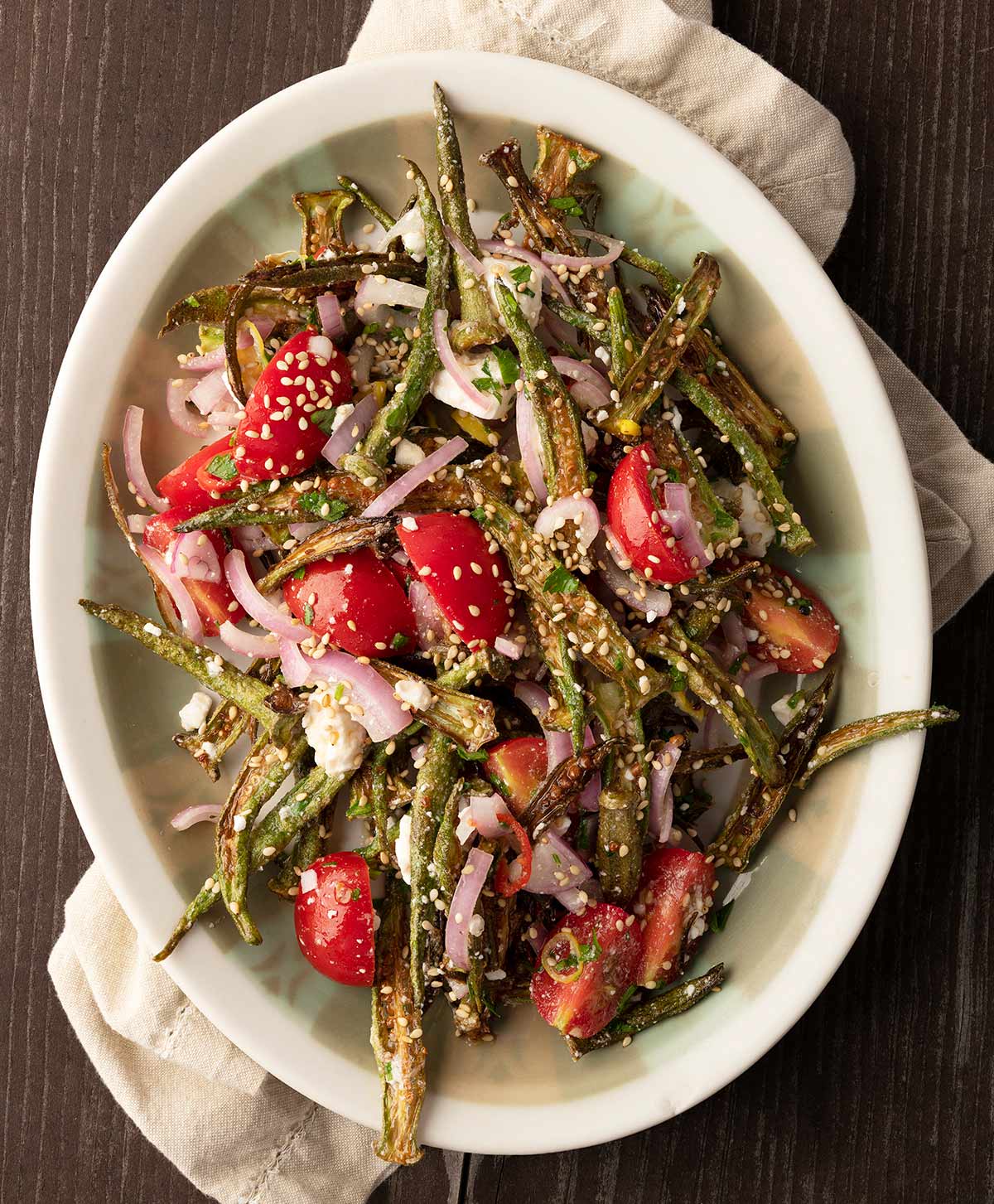 I also went with only one tomato, a quasi-cherry tomato called Punta Banda, which hails from Baja California, and added two kinds of peppers: Sweet datil chiles, which are native to St. Augustine, Florida, as well as aji pineapples, a very hot, floral-tasting yellow chile from South America. Don't get hung up on the specific chiles, though: Just use one sweet and one hot, and vary the colors, so your family can pick out the hot ones if they are so inclined.
The sesame seeds, called benne seeds in South Carolina, along with the okra, tomatoes and my addition of a splash of sesame oil, gives the salad a sort of Lowcountry Asian kind of thing. The feta cheese adds heft and cuts acidity, and the chiles add sweetness and spice.
But the okra is the star. Frying it first dries the okra out a little, and makes it chewy — strangely meaty. I did not miss meat at all eating this salad, which would make it a fantastic vegetarian main course salad for a hot summer day.
It is also a damn good side dish for chicken bog, or perloo, or fish and grits.
Looking for more okra recipes? I have lots. Okra stew, Creole okra gumbo, roasted okra, pickled okra… yeah, I like okra.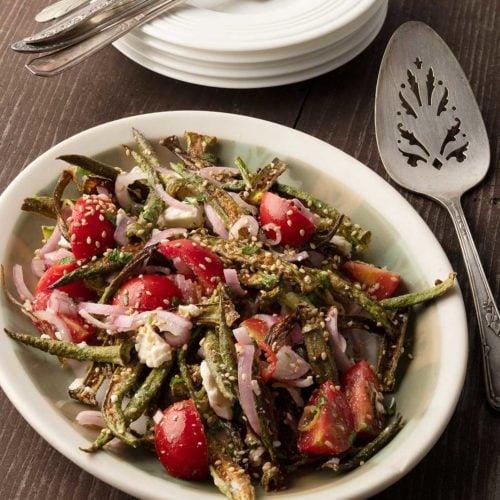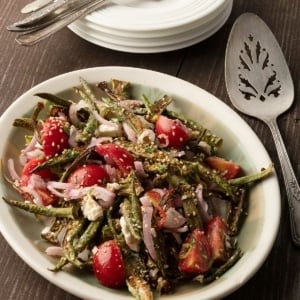 Lowcountry Okra Salad
Use this recipe as a guide, not dogma. Vary the ingredients according to what you have in the garden, but definitely follow the instructions on frying the okra. It makes a huge difference.
Ingredients
Vegetable oil, for frying

1

pound

okra, sliced thinly lengthwise

Salt

1/2

cup

cider vinegar

1

large shallot, sliced thin

1

sweet pepper, diced

1 to 5

Thai chiles, sliced thin

1

pound

small tomatoes, quartered

2

tablespoons

chopped parsley

4

ounces

feta cheese, crumbled

3

tablespoons

olive oil

1

tablespoon

sesame oil

3

tablespoons

toasted sesame seeds
Instructions
Mix the shallot with the cider vinegar and allow to sit at room temperature. Doing this first slightly pickles the shallot and removes that raw onion taste.

While you are slicing the okra, heat the oil to 325°F. Fry 1/3 of the okra at a time, for about 3 minutes per batch. Set on paper towels when each batch is done and salt immediately. When you are done, remove the oil from the heat and set the okra aside.

Add all the ingredients except the sesame seeds and mix well in a large bowl. Serve everyone some and top with the sesame seeds.
Nutrition
Calories:
312
kcal
|
Carbohydrates:
19
g
|
Protein:
9
g
|
Fat:
23
g
|
Saturated Fat:
7
g
|
Cholesterol:
25
mg
|
Sodium:
342
mg
|
Potassium:
748
mg
|
Fiber:
6
g
|
Sugar:
8
g
|
Vitamin A:
2586
IU
|
Vitamin C:
95
mg
|
Calcium:
306
mg
|
Iron:
3
mg
Nutrition information is automatically calculated, so should only be used as an approximation.