Roast Woodcock Michigan
October 01, 2015 | Updated November 06, 2020
As an Amazon Associate I earn from qualifying purchases.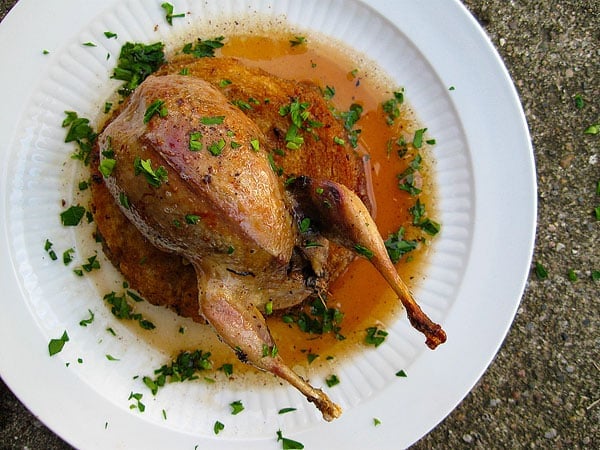 The first time I ever hunted woodcock was in the closing stages of my first book tour, back in 2011. I'd been on the road for two months, and, like any tour, had some serious stress and not a little fun. The hunt was at the tail end of that trip, and I could see light at the end of the tunnel. The hunt turned out to be a restorative experience.
My friend Brian, a long-time reader of this space, had generously offered to show me the Michigan northwoods, an offer I happily took up.
I had eaten exactly two woodcock before this hunt, thanks to my friend Brian from North Carolina (not all my friends are named Brian, just the woodcock hunters… ), who FedEx'd me a brace of them last year in return for some Oregon truffles. I roasted those woodcock simply.
The flavor? Sort of like a combination of dove and ruffed grouse, with a little snipe thrown in. I know, I know. Unless you are a hardcore bird hunter this means nothing to you.
Still, I had never killed one myself. "We ought to be able to fix that," Brian said. He was right.
We drove north past the little town of Luzerne and into the grouse woods. Brian was more interested in ruffed grouse, and as it happens, the two birds share the same sort of woods, but inhabit different spots. Woodcock like life a little damper than grouse do. Both birds prefer thick cover.
Alders, black ash, birch, aspen. This is their home. As we walked through them, Brian's English pointer coursing around, he bent down to look at something. "Take a look at this," he said. "Put that in your blog." I looked. Um, OK. Bird shit. "That's classic woodcock. If you see that, the birds are around."
What did that woodcock eat to make such a shit? Probably earthworms. Timberdoodles love earthworms. They also eat other creepy crawlies like millipedes, beetles, snails, ants and other assorted larvae. Another fun fact? They take a dump when they fly, so their guts are clean (sorta-kinda) should you shoot one. This is why some people like to roast their woodcock un-gutted. Haven't yet had tried this.
Sure enough, Brian's dropping-fueled hunch was right. I heard a bird flush and say, "peeent!" and saw the shape zig-zagging away from me through the saplings. Theoretically this would be a tough shot, but I've killed my share of snipe before, and they do the same thing, only faster. So I felt pretty calm. I missed with the first shell, but folded the bird on the second. Success! I rushed to the spot where it fell, but couldn't see the woodcock. Damn. Same as snipe. They blend in perfectly with the forest floor. I felt that flood of anxiety wash over me.
I hate losing birds, and I did not want my first ever woodcock to be lost. Brian's pointer was not too interested in finding a dead bird, so we looked around ourselves. Brian himself soon found it, thank God. It felt good to have the bird in hand.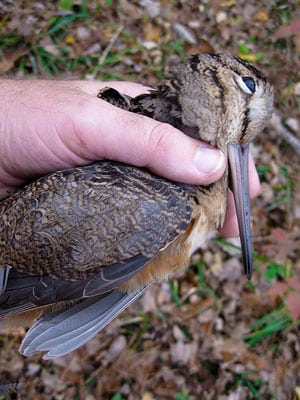 Hunting woodcock opens the mind the way steam opens the pores. As you make your way through the thickets — walking is too generous a term — your eyes dart around and your mind races as you try to solve the geometric dilemma of crossing tree limbs and stumps and brambles and fallen logs. You do not always succeed. On our second morning, I fell into a hole and bashed my knee on a stump. Occupational hazard.
As you move, you keep your head on a swivel and your ears pricked up. In that split-second you hear that basso thrum of a grouse's wings as it flushes, or the crackly peent! of a woodcock, you must raise your shotgun, find the bird, decide if you can shoot, pull the trigger and be ready to follow through for a second shot, if you need it. Hunting woodcock occupies your entire existence. It is instinct.
Trouble lies in a relaxed mind. The only two woodcock I missed but should have killed were pointed by Brian's dog. I had only to walk up to the dog, who would then flush the bird, and I could shoot it at my leisure from close range. But for whatever reason, the ease of this whole scenario flustered me; it's the same with those "gimme" shots on ducks that I always miss. Don't think, Hank, just shoot!
I wound up with three birds between an afternoon and morning of hunting, and I could easily have shot a two-day limit of six had I been just a bit better (or luckier). I couldn't believe how many there were around. "I don't shoot woodcock unless I'm with someone who likes them," Brian said. "People up here don't really like 'em." It showed. The grouse, which is the preferred quarry of Brian and most of the other local hunters, were so elusive that Brian only got one.
Driving back from the northwoods, I thought about how to cook this three-bird bonanza. You should know that the unfortunately named woodcock, Scolopax minor, is a legend among game birds, as much for the hunting as for the eating. Outdoor writers and gourmands as august as Brillat-Savarin alike have waxed poetic about the little bird:
A woodcock is in all its glory when it has been cooked under the eye of the sportsman and above all of the sportsman who has killed it Then the roasted bird is in perfection according to all rules and regulations and the mouth is flooded with delight.
So a woodcock has white meat on its stubby little legs, while the breast is dark like squab or dove. They usually have a little fat on them, but nothing like the amount on a duck. Woodcock are small, the size of a squab, with spindly wings and chunky legs. They should be cooked medium, or even rare. Woodcock meat is strong, but not smelly. Gamey in a good way. It does well salted a little more than you think it ought to be. And woodcock is best cooked simply.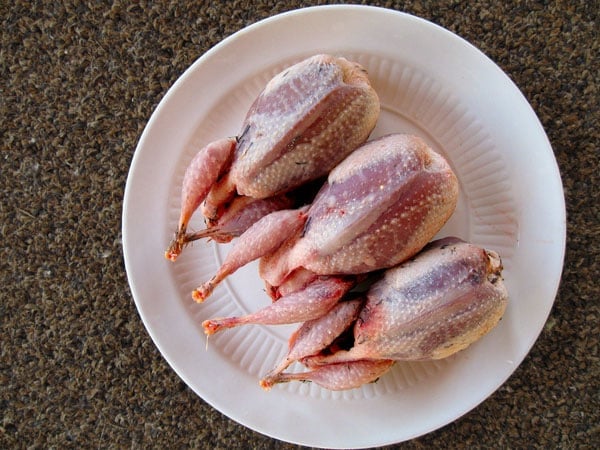 For a sauce, it would have to be an ode to the Mitten State. Shortly after this hunt, I did a book event in Detroit, where I managed to pick up some homemade vinegar and a jar of wild Michigan crabapple jelly. Sweet? Tart? That's a classic French gastrique. Brillat-Savarin would have approved.
I roasted the birds at 500°F and ate them with my hands, with a nice bottle of 2008 Beaujolais I was shocked to find in a bar in Ashley, ND, where ended up cooking the birds. They were orgasmic. Sweetish, sour-savory sauce, woodcock fat running down my hands, crispy skin and rich meat so jammed full of flavor that I sat there gorged after eating all three, one after the next.
That memorable meal made me feel like myself again. Home was in sight, and life was good.
Roast Woodcock, Michigan Style
I call this Michigan style because the sauce was originally made with crabapple jelly from Michigan and homemade red wine vinegar from Michigan -- and the woodcock I shot were from Michigan, so there you go. You can make this recipe with woodcock, snipe, doves or a domestic squab. It is important to use quality red wine or cider vinegar, and while crabapple jelly is hard to find, you can substitute in any decent apple jelly, or even a little apple cider. If you don't have bacon fat around, fry up some bacon and eat it, then make the sauce with the leftover drippings.
Ingredients
4

woodcock,

snipe, squab or 8 doves

Olive oil to coat birds

Salt

3

or 4 tablespoons bacon fat,

divided

1/4

cup

minced onion or shallot

Hearts and livers from the birds,

minced fine

1/2

cup

chicken or game stock

2

tablespoons

cider or red wine vinegar

2

tablespoons

crabapple or apple jelly

4

pieces

of thick toast

Parsley for garnish
Instructions
Preheat your oven to 500°F, or as hot as it will get. Take the birds out of the fridge and coat with oil. Salt well and set aside at room temperature while the oven heats up. This should take 20 minutes or so.

Heat half the bacon fat in a small pot and saute the onion and minced woodcock giblets until nicely browned. Add the stock, vinegar and crabapple jelly and bring to a boil. Add salt to taste and let the simmer while you cook the woodcock.

Heat the rest of the bacon fat in a small, oven-proof pan -- cast iron is excellent here -- and brown the woodcock on the sides and breast. Put the birds, breast side up, in the pan in the oven and roast for 7 to 10 minutes. Ten minutes will give you medium to medium-well meat. Remove the birds from the pan and set on a cutting board to rest.

Strain the sauce through a fine-meshed sieve and bring back to a boil. Put the toast on each person's plate (cut it into a circle if you want to be fancy) and put a woodcock on the toast. Pour the sauce over the birds and garnish with parsley. Serve at once with a light red wine, a dry rosé or a hoppy beer like an IPA.
Notes
A word on the innards. They really do add a lot to the sauce, and since you strain them out at the end anyway, it should be no big deal even for squeamish eaters. So use them if you can. No innards? Buy some chicken livers and use that. Or use the giblets from other birds.
Nutrition information is automatically calculated, so should only be used as an approximation.