Polenta with Mushroom Ragu
As an Amazon Associate I earn from qualifying purchases.
Mushroom sauces may well be the pinnacle of meatless foods, and an Italian mushroom ragu may well be the king of them all. And as much as I love them with pasta, polenta with mushroom ragu is way more comforting, a warm embrace on a cool evening.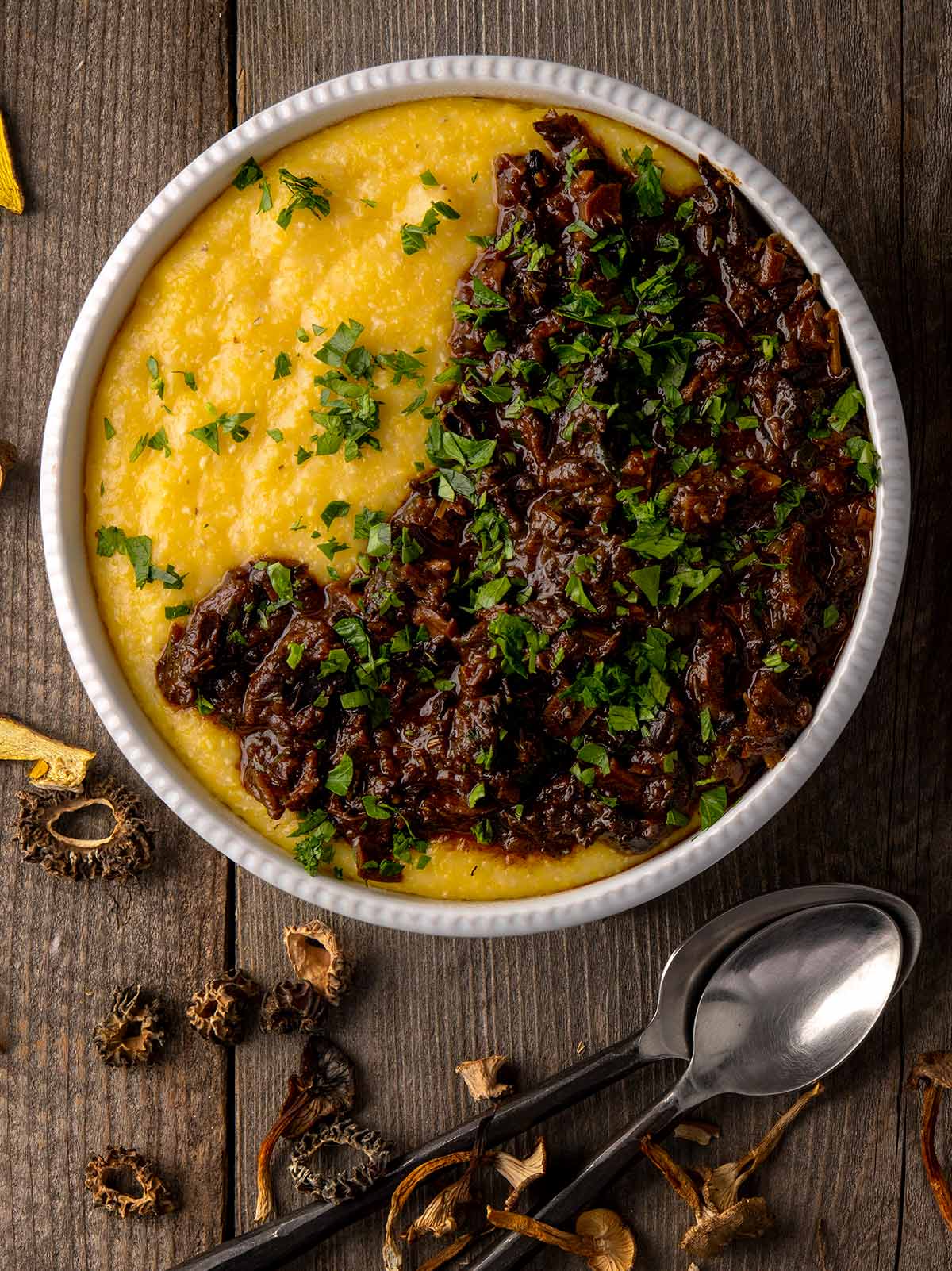 There are endless permutations of the mushroom ragu, from those using workaday white button mushrooms to fancy versions with expensive porcini and matsutake mushrooms. Lots of choices in ingredients, too: tomatoes or no? Red wine or white? Vegetarian or with meat?
In this case, I have made a red wine mushroom ragu — basically a thick, chunky pasta sauce — with a little tomato, herbs and lots of dried wild mushrooms.
I designed this sauce to go with polenta, Italian grits. The reason I like polenta with mushroom ragu is because the deep, dark sauce integrates better with polenta than pasta, although both are nice.
This sauce isn't very fatty, either, so the butter and cheese in the polenta add some needed richness.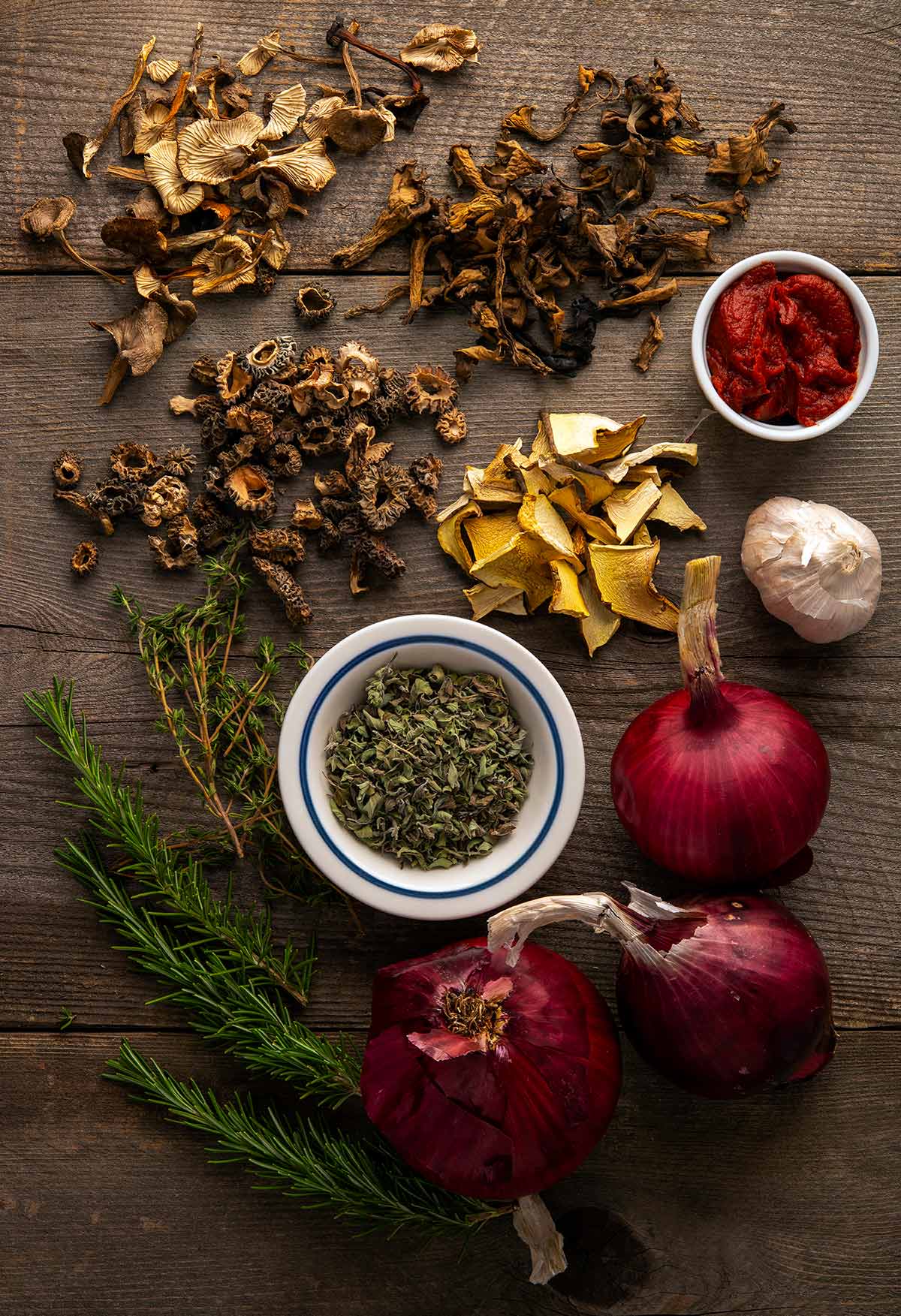 The Mushrooms in Mushroom Ragu
Dried wild mushrooms are my go-to for this recipe. Can you use fresh? You bet, but some of the flavor in this mushroom ragu comes from the soaking water from the dried mushrooms. One way to boost the flavor quotient is to sprinkle in some porcini powder, if you have some.
Morels or spring porcini are great options in springtime, and my preferred mushrooms for this sauce are boletes (porcini and their relatives), black trumpet mushrooms, morels, maitake (hen of the woods), shiitake, the various wild, edible agaricus species, like meadow mushrooms, blewits and cremini.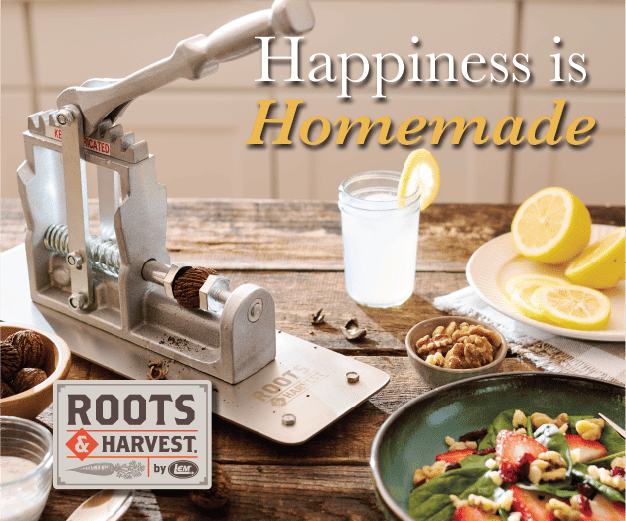 An easy way to get there is to look for those packets of dried "forest" mushrooms you see in the produce section of supermarkets. They are usually various dried boletes.
Bottom line is you want earthier, darker mushrooms here. But…
A Lighter Ragu
If you want to make this in warmer weather, or if you don't have any of the abovementioned mushrooms, you can serve your polenta with mushroom ragu a little more on the lighter side. Here's how:
Use white mushrooms, chanterelles, maitake, lion's mane, yellowfoot chanterelles, or meadow mushrooms.
Switch the red wine for white.
Use a light stock, like chicken or vegetable.
All of that will lighten up things for a summer supper. I'd still go with the polenta, though.
Polenta or Pasta?
Kinda your call. Like I mentioned, polenta tastes richer and soaks up the mushroom ragu better, in my opinion, but pasta is faster and easier.
If you go with pasta, the shapes you'll see are all over the place, from tagliatelle to penne to everything in between. If it's me, and with this sauce, I do like long pasta over short here. The ragu is diced pretty small, so it will do better with, say, spaghetti or linguine or pappardelle than if it were chunky.
In general, chunky sauces go with short pasta, smoother ones with long. This one's in between.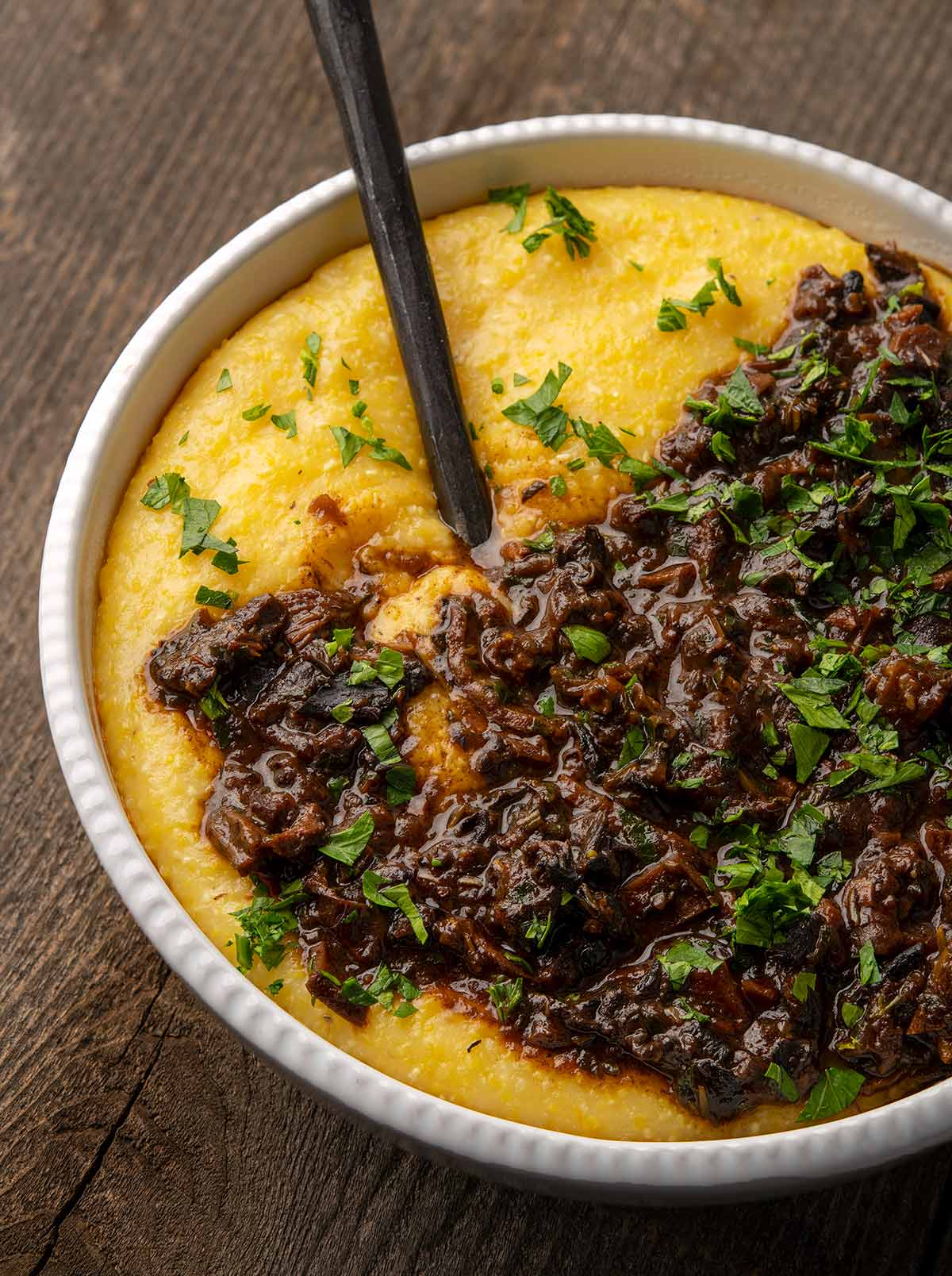 Storage
Like most sauces, mushroom ragu one is better the second (or even third) day. So make a lot and reheat it for leftovers. It will keep a week.
Mushroom ragu freezes well, and you can pressure can it, too. Generally speaking, it will go for 25 minutes at whatever PSI is appropriate for your altitude.
Looking for other great pasta or polenta sauces? Try my recipes for venison ragu, duck sugo, tomato sauce with fennel, and an old school Tuscan hare ragu with pappardelle.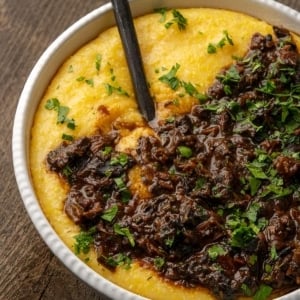 Polenta with Mushroom Ragu
Keep in mind this sauce is perfectly good with pasta, too. I like a hearty, long pasta like spaghetti, pappardelle or tagliatelle.
Ingredients
MUSHROOM RAGU
3

ounces

dried mushrooms,

or 1 1/2 pounds fresh

3

tablespoons

olive oil

2

medium onions, minced

3

cloves

garlic, minced

A 6

ounce

can of tomato paste

1

tablespoon

minced fresh rosemary

1

tablespoon

minced fresh thyme

2

teaspoons

dried oregano

Salt

2

cups

red wine

2

cups

mushroom soaking water

1

quart

stock

(beef, chicken or vegetable)

Freshly ground black pepper
POLENTA
2

cups

polenta

Salt

6

tablespoons

butter

1/2

cup

grated pecorino cheese
Instructions
MUSHROOM RAGU
Put the mushrooms in a bowl, pour a pint or two of boiling water over them and cover the bowl. Let this steep while you chop all the other vegetables and herbs.

Squeeze out most of the water in the rehydrated mushrooms (reserve the water), mince the mushrooms and pour the soaking water through a strainer with a paper towel set inside into another bowl. This removes any dirt or debris in the soaking water.

Heat the olive oil in a large pot over medium-high heat. When it's hot, add the onion and cook until it's turning a little brown on the edges. Add the mushrooms and garlic and cook another 4 or 5 minutes.

Mix in the tomato paste and herbs and let this cook, stirring often, for a couple minutes. You will have to work the tomato paste into the mushroom mixture.

Pour in the wine, turn the heat to high, let it come to a boil and let it boil a minute or two. Add the soaking water and stock. Mix well, add a little salt and let this simmer down, uncovered, for at least 1 hour. It will be very soupy at first. You want it to all cook down over time.

Once the sauce has reduced to a consistency you like, add salt if you need to, and grind fresh pepper over it. Serve with the polenta.
POLENTA
Polenta takes about 30 to 40 minutes to make, so you'll want to start before the mushroom ragu is totally done. Start by bringing 7 cups of water to a boil. Add salt, then stir in the polenta slowly in a steady stream, stirring constantly to avoid lumps. If you get lumps, use a whisk to break them up.

Turn the heat down to a simmer, and cover the pot. Stir the polenta frequently to prevent it from sticking. Depending on how coarse the polenta is, you will need 20 minutes to 40 minutes for it to become smooth and soft, not gritty.

When it's getting close — and if it's too thick you can add a little water as you go, just not a lot at one time — stir in the butter a tablespoon at a time, letting each one melt before adding the next. When you are ready to serve, mix in the grated cheese.
Notes
If you are in a hurry, you can halve the liquids so the sauce comes together faster. 
Keys to Success
Time is your friend. The longer this cooks, the better it will be. 
If you are using fresh mushrooms, add them with the onions. 
If you happen to have it, add a tablespoon or two of porcini powder to the mix in the beginning. It adds a ton of flavor. 
If you want meat in this, use 4 slices of bacon instead of olive oil, removing and chopping the bacon after it's rendered its fat. Eat some or add it back to the ragu at the end. 
If you don't have pasta or polenta, this is great with crusty bread or mashed potatoes. 
Nutrition
Calories:
570
kcal
|
Carbohydrates:
67
g
|
Protein:
14
g
|
Fat:
23
g
|
Saturated Fat:
10
g
|
Polyunsaturated Fat:
2
g
|
Monounsaturated Fat:
9
g
|
Trans Fat:
1
g
|
Cholesterol:
39
mg
|
Sodium:
469
mg
|
Potassium:
903
mg
|
Fiber:
5
g
|
Sugar:
6
g
|
Vitamin A:
1009
IU
|
Vitamin C:
12
mg
|
Calcium:
145
mg
|
Iron:
3
mg
Nutrition information is automatically calculated, so should only be used as an approximation.