Pickled Shrimp
August 14, 2017 | Updated August 24, 2022
As an Amazon Associate I earn from qualifying purchases.
Pickled shrimp is a light, clean, tart appetizer that's easy to make, keeps a couple weeks and is perfect for hot weather.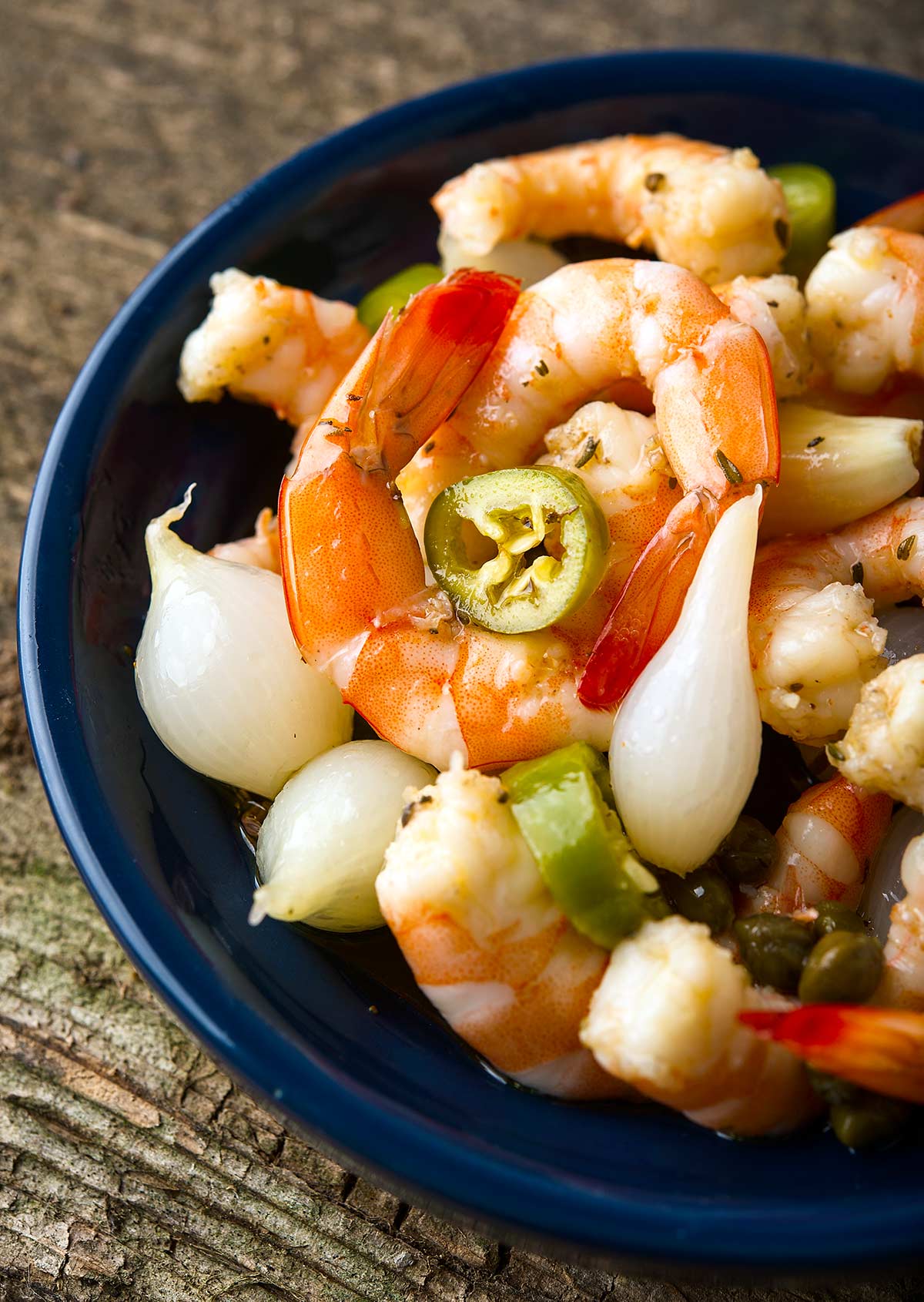 Pickled fish and seafood is a thing pretty much all over the world. I've been making Swedish-style pickled herring from the San Francisco Bay for years, and northerners are familiar with pickled pike. Pickled shrimp happens to be the South's entry into that world.
Pickled shrimp is a common Southern appetizer, especially in Low Country, and various versions of it exist from Texas through the Gulf, around Florida up into South Carolina, where it is a Charleston classic. My version is a bit like Mexican escabeche, with pickled onions and jalapenos, but isn't so spicy you can't eat lots of it.
First, Catch Your Shrimp…
How did I come by these shrimp? Readers of this site know I don't buy meat or fish; I haven't, more than a handful of times, since 2005. Well, I am happy to say I caught them with my friend Joe Baya, who runs the magazine Great Days Outdoors. Joe's dad lives on Dauphin Island, Alabama, where we met a while back and had a great week of fishing.
The first day was kinda spitty and windy on the water, so we decided to boat around Mobile Bay towing a recreational shrimp net. Alabama is one of a few states where you can run a trawl the way the commercial shrimpers do — although the recreational net is way smaller.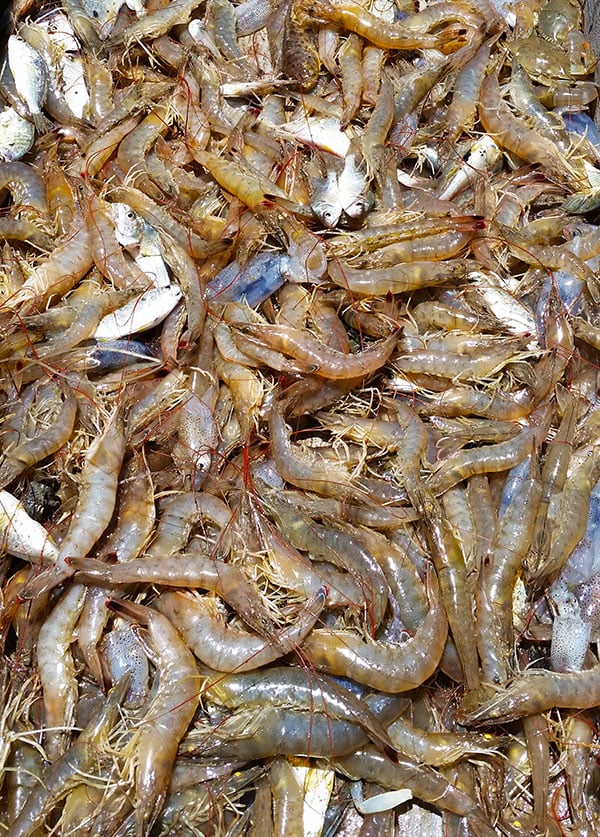 I have to admit I got a thrill shrimpin' in Mobile Bay. And yes, we were indeed near Bayou La Batre, made famous for shrimping in Forrest Gump. Joe and I practiced our best Forrest impressions, beer can in hand, shooting the breeze and running the boat throughout the pretty back bays of the island.
When it was time to haul, you need to put your back into it. Even though the net was fairly short, about 15 feet, it has the same wooden otter boards and heavy line a commercial net has. Once hauled up, opening the "cod end," the part of the net with all the sea life trapped in it, felt like Christmas morning, every single time.
Unlike commercial anglers, who are not, I believe, allowed to sell their bycatch, we could keep anything legal for a recreational angler to take. Several small sea trout and skates went back overboard — hauling the net every 15 minutes or so keeps everything alive — but we got to keep little kingfish (a kind of croaker), a bunch of small squid (I made squid ceviche with them), more than a few pissed off blue crabs, and lots and lots of shrimp.
Teeny shrimp we used for bait, and most were nice mediums, "gumbo shrimp" Joe called them. And indeed, I used these shrimp both in a gumbo and for a Low Country perloo, which is a dish a little like jambalaya.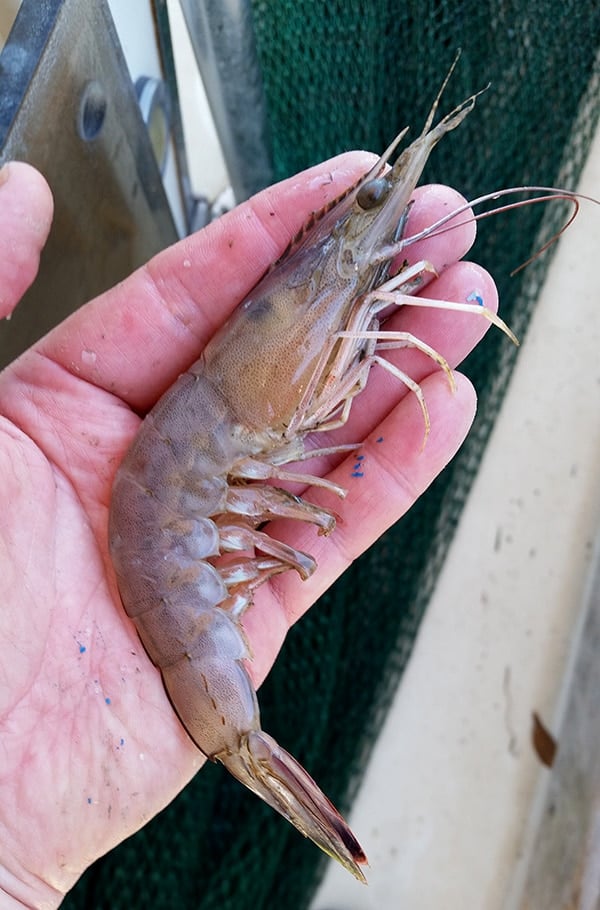 Making Pickled Shrimp
Pickled shrimp is best made with medium shrimp, anyway. It's a nibble, an appetizer, something to eat at a cocktail party, or with crackers or on a salad. As a salad topping might be the best thing, because the pickling liquid, which includes some olive oil, becomes the salad dressing.
If you don't love every ingredient in my pickled shrimp recipe, you can change things to suit yourself. Onions are traditional, as is mustard seed and bay leaf. Peppers of some sort make an appearance a lot — I use jalapenos, but bell peppers are probably more common.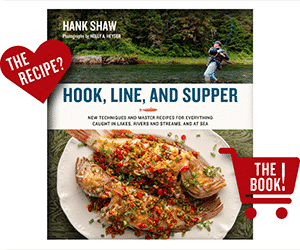 Unlike a ceviche, pickled shrimp are actually cooked before pickling. Some cooks just toss a bunch of bay leaves in the salty boiling water, but I prefer either some Old Bay seasoning or Zatarain's crab boil. It adds one more layer of flavor. Be sure to add a little bit of the cooking liquid into your pickle, maybe a couple tablespoons.
How long will your pickled shrimp last? A good while in the fridge. I'd say at least two weeks. But this is not intended as a true preservation pickle, so I'd eat them all up within a month.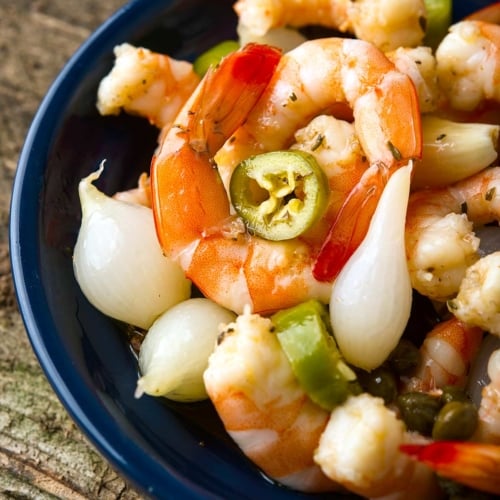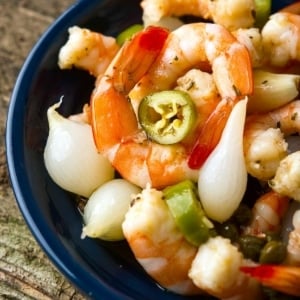 Pickled Shrimp
I prefer medium-sized Gulf shrimp for this recipe, but you can adjust it to whatever you have on hand. And keep in mind that this is how I like pickled shrimp; there are lots of variations on this dish.
Ingredients
10

ounces

pearl onions

2

tablespoons

Old Bay seasoning

1

pound

shrimp, peeled

2

tablespoons

capers, with a little of their brine

3

jalapeno peppers, sliced

1

teaspoon

dried thyme

1

teaspoon

mustard seeds

7

ounces

lemon juice

1/4

cup

olive oil

Distilled vinegar

(see below)
Instructions
Bring a couple quarts of water to a boil and boil the pearl onions for 3 minutes. Remove the onions but keep the water. Rinse the onion under cold water so you can handle them, then slice off the root end. Use your fingers to pop a cleaned onion out, leaving the peel in your hand. Compost the peels. Set the onions aside.

Add the Old Bay to the onion water and bring it back to a boil. Add the peeled shrimp and turn off the heat. Pull the shrimp out after a couple minutes, when they are just cooked through.

Divide the onions, sliced jalapenos and shrimp between three pint jars. Mix together the capers, a little of their brine, the thyme, mustard seeds, lemon juice and olive oil. Pour this evenly into the jars. Add a few spoonfulls of the cooking water.

The shrimp need to be completely submerged, so top up with some vinegar if you need to. Hand-seal the jars and keep in the refrigerator. They will last a week or two, and can be eaten 24 hours after they're made.
Nutrition
Calories:
382
kcal
|
Carbohydrates:
17
g
|
Protein:
33
g
|
Fat:
21
g
|
Saturated Fat:
3
g
|
Cholesterol:
381
mg
|
Sodium:
1329
mg
|
Potassium:
380
mg
|
Fiber:
3
g
|
Sugar:
6
g
|
Vitamin A:
220
IU
|
Vitamin C:
55.7
mg
|
Calcium:
278
mg
|
Iron:
5.1
mg
Nutrition information is automatically calculated, so should only be used as an approximation.