Pickled Pike
August 11, 2014 | Updated June 18, 2020
As an Amazon Associate I earn from qualifying purchases.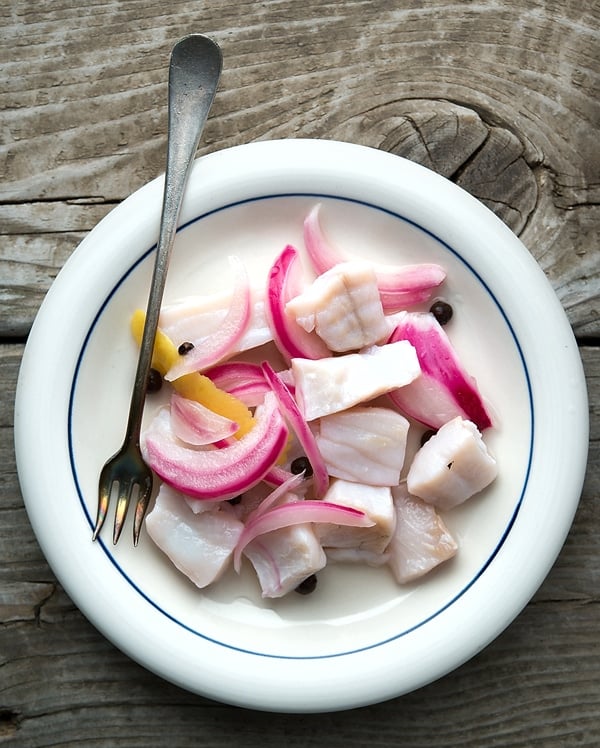 Every so often I get the good fortune to fly up to Canada in search of lake trout, rainbow trout and northern pike. And while I admire the beauty and grace of the trout and its cousins as much as anyone, pike get my blood racing.
Trout are a symphony, or perhaps John Coltrane. Northern pike are more like GWAR or Megadeath. Aggressive, arrogant, utterly indifferent to your catching and releasing them, slough sharks are insanely fun to catch.
Last year, using Elk Island Lodge as our base, my friend Shel from Travel Manitoba and I proceeded to catch pike after pike after pike after pike. I lost count at 60 fish, and Shel outfished me by a lot; she loves catching "jacks," as she calls them, so much she has one tattooed on her in some unknown place. And she only halfway jokes about legally renaming herself "Jack Slayer," a great name for a Canadian angler-turned-spy if you ask me.
Where we were fishing, Gods Lake in Manitoba, the action is mostly catch-and-release. We kept a few pike here and there for shore lunch, but virtually all our fish went back into the icy waters of Gods Lake.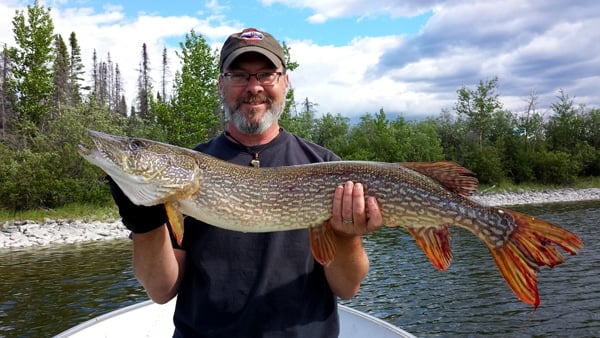 I did manage to catch one gigantic pike: This 39-incher, nabbed with the largest Daredevle lure I've ever thrown. I was perfectly happy to let this riot grrrl go (most large pike are female). That said, I did bring home some pike from that trip.
Pickled pike was the first way I ever ate this awesome fish, back in Minnesota more than a decade ago. Pike are under-appreciated as table fare in most parts of the world, something I find wildly unfair.
Yes, they have an extra set of bones, but once you learn how to fillet a pike, it's pretty easy.
Pickled pike is perfect for smaller fish — you just fillet them like any other fish, skin them and cut the meat into bite-sized pieces, right through the bones.
The beauty of pickled pike is that the vinegar softens the bones so much you don't even notice them. (This won't work on a pike much larger than about 6 pounds, which is about 28 inches.)
If you've never eaten pickled pike, it's basically a Scandinavian/Eastern European version of ceviche. Really, really good on crackers as a snack or as an appetizer. I like it with beer — kolsch, pilsner or a pale ale are my favorites here — but I hear the Swedes wash their pickled pike down with akavit. Skål!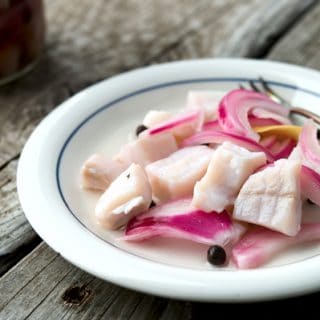 Pickled Pike
Northern pike is traditional for this Scandinavian-style pickle, but you can use any firm, white fish. If it's a fish you can eat raw, like albacore or mahi mahi, you don't need to freeze the fish first. All other fish -- including pike -- you need to freeze for 48 hours before you can make this. This will kill any potential parasites in the meat; freshwater fish like pike can carry tapeworms, which you absolutely do not want, even if they are a great weight-loss strategy...
Ingredients
1

cup

kosher salt

5

cups

water,

divided

1

pound

pike,

cut into 1/2-inch pieces

2

cups

cider or white wine vinegar

1/3

cup

sugar

1

teaspoon

mustard seed

2

teaspoons

whole allspice

2

teaspoons

black peppercorns

2

leaves

bay

Peel of 1 lemon,

sliced and white pith removed

1

medium red onion,

thinly sliced
Instructions
Heat 4 cups of water enough to dissolve salt. Let this brine cool to at least room temperature, preferably colder. When it is cold enough, submerge the pike pieces in the brine and refrigerate overnight. Meanwhile, bring the sugar, vinegar, the remaining cup of water and all the spices to a boil. Simmer 5 minutes, then turn off the heat and let this steep until cool.

When the pike has brined, layer it in a glass jar with the sliced lemon peel, bay leaves and red onion. Pour over the cooled pickling liquid with all the spice and seal the jars. Wait at least a day before eating, and I find it best after about a week to 10 days. Store in the fridge for up to 1 month.
Notes
Store your pickled fish in the coldest part of your fridge and it will keep for a solid month or even 6 weeks. Your nose will be your guide when it turns. Trust me.
Nutrition
Calories:
87
kcal
|
Carbohydrates:
10
g
|
Protein:
9
g
|
Fat:
1
g
|
Saturated Fat:
1
g
|
Cholesterol:
18
mg
|
Sodium:
22
mg
|
Potassium:
190
mg
|
Fiber:
1
g
|
Sugar:
7
g
|
Vitamin A:
49
IU
|
Vitamin C:
3
mg
|
Calcium:
44
mg
|
Iron:
1
mg
Nutrition information is automatically calculated, so should only be used as an approximation.