Catfish Courtbouillon
June 24, 2019 | Updated June 06, 2022
As an Amazon Associate I earn from qualifying purchases.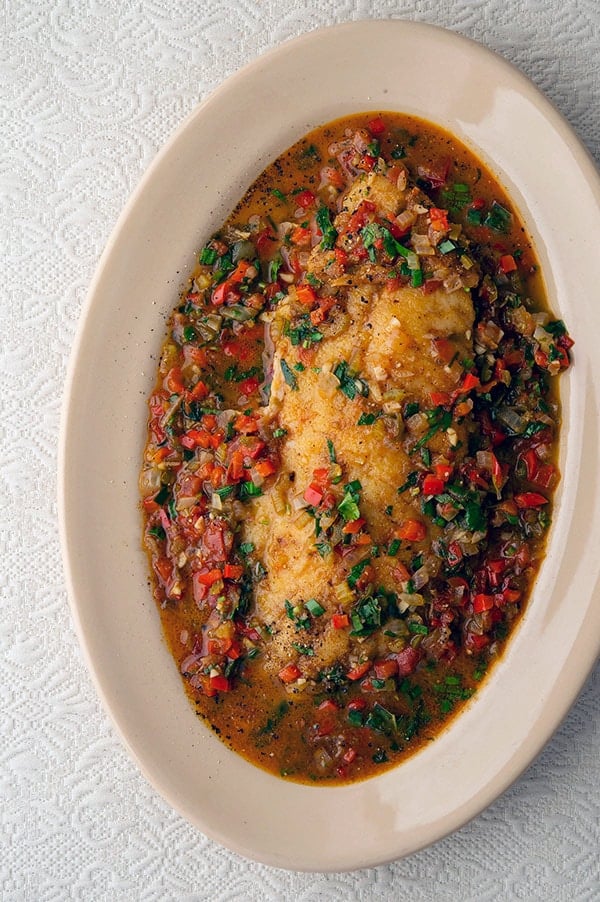 I've eaten catfish six ways to Sunday, but Louisiana Chef Don Link's catfish courtbuillon takes the prize, hands down.
I had heard of catfish courtbuillon, pronounced something like "coo-be-YON," for years, but, well, was kinda unimpressed. Then I sat at the bar at Cochon, in New Orleans. As I was working my way through the menu, I saw catfish courtbuillon. If any place would make a good version of it, it's Cochon.
So I tried it. And was blown away.
Courtbuillon as I knew it was a sort of homey, one pot gumbo-like thing, with chunks of catfish floating in a vaguely tomatoey stew. This was not that. Chef Link's version features a fillet of catfish, fried in cornmeal, sauced with everything in the traditional catfish courtbuillon — tomatoes, peppers, onions, celery, garlic, herbs — and served alongside simple steamed rice.
Somehow there was still a bit of crunch to the breading on the fish, and the sauce was light, bright and just a shade zippy with cayenne and lemon. Of all the wonderful things I ate that night, this was the most memorable, because it shouldn't have been, but was.
Thankfully Chef Link published his recipe in his excellent book Down South: Bourbon, Pork, Gulf Shrimp & Second Helpings of Everything. My version only slightly differs. I didn't want to mess with perfection.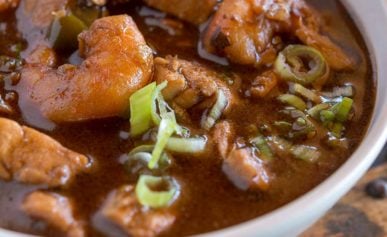 Seafood Gumbo
Looking for another Cajun seafood classic? Try my seafood gumbo.
Read More
Catfish is of course traditional, as is gaspergou (freshwater drum), but you can make courtbuillon with any fish you can get a skinless fillet from. Some good regional alternatives would be speckled trout, walleye, smallmouth bass, black seabass, Pacific rockfish, sand or Calico bass, snapper or snook.
A word of warning: If you use commercial Cajun seasoning, don't add any salt to the dish until the end; chances are you won't need it, because those spice mixes are very salty to begin with.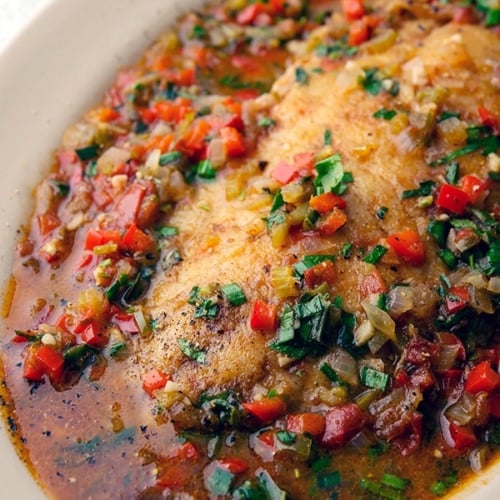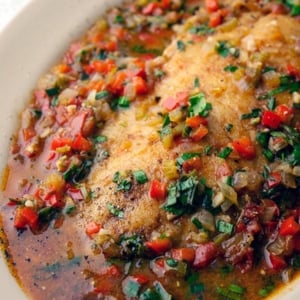 Catfish Courtbuillon
This is a lighter, slightly more refined version of the traditional Cajun dish. See above for fish substitutions if you don't have catfish. The sauce reheats well, but the fish needs to be eaten as soon as it's been sauced. Served with simple steamed rice.
Ingredients
Sauce
2

tablespoons

unsalted butter

1

small white or yellow onion, minced

2

celery stalks, minced

1

red bell pepper, minced

1

serrano or jalapeno pepper, minced

2

Roma or plum tomatoes, seeded and diced

4

cloves

garlic, minced

1

teaspoon

dried thyme

1

tablespoon

Cajun or Creole seasoning

1/2

cup

dry white wine

1 1/2

cups

chicken or seafood stock
Fish
5

tablespoons

bacon fat or lard

1 to 2

pounds

skinless fish fillets

1/2

cup

flour

1/2

cup

fine cornmeal, a/k/a "fish fry"

(Look for Louisiana plain fish fry)

1/3

cup

minced fresh parsley

1/4

cup

minced chives or scallions

5 to 10

basil leaves, torn up.

Lemon juice to taste
Instructions
Make the sauce. Heat the butter in a large frying pan over medium high heat and saute the onion, celery, red pepper and serrano until soft, about 5 minutes.

Add the garlic, tomato, thyme and Cajun seasoning and let this cook another minute or two, then pour in the white wine and bring to a boil. Let this boil down by half, then add the stock and simmer this uncovered for 10 minutes. Turn off the heat, cover the pan and set aside.

In another frying pan, heat the bacon fat. Mix the flour and cornmeal. Salt the catfish fillets, then dust them in the flour mixture. Fry the fish over medium-high heat until nicely browned, about 3 to 5 minutes per side.

Drain any extra fat, leaving only about a tablespoon. Add the sauce to the pan with the fish, add the chopped herbs and lemon juice to taste. Swirl it all in the pan to mix. To serve, carefully lift a fish fillet with a long spatula, or two spatulas, and set on individual plates. Spoon over some sauce and serve with steamed rice.
Nutrition
Calories:
746
kcal
|
Carbohydrates:
37
g
|
Protein:
63
g
|
Fat:
10
g
|
Saturated Fat:
9
g
|
Polyunsaturated Fat:
1
g
|
Cholesterol:
229
mg
|
Sodium:
227
mg
|
Potassium:
1715
mg
|
Fiber:
5
g
|
Sugar:
5
g
|
Vitamin A:
3130
IU
|
Vitamin C:
61.6
mg
|
Calcium:
95
mg
|
Iron:
4
mg
Nutrition information is automatically calculated, so should only be used as an approximation.