Mexican Tetelas
September 23, 2020 | Updated January 08, 2021
As an Amazon Associate I earn from qualifying purchases.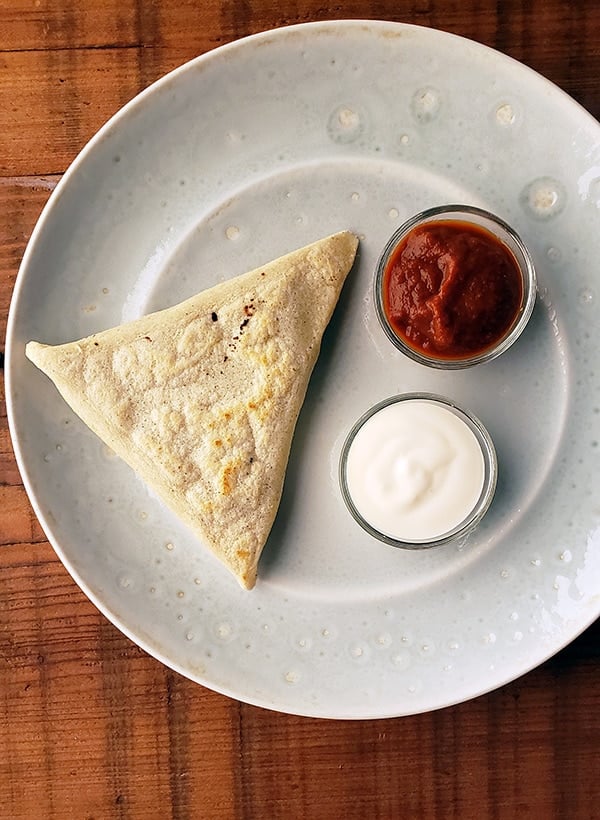 I love the beauty of tetelas, their geometric awesomeness, and their simplicity.
Tetelas are a sort of triangular empanada or quesadilla that predates the Spanish conquest of Mexico. They are made from corn masa and filled with only a few ingredients, usually beans, herbs and cheese.
They are thought to be uniquely Oaxacan, and there they are sold as a street food. Think about it: An easy to carry, tasty snack or lunch that fits in a pocket and most certainly won't get you all messy on your lunch break. The combination of fresh masa, refried beans, melty cheese and an herb of your choice — I use hoja santa, which is common… and I happen to grow it in my garden.
But you could use any number of fillings. Whatever suits you, really. But, they need to be soft and not too lumpy. Anything too firm or lumpy will break the fragile masa. And you don't want too much. I am as guilty as anyone of wanting to pack my filled pastries of any kind a little too much. Resist the urge here.
Why? Because tetelas are cooked on a comal or cast iron frying pan. Dry. So they need to lie flat on the hot metal in order to cook properly. Fill them too much and the points of the triangle won't touch the heat. A little of this is OK, but you want most of the masa to hit the pan.
I suppose you could deep fry your tetelas, but then they really would be triangular Mexican empanadas. And that's another dish.
You will want to make refried beans in advance. There are lots of great recipes out there, but I am partial to Pati Jinich's Oaxacan refried beans. As for the cheese, if you can get queso Oaxaqueño that would be ideal, and every Mexican market has it. But mozzarella is basically the same thing.
As for herbs, good luck finding hoja santa. So I would substitute cilantro, or culantro, or epazote first and foremost. Barring those, use basil. Whatever it is, the herb should be fresh and soft and aromatic.
Here's how to form your tetelas. This is your set up.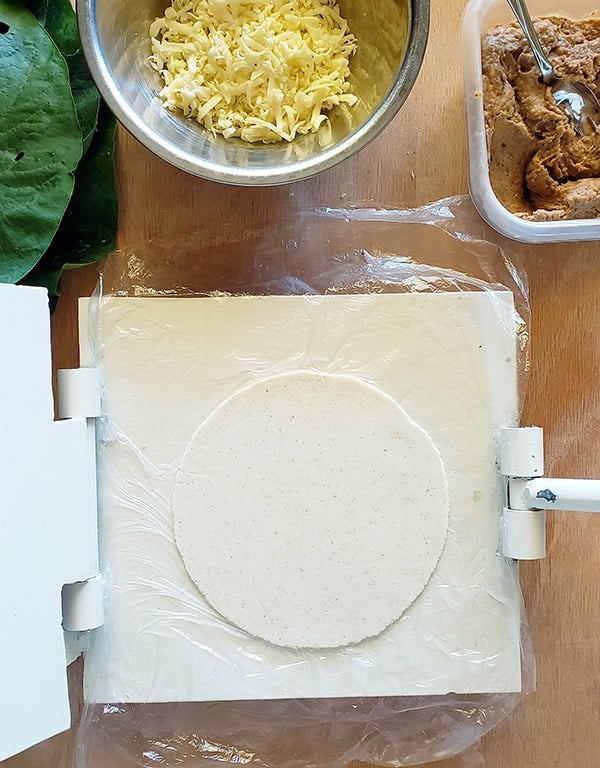 Lay down some refried beans, then the herbs of your choice, then the cheese. You want the cheese last, so as it melts it will fill up and seal any cracks in the masa. Use the plastic bag you flattened the tortilla on to fold over the first corner.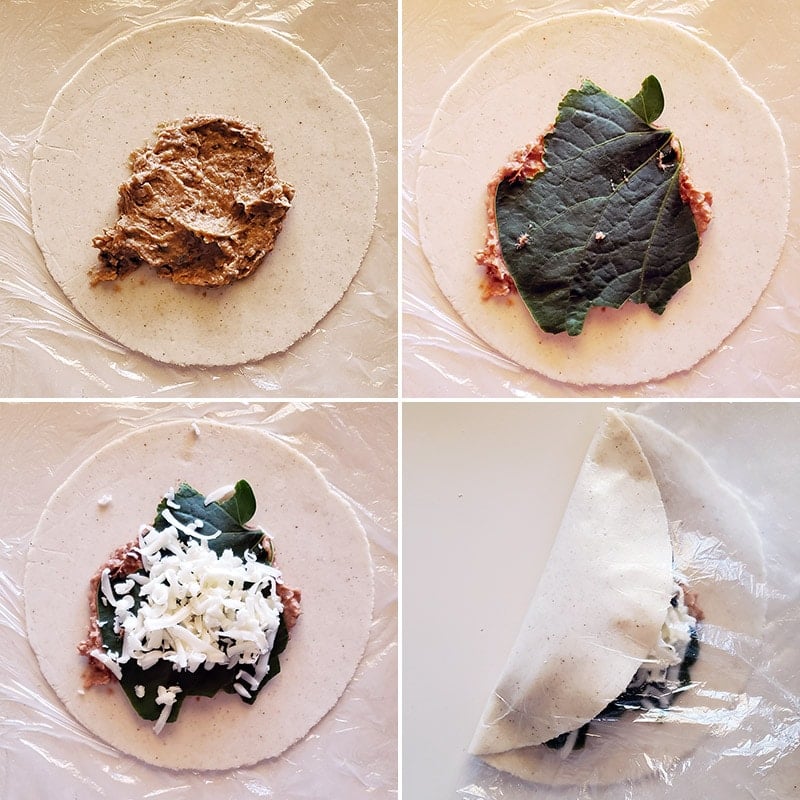 Now repeat with the other corner, and finally come up from the bottom to seal it. It takes a little practice, and you will want to be sure your masa is damp, but not sticky.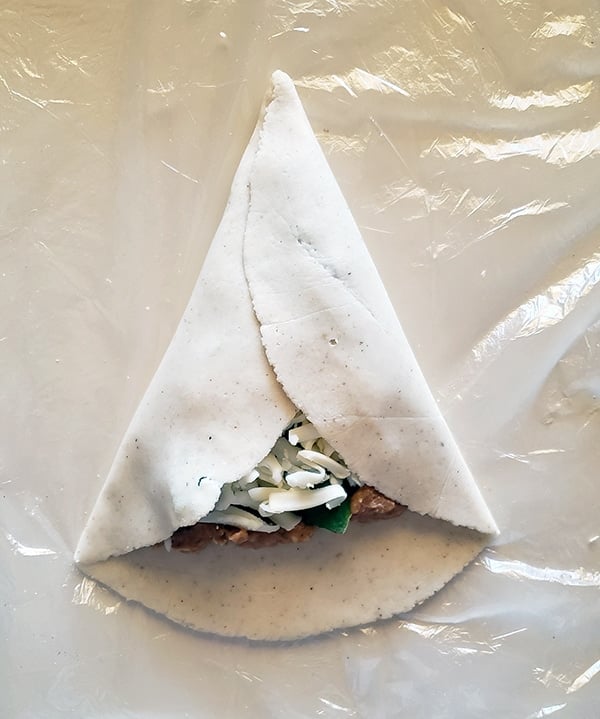 You start cooking tetelas seam side down, pressing on them gently with a spatula. You want to cook them on the comal over medium high heat until they brown a little, which takes about 3 to 5 minutes per side.
Keep your finished tetelas in an oven set on "warm" while you make the rest. Serve them simply with a hot salsa, such as a salsa morita, a roasted salsa or salsa de chile de arbol, plus some crema, which is a thin Mexican sour cream. If you don't have a Latin market near you, thin regular sour cream with a bit of milk or buttermilk.
Note: Most store bought masa harina is terrible. If you are not making masa from scratch, I can recommend both masa harina from Masienda, as well as Bob's Red Mill masa.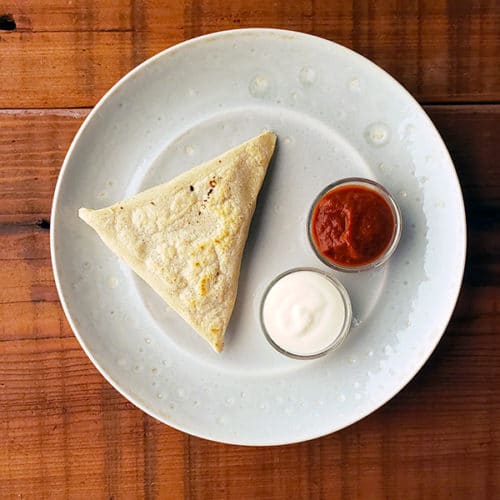 Tetelas
These are a sort of Oaxacan empanada or quesadilla, usually filled with refried beans, herbs and cheese. You can fill them with other things if you want. Once made they are best eaten right away. If you end up with leftovers, they can be reheated in a toaster oven or fried.
Ingredients
1

cup

masa harina

1

cup

very hot water

2

cups

refried beans

(see above)

1

cup

fresh herbs

(see above)

1 1/2

cups

shredded cheese

(see above)

Salsa and crema to taste
Instructions
Put the masa harina in a bowl and pour about 7/8 of the cup of hot water over it. Stir it in with a fork until you get a shaggy mass, then knead it by hand for a few minutes. Divide it into 8 balls and put them in a plastic bag.

Line your tortilla press with plastic (I use a cut up produce bag) and flatten out one of the balls into a tortilla -- not as thin as with a regular tortilla for a taco, but close.

Top with some refried beans, then herbs, then cheese, leaving at least 1 inch of space around the edges. Use the plastic to fold over one corner of the soon-to-be triangle. Then fold over the next corner, patting it down to seal. Finally, fold up the bottom, again using the plastic. Pat the tetela gently to flatten it a little. Repeat with as many tetelas as will fit on your comal or cast iron pan.

Get the comal hot over medium-high heat. Set the tetelas onto the comal seam side down and press them a little with a spatula. Let them cook for a solid 5 minutes, then flip them. Cook for as long as it takes to get a little browning, about 3 to 5 more minutes. Keep the finished tetelas warm in the oven while you make the rest, or just serve as you go.
Nutrition
Calories:
316
kcal
|
Carbohydrates:
37
g
|
Protein:
17
g
|
Fat:
11
g
|
Saturated Fat:
6
g
|
Cholesterol:
33
mg
|
Sodium:
963
mg
|
Potassium:
190
mg
|
Fiber:
7
g
|
Sugar:
4
g
|
Vitamin A:
1708
IU
|
Vitamin C:
20
mg
|
Calcium:
311
mg
|
Iron:
4
mg
Nutrition information is automatically calculated, so should only be used as an approximation.