Caldo Tlalpeño
March 12, 2018 | Updated February 10, 2021
As an Amazon Associate I earn from qualifying purchases.
I didn't set out to make an authentic Mexican caldo tlalpeño, but that's what happened.
Caldo tlalpeño is a hearty soup that originates in an area just to the south of Mexico City called Tlalpan. The name basically means "soup those ladies in Tlalpan make." Normally done with chicken, any white meat will work here, as would pork.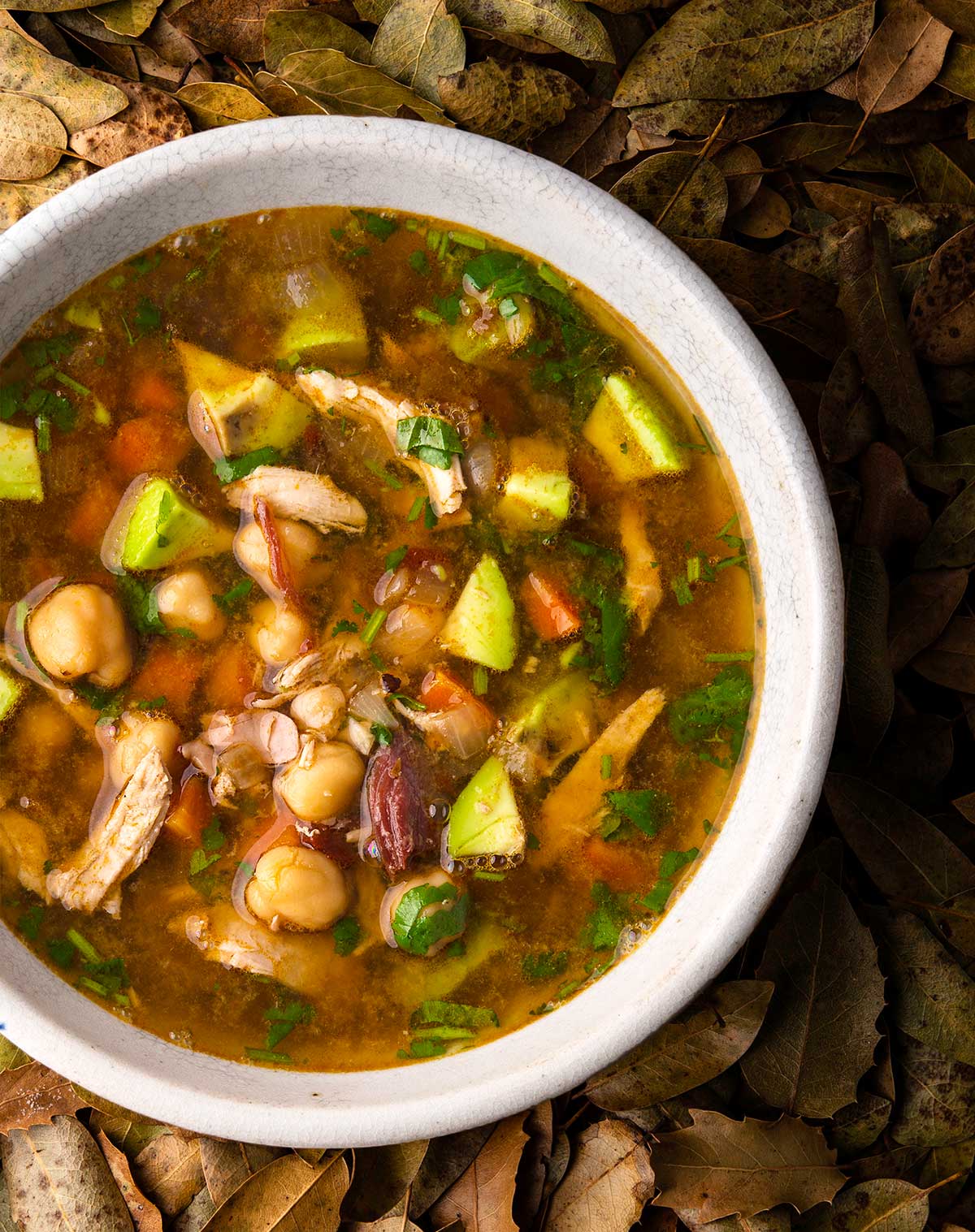 The story goes that this was a hearty caldo served by a woman hawker, selling to passengers on the rail line that went through Tlalpan. The soup was so good and so hearty it became a thing. And, more than a century later. It's still a thing.
I happened to have some skinless Gambel's quail from Arizona in my freezer, and I was casting about for something nice to make with them; they were hard-won birds, which you can see for yourself on episode of the TV show "The Flush" that I was on.
Quail are a southern bird, so I always look to Southwestern or Southeastern flavors when I cook them. In this case, way south, as Mexico City is 1500 miles from where we hunted these birds near Casa Grande, AZ. No matter, it was cold(ish) where I live in Sacramento and I wanted a nice, hearty soup.
So I stumbled on this one. Caldo tlalpeño is one of a few top-notch variations on the Almighty Chicken Soup that hail from Mexico; sopa de lima is my other favorite. Slow cooked chicken or quail or rabbit or turkey or whatever, stewed with a ham hock (!), as well as lots of familiar vegetables and chickpeas — all garnished with lots of avocado, lime and cilantro at the end.
What makes this recipe worth making? A few things:
The ham hock in the broth. Wow, what an unexpected companion to the quail! Another great option would be using one of those smoked turkey wings with some shredded turkey breast meat.
How accessible it is. Nothing here, not even the canned chipotles in adobo, which are now super easy to find, is out of the reach of even many rural supermarkets. Only the epazote is "weird," and you can skip it.
Those chipotles. They turn a nice soup into an amazing one. These canned morsels are picante, however, so start with one and add more to taste. You can always add heat, but it's hard to take it away.
The avocado garnish. I am normally suspect whenever avocado gets heated, but since you drop the chunks in right before eating the soup, they stay firm and act as a textural and flavorful counterpoint to everything else, which is pretty low-fat. Tip: Buy slightly underripe avocados.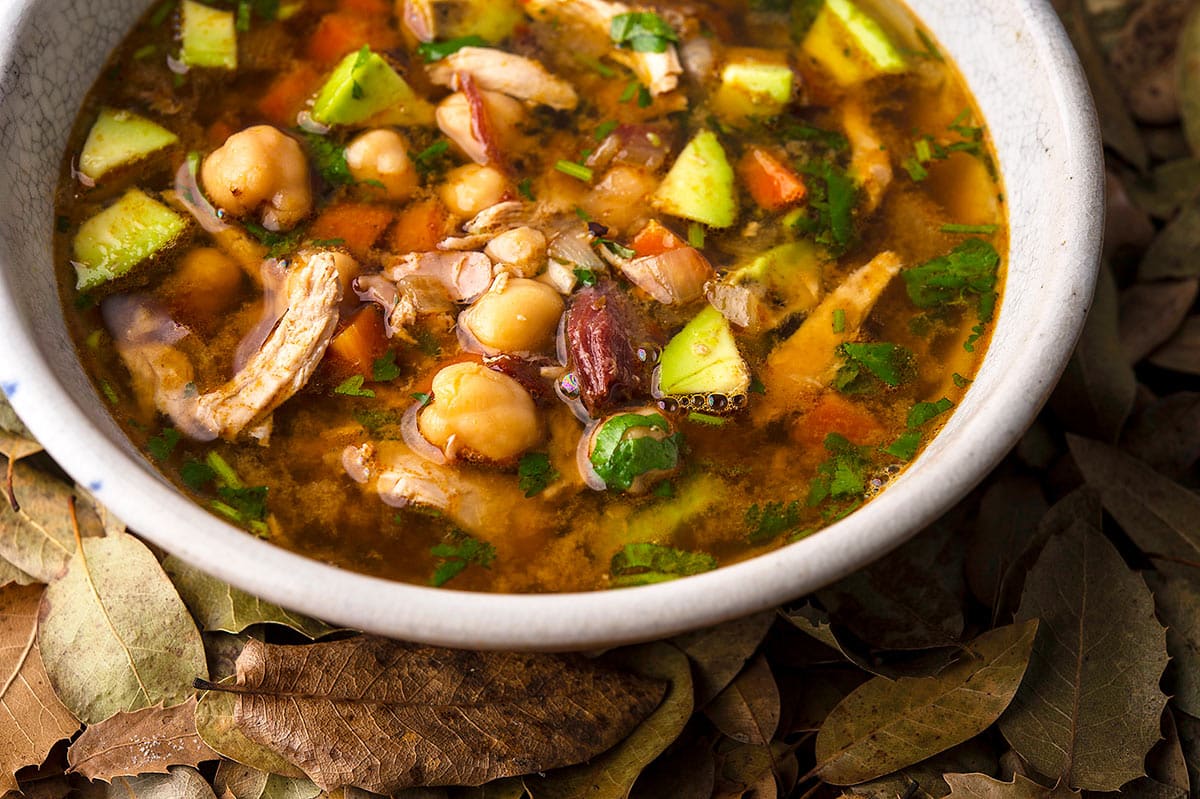 Many traditional recipes include one or two seeded and diced or chopped xoconostles, which are a sour prickly pear fruit; this adds acidity to the soup. You can find them sometimes in Mexican markets, but if not, no biggie; just skip it.
Want another tip? Make a huge batch of caldo tlalpeño on a weekend and eat off it for the week. It just gets better after several days in the fridge.
(If you're interested in another unbelievably good Mexican soup, try my recipe for chocolomo, which uses red meat like beef or venison.)
Caldo Tlalpeño, Mexican Chicken or Quail Soup
This is a hearty Mexican soup that hails from Tlalpan, just south of Mexico City. Normally it uses chicken, but any white meat works well. Quail, pheasant, turkey, rabbit are all good choices. If you can't find a ham hock, use a smoked turkey wing. This soup keeps well in the fridge.
Ingredients
1

quart

chicken or other poultry broth

1

ham hock or smoked turkey wing

2

quarts

water

8

quail, or 1 chicken, pheasant or rabbit

1

teaspoon

dried marjoram

1

teaspoon

dried thyme

1

sprig

epazote

(optional)

2

tablespoons

lard, duck fat or olive oil

1

large white or yellow onion,

diced

2 to 4

carrots,

peeled and diced

2

cloves

garlic,

minced

1 to 4

chipotles in adobo,

minced

1

14-ounce can

chickpeas,

rinsed and drained

1

xoconostle, seeded and chopped

(optional, see above)

1 to 2

avocados,

cut into chunks

2

limes,

cut into wedges

1/3

cup

cilantro,

chopped
Instructions
Bring the chicken broth and water to a simmer and add the ham hock. Simmer gently until meat wants to fall off the the ham hock, about 90 minutes. Fish the hock out and strip off all the meat. Chop if you want. Reserve it.

Add the quail, chicken or whatever. Cook them only as long as they need. So about 15 minutes for quail breasts, 20 for chicken or pheasant breasts. Fish them out and pull of the breast meat. Return the birds to the pot and simmer until the leg meat is tender, about another 45 minutes. Fish out the birds, strip off all the meat and reserve it all. Discard the bones. If you want, you can strain the stock now if you feel like it. 

I strain the stock, which makes it a lot clearer. If you do, you can add the lard to the same pot and sauté the onion and carrot until the onion turns translucent, about 8 minutes. If you don't strain the stock you'll need to do this in another pot. 

Regardless, once the onions and carrots are ready, add the garlic and sauté another minute. Then either add back the strained broth, hock meat and leg meat, or scrape all the vegetables into the pot -- if you didn't strain. 

Add the marjoram, thyme and epazote if using. Simmer this 20 minutes. Add the chipotles as well as 1 to 2 tablespoons of the adobo. 

Return the breast meat to the pot and add the chickpeas and the xoconostle, if using. Simmer gently 10 minutes. Add salt to taste. 

Serve everyone and put out avocados, lime wedges and cilantro for everyone to add as they wish. 
Nutrition
Calories:
295
kcal
|
Carbohydrates:
7
g
|
Protein:
21
g
|
Fat:
21
g
|
Saturated Fat:
5
g
|
Cholesterol:
71
mg
|
Sodium:
154
mg
|
Potassium:
440
mg
|
Fiber:
2
g
|
Sugar:
2
g
|
Vitamin A:
2292
IU
|
Vitamin C:
9
mg
|
Calcium:
37
mg
|
Iron:
2
mg
Nutrition information is automatically calculated, so should only be used as an approximation.