Lardo, Italian Cured Pork Fat
February 09, 2022 | Updated May 24, 2022
As an Amazon Associate I earn from qualifying purchases.
Lardo is one cured product you will almost never see done with wild game; I'm not saying it's impossible, and I've done it, but to make really good lardo — which is cured and dried back fat — you need that fat to be at least an inch thick.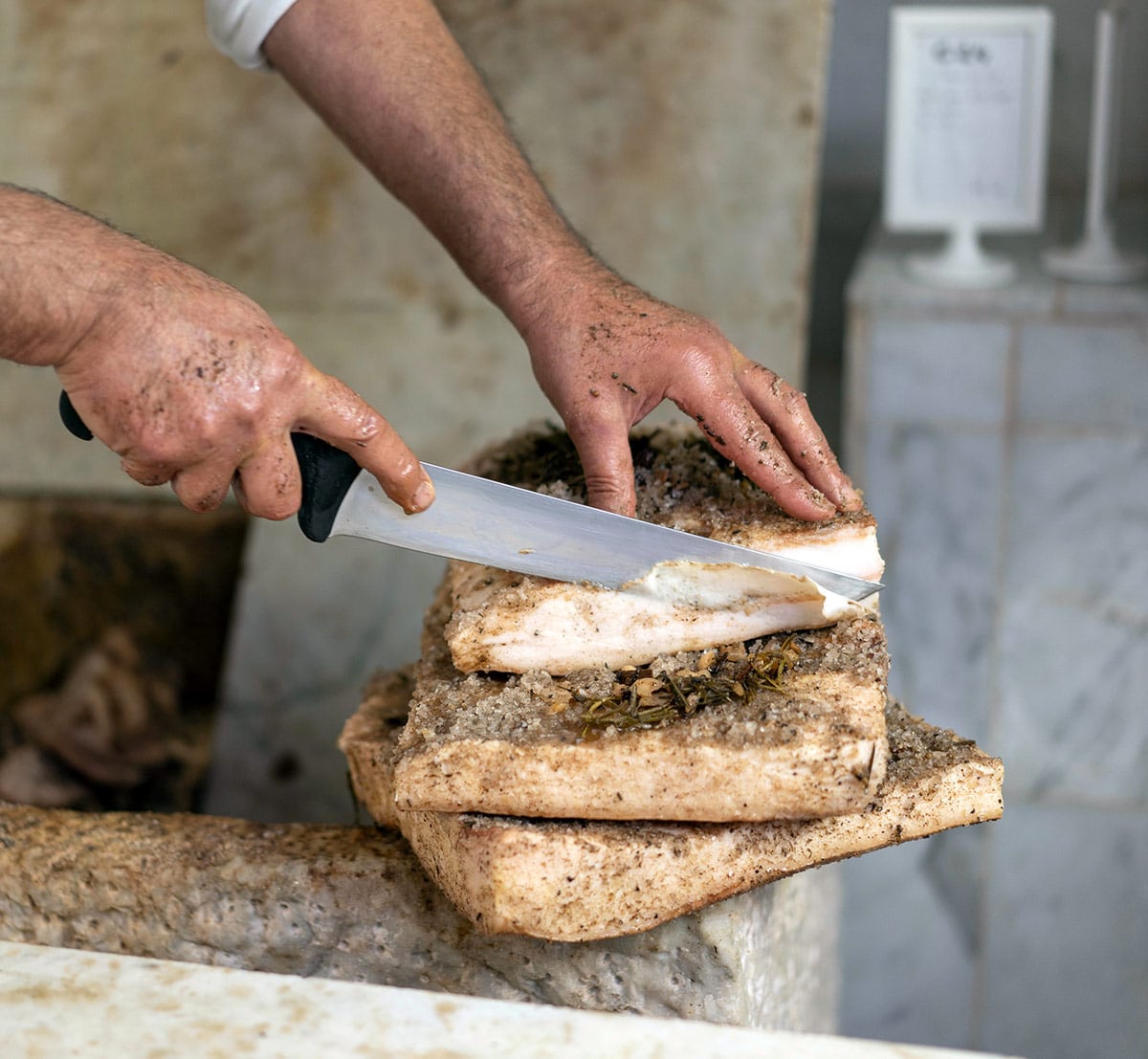 This used to be rare even on domestic hogs, although thankfully with today's resurgence of heritage pigs, it is no longer so hard to find proper back fat to make lardo at home.
The keys to this unusual cut of meat (fat?) are salt, time… and a sharp knife. You really want your lardo sliced paper thin, and ideally from nut-finished hogs, so that fat melts on your tongue.
Incidentally, the fat on nut-finished pigs, notably the famed jamon iberico in Spain, is very low in saturated fat. Try to get pork finished on walnuts, acorns, peanuts or hazelnuts to get this effect here in the United States.
A few things to remember: Don't bother trying this with a factory pig from the supermarket. They're bred lean and pumped full of nasty hormones and antibiotics, and those things tend to lodge themselves in fats. Go with a small grower who is raising pigs the old way. Farmer's markets are a good place to look.
Lardo comes from Colonna, Italy, and is traditionally aged in marble boxes, which you can see in the picture above. Obviously that's not feasible here, so you will want to cure your pork fat in as dark a place as possible — light is the enemy, as it will oxidize the fat and turn it rancid over time.
I will hang it in my curing chamber loosely tented with aluminum foil. Not touching the fat, but shielding it from light when I open the chamber for other reasons.
Why make lardo? It is definitely a conversation piece, served over bread on a charcuterie platter. But lardo also works well in any recipe you might want to use English salt pork or French petit salé in — only lardo is better.
Italian guanciale, a similar cured product made from hog jowls, is a good accompaniment, as is prosciutto d'oca, a cool cured ham made from a goose leg.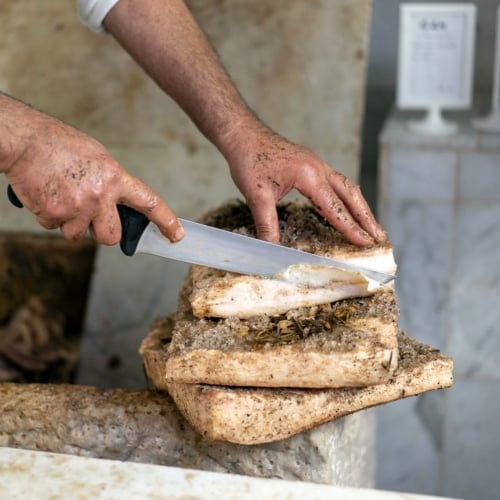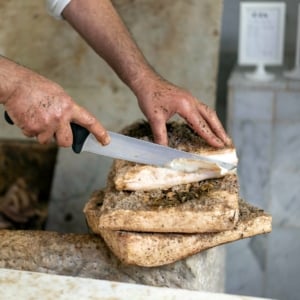 Lardo, Cured Pork Fatback
Remember that fat hates light. Light can turn pork fat rancid, so cure and hang lardo in the dark.
Ingredients
1

kilo

high-quality pork back fat,

in 2 pieces

20

grams

kosher salt,

about 2 rounded tablespoons

5

grams

smoked salt (optional),

about a rounded teaspoon

100

grams

sugar

4

grams

Instacure No. 2

(optional)

20

grams

chopped fresh rosemary

10

grams

garlic powder

15

grams

cracked black peppercorns

3

grams

dried thyme

3

star anise pods

5

crushed bay leaves
Instructions
Mix together all the salts and spices. Divide it in half by weight. Massage the mixture into each slab of pork fat, keeping them separated. Vacuum seal each piece with its share of salt and spices.

Set the pieces in a container, either stacked or side by side, then put a plate or other lid on them that is smaller than the top of the container. Weigh down this lid with something heavy, like some heavy canned goods.

Cure the fat for 12 days, flipping the pork every three days. This helps evenly distribute the cure.

After 12 days to 2 weeks, remove the fatback and rinse it well. Pat it dry, then poke a hole about 1/2 inch away from one corner so you can run string through it to hang. Hang the pork for at least 2 weeks, and preferably 4 to 8 weeks in a dark place that is between 45°F and 60°F, with between 65 and 75 percent humidity. If you are curing other things with your lardo, you might want to wrap the fatback in cheesecloth, and then again loosely with foil. The foil blocks the light when you open the curing fridge door.
Notes
This recipe makes about 2 pounds. The curing salt is in this recipe as a safety measure. I use it, but the Italians don't. It's in there as an insurance policy against things like listeria and botulism. You can leave the fat in the brine that forms far longer than 2 weeks. The Italians leave it for 6 months or more. It will get saltier the longer you leave it.
Nutrition
Calories:
25
kcal
|
Carbohydrates:
6
g
|
Protein:
1
g
|
Fat:
1
g
|
Saturated Fat:
1
g
|
Polyunsaturated Fat:
1
g
|
Monounsaturated Fat:
1
g
|
Cholesterol:
1
mg
|
Sodium:
388
mg
|
Potassium:
26
mg
|
Fiber:
1
g
|
Sugar:
5
g
|
Vitamin A:
40
IU
|
Vitamin C:
1
mg
|
Calcium:
11
mg
|
Iron:
1
mg
Nutrition information is automatically calculated, so should only be used as an approximation.