How to Make Guanciale
July 08, 2011 | Updated June 10, 2022
As an Amazon Associate I earn from qualifying purchases.
Guanciale. Jowl bacon. Pig candy. I can't remember the first time I had this magnificent pork product from Italy, but it was probably in some pasta carbonara I had back home in New Jersey; carbonara should, traditionally, be made with guanciale, not bacon. Ditto for spaghetti all'amatricana.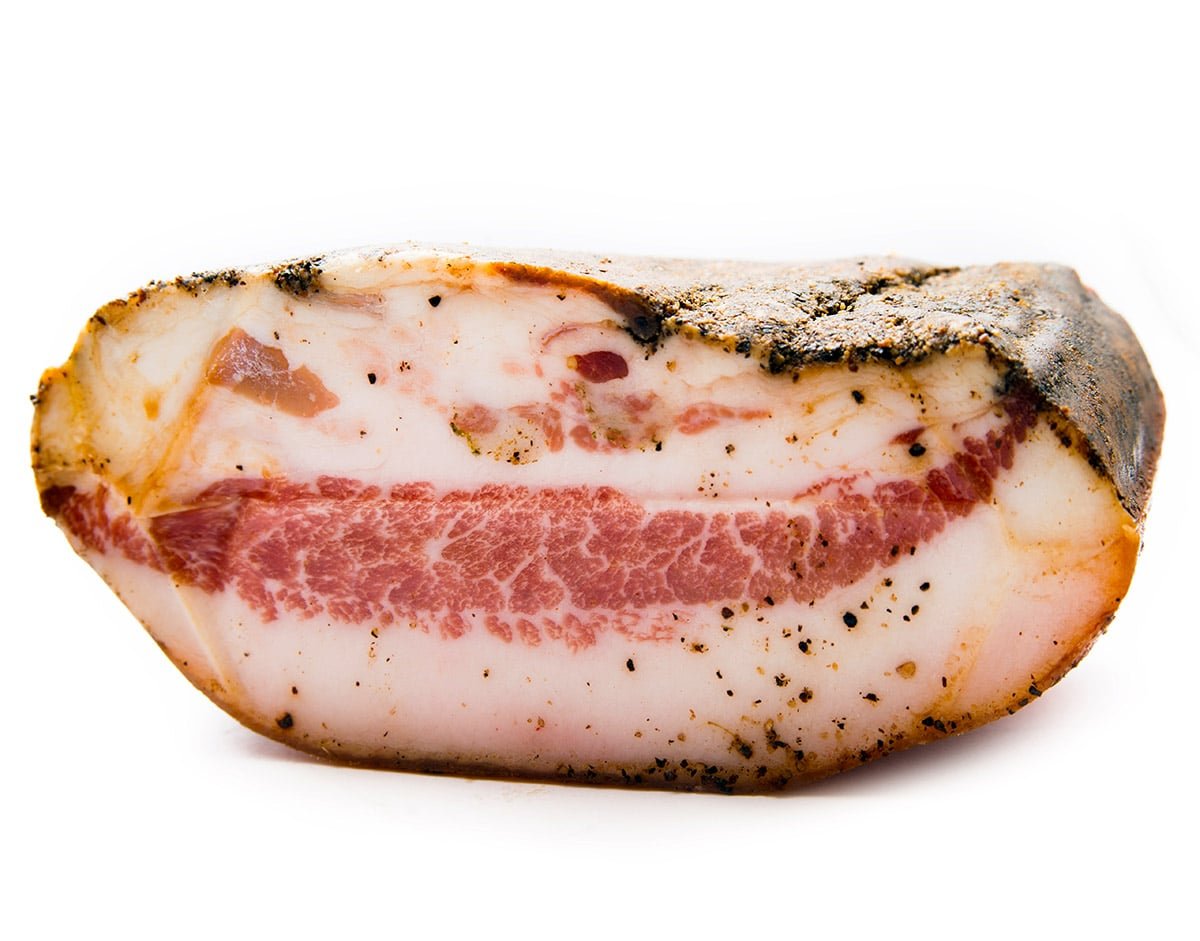 I've made guanciale many times, and I've referred to it on this blog for more than 15 years, so here's my guanciale recipe.
Keys to making guanciale are salt, humidity and time. I also use Instacure No. 2, which has nitrates and nitrites, for added safety; you can buy Instacure online from Butcher & Packer. If you have a thing against using them, skip it.
A word on the salt. You need to weigh your meat in grams and then measure out 2.5 percent of that weight in sea salt or kosher salt, then another 0.25 percent – that's one quarter of one percent – in cure no. 2, which contains sodium nitrate. I use Instacure No. 2.
My curing fridge set-up is this: An old refrigerator connected to a temperature regulator, which lets me control the temperature where the meat is hanging; you can buy these at homebrew shops. You will also, in most cases, need a humidifier to keep the air moist in the fridge. I have one connected to a humidity regular (available online) so I can ratchet the humidity down, week by week, from 85 to 90 percent down to 65 percent.
A general rule is you want the air to be about 5 percent drier than the interior of the meat. So start at 90 percent for the first couple days, then ratchet down 5 percent a week until you get to 55 to 60 percent, then hold it there.
So in short, you will need:
A fridge, basement or other cool, dark place to hang your cured meat
A way to control temperature, either in a permanently cool basement or with a temperature regulator
A way to control humidity, either a humidifier, or, in some places, a dehumidifier. If you can control humidity in 5 percent increments, you can make a better product
Patience
Guanciale, as with most cured meats, requires time to be really good. I started by curing mine for only 3 to 4 weeks, but now I prefer 12 to 16 weeks. The depth of flavor in a longer-cured guanciale is markedly better than one cured for a shorter period. You could go longer than 16 weeks, if you'd like.
Why bother making guanciale when you can make regular belly bacon? Because jowls work harder. They did an awful lot of chewing when Mr. Piggy was alive and any muscle that works hard tastes better, in this case, porkier. Guanciale, especially long-cured guanciale, will have a stronger, more pronounced flavor, than regular pancetta or bacon.
How do you use guanciale, which, by the way, is pronounced gwan-chee-AHL-ay? I prefer it in chunks with beans or pasta, or sliced thin as an antipasto or as part of a charcuterie plate. And yes, you can fry it up like bacon, but it will be so dry you will need to put a little water in the pan first to let some fat render; this prevents the meat from burning.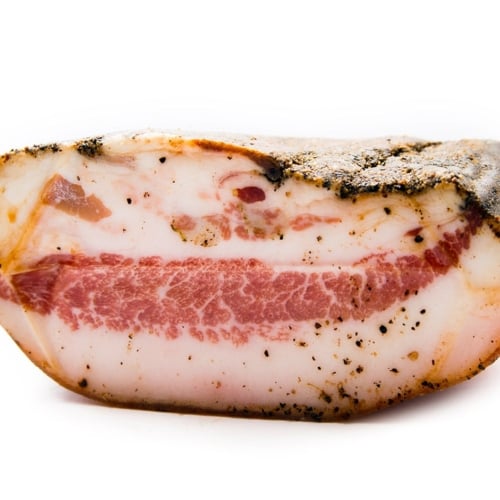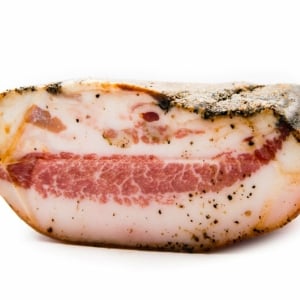 Guanciale, or Jowl Bacon
This is an easy way to get into cured meats. The process itself is not hard, although it takes time and a cool place to hang the meat. Probably the hardest part about making guanciale is finding a good hog jowl. You really want jowls from a quality pig. Farmer's markets often have good hog farmers selling their wares, so look them up. As for the curing salt No. 2, you can buy it online. 
Ingredients
1

large hog jowl,

skin on

Instacure No. 2

(see above)

kosher salt

(see above)

1/3

cup

sugar

1

tablespoon

garlic powder

1

tablespoon

crushed black pepper

2

teaspoons

dried thyme

1

teaspoon

ground allspice

5

or 6 bay leaves crushed
Instructions
Mix all the cure ingredients together and pack the jowl with it. Massage the cure into the meat and fat. Put the jowl into a container (plastic, glass, ceramic, stainless steel) that just barely holds it, and toss in any remaining cure. Cover the container and put in the fridge for 4 to 7 days. Turn the jowl over once a day.

When the meat has stiffened up at the thickest part, usually 5 days or more, rinse off the cure (you can leave a little on, but get most off), and pat the jowl dry. Put on a rack in a drafty place for several hours.

Poke a hole through the skin on a corner of the jowl and tie string to it. Hang the jowl in a cool, moist place (50-55°F and at least 65 percent humidity, but see above for more curing instructions) for at least 3 weeks before eating. To store, cut into large chunks and vacuum seal or cover with plastic wrap and butcher paper before freezing. Guanciale will last, well-wrapped, in the fridge for several months.
Notes
Note that the prep time does not include curing or drying time. 
Nutrition
Calories:
460
kcal
|
Carbohydrates:
5
g
|
Protein:
8
g
|
Fat:
45
g
|
Saturated Fat:
16
g
|
Polyunsaturated Fat:
5
g
|
Monounsaturated Fat:
21
g
|
Cholesterol:
61
mg
|
Sodium:
28
mg
|
Potassium:
171
mg
|
Fiber:
1
g
|
Sugar:
4
g
|
Vitamin A:
18
IU
|
Vitamin C:
1
mg
|
Calcium:
10
mg
|
Iron:
1
mg
Nutrition information is automatically calculated, so should only be used as an approximation.