As an Amazon Associate I earn from qualifying purchases.
Nobody really knows why this West African stew of meat and greens is called palava sauce, or, alternately, palaver sauce, but it is a recipe worth adding to your repertoire.
Normally made with beef, lamb or goat, I've made my rendition with venison. Some versions have only fish, a few are vegetarian, but all rely on lots of greens, onions, chiles and a touch of spice.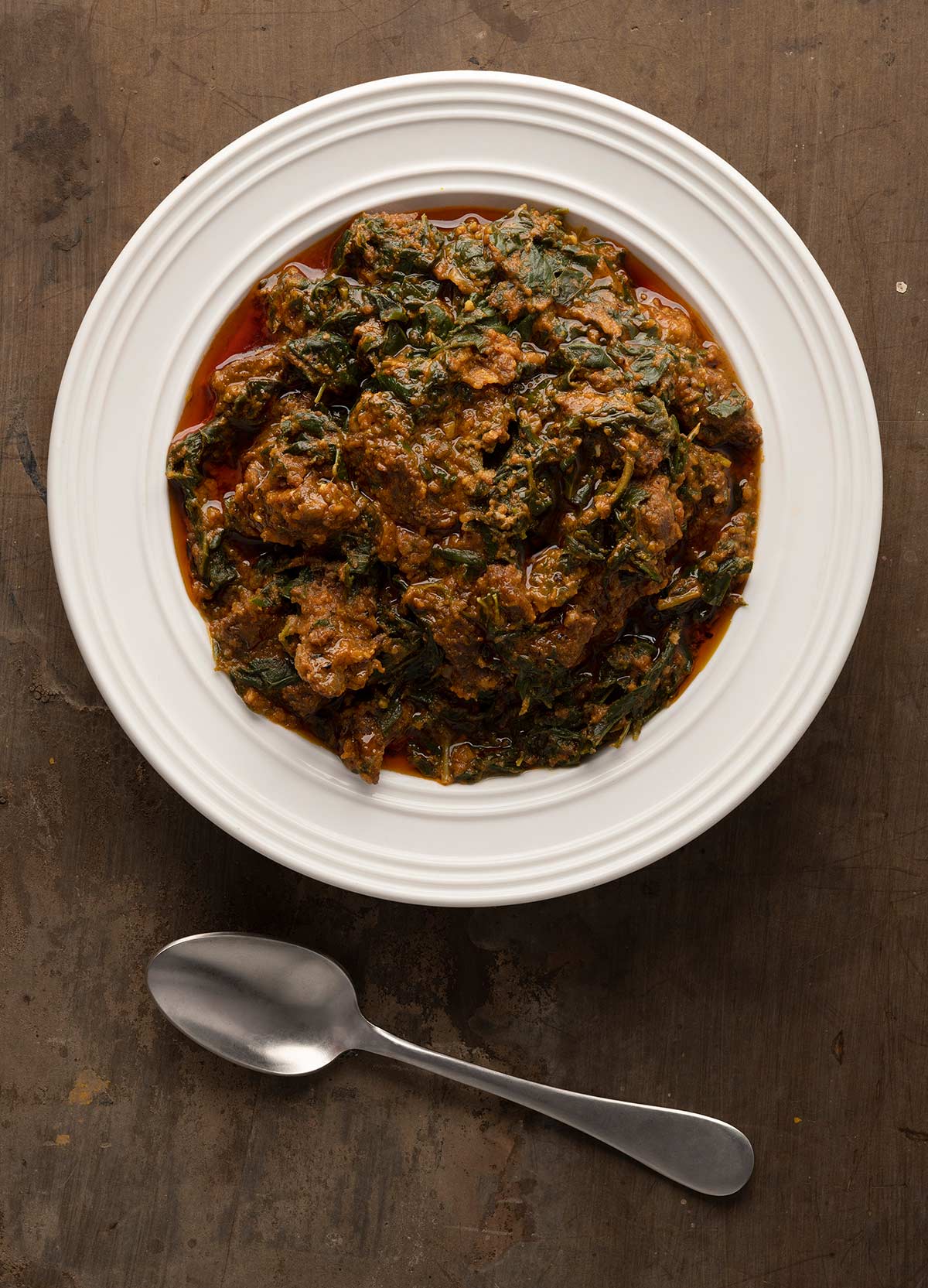 A palaver is an old word for a long discussion or argument, but exactly how that became the name of this stew remains a mystery — although leaving the "r" off and calling it palava sauce makes perfect sense given the way English is spoken in much of West Africa; like New Englanders, they aren't much for the hard "r" on the ends of words.
This stew, or something very much like it, is found all over West Africa, but my version is Ghanaian. I took for my inspiration several African cookbooks I own, but I leaned most heavily on Zoe Adjonyoh's excellent Zoe's Ghana Kitchen, which I highly recommend.
At its core, palava sauce is something of a curry, with meat and lots of greens. It can be as spicy as you want it to be, in both senses of the word. At the very least, you will want some chile in there, ideally Scotch bonnets or their more easily found cousins, the habanero.
I also use some ingredients not easily found other than online, such as grains of Selim, also known as hwentia. You can buy hwentia online if you'd like, or leave it out. It adds a certain floral aroma to the stew you won't get otherwise, but it's not 100 percent necessary.
What is vital for palava sauce is another unusual ingredient, agushi, or egusi. Agushi is ground melon seeds. Like hwentia, you can buy agushi online, but you don't need to. Most supermarkets, and even a lot of convenience stores, carry pepitas, those green pumpkin seeds. Use those. They are, more or less, the same.
(Looking for more wild food from Africa? Try my recipe for Senegalese venison shank mafe.)
Like the meat, you can use whatever greens you'd like. I used some Atriplex hortensis, orache, that I grow in my yard, but spinach or chard would be your normal substitution. Pretty much any green leafy thing will work, just know that collards take longer to cook than spinach.
Finally, it is traditional to add ground, dried shrimp to palava sauce. I like the addition, and it doesn't make the dish fishy-shrimpy at all. It just adds a savory note. Most Asian or Latin markets carry dried shrimp, but yes, you can skip this, too. I'd recommend a few splashes of Asian fish sauce or Worcestershire as a substitute.
Serve your palava sauce over simple steamed rice, and, if you want to make a cool Ghanaian meal out of it, some Ghanaian red red.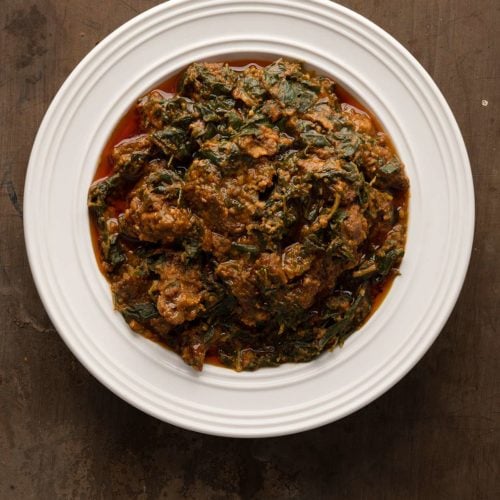 Ghanaian Palava Sauce
Your meat and greens are variable here, so use what you have. Once made, this keeps well in the fridge for a week. This, some rice, and a some red red beans is a great combination.
Ingredients
SPICY TOMATO SAUCE
1

white or yellow onion,

chopped

3

cloves

garlic

2

tablespoons

minced fresh ginger

2

cups

tomato puree,

fire-roasted if possible

1 to 4

habanero peppers,

chopped

Salt
STEW
3

tablespoons

red palm oil, lard, or vegetable oil

1

large white or yellow onion,

chopped

2

pounds

venison,

diced

3

cloves

garlic,

minced

2

tablespoons

minced fresh ginger

1/2

teaspoon

ground nutmeg

1/2

teaspoon

cinnamon

1/2

teaspoon

dried thyme

1

teaspoon

curry powder

1

tablespoon

ground coriander

4

hwentia (grains of Selim), crushed

(optional)

Salt

1 to 2

tablespoons

ground, dried shrimp or fish sauce

1

cup

agushi or ground pepitas

(See note below)

1/2

pound

chopped greens
Instructions
First make the tomato sauce by pureeing everything in a blender. My advice is to add 1/2 a habanero first, puree, then see how you like it. I like it with the full four... Set the sauce aside for now.

In a soup pot, heat the palm oil over medium heat and cook the onions, stirring occasionally, for 10 minutes. Stir in the venison and cook another 5 minutes, then add the garlic, ginger, and all the spices. Stir well, cover the pot and turn the heat to low. Let this cook gently for 20 minutes, stirring once or twice.

Now pour in enough water to cover everything, bring it to a simmer and add salt to taste. Add the ground, dried shrimp now, if you are using it. Cook gently with the lid on until the venison is tender, anywhere from 45 minutes to 2 hours.

Stir in the tomato sauce, cover the pot, and let this simmer 20 minutes. Stir in the agushi and the greens. The stew will seize up a little, so keep stirring until the greens wilt. Cook only until they are tender. Add more salt if you want. Serve with simple steamed rice.
Notes
If you are using pepitas, grind them in a spice grinder for this recipe. 
Nutrition
Calories:
322
kcal
|
Carbohydrates:
15
g
|
Protein:
33
g
|
Fat:
16
g
|
Saturated Fat:
7
g
|
Trans Fat:
1
g
|
Cholesterol:
96
mg
|
Sodium:
269
mg
|
Potassium:
936
mg
|
Fiber:
4
g
|
Sugar:
5
g
|
Vitamin A:
3638
IU
|
Vitamin C:
29
mg
|
Calcium:
99
mg
|
Iron:
7
mg
Nutrition information is automatically calculated, so should only be used as an approximation.