As an Amazon Associate I earn from qualifying purchases.
Here in NorCal, edible green things grow all year long, and you can take your pick if you are even a half-decent forager. This is not the case in the rest of the country, where actual winter shuts things down. Fortunately, there is a European weed called curly dock, or dock plant, that is as pervasive as it is persistent. As soon as you catch a whiff of spring, you'll start to see dock.
Docks are in the rumex family, and are related to rhubarb and sorrel and oxalis. (Note that burdock is a different plant entirely.) If you've ever eaten any of these vegetables, you know they are tangy from the oxalic acid in them; rhubarb leaves have so much of this that they are toxic.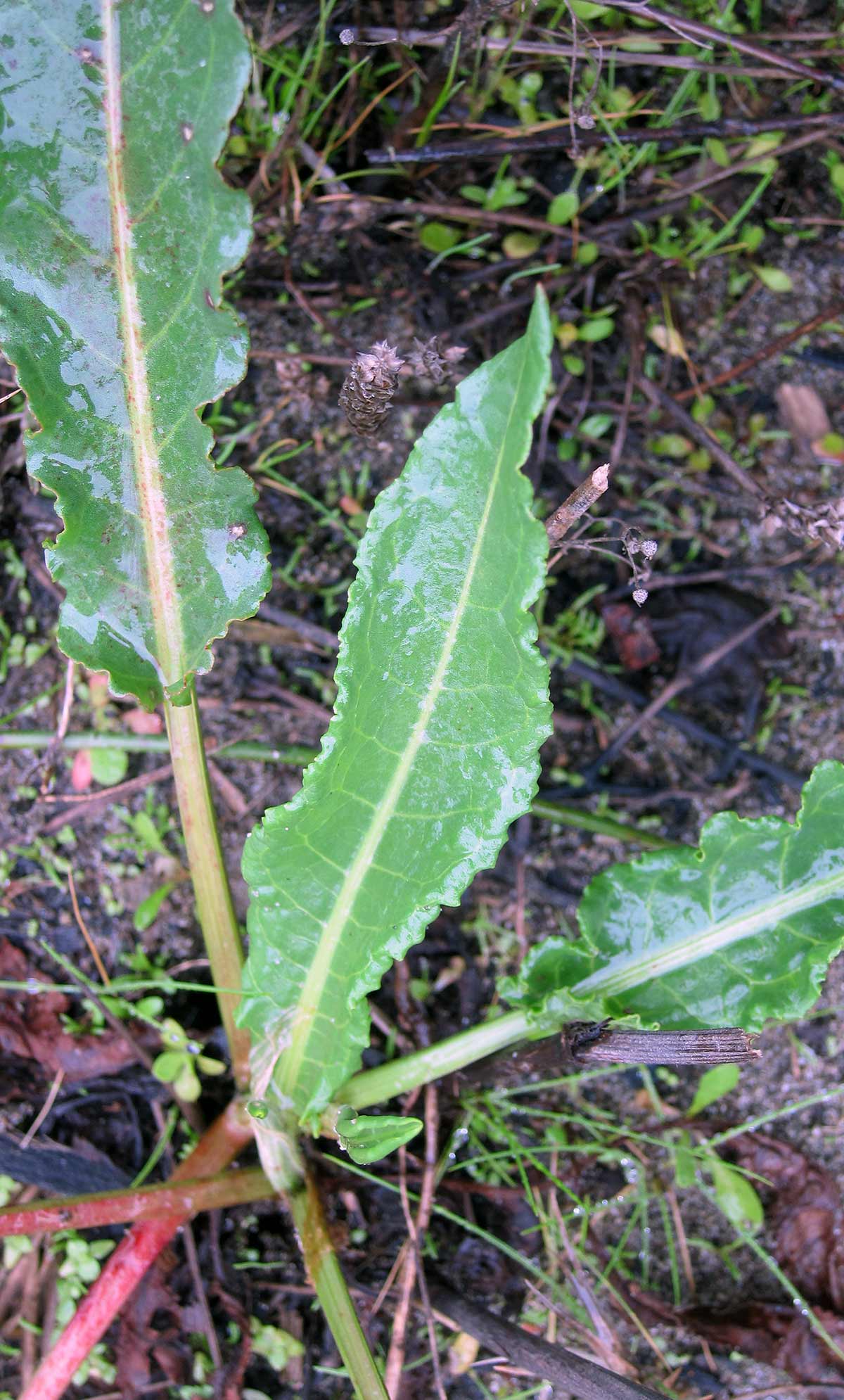 Think of dock as the love child of spinach and rhubarb or sorrel (R. acetosa), and you'll get a good idea about the flavor of this edible wild green.
So how to go about foraging curly dock? Start by knowing that there are a number of varied species, some native and some invasive. Here in the West we have Rumex occidentalis, or Western dock plant.
Where I live it's actually more common than curly dock, and it tastes similar. Other parts of the country have their own native docks, but the unifier is curly dock, R. crispus.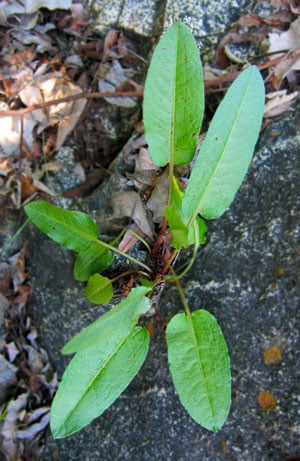 Look for curly dock in waste places and disturbed ground. Edges of things. It likes construction sites, fallow fields, places chewed up by vehicle tires, roadsides — in other words, a lot of places that aren't exactly ideal for foraging, because plants growing in compromised places can sometimes contain heavy metals within them, or might have just been sprayed with pesticide.
Still, it's not too hard to find decent places to pick dock if you walk around a bit.
The native docks tend to like to live near streams and in open forests, and occasionally you will find curly dock there, too. My spots are mostly in neglected corners of local parks, away from the manicured grass and the pesticides those lawns probably contain. There are also seashore docks (R. maritima) as well as desert docks, but I find the desert dock (R. hymenosepalus) to be really, really bitter.
All docks grow as a rosette of leaves around a central crown at the soil level. They all have broad, simple leaves, too. Western dock is a very plain-Jane plant, but once you see it, it's hard to go wrong: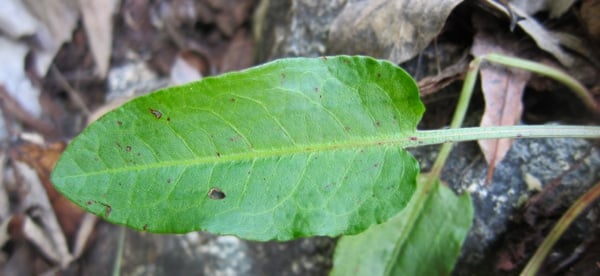 Remember that pattern of veins in the leaf: All docks have something like that. Also note the blotches. Docks tend to get these when the leaves get older — if you see those blotches, move on: The leaves will likely be bitter and leathery. Dock leaves are hairless, too, so if you see leaves that are fuzzy or bristly, it's not dock.
Curly dock, as you might imagine, has wavy, ruffled edges to its leaves.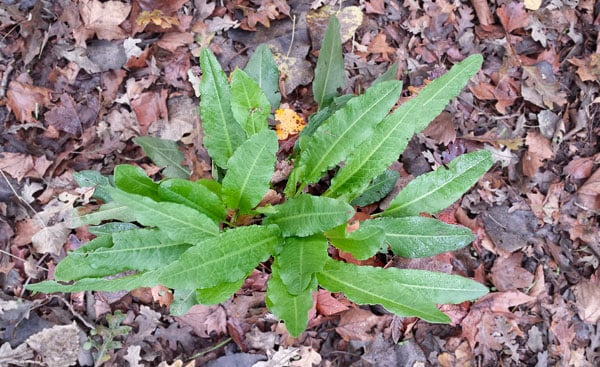 This makes curly dock one of the easier plants for beginners to identify. The leaves are fairly thick and the stems can get a tinge of red, especially in cold weather.
If you catch dock too late, it will send up a flower stalk that can grow to 3 feet high. It will have leaves along the stalk, and lots of tiny, greenish "flowers" that really don't look like much. The stalk will ripen all summer and eventually turn an attractive, rusty brown. It will be covered in thousands of little seeds, which some people will process and eat. I can tell you this is a massive pain in the ass, and the flavor isn't that great.
My advice: Don't bother. Stick with the young leaves. A good way to look for curly dock is to look for the old, dead flower stalks, which persist all winter.
How young do you want your dock plant leaves? Very young. Look at the rosette. You will see leaves emerging that are rolled up tight. If you unroll one, you'll notice it's a little sticky-slimy. You want these leaves, and the ones that have just unrolled. The older the leaves get, the more bitter they become. Old leaves need to be boiled in at least one change of water to help mitigate this. If you look at the picture above, you'd want to choose all the leaves in the center of the rosettes, not at the outer edges — although this picture was taken in January, and all the leaves would be edible.
In hot weather, the young leaves are still good, but fully unrolled leaves get gnarly in a hurry.
What to do with them? I cook them like spinach. Remember, however, that like everything in the rumex clan, that pretty emerald dulls to Army green within seconds of hitting the heat. Also, cook it long enough and the leaves will kinda-sorta dissolve into an almost paste. A very tangy, lemony paste. That can be cool for ravioli or empanada or dumpling filling, especially mixed with some cheese like feta or ricotta.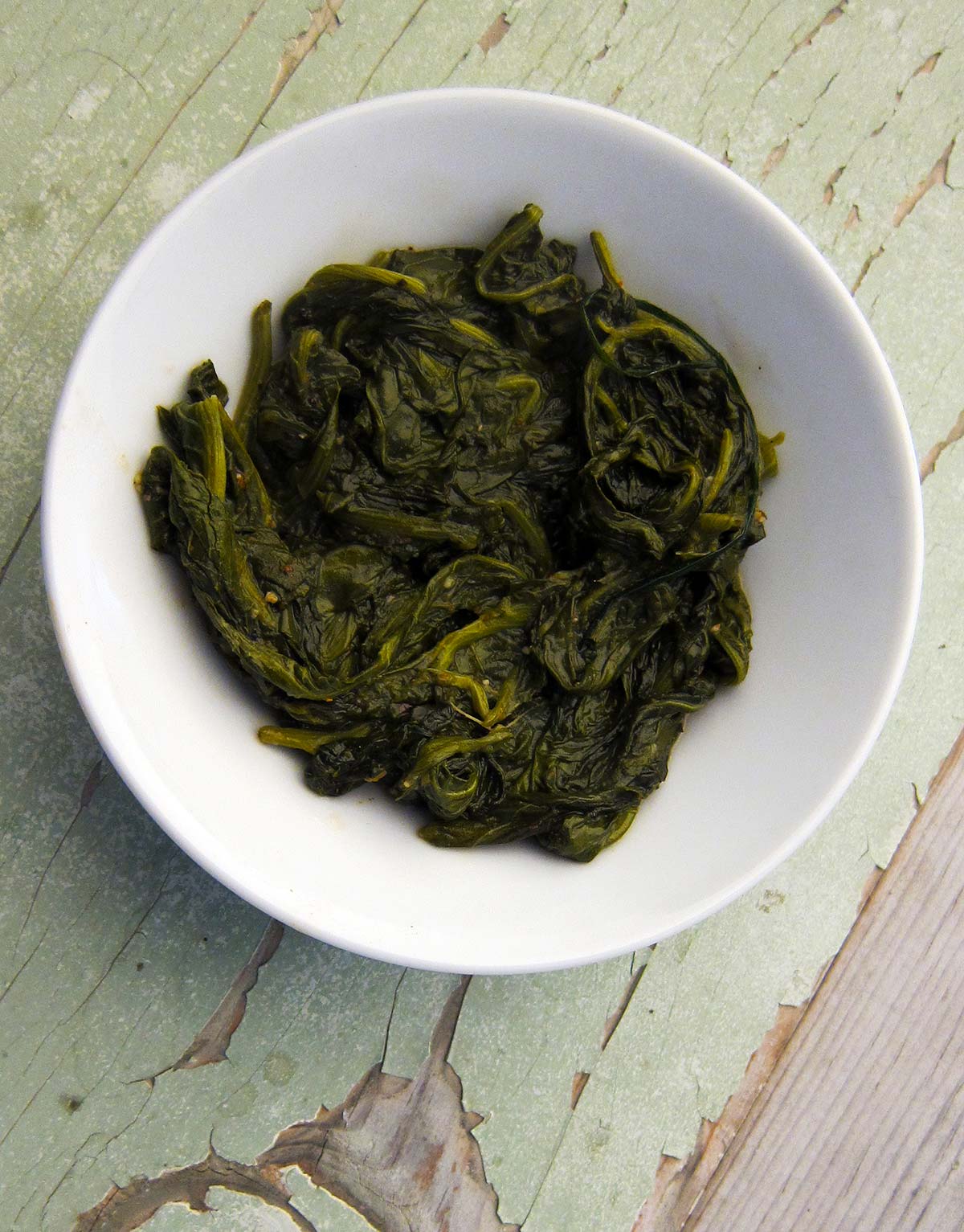 You can also use curly dock in place of sorrel to make a classic French sorrel sauce. use the sauce on fish, light meat poultry or eggs.
What I did in the picture above was to go Ethiopian. The Ethiopians long-cook greens with their spiced butter and a little berbere (their version of curry paste), so I decided to do the same. Gotta say it rocked the house! Exotic, rich, spicy, tangy, "green." For a less esoteric take, go for butter and Cajun seasoning.
Or olive oil, chile, garlic and black pepper. Or olive oil and Spanish smoked paprika. Or sesame oil and Japanese togarashi. You get the idea.