As an Amazon Associate I earn from qualifying purchases.
Huitlacoche, "corn smut," is a mushroom that grows on corn, and is amazing cooked with chile, cheese, and onion on a tortilla as a huitlacoche quesadilla.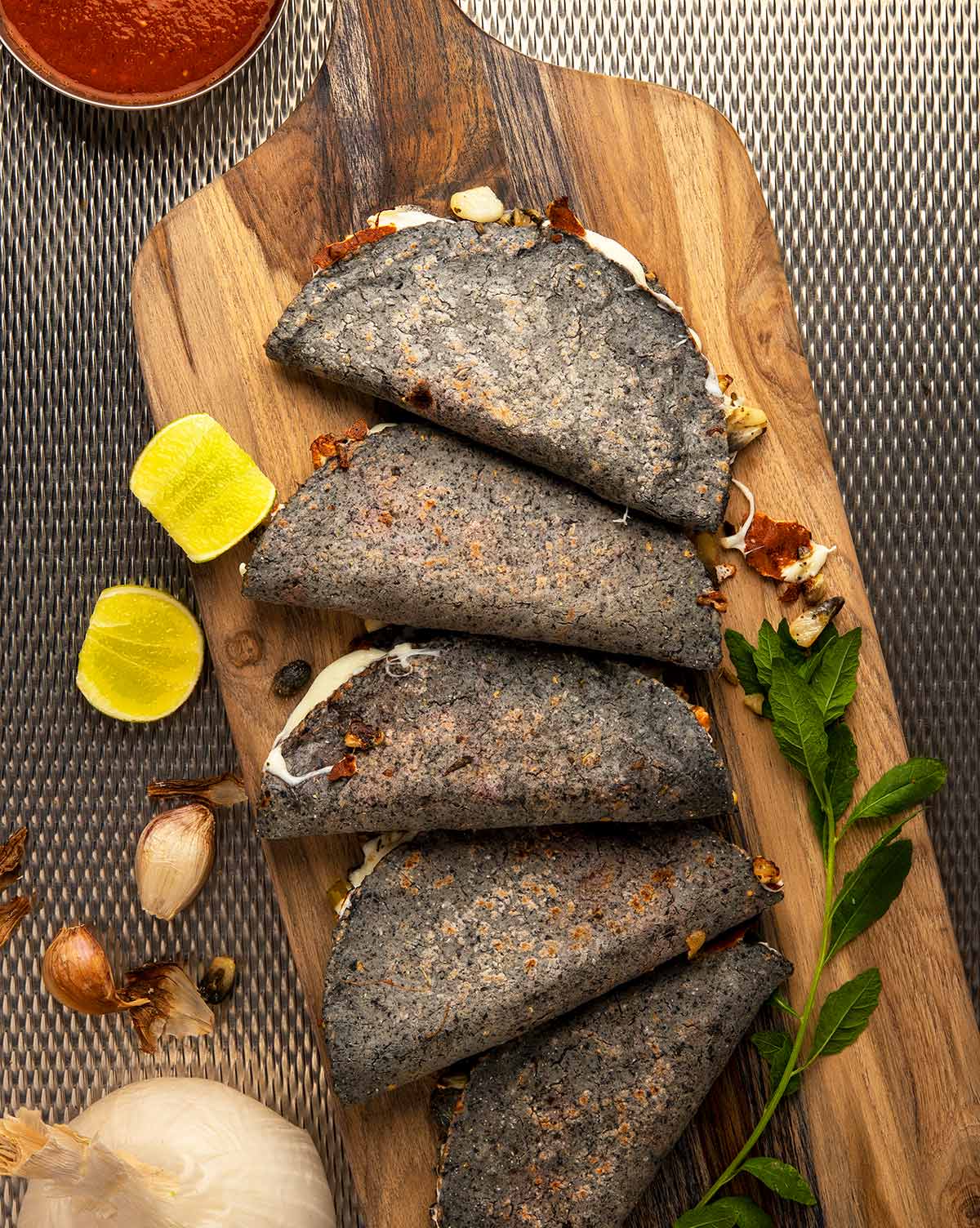 As far as the star ingredient is concerned, this is one of those, "if you know you know" deals. Revered in Mexico, this fungus is viewed as a virulent pest in the United States. Thankfully, as more people get a chance to eat it, attitudes are changing.
Pronounced "wheet-la-KOH-chay," which is a Nahuatl (Aztec) word, the mushroom is intimidating to look at. Perverse swelling of corn kernels that turn from gray to black, it's easy to see how you'd look at it and go, "big nope."
But looks are deceiving. The flavor is like corn and mushrooms mashed together, which makes sense: Floral, sweet, earthy, savory, if you're not used to it, huitlacoche is a sort of "edge food" you feel proud of yourself for liking.
All this goes out the window if you're Mexican, where a huitacoche quesadilla is a simple treat you look forward to when its in season, which can be months long depending on where you are in Mexico.
Buying Huitlacoche
Unless you are a corn farmer, the fungus found your garden corn, or you know someone, chances are you won't be able to find huitlacoche fresh.
Very occasionally you can find it in farmer's markets, especially if you live in an area where there are lots of Mexicans, and sometimes you will see it in Latin markets.
More often you'll be buying huitlacoche frozen, which you can do online. This is more common in the freezer section of Latin markets, but it's still a find.
Oh, and yes, there is a such a thing as canned huitlacoche. I am not a fan. Sorrynotsorry.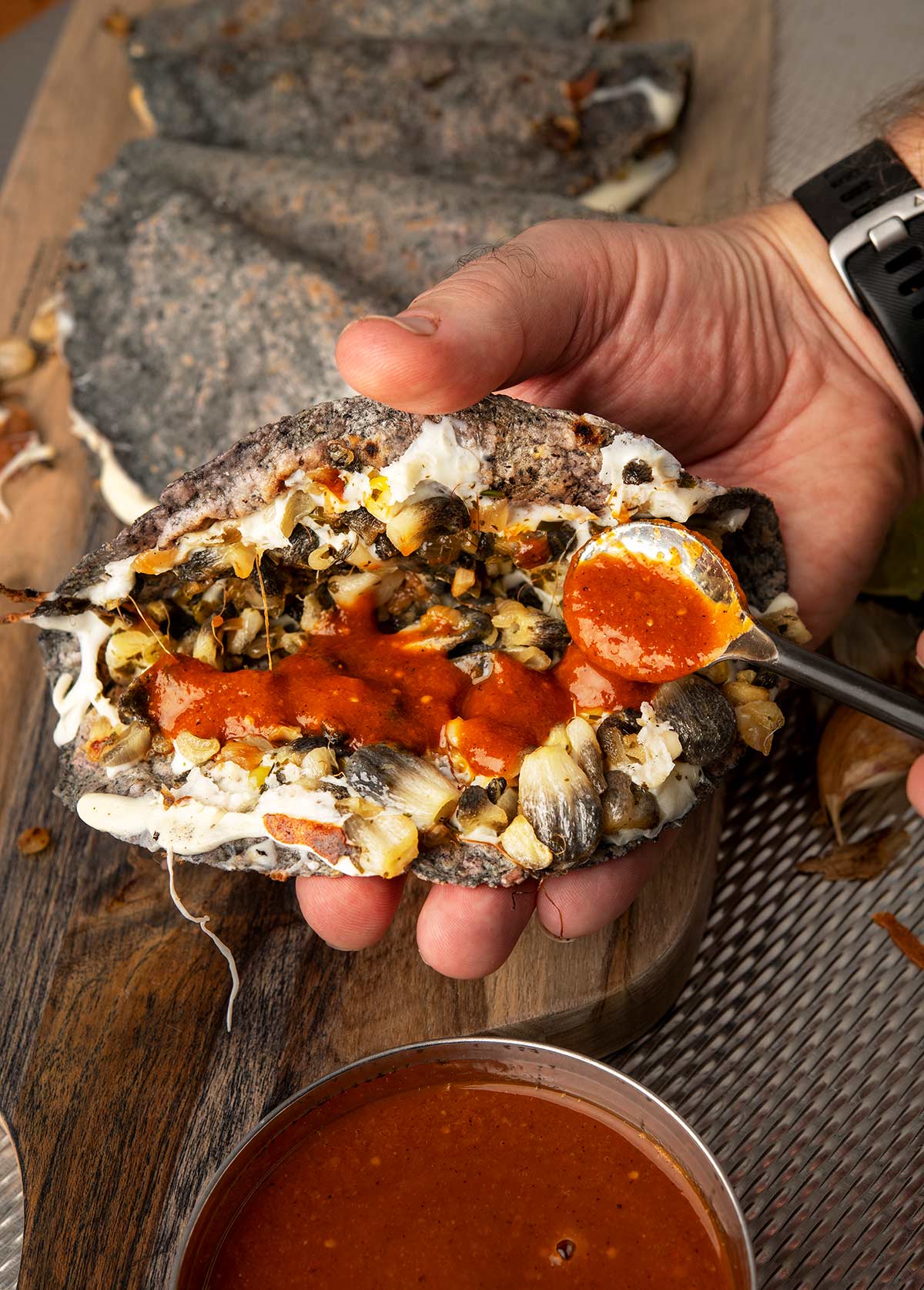 Huitlacoche Quesadilla
OK, so you've found some fresh or frozen huitlacoche. Here's a very common way to make a huitlacoche quesadilla, which is in my experience the most common way to eat it.
Sauté onions, roasted green chiles, herbs and garlic in lard or oil, then add in the huitlacoche. Cook this down into a cohesive mass.
Melt some cheese on a tortilla — corn would be the rule here — then spoon the filling on, fold over the quesadilla and cook until the cheese starts to brown as it oozes out. That's it.
The only other thing you'd do would be, when serving them, open the huitlacoche quesadilla up and add salsa to taste.
I prefer a fierce salsa de chile de arbol here, but any hot salsa will do.
If you liked this recipe, please leave a ⭐️⭐️⭐️⭐️⭐️ rating and a comment below; I'd love to hear how everything went. If you're on Instagram, share a picture and tag me at huntgathercook.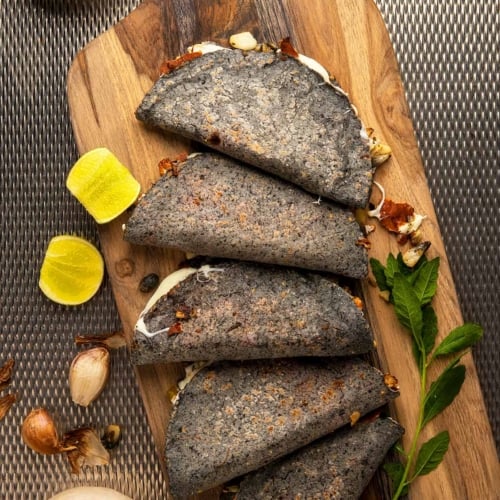 Ingredients
3

tablespoons

lard or oil

1

cup

chopped white onion

1

pound

huitlacoche

2

Anaheim, poblano or chilaca chiles,

roasted, peeled, seeded and roughly chopped

2

cloves

garlic,

minced

1

tablespoon

minced epazote or cilantro

salt

1/2

pound

mozzarella, Oaxaca or other melty cheese,

shredded

12

corn tortillas
Instructions
Heat the lard in a large pan over medium-high heat. Sauté the onion for a few minutes, then add the huitlacoche and roasted, chopped green chiles. Sauté this for a good 5 to 7 minutes, then add the garlic. Drop the heat to a simmer and let it cook gently.

At this point, heat up all your corn tortillas on a flattop, griddle or comal, keeping them warm in a tortillero or in a cloth.

Mix the epazote or cilantro into the huitlacoche and add salt to taste.

Put some shredded cheese in a tortilla, fold it over and heat it on the comal until the cheese starts to melt. Open them, add some of the huitlacoche mixture, then re-close and flatten them on the comal. When the cheese starts to brown a little, flip and cook the other side. Repeat with the other quesadillas.

If you want, you can set a rack over a baking sheet and put that in the oven. Set the oven to "warm" to keep them all hot while you make the rest.
Notes
You can use frozen or canned green chiles if you want. 
Nutrition
Calories:
332
kcal
|
Carbohydrates:
34
g
|
Protein:
13
g
|
Fat:
17
g
|
Saturated Fat:
6
g
|
Polyunsaturated Fat:
3
g
|
Monounsaturated Fat:
7
g
|
Trans Fat:
0.03
g
|
Cholesterol:
30
mg
|
Sodium:
332
mg
|
Potassium:
414
mg
|
Fiber:
6
g
|
Sugar:
4
g
|
Vitamin A:
259
IU
|
Vitamin C:
5
mg
|
Calcium:
249
mg
|
Iron:
1
mg
Nutrition information is automatically calculated, so should only be used as an approximation.