As an Amazon Associate I earn from qualifying purchases.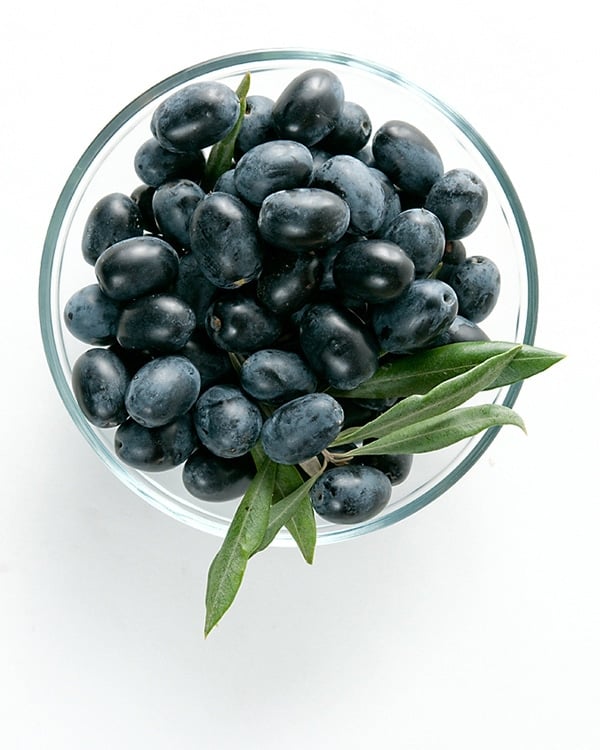 Here in Northern California, olive trees grow all over the place. And every autumn since 2004, I've gathered green olives from a park near my house to make batches of brine-cured olives and lye-cured olives. Each have their place on my table. Black olives come later.
I like the typical black kalamata-style olive, but don't love them. What I prefer are those wrinkly oil-cured black olives. Fortunately, you make them with very ripe olives, which means late January or February here in NorCal.
Black olives will hang on the tree for months, and as it rains, they get less and less bitter. If you can catch some very late, as in early spring, you can kinda-sorta eat them off the tree.
Olive fly is a scourge on our local trees. The flies lay eggs on the olives and the larvae burrow into the olive, leaving a tell-tale scar that looks like someone branded the side of the olive with a hot pinhead.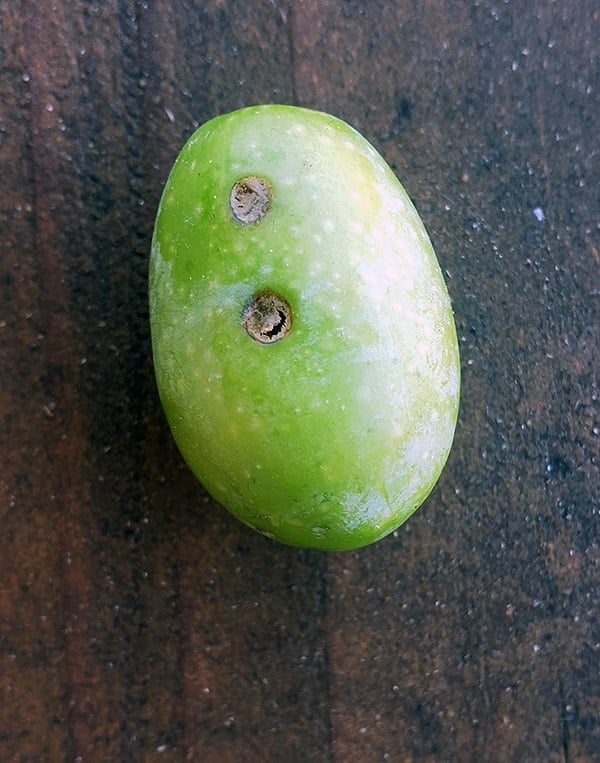 Normally I have to toss every third or fourth green olive, picking my way through to the clean ones. But late-season black olives are almost completely free of larvae.
I can't be certain, but what I think happened is that throughout the long winter, all the olives infected with the parasite had already dropped off the trees; rotten olives surrounded each one. By March, all that was left were good ones.
On a good day I can gather about three pounds' worth of black olives in no time.
Five weeks later, you will have fantastic oil-cured black olives. In fact, I don't think anyone ought to pick black olives before February. In three pounds of olives, I typically have maybe 20 infected with olive fly. And the months of weathering on the tree — all that chilling and rain — had already leached out some of the bitterness from the olives.
And they are beautiful. They look like they ought to be delicious right off the tree. Sadly, they aren't. Edible, but only barely. The good news is that oil-curing is just about the easiest method of curing olives. Once you've picked through all the olives to remove any with olive fly larvae scars, you only need three things to do this:
A pillowcase or other sack
Salt (kosher or pickling or cheap sea salt)
Time.
How much salt? You don't need to be exact. A good ratio is about 1 pound of kosher salt to 2 pounds of fresh black olives. You can go a little over or under this if you'd like, but err on the side of more salt, not less. Pour the salt into the pillowcase, then the olives, and mix them all around so the olives are covered.
Hang the pillowcase somewhere that black, dripping olive juice won't matter. I hung the case between the two sheds in our backyard. Yep, that's right: You can do this outside. Weather doesn't matter, and some sources say the cure is even better of everything gets rained on once in a while.
Attend to your olives once a week or so, to mix them around again and make sure they are still well-covered in salt. The earliest they might be ready is a month, but they should definitely be cured by six weeks.
After a month, take one out. The olive should look wrinkly, taste salty and be just a little bitter. These olives will always be more bitter than those done by the lye-curing method. I like that little hit of bitterness. Take them out of the salt when they are "sweet" enough for you, or after six weeks, whichever comes first.
You will notice something. No oil. While these olives are known to one and all as "oil-cured," they are not actually cured in oil at all. They are cured in salt. The oil comes next.
I made 3 pounds of these olives, far more than I could reasonably eat in a normal amount of time. And while they look mummified, these olives are quite perishable. Left alone at room temperature, the oils in the olives will begin to turn rancid in a month or two. In the fridge, however, they will last a year if you store them properly. Here's how:
Arrange the cured olives in one layer on a cookie sheet and allow to dry overnight. Sometimes a little olive juice gets on them during the curing process, and you want this to evaporate before you put the olives in for long-term storage.
When they've dried overnight, mix the olives with about 1/2 pound of salt for every 4 to 5 pounds of cured olives. Store in an airtight container.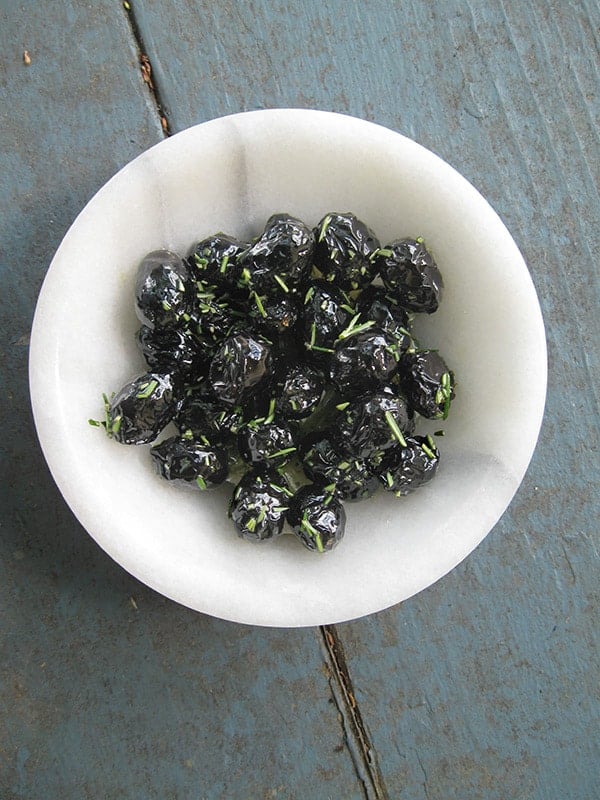 When you want to eat them, some sources say to boil the salted olives for a few seconds to remove some of the saltiness. Boiling will also plump up the olives a little. You don't have to do this, as the olives are excellent either way. What you do need is marinate them in olive oil for at least a day. This is where the oil-cured part comes in.
You can completely submerge your cured olives in oil, or just coat them in it. Your choice. Definitely include a chopped fresh herb such as rosemary, sage, thyme or oregano. A little lemon zest would be nice, as would some cumin or black pepper. But don't gussy up these olives too much. Their allure is in their simple, briny richness.
Once marinated, eat the olives within a few weeks or so.