How to Make Elderberry Syrup
August 04, 2011 | Updated August 03, 2022
As an Amazon Associate I earn from qualifying purchases.
I have been making elderberry syrup at home for decades, mostly as a base for drinks or sauces, but it is also good for you. What follows is my elderberry syrup recipe, tested over nearly 20 years.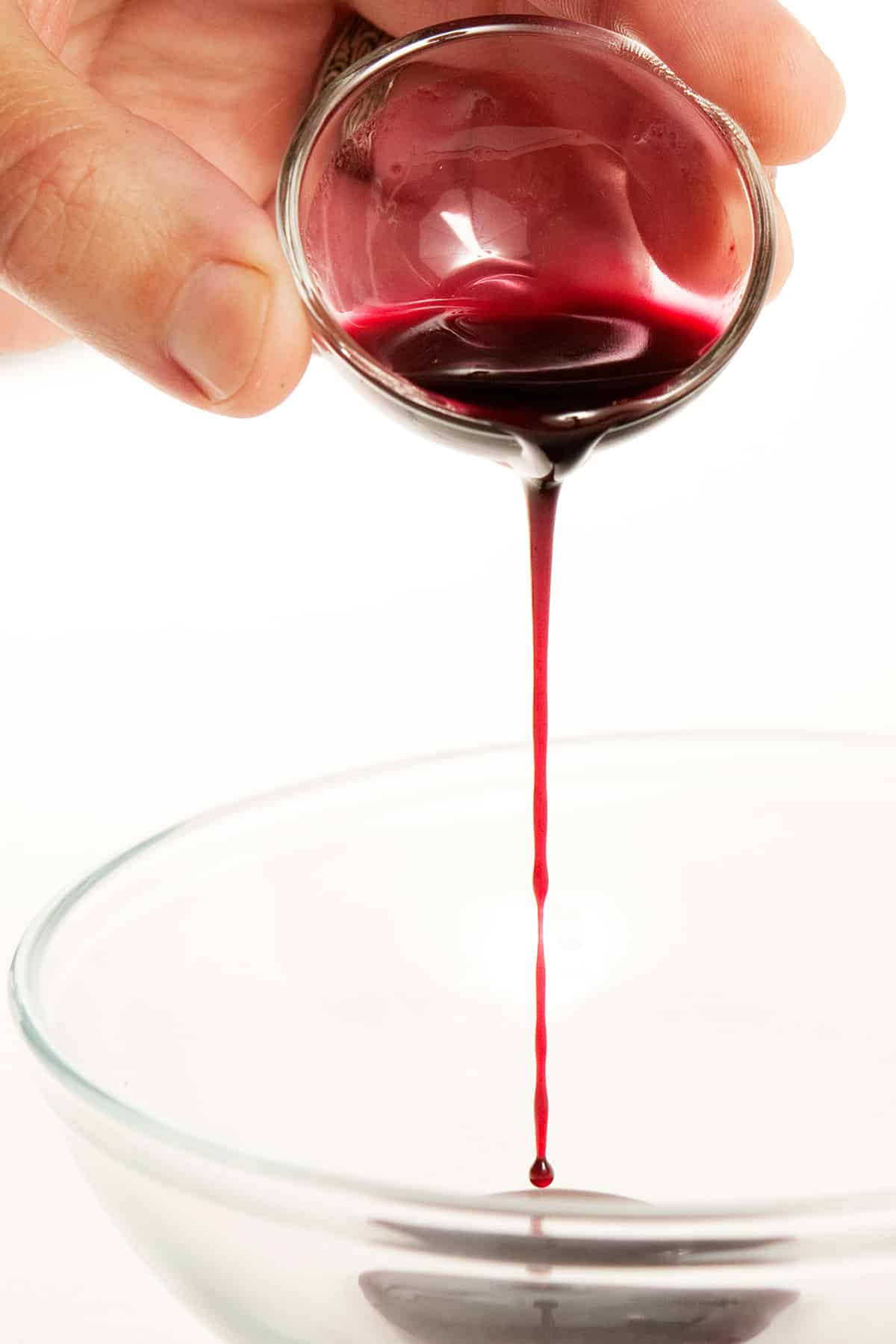 My elderberry syrup recipe developed out of a system I've used all my adult life for preserving berries: Juice them, add an equal proportion of sugar to make a syrup, and use that shelf stable syrup all year for sauces, glazes, to make sorbet or ice cream, or just to add to soda water for a nice drink.
That said, most people make elderberry syrup for medical reasons. Many studies suggest that it can help your immune system, and elderberry has been used as medicine by more or less every culture that has the plant growing in its environment, from Native Americans to Europeans to northern Asia.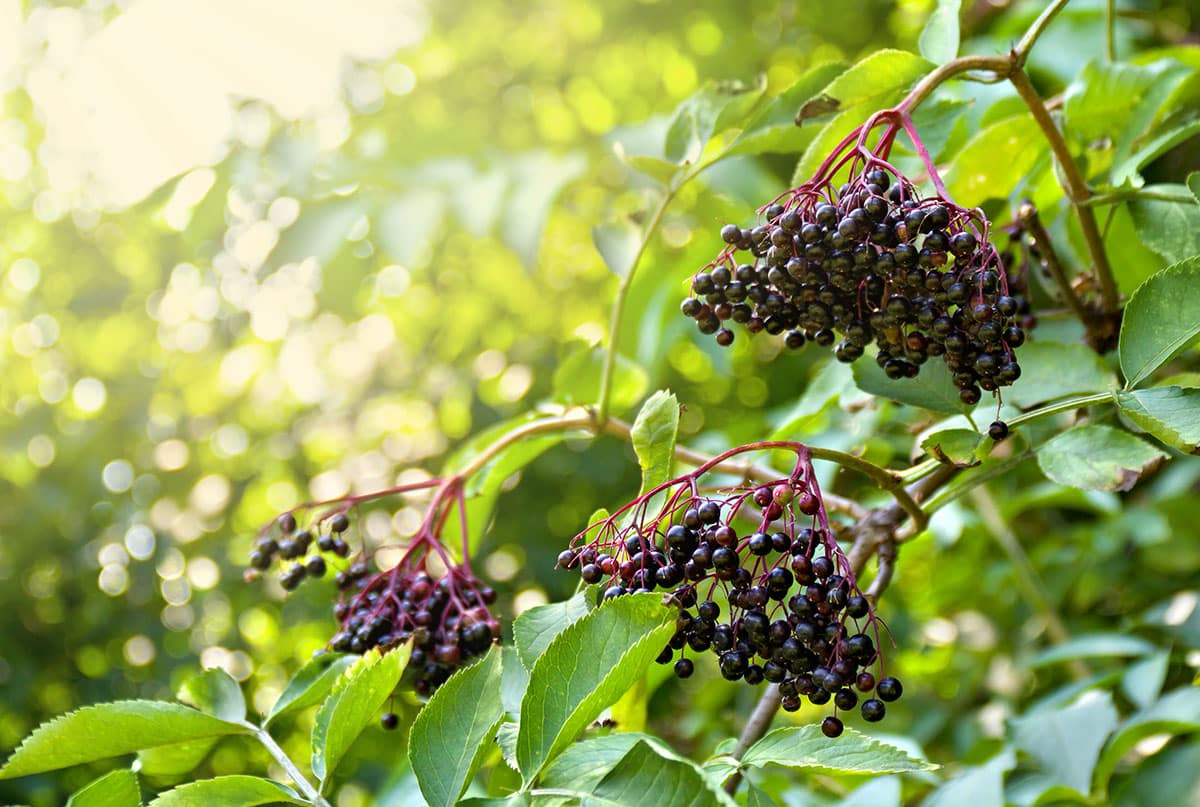 Finding Elderberries
Keep in mind that my elderberry syrup recipe uses blue elderberries, which are Sambucus nigra subspecies caerulea. That's what I have near me. Black elderberry is more widespread, and is the main species used to make elderberry syrup. I know of no one who uses red elderberry for making syrup.
You can find wild elderberry plants all over the West, starting in pockets in New Mexico and growing increasingly common as you head to the Pacific, as well as all over the eastern part of the United States and Canada, to about the Great Plains. It's all over Europe, too.
Where I live in Northern California, they start coming ripe at the end of May, and depending on what state or province you live in you can find them somewhere all the way into November. A tip on picking ripe elderberries: The stems turn red. Ripe berries with green stems still have a little ways to go.
Sometimes you can find ripe elderberries at farmer's markets, although it's rare.
Recipes that Use Elderberry Syrup
Most people use elderberry syrup as a sort of medicine, "taking" a spoonful a day or twice a day or somesuch. That's fine, but I don't make elderberry syrup for that. I use it liberally.
It's so versatile. Uses for elderberry syrup include:
Homemade soda base. Add a glug of syrup to a glass with ice, then top with club soda or seltzer water. Super good!
A mixer for cocktails. I've seen elderberry syrup added to gin, dropped into a martini, used in a whiskey sour, etc. My favorite? A splash in silver tequila, with a bit of lime.
A base for elderberry ice cream, which is amazing.
Use it as a drizzle over other ice creams, or as a glaze for poultry.
Elderberry syrup is also great in a classic Cumberland sauce.
As a flavoring for panna cotta or creme caramel.
Pour it over pancakes!
The possibilities are pretty endless. And since elderberries grow in most of the 50 states, as well as in Canada and most of Europe, there's no reason you can't go outside and get some yourself.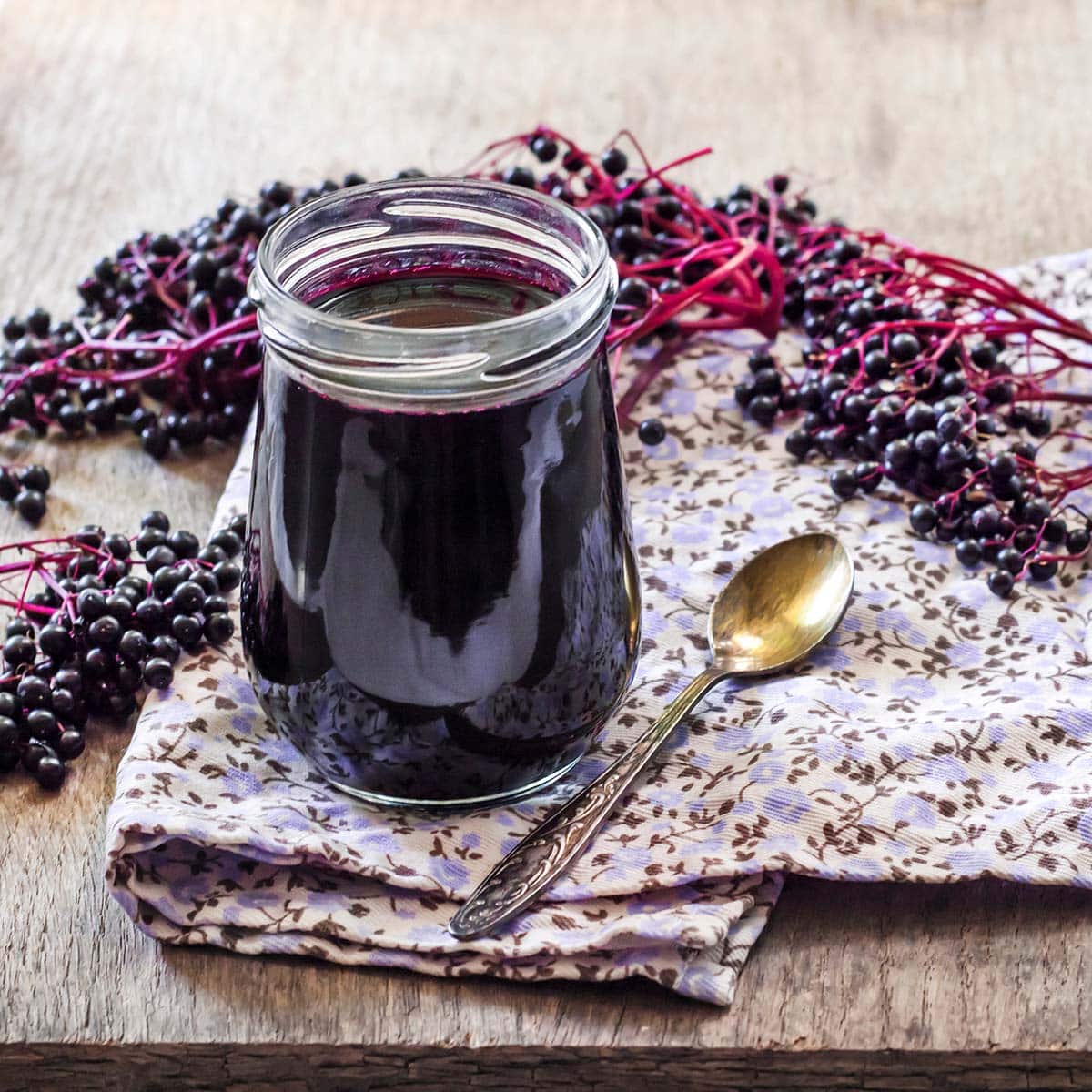 My Elderberry Syrup Recipe
Making your syrup seems pretty intuitive. I mean, all you need are elderberries and sugar, right? Well, yes. But my method for making the syrup is different from most others.
Other recipes ask that you cook your elderberries, mash them with a potato masher and let them drain through a jelly bag. There is a problem with this. You will never break all the berries with this method, and, given that it is a time-consuming and persnickety business to take all those elderberries off their stems — the stems are mildly toxic, by the way — you really want as much juice as you can get.
A better way is to use an immersion blender and a food mill to make short work of our little blue friends.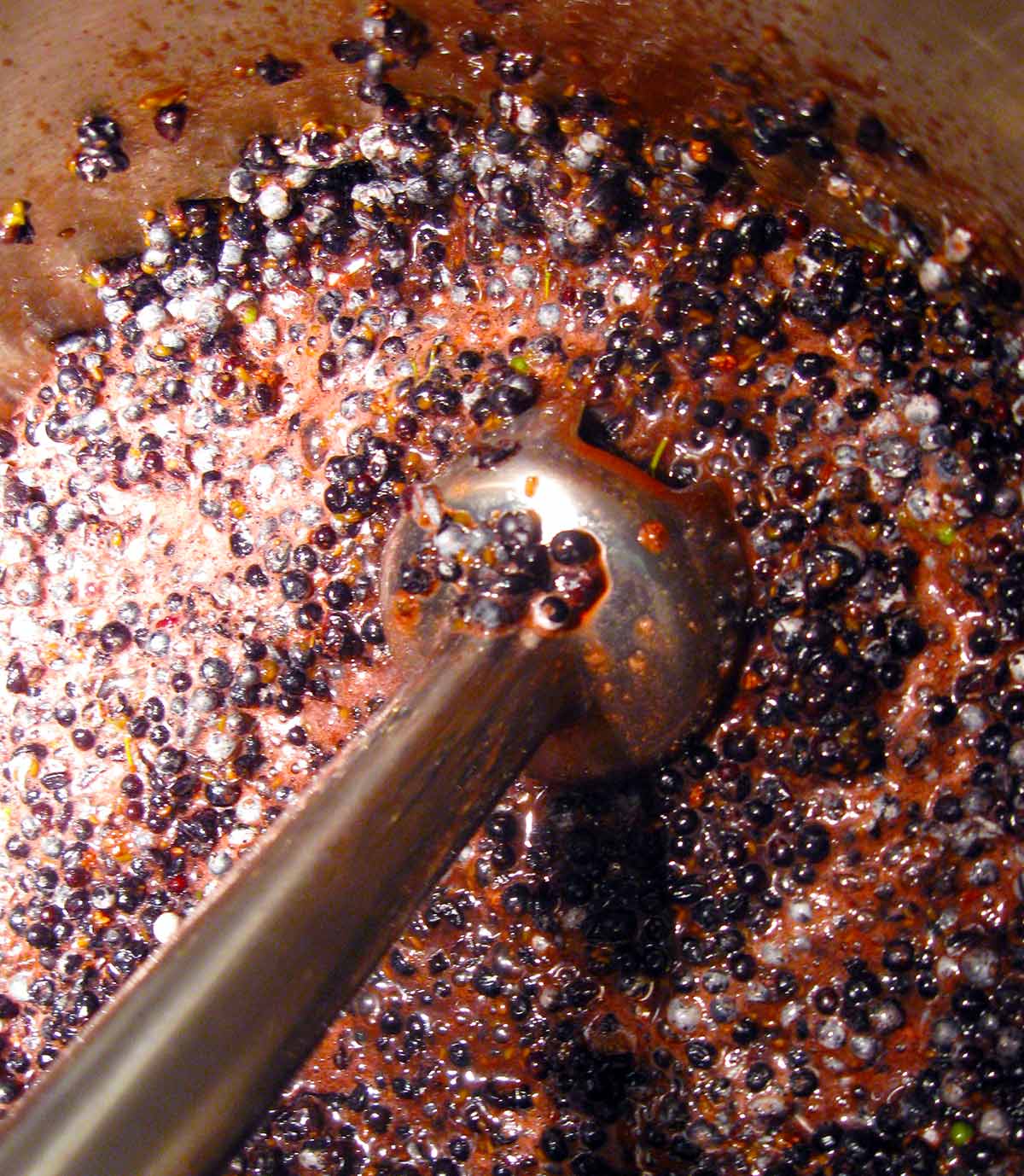 Works so well you can get twice as much yield from your elderberries. Twice, you say? Yes, twice. Another elderberry syrup recipe may require you to add water to your boiling berries. I suppose that works fine, but with my method you don't have to water down your berries to make a sufficient amount of syrup — unless you are in a serious drought.
Do it this way and you will get 3+ pints of elderberry syrup from 3 pounds of elderberries, as opposed to 2 pints from 2 pounds of elderberries with another 2 to 4 cups of water thrown in. Believe me, this is a huge flavor difference.
When they are on their stems, it is roughly equivalent to half a paper grocery bag. On a good year, harvesting that can take you all of 10 minutes to harvest. Destemming, however, will take an hour — if you are good at it.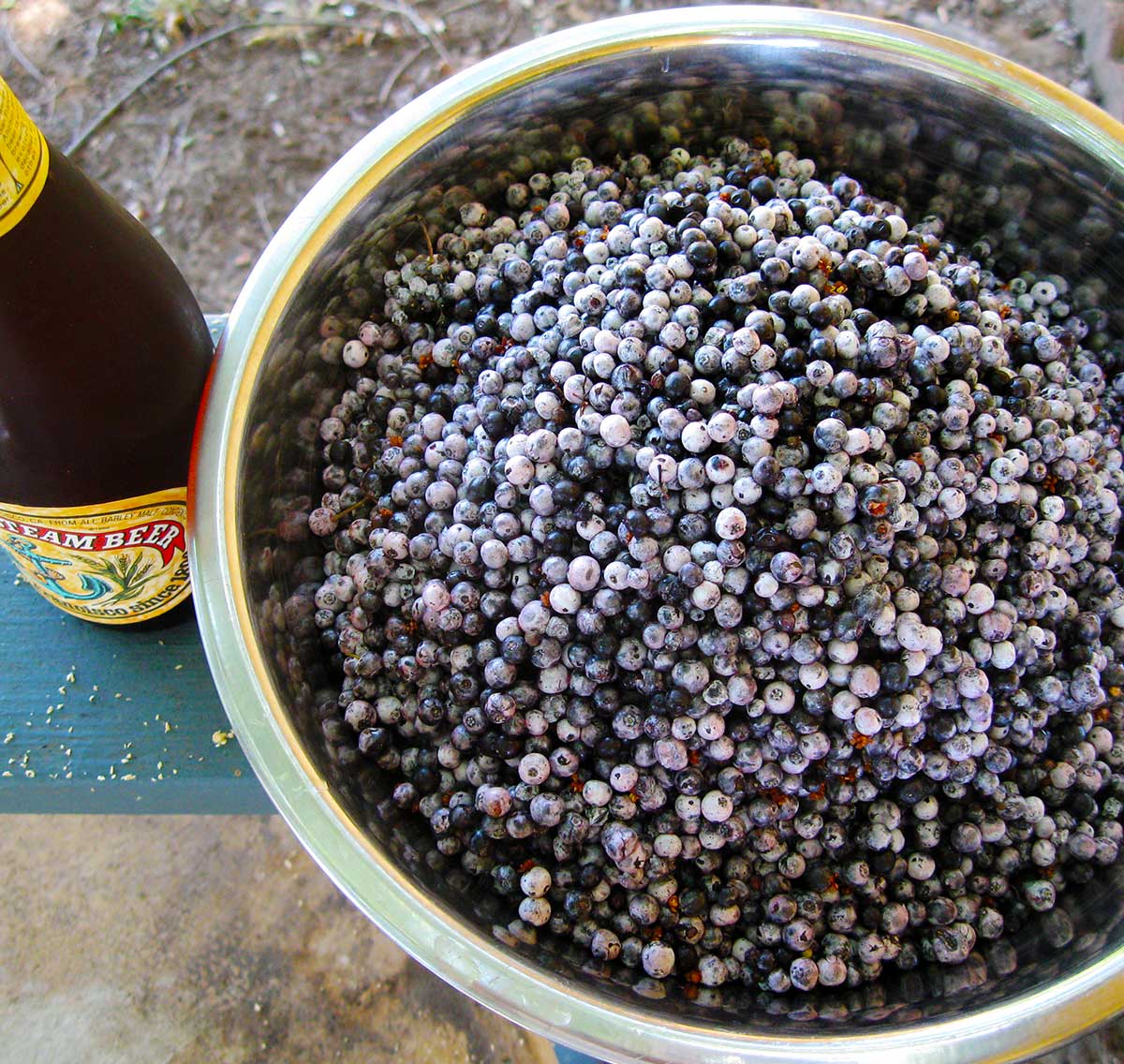 After you have an elderberry mash, you will want to do one of two things: Strain it through a big jelly bag, or heat it up and then run it through the fine plate on a food mill, which removes the seeds.
I do the food mill method, then move the thick liquid to a fine mesh strainer to remove most of the pulp. I do this because I can make elderberry syrup in an hour that way, rather than the overnight drip, drip, drip with the jelly bag method.
Once you have elderberry juice, measure it, and an equal volume of sugar, bring this to a boil and you now have elderberry syrup. Can you use less sugar? Absolutely, but the syrup won't be shelf stable; it will ferment, and then you will have elderberry wine. But not good elderberry wine.
Can you use honey or some other sweetener? Sure, but the proportion of sugar to juice will be off, and I can't guarantee your results.
Storing Elderberry Syrup
As I mentioned, this elderberry syrup recipe is shelf stable. Still, I keep it in the fridge, where it has literally lasted three years or more. I'm not joking.
No need to can this because of all the sugar. I know people who keep their syrup in the pantry and theirs has molded after a year or so, so the higher temperature will, eventually, cause you issues.
Elderberry Syrup
You will need at least a pound of elderberries for this recipe, and preferably three pounds, so you have enough to last a while. I use a food mill to extract as much juice as I can from the berries, but if you don't have one you can use a jelly bag.
Ingredients
3

pounds

elderberries

destemmed

4

cups

sugar
Instructions
You will need to remove the berries from the stems; elderberry stems are toxic. (I go through some tricks on destemming elderberries here.) It should take you about 45 minutes to an hour to destem 3 pounds of elderberries, which equates to about a half a normal paper grocery bag.

At this point you can empty your berries into a large bowl of ice water. Weird debris will float, like dead flower husks, bugs, etc. Pour this off.

Pour the elderberries into a large pot and either mash them thoroughly with a potato masher, or, better yet, with an immersion blender. Only break up the berries for a few seconds using the immersion blender, and use it on low setting. You don't want to grind up the seeds, which are bitter.

Bring the elderberries to a boil, stirring often. Now, if you are using a food mill, set it up with its finest plate and pour the elderberries into it. Run the food mill until the mash is pretty dry, then squeeze out any remaining elderberry juice. You should have a little more than 1 quart. Pour the juice through your finest mesh sieve to catch any stray seeds or pulp.

If you are using the jelly bag method, mash the berries again after they've boiled, then pour them into a jelly bag suspended over a large bowl. Let this drain up to overnight. You should have a little less than 1 quart. You don't need to strain the juice the way you do with the food mill method.

Return the juice to the (cleaned) pot and add an equal volume of sugar, normally about 4 cups. Bring to a boil until it froths, skim the froth, then turn off the heat and pour into clean jars. Always use a new canning lid when you are making this syrup, unless you plan on eating it in the next few weeks. Seal the jars and let stand until the lids pop. They will keep for a year on the shelf or in the fridge.
Notes
This recipe makes about 4 to 5 pints. 
Nutrition
Calories:
102
kcal
|
Carbohydrates:
26
g
|
Protein:
0.2
g
|
Fat:
0.2
g
|
Saturated Fat:
0.01
g
|
Polyunsaturated Fat:
0.1
g
|
Monounsaturated Fat:
0.03
g
|
Sodium:
2
mg
|
Potassium:
96
mg
|
Fiber:
2
g
|
Sugar:
20
g
|
Vitamin A:
204
IU
|
Vitamin C:
12
mg
|
Calcium:
13
mg
|
Iron:
1
mg
Nutrition information is automatically calculated, so should only be used as an approximation.