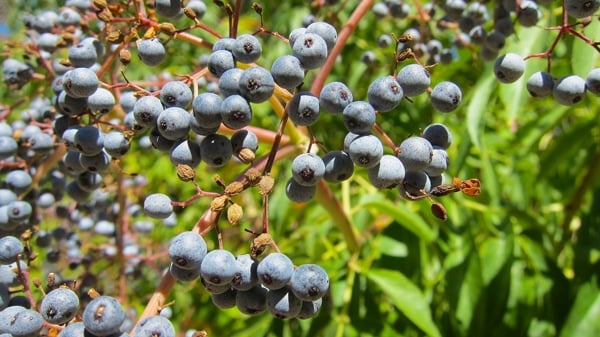 In most places, elderberries don't come ripe until September, but in the South and Southern California they can ripen as early as late May, and here in NorCal we start getting ripe elderberries in late June. So depending on where you go, you can get ripe elderberries from May until November.
The secret to elderberries, it seems, is that they are a rolling bush: Parts of some bushes are still in flower (meaning you can still make elderflower syrup and liqueur if you hurry!) while the berries below have already ripened. Even when I picked my stash of elderflowers in May there were green berries on some.
But beware, slackers! Ripe elderberries are sweet — sweet enough that the deer like them very much. We saw a lot of nibbled-off spots on the bushes we picked from. By September I suspect the only remaining elderberries will be too high for the deer to get; and then you need to worry about birds.
Once you get your elderberries you need to take the berries off the stem, which can take some time. This is the least fun part of dealing with elderberries, but it needs to be done: The stems and leaves of the plant are toxic, and definitely bitter. You need to be patient and have a light hand, however, as the berries are fragile. Work with small portions of each cluster at a time, and gently rake your half-open hand over the berries, letting them fall into a bowl set beneath you.
Again, let me stress the word "gentle." Unripe berries hold onto the stem, ripe ones fall off easily. And you don't want to eat unripe berries.
The best berries are on stalks that have begun to turn reddish; there will be a few elderberry raisins on them. But the larger black berries on stalks with light green stems are also OK. Just be sure to avoid clusters that have red berries. You want the elderberries that are black or deep purple.
What to do with all these berries? Admire them, to start. Poured into a large, flat Tupperware, they looked like $10,000 worth of caviar: Shiny, tiny black orbs. So pretty! Dip your face close, and you will get the unmistakable aroma of winegrapes.
It was at this moment I realized just how good these could be in the hands of a competent winemaker — only you'll never find one working with elderberries in California, as this place heaps so much scorn on "fruit" wines that I can barely mention them in public. Tyranny of the Grape, I call it.
I make elderberry wine every couple years. To do it right you need real berries, and a lot of them. I reckon at least 3 pounds per gallon, and 5 pounds per gallon is better.
I also make elderberry liqueur with whole berries in vodka with lemon zest. It's damn good with just a little bit of added sugar.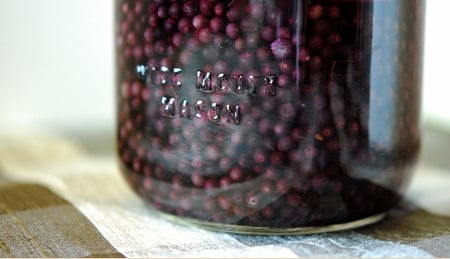 Elderberry syrup is a great base for the classic Cumberland sauce I make to go with wild game such as duck and venison. You can also use the syrup to make an Elderberry Ice Cream.
Cumberland sauce is traditionally made with red currant jelly, but elderberry seems more natural here in California.
The British also make a curious condiment with elderberries called Pontack. It's a little like a vinegary mashup between elderberry syrup and Worcestershire. It's really good with venison and duck.